Las Vegas Photos
Photo Flash: Luxor Celebrates The World Premiere Of R.U.N – The First Live-Action Thriller From Cirque Du Soleil
by BWW News Desk - Las Vegas

(11/15/2019) - Last night, Nov. 14, 2019, Luxor Hotel and Casino hosted the world premiere of the Strip's newest production, R.U.N – the first live-action thriller produced by Cirque du Soleil. The new show is a living, breathing graphic novel that's non-stop tire-peeling, fist-flinging and double-crossing action including combat stunts, fast-paced car chases, cutting-edge technology and innovative multimedia. Audience members were greeted with immersive sensory experiences throughout the evening, starting from the moment they entered the lobby. The gritty, graphic novel-inspired production showcased human performance and special effects from chapter to chapter, as told by brave and fearless characters.
---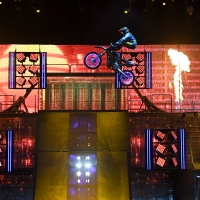 Photo Flash: First Look At R.U.N At Luxor Hotel and Casino
by BWW News Desk - Las Vegas

(10/23/2019) - Yesterday, Oct. 22, R.U.N showcased the first look at the live-action thriller inside the R.U.N Theater at Luxor Hotel and Casino, produced by Cirque du Soleil. The day included previews of two scenes from the new production and exclusive insights from the show's creative team.
---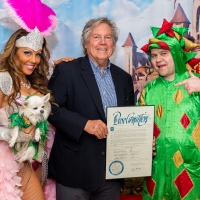 Photo Flash: PIFF THE MAGIC DRAGON Receives Three Gold Awards in Best of Las Vegas
by BWW News Desk - Las Vegas

(10/15/2019) - This weekend the Las Vegas Review-Journal handed out its annual Best of Las Vegas Awards and Piff the Magic Dragon was honored with three gold medals including "Best Comedian," "Best Magician" and "Best Headliner." To celebrate being the first to win all three awards, Piff along with his trusty sidekick Mr Piffles, The World's Only Magic Performing Chihuahua, and Las Vegas Showgirl, Jade Simone, performed a special free show to thank fans for their support.
---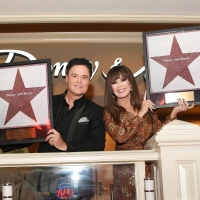 Photo Flash: Donny & Marie Osmond Honored by Las Vegas Walk of Stars at Flamingo Las Vegas
by BWW News Desk - Las Vegas

(10/4/2019) - Friday afternoon, Donny & Marie Osmond were honored by the Las Vegas Walk of Stars in an unveiling ceremony outside of Flamingo Las Vegas. The beloved siblings, who have shared the stage at Flamingo Las Vegas for more than a decade, have now cemented their legacies with a shared star on the Las Vegas Strip.
---
Photo Flash: POTTED POTTER Celebrates 100th Performance at Bally's and Extends!
by BWW News Desk - Las Vegas

(8/26/2019) - Potted Potter: The Unauthorized Harry Potter Experience - A Parody by Dan and Jeff has a lot to celebrate this summer! The hit, family-friendly Las Vegas production celebrated its 100th performance on August 23, 2019 with the announcement that the show will continue to perform in the Windows Showroom at Bally's Las Vegas through January 5, 2020. Tickets are currently on sale at Ticketmaster.com or PottedPotter.com.
---