SHOW
DATES
THEATRE

HOT PICK!





Alain Nu, The Man Who Knows


Alain Nu, The Man Who Knows , has entertained audiences worldwide with his uncanny feats that blur the line between science and the paranormal. This
1/19 - 4/30/2023


Notoriety
Las Vegas
Las Vegas

Disney's The Jungle Book Kids


The jungle is jumpin? with jazz is this exciting Disney classic! Join Mowgli, Baloo, King Louie and the gang as they swing their way through
3/29 - 3/31/2023

Elbert Edwards Elementary
Las Vegas

Disney's Newsies Jr.


Tenacre Country Day School
3/30 - 4/1/2023

West Tech Black Box Theatre
Las Vegas

The Visit


            In the new short play, The Visit, Susan, a young housewife is just getting back to her normal routine after suffering a miscarriage. While
3/1 - 4/1/2023

Open-Door Playhouse
9 Pangloss Street
Henderson

We Will Rock You Young@Part


Visual content only
3/30 - 4/1/2023

Doral Academy of NV - Saddle Campus
Las Vegas

Disney's Aladdin Kids


Welcome to the marketplace of Agrabah, where we?re about to begin the fantastic tale of the street rat who became a prince! This stage adaptation
3/24 - 4/6/2023

Vail Pittman Es
Las Vegas

(con)fusion


In the short play (con)fusion, Dan is a good man and Sadie is a lovely lady. Alas, they are both human and have fallen prey
3/15 - 4/15/2023

Open-Door Playhouse
9 Pangloss Street
Henderson

Pirates Of Penzance Jr


Wacky, irreverent and as entertaining today as it was when it first opened in 1879, THE PIRATES OF PENZANCE spins a hilarious farce of sentimental
4/26 - 4/27/2023

Theater
Las Vegas

Flesh and Blood


The one act comedy Flesh and Blood is set in a Jewish cemetery in Queens, N.Y. It is pre-dawn. Three headstones have been marked with
3/29 - 4/29/2023

Open-Door Playhouse
9 Pangloss Street
Henderson

Peter Pan

4/27 - 4/29/2023

American Heritage Academy
2100 Olympic Ave
Las Vegas

The 25th Annual Putnam County Spelling Bee


Slater Auditorium
4/27 - 4/29/2023

Slater Auditorium
108 Crescent St
Norwich

The Hunchback Of Notre Dame

3/29 - 4/29/2023

Summerlin Library & Perf Arts C
1771 Inner Cir
Las Vegas

Curtains


Visual content only
4/28 - 4/30/2023

Slippery Rock University
Slippery Rock

Grumpy Old Men


Visual content only
4/21 - 4/30/2023

Gatesinger Company
4107 Lake Rd
Sodus

Seussical Jr.


Horton the Elephant, the Cat in the Hat, and all of your favourite Dr. Seuss characters spring to life onstage in Seussical jr, a fantastical
4/21 - 4/30/2023

Brewery Arts Center
449 W King St
Carson City

Disney's The Jungle Book Kids


The jungle is jumpin? with jazz is this exciting Disney classic! Join Mowgli, Baloo, King Louie and the gang as they swing their way through
5/4 - 5/5/2023

Bozarth Elementary
7431 Egan Crest Dr
Las Vegas

Fiddler On The Roof Jr


This special edition of one of Broadway's great masterpieces, Fiddler On The Roof Junior covers the full range of human emotions, presenting young performers with
5/4 - 5/6/2023

Thurman White Academy
1661 W Galleria Dr
Las Vegas

Once On This Island


For tickets and more information, visit the website.
4/28 - 5/7/2023

Charleston Heights Arts Center
Las Vegas

Tiny Beautiful Things


Visual content only
4/8 - 5/7/2023

Open Stage
25 N Court St
Harrisburg

Seussical Kids


Beginning in the Jungle of Nool, the Cat in the Hat, our narrator, tells the story of Horton, an elephant who discovers a speck of
5/9 - 5/10/2023

Theater
Las Vegas

Once On This Island Jr


This highly original and theatrical st1:place w:st="on"Caribbean/st1:place adaptation of the popular fairy tale "The Little Mermaid" garnered eight Tony nominations for its Broadway run, including
5/5 - 5/13/2023

Seedling Theatre Company
980 American Pacific Dr
Henderson

Newsies


Read all about it! Paper Mill Playhouse is proud to present the premiere of a brand new musical, NEWSIES, adapted for the stage from the
5/5 - 5/14/2023

Carson City Community Center
851 E William St
Carson City

Imaginary


Visual content only
5/5 - 5/15/2023

The Neon Spark Youth Theatre
Boulder City

Disney's Aristocats Kids


Madame's jealous butler Edgar cat-naps Duchess and her Aristokittens and abandons them in the Parisian countryside. What's a cat to do? Luckily, Thomas O'Malley and
5/20 - 5/20/2023

Helen Toland International Academy
1735 D St
Las Vegas

Disney's The Jungle Book Kids


The jungle is jumpin? with jazz is this exciting Disney classic! Join Mowgli, Baloo, King Louie and the gang as they swing their way through
5/19 - 5/20/2023

Seedling Theatre Company
980 American Pacific Dr
Henderson

Disney's High School Musical Jr.


Learning Stage: book: David Simpatico; lyrics: Greg Cham, Ray Cham, Andy Dodd, Matthew Gerrard, Faye Greenberg, Jamie Houston, David N. Lawrence, Bryan Louiselle, Robbie Nevil,
5/25

Boys And Girls Club Truckee Meadows
2680 E 9th St
Reno




Back to the Main Page | Browse Local Theatres
---
Latest Las Vegas Reviews
BWW Interview: Donny Osmond Talks New Vegas Show, His New Album, the Masked Singer, Andrew Lloyd Webber & More
by Kevin Pollack - May 18, 2022
The One. The Only. Donny Osmond sits down with BroadwayWorld's Kevin Pollack backstage before his brand-new Las Vegas show, DONNY....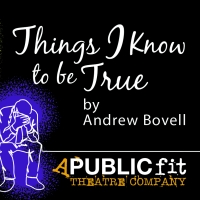 BWW Review: THINGS I KNOW TO BE TRUE at A Public Fit
by Jeanmarie Simpson - April 03, 2022
Andrew Bovell's Things I Know to Be True at A Public Fit is staggeringly theatrical, exquisitely staged, and a joy to experience. ...