Photos: Alley Theatre Presents GRUESOME PLAYGROUND INJURIES
The world premiere of Rajiv Joseph's (Bengal Tiger at the Baghdad Zoo) Gruesome Playground Injuries features Selma Blair (Hellboy, Hellboy 2: The Golden Army, Storytelling, Legally Blonde, NBC's Kath & Kim) playing Kayleen and Brad Fleischer (Center Theatre Group's premiere of Bengal Tiger at the Baghdad Zoo, Broadway's Coram Boy, Off Broadway's Streamers) playing Doug. Gruesome Playground Injuries charts two lives, using scars, injuries and calamity as the mile markers. An imaginative tour de force the play explores why people hurt themselves to gain another's love, and the cumulative effect of such damage, of such demands. Recommended for adult audiences. Strong language, profanity and violence.
Creative team includes Riccardo Hernandez (Scenic Design), Miranda Hoffman (Costume Designer), Christopher Akerlind (Lighting Design), Jill BC DuBoff (Sound Design), and Mark Bly (Dramaturg). Rebecca Taichman directs.
Gruesome Playground Injuries begins performances Friday, October 16 and runs through Sunday, November 15 on the Neuhaus Stage.
Rajiv Joseph's (Playwright) play Bengal Tiger at the Baghdad Zoo was produced this past spring by the Center Theatre Group in Los Angeles at the Kirk Douglas Theatre under the direction of Moisés Kaufman. Center Theatre Group will remount that production in Spring 2010 at the Mark Taper Forum. Bengal Tiger was awarded a grant for Outstanding New American Play by the National Endowment for the Arts. Joseph's New York productions include Animals Out of Paper, Second Stage Theatre, Summer 2008; The Leopard and the Fox (adaptation), Alter Ego, Fall 2007; Huck & Holden, Cherry Lane Theatre, 2006; All This Intimacy, Second Stage Theatre, 2006. Last spring, Joseph was awarded the Paula Vogel Award by the Vineyard Theatre and last winter he received the 2009 Kesselring Fellowship. He is a Founding Member of the New York-based Theatre Company, The Fire Department, and is a former Lark Playwriting Fellow and Dramatist Guild Fellow. He received his BA in Creative Writing from Miami University and his MFA in Dramatic Writing from NYU's Tisch School of the Arts.
Selma Blair (Kayleen). Having worked for visionary and acclaimed film directors in a diversity of challenging roles, Blair is one of today's most exciting and versatile actresses and is now making her theatre debut. She will appear as a reclusive heiress in the upcoming film Columbus Circle, directed by George Gallo, and recently played a drug-using abusive mother in the indie film The Poker House, directed by Lori Petty. In 2008, she reprised her role as Liz Sherman in HellBoy 2: The Golden Army, directed by Guillermo del Toro, after the success of HellBoy in 2004. In 2007, she was in the Feast of Love, directed by Robert Benton. She was directed by Newton Thomas Sigel in the short film The Big Empty (2005). In 2004, she was in In Good Company directed by Paul Weitz and played Caprice Stickles, daughter of Sylvia in A Dirty Shame, directed by John Waters. Blair played Vivian in Robert Luketic's 2001 hit comedy Legally Blonde and in 2001 was critically acclaimed in the controversial film Storytelling, directed by Todd Solondz. She gained much attention in Roger Kumble's 1999 film Cruel Intentions. On television, Blair starred as Kim Day in NBC's regular series Kath & Kim and guest starred on Friends. Blair graduated from high school in Michigan, moved to New York City and studied acting at the Stella Adler Conservatory and the Column Theatre.
Brad Fleischer (Doug) is making his Alley debut. Fleischer received a Drama League ensemble nomination for Coram Boy on Broadway. This past spring he was Kev in the world premiere of Rajiv Joseph's Bengal Tiger at the Baghdad Zoo at Center Theatre Group. Off-Broadway he was Billy in David Rabe's Streamers, a role he played in 2008 at the Huntington Theatre. He played Tim in the 2006 production of Pig Farm at South Coast Rep. Fleischer was also in Paris Commune at La Jolla Playhouse. Fleischer was in the 2006 Robert DeNiro film The Good Shepherd and the short films: Big Al, Tim and Grey Jyamers in Barclay's, Baby Drew and the Hoover Queenan. TV credits include Jericho, The Unit, Prison Break, Law & Order, and Over There. He received his MFA from the University of California, San Diego.
Rebecca Taichman (Director) is making her Alley Theatre debut. Off-Broadway credits include The Scene by Theresa Rebeck, starring Tony Shalhoub and Patricia Heaton, at Second Stage and Menopausal Gentleman at The Ohio Theater, which received a Special Citation Obie Award. Regional credits include Shakespeare Theater Company's Twelfth Night and Taming of the Shrew; McCarter Theater's Twelfth Night; ACT's At Home at The Zoo by Edward Albee; Woolly Mammoth Theatre's world premiere of Dead Man's Cell Phone by Sarah Ruhl; the world premiere of The Velvet Sky by Roberto Aguirre-Sacasa; The Clean House by Sarah Ruhl (2006 Helen Hayes Award for Outstanding Resident Play); Yale Repertory's world premiere of The Evildoers by David Adjmi; Iphigeneia at Aulis by Euripides; The Huntington Theatre Company's world premiere of Mauritius by Theresa Rebeck; The Humana Festival's world premiere of The Scene by Theresa Rebeck; Round House Theatre's The Diary of Anne Frank adapted by Wendy Kesselman (winner of three Helen Hayes Awards); A Body of Water by Lee Blessing; The Green Violin by Elise Thoron with music by Frank London at The Prince Music Theater (2003 Barrymore Award for Outstanding Direction of a Musical); Swimming in March by Kate Robin at The Market Theater; and The People vs. The God of Vengeance at The Theater Offensive. She is an instructor at The O'Neill National Theater Institute, MIT, Yale University and the University of Maryland. Training and Affiliations include TCG New Generations Grant Recipient with Woolly Mammoth and a Drama League Directing Fellowship. She is a Yale School of Drama graduate.
Riccardo Hernandez's (Scenic Design) Broadway credits include Caroline, or Change, which received the 2007 Olivier Award and the 2006 Evening Standard Award for Best Musical; Topdog/Underdog, which received the 2002 Pulitzer for Drama; Elaine Stritch at Liberty, Bring in 'da Noise, Bring in 'da Funk; The Tempest; Parade (Tony, Drama Desk Nominations; Hal Prince, director) and Bells Are Ringing. Recent credits include Philip Glass and Christopher Hampton's Appomattox for San Francisco Opera, directed by RoBert Woodruff; Lost Highway for London's English National Opera/Young Vic and Don Giovanni, both directed by Diane Paulus; Ethan Coen's Offices and Almost an Evening for Atlantic Theater, directed by Neil Pepe; The Miser at Alley Theatre, directed by Dominique Serrand; The Seagull for A.R.T., directed by Janos Szasz; and An Oresteia for CSC. He has designed over 20 productions for The Public Theater and over 200 across the United States. Opera credits include Lyric Opera of Chicago, New York City Opera, Houston Grand Opera, L.A. Opera, Santa Fe Opera, and Florida Grand Opera among others. International credits include London's National Theatre, Old Vic, Royal Court, Centre Dramatique Orleans, Festival Automne Paris, Det Norske Teatret Oslo, Tokyo and Hong Kong. Upcoming productions include Best of Both Worlds for A.R.T. directed by Diane Paulus, Bernard-Marie Koltes's Battle of Black and Dogs directed by RoBert Woodruff, Il Postino for L.A. Opera, Ch?telet Paris and Vienna directed by Ron Daniels. He is a 1992 graduate of the Yale School of Drama and is on the faculty at Princeton University.
Miranda Hoffman's(Costume Designer) New York credits include Well on Broadway, Stunning at Lincoln Center Theater, Beauty of the Father at Manhattan Theatre Club and Satellites and Well at Public Theater. Other credits include Essential Self Defense, Spatter Pattern and She Stoops to Comedy at Playwrights Horizons; Oedipus at Palm Springs at New York Theater Workshop; Landscape of the Body atSignature Theater; Othello at Theater for a New Audience and The Marriage of Figaro at Target Margin Theater. Regional credits include Twelfth Night and Taming of the Shrew at Shakespeare Theatre Company, Romance at A.R.T., Mauritius at Huntington Theatre Company, Uncle Vanya and Titus Andronicus at The Court Theatre, Godspell at Papermill Playhouse, Eurydice and Smart Cookie at Alliance Theatre, The Ramayana at ACT, Betrayal at Yale Repertory Theatre, and Outrage and The Merchant of Venice at Portland Center Stage. Opera credits include La Voix Humaine and Portrait de Manon at Glimmerglass Opera Festival, Portrait de Manon atGran Teatre del Liceu and Mirandolina, Lord Byron's Love Letter and The Village Singer at Manhattan School of Music. She is a Helen Hayes Nominee, a Henry Hewes American Theater Wing Nominee and a NEA/TCG Career Development Grant Recipient. She is a Yale School of Drama graduate.
Christopher Akerlind (Lighting Design) is a lighting and sometime set designer who has designed over 600 productions at theater and opera companies across the country and around the world. Broadway credits include Superior Donuts, Top Girls, 110 In The Shade (Tony nomination), Talk Radio, Shining City, Awake and Sing (Tony nomination), Well, Rabbit Hole, A Touch of the Poet, In My Life, The Light in the Piazza (Drama Desk, Outer Critics Circle, Tony awards), Reckless, The Tale of the Allergist's Wife, Seven Guitars (Tony nomination), and The Piano Lesson among others. His extensive credits in opera include productions at the Boston Lyric, Dallas, Glimmerglass, Hamburg, Houston, Lyric Opera Chicago, Metropolitan, Minnesota, New York City, Nissei, San Francisco, Santa Fe, and Washington National Operas and over 40 productions for Opera Theatre of Saint Louis where he was Resident Lighting Designer for twelve years. Recent projects include Die Entfuhrung Aus Dem Serail (San Francisco Opera), the off-Broadway revival of Martha Clarke's Garden of Earthly Delights (Minetta Lane Theatre), Kafeneion (Athens/Epidaurus Festival), Rebecca Taichman's production of Twelfth Night (McCarter Theatre), and Rinde Eckert's Orpheus X (Edinburgh and Hong Kong Festivals). He is the recipient of an Obie Award for Sustained Excellence in Lighting Design, the Michael Merritt Award for Design and Collaboration and numerous nominations for the Drama Desk, Lucille Lortel, Outer Critics Circle and Tony Awards among many others.
Jill BC DuBoff's (Sound Design) Alley Theatre credits include Othello and Much Ado About Nothing. Broadway credits include The Constant Wife, The Good Body and Bill Maher: Victory Begins at Home. Off-Broadway credits include Lincoln Center, Atlantic, MTC, MCC, Playwrights Horizons, The Public, Vineyard Theatre, Second Stage, NYTW, WP, New Georges, Flea, Cherry Lane, Signature, Clubbed Thumb, Culture Project, Actor's Playhouse, New Group, Promenade, Urban Stages, Houseman, Fairbanks, Soho Rep, and Adobe. Regional credits include Minneapolis Children's Theatre, Bay Street, La Jolla Playhouse, Cincinnati Playhouse, Westport Country Playhouse, Berkeley Rep, Portland Stage, Long Wharf, Kennedy Center, NYS&F, South Coast Rep, Humana Festival, Williamstown Theatre Festival, Berkshire Theatre Festival, and ATF. Film credits include We Pedal Uphill. Television credits include Comedy Central and NBC. Radio credits include Studio 360 and WNYC News. Awards include Drama Desk Nomination, Henry Hewes Nomination and Ruth Morley Design Award. She is on the Faculty at Sarah Lawrence College.
Mark Bly (Dramaturg) joined the Alley Theatre in 2008 as Senior Dramaturg and Director of New Play Development. He serves also as Distinguished Professor of Theater at the University of Houston where he teaches Playwriting and Dramaturgy. This season, he dramaturged Our Town. Last season he dramaturged Cyrano de Bergerac, Secret Order, Rock 'n' Roll, Eurydice and The Farnsworth Invention. Prior to this he was the Senior Dramaturg at the Arena Stage and Director of Arena's New Play Development Series. Before joining Arena Stage, Bly served for 12 years as Chair of the Playwriting Program at the Yale School of Drama and as Associate Artistic Director for the Yale Repertory Theatre. Bly has dramaturged over 90 productions at major resident theaters and on Broadway. Highlights of his career include dramaturging the premiere of Suzan-Lori Parks' The America Play at the Yale Rep and Public Theater, and dramaturging the premiere of Moises Kaufman's 33 Variations at the Arena Stage, La Jolla Playhouse, and on Broadway last Spring. He became the first Production Dramaturg to be credited on a Broadway production when he worked on Execution of Justice, written and directed by Emily Mann in 1985. He has written for Dramaturgy in American Theater, Theater Forum, American Theatre, The LMDA Review, and also Yale's Theater as Contributing and Advisory Editor. He wrote introductions for and edited Volumes I and II of The Production Notebooks: Theatre in Process. A graduate of the Yale School of Drama, Bly was the Chair of the Board of Directors for Literary Managers and Dramaturgs of the Americas from 2001-2005.
Laura Stanczyk's (Casting Director) Broadway credits include Ragtime, Impressionism, Radio Golf, Coram Boy, Translations, Damn Yankees (Encores! Summer Stars), Who's Afraid of Virginia Woolf? (also West End), Sweet Charity, Wonderful Town, Urinetown (also National Tour) and Judgment at Nuremberg. Other credits include Ragtime, Broadway Three Generations (Kennedy Center), Don't Dress for Dinner (Royal George, Chicago), Dirty Dancing (National Tour), The Cripple of Inishmaan (Atlantic Theatre Co./Druid Theatre Company), The Shawshank Redemption (West End Theatre, London and Gaiety Theatre, Dublin), The Glorious Ones (Lincoln Center Theater and Pittsburgh Public), Gate/Beckett (Lincoln Center Festival), Long Day's Journey Into Night (Druid Theatre Company, Dublin Theatre Festival), Tryst (Promenade), National Anthems (Old Vic), The New Moon (Encores!), Opening Doors (Carnegie Hall) and Once Upon a Mattress (ABC TV). She is the resident casting director for The McCarter Theatre Center, Princeton, NJ and has worked with The Gate Theatre (Dublin), The Drury Lane Theatre, The Chicago Shakespeare Theatre, The Westport Country Playhouse, The Huntington Theatre, The Wilma Theater and American Conservatory Theatre. Upcoming projects include the world premiere of Neil LaBute's play Break of Noon, Golden Age at The Philadelphia Theatre Company and The Kennedy Center, Master Class and The Lisbon Traviata at The Kennedy Center, Edward Albee's Me Myself & I on Broadway, the Broadway Company of Dirty Dancing, and the feature films There Are No Soulmates and Zeroes and Ones.
NEW PLAY INITIATIVE
The world premiere of Rajiv Joseph's Gruesome Playground Injuries is the first play in the Alley Theatre's New Play Initiative. The Alley Theatre's New Play Initiative facilitates the creative collaboration between playwrights, directors, actors, designers and dramaturgs during all stages of a new play's development. Central to this Initiative are readings, workshops, and residencies that allow writers the unique opportunity to work with and write for Alley Theatre Actors in a concentratEd Manner over an extended gestation period. Three world premieres are being developed through this Initiative this season: Rajiv Joseph's Gruesome Playground Injuries, Jack Murphy, Gregory Boyd, and Frank Wildhorn's Wonderland, which starts at the Tampa Bay Performing Arts Center in November and then moves to the Hubbard Stage in January 2010, and Kenneth Lin's Intelligence-Slave, which will be on the Neuhaus Stage in May and June of next year.
Gruesome Playground Injuries is sponsored by Neuhaus Stage Season Sponsor Randall H. Jamail. The Alley Theatre is supported by the 2009-2010 season sponsor Continental Airlines, the official airline of the Alley Theatre.
TICKET INFORMATION
Tickets to Gruesome Playground Injuries are $21 Cheap Thrills pricing, for the October 17 matinee performance. Tickets for other performances are $40 - $55. All tickets to Gruesome Playground Injuries are available for purchase at www.alleytheatre.org, at the Alley Theatre Box Office, 615 Texas Avenue, or by calling 713.220.5700. Groups of 10 or more can receive special concierge services and select discounts by calling 713.315.3346. The added convenience of reservations by phone or Internet is available for a nominal fee. Tickets purchased in person at the Alley Theatre Box Office have a $1 facility fee.
CAPTIONED PERFORMANCE
Saturday, October 17, 2:30 PM
The Alley Theatre is pleased to offer open captioning for many of our productions throughout the season. To ensure that your seats will accommodate your needs, please call the box office 713.220.5700 when ordering tickets to this performance. Discounted tickets are available for groups of ten or more. Call 713.315.3346 for more information.
TALKBACK
Tuesday, October 27, 7:30 PM
Members of the cast return to the stage following the performance to take questions from the audience. TalkBacks are led by a member of the Alley Artistic Staff.
Photo by Kevin Berne.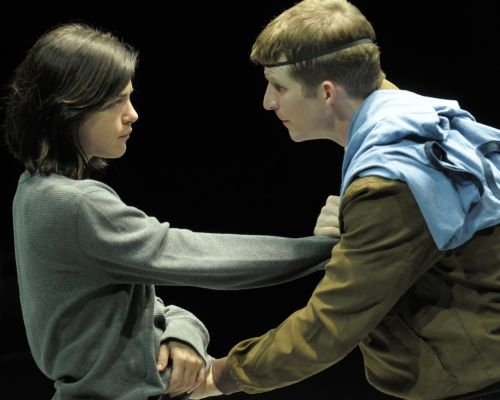 Selma Blair and Brad Fleischer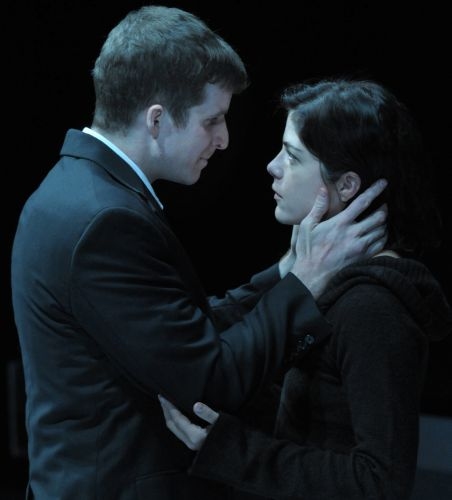 Brad Fleischer and Selma Blair

Brad Fleischer and Selma Blair

Brad Fleischer and Selma Blair

Brad Fleischer and Selma Blair