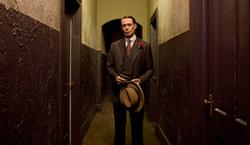 From Terence Winter, Emmy Award-winning writer of 'The Sopranos,' and Academy Award-winning director Martin Scorsese, 'Boardwalk Empire' is set in Atlantic City during Prohibition, when the sale of alcohol became illegal throughout the United States.
America in the 1920s. The Great War is over, Wall Street is about to boom and everything is for sale, even the World Series. It is a time of change: Women have the right to vote, broadcast radio spreads the news, young people rule the world, and Prohibition gave birth to various criminal enterprises.
On the beach in southern New Jersey sits Atlantic City, a spectacular resort known as "The World's Playground," a place where rules don't apply. Massive hotels line its famous Boardwalk, along with nightclubs, amusement piers and entertainment to rival Broadway. For a few dollars, a working man can get away and live like a king -- legally or illegally.
The undisputed ruler of Atlantic City is Enoch "Nucky" Thompson, (Steve Buscemi) a political fixer and backroom dealer who is equal parts politician and gangster and equally comfortable in either role. Because of its strategic location on the seaboard, the town is a hub of activity for rum-runners, minutes from Philadelphia, hours from New York City and a day's drive from Chicago. And Nucky Thompson takes full advantage.
Nucky has carved out a niche for himself as the man to see for any illegal alcohol. He is an equal opportunity gangster, doing business with Arnold Rothstein (Michael Stuhlbarg), Lucky Luciano, (Vincent Piazza) Al Capone (Stephen Graham), and Johnny Torrio (Greg Antonacci).
The show also stars Michael Kenneth Williams ('The Wire') as Chalky White, the leader of the city's African-American community; Michael Shannon as Nelson Van Alden; Gretchen Mol as Gillian Darmody, an opportunistic ex-showgirl; Jack Huston as Richard Harrow, a maimed war veteran; Shea Whigham as Nucky's resentful brother Eli; and Kelly Macdonald as Margaret, Nucky's recent wife.
Created by Terence Winter, 'Boardwalk Empire' is executive produced by Terence Winter, Martin Scorsese, Tim Van Patten, Howard Korder, Stephen Levinson and Mark Wahlberg. Gene Kelly is co-executive producer; Joe Iberti is producer.
'Boardwalk Empire' is inspired by the non-fiction book "Boardwalk Empire: The Birth, High Times and Corruption of Atlantic City" by Nelson Johnson.
Latest Tweets from HBO
9/28 @ 2:00 PM

HBO - Once upon a time, Danny McBride was actually a substitute teacher. https://t.co/aw9H3iwKWb

Retweet | Reply | Original Link   
9/28 @ 9:00 AM

HBO - She's releasing what's not serving her anymore. Yvonne Orji: #AWholeMe premieres October 1 on @hbomax. #HBO50 https://t.co/TkxYq1xA67

Retweet | Reply | Original Link   
Latest Articles About Boardwalk Empire on HBO