| | |
| --- | --- |
| BIO: Krayzie Bone, is a two-time Grammy Award-winning artist and member of the rap/hip-hop group Bone Thugs-n-Harmony. leatha face, krazyie jackson,lyrical assaisan, silent killer, kb. | |
Latest Tweets
| | |
| --- | --- |
| 10/17 @ 1:09 PM | iamKrayzieBone - Must a come back with my disrespectful tweets about the Browns? Cause they suck like they never left 👎🏾👎🏾👎🏾 🤡 |
| | |
| --- | --- |
| 10/16 @ 5:56 PM | iamKrayzieBone - #littlerockstatefair #btnhlive https://t.co/rHdc7LOjOy |
| | |
| --- | --- |
| 10/6 @ 11:34 AM | iamKrayzieBone - Damn smh! Just had a conversation about getting back at it in the lab few days ago… way too soon Rest well Lil homi… https://t.co/9TCPIQbVAj |
MORE TWEETS
Latest Articles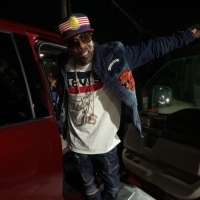 Dru Down Releases New Single 'What Are You Lookin At'
by Chloe Rabinowitz - April 30, 2021
Legendary Bay Area hip-hop artist Dru Down has returned with his brand-new single "What Are You Lookin At" out today from his forthcoming album Livin Legend (God Willin) Pt. 2—the follow-up to his 2020 release Livin Legend (God Willin) Pt. I. ...

Dionne Warwick To Receive Lifetime Achievement Award From Recording Academy
by Kaitlin Milligan - March 01, 2019
 Legendary Grammy Award winner DIONNE WARWICK will release her first new album in 5 years, "SHE'S BACK", on May 10th. Produced by her son Damon Elliot, the album will be released via his Kind Music and Entertainment One (eOne). The lead-off single will be an updated version of the Burt Bacharach/Hal...