| | |
| --- | --- |
| BIO: One small step for man, one giant leap for mankind. Those were the words spoken by Neil Armstrong as he walked on the moon. After years of hard work we achieved the impossible, forever leaving a mark in the world consciousness. Cabinet's 4 th record, LEAP, is exactly that for this sometimes ragged, all the time professional band of American dreamers from Pennsylvania. After years of tearing apart American music and building it up again in their own vision, Cabinet has unveiled a work that perfectly defines…. Cabinet. The rough hewn structure that began as six musicians with divergent styles coming together has been whittled, sanded, and polished through persistence and hard work. The result is an impressive structure that shows each of the players and their unique contribution in simple, elegant beauty. Leap was recorded live in the studio, over four days with a live audience. The result is a flawless recording that leaves the listener with the feeling that they too were there. No digital perfection is needed, because they nailed it right then and there. From the first few notes you can tell that this is a recording to own, to savor, and to explore. JP Biondo's soothing vocals speak of innocence and longing, with Pappy Biondo's delicate and deliberate banjo keeping time like a boxcar clicking along the tracks. Dylan Skursky's bass is ever present; as a live recording you can feel the bass like it is right in the room. Enter the fiddle treatments of Todd Kopec, creating a haunting full-moon -at-night landscape one moment, and an avant-garde, almost electronic accompaniment the next. All the while Mickey's guitar is stepping in and out with perfect rhythm, and JP 's mandolin building tension at every chance. And behind everything, in the middle, and all around is the careful ear and hand of Jami Novak - a drummer who knows what's around every corner. This is a band that wants to play music, that loves to play music. You can hear in each song a bridled optimism, like they are just waiting to take you on an extended journey across the countryside. It is this tension, perfectly crafted with each player trading licks, that holds the listener in rapt attention. When you finish this record, you will see the house that Cabinet built. Sleek, sturdy, built from the heart with sublime finishing touches. You will want to live in that house for the rest of your days. When it comes to the music of Cabinet, the essential bywords are soul, simplicity, and serious musicianship. In concert, the combination of these qualities invariably yields an experience that is so celebratory and moving that the very word Cabinet takes on a new, vivid meaning for anyone in the audience. An inclusive and engaging energy is the uniting through-line as Cabinet weaves bluegrass, country and folk influences to powerful effect. Tight dynamics punctuate gorgeous, soaring harmonies as down-to-earth rhythm and lyrics give way to dreamy jams that are the musical equivalent of the back road scenic route. But this impressive result is no accident. Pappy Biondo [banjo, vocals], J.P. Biondo [mandolin, vocals], Mickey Coviello [acoustic guitar, vocals], Dylan Skursky [electric bass, double bass], Todd Kopec [fiddle, vocals], and Jami Novak [drums, percussion], all love and live music. They each have a nuanced approach and posses broad talents in their own rights. But the passionate, affirming, and joyous musical world that they create together is Cabinet. Listeners that haven't yet experienced Cabinet in person will no longer be left out, thanks to a trio of live releases. THIS IS CABINET - SET I (released Dec. 2010 on Ropeadope Records) showcases the band's arrangement of traditional country and bluegrass songs as well as extended versions of tracks from their Self-Titled debut. THIS IS CABINET - COVERS (a free album given to fans for the 2011 holiday season), again showcases arrangements of traditional and standard bluegrass and folk numbers plus a couple Paul Simon tracks thrown in for good measure. The most recent effort, ELEVEN (out now on Ropeadope Records), is the band's most ambitious release to date. A live DVD / CD recorded November 11, 2011 at Abbey Bar, a former WWII aircraft parts factory turned brewery, in Harrisburg, PA, ELEVEN captures Cabinet in the heart of their element. Performed in front of a rambunctious sold out crowd this 11 song set features fan favorites "Tower", "Elizabeth", "Old Farmers Mill" and "Coalminers" as well as previously unreleased material. ELEVEN surely lives up to the band's ever growing live show reputation. Cabinet is a band that has outgrown any "regional favorite" tag and has progressed to a broader fanbase, all while retaining their signature sound. The band has played many great venues and festivals (CMJ 11, SXSW 11 & 12, musikfest 10 & 11, Floyd Fest '12, Peach Music Festival '12, Philadelphia Folk Festival '12 to name a few) across the land and has shared the stage with Yonder Mountain String Band, Allman Brothers, Pokey LaFarge, Yarn, Delta Rae, Zac Brown, Infamous String Dusters, Railroad Earth, Rusted Root, Hoots & Hellmouth, Blackberry Smoke, Hot Buttered Rum, Cornmeal, Dark Star Orchestra, Keller Williams, Hackensaw Boys, 7 Walkers, New Riders of the Purple Sage and many, many more. Cabinet formed in 2006, bringing together players from various musical and personal backgrounds. Some of the members are barely old enough to drink legally, but their thirst for older music is unquenchable. Whether its rustic "American Beauty"-era Grateful Dead or old-timey bluegrass, Cabinet has digested it all. But that is not to say that Cabinet recreates older styles. No, this is music that might have its roots in the past, but it is current and vibrant, with a sense of celebrating the now. The band self-released a debut album, "Cabinet," before signing with Ropeadope, which took notice and re-released that album digitally. | |
Latest Articles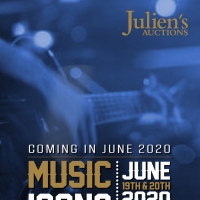 Prince's 1984 Cloud Guitar, Paul McCartney's Beatles Lyrics & Johnny Cash's Iconic Coat to Rock Julien's Auctions 'Music Icons'
by TV News Desk - May 04, 2020
Julien's Auctions has announced the marquee lineup of Music Icons to take place on Friday, June 19 and Saturday, June 20 live in Beverly Hills and online at juliensauctions.com....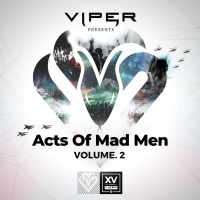 Viper Releases 'Acts of Mad Men Volume 2'
by TV News Desk - January 31, 2020
Acts of Mad Men was a release which put Viper Recordings up into the drum & bass trophy cabinet. Released ten years prior, it featured some of the biggest anthems to come through the genre in one of its formative periods, defining itself as a pivotal part of the Viper Recordings expansion and provin...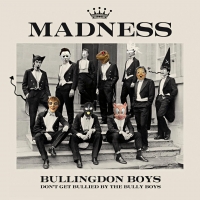 Madness Unveil 'Bullingdon Boys'
by TV News Desk - November 29, 2019
Madness today unveil snap release 'Bullingdon Boys'. The seminal British pop band's first new music since 2016, 'Bullingdon Boys' is a self explanatory, barbed swipe at the charlatans, rotters and chancers at the top of the tree who have done their best to take the shine off 2019....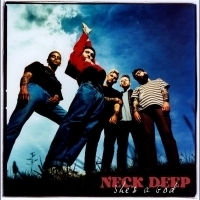 Neck Deep Release New Single SHE'S A GOD
by BWW News Desk - June 27, 2019
Neck Deep surprised fans today with the release of a brand new single and music video. 'She's A God' is an effervescent and charming song that basks in the warm glow of knowing you don't need to travel to find peace and strength - it's in the person beside you. The dynamic and layered new sound furt...

Nymfo Releases 'Pictures on Silence' LP
by TV News Desk - May 17, 2019
Dutch drum & bass artist Nymfo has firmly established himself as both a DJ and producer. Since 2007 he's found himself in the libraries of essential imprints such as Commercial Suicide (where he released his debut album 'Characters'), CIA Records, Spearhead, Metalheadz, Hospital Records, and Ram, st...

Strawbs Announce 50th Anniversary Celebration in Lakewood
by TV News Desk - February 07, 2019
In celebration of their 50th anniversary, UK music legends Strawbs, plus a host of guest performers, former Strawbs, and Strawbs-related artists, will be performing at the Strand Theater in Lakewood, NJ on April 26-28, 2019!...

Town Stages Announces the Second Annual Sokoloff Arts Creative Fellows
by TV News Desk - January 22, 2019
Town Stages is proud to announce the 2019 slate of recipients of the annual Sokoloff Creative Arts Fellowship: Charlotte Arnoux & Alex Parrish, Nikko Benson, Eamon Boylan, Maximus DeFrancesco, Molly Powers Gallagher, Tess Howsam, Rachel Lin, Anna Lublina, Lacy Marie Meyer, Ben Moniz, Marina Montesan...

Cabinet Of Millionaires Sends Timely Message To Theresa May In New Single
by BWW News Desk - January 03, 2019
British electronic act Cabinet of Millionaires has announced their new single 'Theresa'. Featuring resplendent punchy beats, sci fi loony tune hooks, dub basslines and gospel tinged soul-rock vocals from Pat Fulgoni, this five-song includes four versions of the title track plus b-side 'Serve Me'....

Neil Young Announces Official Launch of the Neil Young Archives
by TV News Desk - December 20, 2018
NEIL YOUNG is pleased to announce the official launch of the Neil Young Archives (NYA) revolutionary website and Hi-Res mobile app (available on iPhone now and Android soon) as a membership service. A first-of-its-kind musician's website that offers the finest audio quality available anywhere online...

Western Vinyl's Hugh Marsh Announces Album, Shares 'I Laid Down In The Snow' via Tiny Mix Tapes
by BWW News Desk - December 14, 2018
Today marks the announcement of Violinvocations, the forthcoming release from accomplished violinist Hugh Marsh, out February 15, 2019 on Western Vinyl. With the announcement comes the premiere of the song 'I Laid Down In The Snow' via Tiny Mix Tapes, on which Marsh captures mournful, wraithlike moa...

Anderson East nominated for 'Best American Roots Performance' at the 61st Annual GRAMMY Awards
by BWW News Desk - December 07, 2018
Acclaimed singer, songwriter and performer,Anderson East, is nominated for "Best American Roots Performance" for his song "All On My Mind" at the 61st Annual GRAMMY Awards. The awards ceremony will be broadcast on CBS live from Los Angeles' Staples Center on Sunday, February 10 at 8:00pm ET/7:00pm C...