Chicago - Broadway Tickets, News, Info & More
A true New York City institution, CHICAGO is the longest running American musical in Broadway history. It tells the universal tale of fame, fortune and all that jazz with one show-stopping song after another, and the most astonishing dancing you've ever seen.
Whether you're looking for your first Broadway musical, whether you've seen the Academy Award-winning film and want to experience the show live on stage or whether you've seen it before and want to recapture the magic, CHICAGO always delivers.
Video preview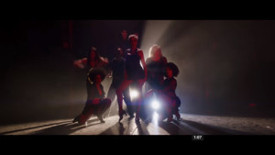 Photo preview
Schedule
Running Time: 2 hours 30 minutes, including one 15-minute intermission
Fridays: 8:00pm
Saturdays: 2:30pm and 8:00pm
Sundays: 2:30 pm and 7:00pm
(New York, NY)
219 W. 49th St.
Seating Chart
Featured Reviews For Chicago
Link no longer active - Newsday
We are watching a torch pass from the lost glory of the Bob Fosse musical to - at the very least - this single important revival. And it is bliss. It is also edgy, erotic, cynical, funny, nonstop stylish and, though based on a 21-year-old show, so prescient about '90s justice, the press and celebrity that it's almost eerie.
'Chicago' revival is my kind of show - New York Daily News
Because the revival of "Chicago" is so wildly entertaining, I'm hesitant to call it important - always an ugly adjective for a reviewer to use - but I'm afraid I must... What makes "Chicago" - here's that dreaded word - important is that it reminds us that musicals are about songs and performers, not scenery. When you have material and performances as dynamic as this, you don't need chandeliers.
Buy at the Theatre Shop
T-Shirts, Mugs, Phone Cases & More