Chicago Broadway
A true New York City institution, CHICAGO has everything that makes Broadway great including a universal tale of fame, fortune and all that jazz; one show-stopping song after another; and the most astonishing dancing you've ever seen.
No wonder CHICAGO has been honored with 6 Tony Awards, 2 Olivier Awards, a Grammy and thousands of standing ovations.
It's also no surprise that CHICAGO has wowed audiences all around the world, from Mexico City to Moscow, from Sao Paulo to South Africa.
Whether you're looking for your first Broadway musical, whether you've seen the Academy Award-winning film and want to experience the show live on stage or whether you've seen it before and want to recapture the magic, CHICAGO always delivers.
Video preview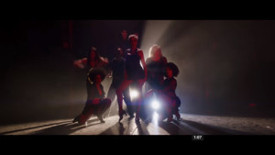 Photo preview
Schedule
Running Time: 2 hours and 30 minutes, with one intermission
Mondays: 8:00pm
Tuesdays: 8:00pm
Thursdays: 8:00pm
Fridays: 8:00pm
Saturdays: 2:30pm and 8:00pm
Sundays: 2:30 pm and 7:00pm
Ambassador Theatre
(New York, NY)
219 W. 49th St.
Seating Chart
Featured Reviews For Chicago
Link no longer active - Newsday
We are watching a torch pass from the lost glory of the Bob Fosse musical to - at the very least - this single important revival. And it is bliss. It is also edgy, erotic, cynical, funny, nonstop stylish and, though based on a 21-year-old show, so prescient about '90s justice, the press and celebrity that it's almost eerie.
Chicago - Variety
Any gripes about the producers of "Chicago" charging full-scale prices for a stripped-down show evaporate like vapors from bathtub gin the second Bebe Neuwirth & Co. open the show with a pulse-quickening rendition of "All That Jazz." This concert staging, wonderfully choreographed by Ann Reinking (with a credit to "the style of Bob Fosse"), is a bit more elaborate than when presented by City Center's Encores series in the spring, but even if it weren't, the performances, wit and sophistication of the show would more than earn a place on Broadway.
Chicago Broadway Cast