Jerri Shafer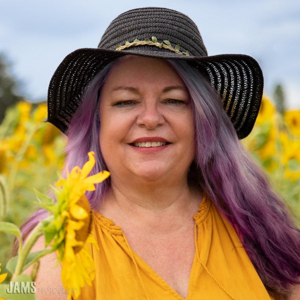 Jerri has loved taking photos all her life and was always the one in the family who took everyone's picture. After her daughter was born, Jerri started scrapbooking and she became interested in taking better pictures for her scrapbooks. Then after her daughter started an interest in musical theatre, Jerri started taking pictures of the shows and developed a love for musical theatre as well. She has been seen snapping pics at many theatres around Columbus and surrounding areas. To see more of Jerri's work, visit http://jams.smugmug.com
MOST POPULAR ARTICLES
LAST 30 DAYS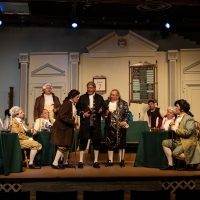 Photos: First look at Hilliard Arts Council's 1776
Posted: Apr. 22, 2022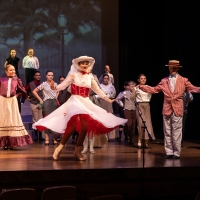 Photos: New Albany Middle School Theatre Dept's MARY POPPINS JR.
Posted: Apr. 29, 2022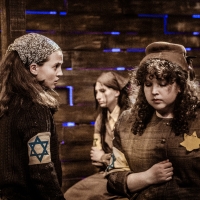 Photos: First look at The New Albany High School Theatre Department's LETTERS TO SALA
Posted: Apr. 22, 2022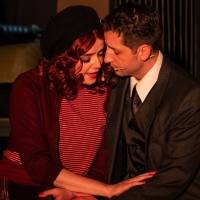 Photos: First look at Little Theatre Off Broadway's BONNIE & CLYDE
Posted: May. 12, 2022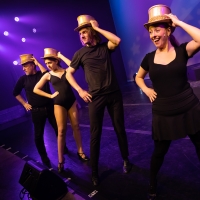 Photos: First look at Evolution Theatre Co's THE MUSICAL OF MUSICALS, THE MUSICAL
Posted: Apr. 28, 2022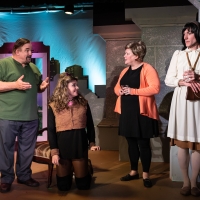 Photos: First look at Bruce Jacklin & Co's SYLVIA
Posted: Apr. 21, 2022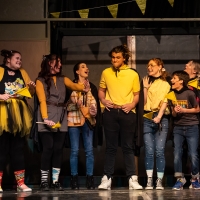 Photos: First look at Wagnalls Community Theatre's PUFFS
Posted: May. 11, 2022


LAST 365 DAYS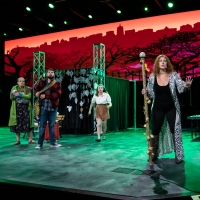 Photo Coverage: First look at New Albany Community Playhouse's INTO THE WOODS
Posted: Jun. 24, 2021


Photos: First look at Hilliard Arts Council's SOMETHING ROTTEN
Posted: Jul. 9, 2021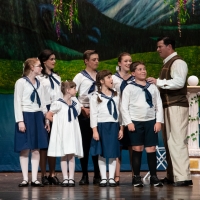 Photos: First look at MTVarts' THE SOUND OF MUSIC
Posted: Jul. 8, 2021


Photos: First Look at Off The Lake's Production of HEATHERS: THE MUSICAL
Posted: Mar. 26, 2022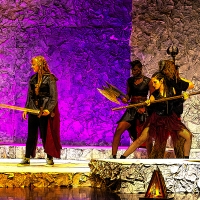 Photos: First look at Gahanna Lincoln's SHE KILLS MONSTERS
Posted: Nov. 11, 2021


Photos: First look at The New Albany High School Theatre Department's DISNEY's THE LITTLE MERMAID
Posted: Nov. 18, 2021


Photos: First look at Worthington Community Theatre's BARE: A POP OPERA
Posted: Mar. 20, 2022


Photos: First look at Imagine Productions' RIDE THE CYCLONE

May 19, 2022

In this hilarious and outlandish story, the lives of six teenagers from a Canadian chamber choir are cut short in a freak accident aboard a roller coaster. When they awake in limbo, a mechanical fortune teller invites each to tell a story to win a prize like no other the chance to return to life. A funny, moving look at what makes a life well-lived!
---
Photos: Inside Theatre Roundtable's CENTRAL OHIO THEATRE ROUNDTABLE ANNUAL CELEBRATION

May 17, 2022

Shadowbox Live was the host venue for the Central Ohio Theatre Roundtable (DBA Theatre Roundtable) Annual Celebration. The celebration took place on May 15, 2022 at 7 PM. Theatre Roundtable is a Columbus-based consortium of community, educational, and professional theatre companies that exists to further the performing arts in Ohio. "After a one-year hiatus, Theatre Roundtable is excited to provide an opportunity for the community to come together and celebrate the artists, organizations, productions, and theatrical initiatives that were produced in 2020 and 2021," Theatre Roundtable President Joe Bishara said. In lieu of Production awards, Theatre Roundtable presented four (4) citations, one (1) Fellowship and one (1) Award. For more information visit: https://theatre-roundtable.org/
---
Photos: Inside Short North Stage's SPRING AWAKENING OPENING NIGHT GALA

May 16, 2022

Broadway's hit angsty rock musical hits the Garden Mainstage in a spectacular new staging by Artistic Director Edward Carignan and New York City Choreographer Trevor Schmidt. Featuring a heart-pounding score by alternative singer/songwriter Duncan Sheik (pop hit "Barely Breathing"), Spring Awakening is a seductive and intimate look at the challenges of adolescent lovers in strict 19th Century German society. The subject of an upcoming HBO documentary and winner of 8 Tony Awards including Best Musical, this landmark musical is an electrifying fusion of morality, sexuality and rock and roll that is still very relevant today. Presented by a thrilling cast of up and coming talent this show will inspire, ignite, and illuminate everyone in the audience. Spring Awakening will perform from May 5th now extended to June 4th at the Short North Stage (https://www.shortnorthstage.org/) Showtimes are 7pm Thursdays, Fridays, Saturdays and 2pm Sundays. Tickets range From $39 - $54 with student rush tickets available for $20 at the door. Group discounts available. Visit www.cbusarts.com for more information.
---
Photos: First look at Gallery Players' PLAZA SUITE

May 14, 2022

Hilarity abounds in this portrait of three couples successively occupying a suite at the Plaza. A suburban couple take the suite while their house is being painted and it turns out to be the one in which they honeymooned 23 (or was it 24?) years before and was yesterday the anniversary, or is it today? This wry tale of marriage in tatters is followed by the exploits of a Hollywood producer who, after three marriages, is looking for fresh fields. He calls a childhood sweetheart, now a suburban housewife, for a little sexual diversion. Over the years she has idolized him from afar and is now more than the match he bargained for. The last couple is a mother and father fighting about the best way to get their daughter out of the bathroom and down to the ballroom where guests await her or as Mother yells, "I want you to come out of that bathroom and get married!" Performances run May 14 thru May 21, 2022. Gallery Players, 1125 College Ave., Columbus, Ohio 43209. Please visit https://galleryplayers.eventive.org/schedule to get specific showtimes and purchase tickets.
---
Photos: First look at Little Theatre Off Broadway's BONNIE & CLYDE

May 12, 2022

Bonnie & Clyde tells the story of real-life fugitives, Bonnie Parker and Clyde Barrow. Their craving for fame and thrills leads them into a life of crime and a life on the run. As their fame and ambition grows, their inevitable fate draws closer. NOT RECOMMENDED FOR CHILDREN UNDER 13: Adult situations, violence, language, gun shots, blood. Performances run May 13 thru 29, 2022 at Little Theatre Off Broadway, 3981 Broadway, Grove City, Ohio 43123. Order Reserved Seating Tickets at the link: https://www.showtix4u.com/event-details/63398
---
Photos: First look at Wagnalls Community Theatre's PUFFS

May 11, 2022

Puffs is the story of Wayne Hopkins: a regular boy who finds out he's a wizard and goes to school in England where he makes two best friends and has adventures. This perhaps sounds familiar. But, Wayne is sorted as a Puff, he and the other Puffs simply want to learn how to be wizards and avoid attacks by evil wizards. This show is rated PG13. Audience is encouraged to wear costumes as we will have a costume contest! Cash bar for those over 21 years of age. Written by Matt Cox, Directed by Joe Werstak, the Cast includes: Nikki Snyder, Alex Dutton, Tyler Howard, Sam Myers, April Adams, Sarah Applegate, Julie Cecutti, Scott Gottliebson, Tyler Hall, Gail Matos, Madi Ryan, Keilyn Snell, Stewart Stebelton, Jamie Thacker, Trinity Yeomans, Bethany Ziegler, and Wave Wilkerson. Performances run May 13 thru May 15, 2022 at The Wagnalls Memorial, 150 East Columbus St, Lithopolis, OH 43136. For more information or to purchase tickets, visit: https://wagnalls.ticketleap.com/puffs/dates
---
Photos: First look at MTVarts' ALL MY SONS

May 6, 2022

During the war Joe Keller and Steve Deever ran a machine shop which made airplane parts. Deever was sent to prison because the firm turned out defective parts, causing the deaths of many men. Keller went free and made a lot of money. The twin shadows of this catastrophe and the fact that the young Keller son was reported missing during the war dominate the action. The love affair of Chris Keller and Ann Deever, the bitterness of George Deever returned from the war to find his father in prison and his father's partner free, are all set in a structure of almost unbearable power. The climax showing the reaction of a son to his guilty father is fitting conclusion to a play electrifying in its intensity. Director * Ian Fraser Ernsberger, Stage Manager * John Wareham, Season Production Manager * Megan Bell. The cast includes: Joe Keller * Bruce Jacklin, Kate Keller * Cate Blair Wilhelm, Chris Keller * Christopher Hartman, Ann Deever * Kelly Lauth, George Deever * Tony Montgomery, Dr Jim Bayliss * Glen Hissong, Sue Bayliss * Maureen Browning, Frank Lubey * Chuck Rogers, Lydia Lubey * Abigail Tayse, Bert * Briggs Swallow. Performances run May 6th thru the 8th, 2022 at the Knox Memorial Theater, 112 E. High Street, Mount Vernon, Ohio. For more information or tickets, visit: https://mtvarts.com/.
---
Photos: First look at Red Herring's THE LEGEND OF GEORGIA MCBRIDE

May 4, 2022

Casey has just been fired from his Elvis impersonator gig at a Florida dive bar and replaced by a B-level drag show. To make things worse, he's broke and just found out that his girlfriend is having a baby. After filling in for one of the drag queens one night, he decides to trade in his sequin jumpsuit for a sequin dress. With Miss Tracy's help, he becomes a star. Along the way, he learns a whole lot about himself and show business in this funny and touching show. Written by Matthew Lopez, Directed by David Allen Vargo, the Cast includes: Doug Joseph, David Bahgat, Aaron Natarelli, Alicia Hoffman, Bill Hafner, Nick Martin, D.C. Simpson and Maja Jera The Legend of Georgia McBride performances run May 5 thru May 22, 2022, at Red Herring Theater, 3723 S. High St. Columbus, Ohio. For more information or to purchase tickets, visit: https://www.redherringtheater.org/
---
Photos: First look at Curtain Players' MY Three Angels

May 3, 2022

It's Christmas Eve in the tropical prison colony of Cayenne, French Guiana, where the temperature has graciously dropped to 104 degrees. Hopeless shopkeeper Felix Ducotel has hired three convicts - two of them murderers, the third a swindler - to fix his roof. But when Felix's evil cousin arrives to oust Felix and his family from their business, the three convicts realize the Ducatels need a few guardian angels, and decide to use every criminal art they possess to set matters right. Written by Samuel Spewack and Bella Spewack, based on La Cuisine Des Anges by Albert Husson Directed by Stephen Grinch, the Cast includes: Randy Benge (Joseph), Al Minor (Jules), Tiarra Dapo (Marie Louise Ducotel), Julie Emmert (Mme. Parole), Brian Henry (Henri Trouchard), Jeff Kemeter (Lieutenant), Randy Lenhart (Felix Ducotel), Cheryl Nelson (Emilie Ducotel), Patrick Petrilla (Paul), & Kyle Smith (Alfred) Performances run May 6 thru May 22, 2022 at Curtain Players, 5691 Harlem Road, Galena, Ohio 43021. For more information or to purchase tickets, visit: http://curtainplayers.org
---
Photos: New Albany Middle School Theatre Dept's MARY POPPINS JR.

April 29, 2022

Based on one of the most popular Disney movies of all time and the Broadway musical that played for over 2,500 performances and received multiple Olivier and Tony Awards nominations, Disney and Cameron Mackintosh's Mary Poppins captures hearts in a whole new way: as a practically perfect Broadway Junior musical! New Albany Middle School has been rehearsing and preparing for this show since January. Mary Poppins Jr. consists of 54 cast members and 16 crew members grades 6-8. Featuring projections by Nick Eberts and lighting design by Jon Gillie, an entire team of dedicated parents created the scenery, props and costumes led by Director Gould. New Albany Middle School will present Mary Poppins, Jr. to be performed April 29 - May 1 at the Jeanne B. McCoy Community Center for the Arts. Purchase tickets: https://bit.ly/3vbXMDz
---
Photos: First look at Evolution Theatre Co's THE MUSICAL OF MUSICALS, THE MUSICAL

April 28, 2022

musicals, each written in the distinctive style of a different master of the form. A Rogers and Hammerstein version; a Stephen Sondheim version; a Jerry Herman version; Andrew Lloyd Webber version; and a Kander & Ebb version. Music by Eric Rockwell, Lyrics by Joanne Bogart, Book by Eric Rockwell and Joanne Bogart Directed by Joe Bishara, Music Direction by Jonathan Collura, Choreography by Jamie Markovich McMahon, the Cast includes: Tom Cardinal (Jitter), Nat Harper (June), Matt Piper (Willy), and Lisa Thoma (Abby) Performances run April 28 thru May 7, 2022 at Abbey Theater of Dublin, 5600 Post Rd. Dublin, Ohio 43017. For more information or to purchase tickets, visit: https://ci.ovationtix.com/35855/production/1080334
---
Photos: First look at Hilliard Arts Council's 1776

April 22, 2022

The musical 1776 finds John Adams attempting to cajole and bully his fellow members of the Continental Congress to create and sign the Declaration of Independence and vote for a separation from English tyranny. But how much is he willing to compromise in the pursuit of this newfound freedom? 1776 The musical, with music and lyrics by Sherman Edwards and a book by Peter Stone, premiered on Broadway in 1969 and won three Tony Awards, including Best Musical. In 1972, it was also made into a film adaptation. This Tony award winning musical will feature the efforts of 30 talented actors from the greater Columbus area, including well known and long-standing member of the Columbus theatre community, Bill Goldsmith playing the part of John Adams. Performances run April 22nd thru May 1st, 2022 at the Hilliard Civic and Cultural Arts Center, 5425 Center St, Hilliard, OH, 43026. For more information or to get tickets, visit: https://www.hilliardartscouncil.org/theatre/
---
Photos: First look at The New Albany High School Theatre Department's LETTERS TO SALA

April 22, 2022

Based on the book Sala's Gift by Ann Kirschner, 'Letters to Sala' tells the remarkable true story of a young girl's survival in wartime Germany during which she spent five years in seven different Nazi labor camps and collected over 350 letters. Sala Garncarz kept her secret for over 50 years, concealing her incredible history in a box. Everything changes when Sala reveals the letters to her grown daughter. The family must decide whether to keep these personal mementos that detail their struggles through a horrific time or share them with the world. This incredibly important, powerful, and moving play runs April 21 - 30 at the McCoy Center for the Arts, 100 West Dublin-Granville Rd., New Albany, OH 43054. Tickets can be purchased in advance at cbusarts.com or at the door.
---
Photos: First look at Bruce Jacklin & Co's SYLVIA

April 21, 2022

'A man and his dog is a sacred relationship. What nature hath put together let no woman put asunder.' A street-smart mixture of Lab and poodle, Sylvia becomes a major bone of contention between husband and wife. She offers Greg an escape from the frustrations of his job and the unknowns of middle age. To Kate, Sylvia becomes a rival for affection. Don't miss your chance to see this hilarious comedy about a man and his dog directed by Susan Moreland and produced by Bruce Jacklin. Starring: Thor Collard, Beth Nuzum Cronenweth, Andrew Duffy and Megan Evans as Sylvia. "Sylvia" runs April 22nd thru May 7th. Performances are every Friday and Saturday evening, with social hour beginning at 6:30 PM. Reservations and menu sections must be made on line at https://tickets.alcoverestaurant.com/index.php/en/sylvia
---
Photos: First look at THE GRETTA AND GILDA EASTER SPECTACULAR

April 17, 2022

Gretta is a devout Christian, Gilda is a Pagan- how do these two celebrate Easter together? We are about to find out! The Gretta and Gilda Easter Spectacular is a live show starring Gretta Goodbottom and Gilda Wabbit. Shauna Davis will also be joining Gretta and Gilda! If you haven't heard her sing, it's the voice of an angel! Maybe we will have her play an angel! One of the West family traditions is to raise money for local charities at the end of the show. Last year they raised $17,000 for Kaleidoscope Youth Center! Only two performances left – Sunday April 17th at 3:00 pm and at 6:00 pm at District West, 145 North 5th St., Columbus, OH. Tickets available at the door.
---
Photos: Inside Mount Vernon Arts Consortium presents AMY GRANT

April 8, 2022

The Mount Vernon Arts Consortium welcomed Amy Grant on April 7th, 2022 to the Knox Memorial Theater in Mount Vernon, Ohio. Amy has sold more than 30 million albums world-wide, including three multi-platinum, six platinum and four gold. Grant has received 6 Grammy Awards and 26 Dove Awards, a star on the Hollywood Walk of Fame and a star on the Music City Walk of Fame. Most recently, she was inducted into the Gospel Music Hall of Fame in Nashville. Upcoming shows include Amy Grant on Thursday, April 7th; Kevin Nealon on Thursday, June 16th; and Aureum: An Aerial and Acrobatic Adventure Tale on Saturday, June 18th and Clint Black on Thursday, September 15th. For more information or to purchase tickets, visit: https://www.mvac.org
---
Photos: First look at Rise Up Youth Theatre's PIRATES! THE MUSICAL

March 31, 2022

"We're off to sail the rollicking sea, pirates all are we!" But ARRRR, and shiver me timbers! There's a stowaway on board! Perhaps the King of the High "Cs" will know what to do. Join this salty crew of colorful scallywags when Blue-beard, Yellowbeard, Whitebeard, Purplebeard - well, you get the picture - along with the No Beards hoist the Jolly Roger and set sail for a mighty adventure. Performances run April 1-3, 2022 at Lancaster Masonic Lodge, 224 S. High Street, Lancaster, OH 43130. For more information visit: https://www.riseupartsalliance.org
---
Photos: Inside Short North Stage's BROADWAY STARS IN CONCERT

March 30, 2022

On Monday March 28th, Short North Stage hosted a fundraiser event featuring Broadway performers Jelani Remy (Ain't Too Proud, Lion King) and Thayne Jasperon (Hamilton, Newsies). Patrons enjoyed an evening full of entertainment with special guests Thom Christopher Warren, Lisa Glover, accompanist Jonathan Collura, and the cast of Little Shop of Horrors. Patrons that purchased a VIP ticket were also treated to a pre and post event reception. This was a one night only event! Don't miss Little Shop of Horrors running now through April 15. Visit www.cbusarts.com for more information.
---
Photos: First look at Ohio University Lancaster Theatre's A COMEDY OF TENORS

March 30, 2022

Ken Ludwig's 'A Comedy of Tenors' open this week at Ohio University Lancaster Theatre. Three Tenors, two wives, three girlfriends, and a soccer stadium with screaming fans. What could go wrong? Find out when Ohio University Lancaster Theatre presents Ken Ludwig's 'A Comedy of Tenors' this week, Thursday, March 31 - Sunday, April 3. Producer, Director, Scenic Designer...A Victor Jones Lighting and Technical Consultant...Dale Harris Stage Manager, Lighting and Sound...Abby Reeves. TICKETS: Online sales: https://commerce.cashnet.com/oul-theatre Box Office: (740) 681-3353 Show dates and times: Thursday, March 31, 7 pm; Friday, April 1, 7 pm; Saturday, April 2, 7 pm Sunday, April 3, 2 pm. *Tickets available at the door a half hour before all shows. Rated PG13.
---
Photos: First Look at Off The Lake's Production of HEATHERS: THE MUSICAL

March 26, 2022

Based on the classic 1989 film. Westerberg High is ruled by a shoulder-padded, scrunchie-wearing junta: Heather, Heather and Heather, the hottest and cruellest girls in all of Ohio. But misfit Veronica Sawyer rejects their evil regime for a new boyfriend, the dark and sexy stranger J.D., who plans to put the Heathers in their place - six feet under. Off the Lake is the only student run, service based theatre organization @ The Ohio State University! We hope to see you there for a night of great theatre for a great cause! Heathers the Musical performances run March 24, 25, 26, April 1, 2 at 7 pm and March 27, April 3 at 2pm in the Lawrence Tower ballroom, 328 W Lane Ave, Columbus, OH 43201. Tickets will be available at the door in Lawrence Tower. We will be collecting donations for our service partner, Kaleidoscope Youth Center, with a suggested donation of $1 or a canned good.
---