Jerri Shafer - Page 2
Jerri has loved taking photos all her life and was always the one in the family who took everyone's picture. After her daughter was born, Jerri started scrapbooking and she became interested in taking better pictures for her scrapbooks. Then after her daughter started an interest in musical theatre, Jerri started taking pictures of the shows and developed a love for musical theatre as well. She has been seen snapping pics at many theatres around Columbus and surrounding areas. To see more of Jerri's work, visit http://jams.smugmug.com
MOST POPULAR ARTICLES
LAST 30 DAYS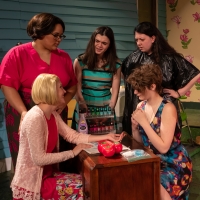 Photo Coverage: First look at Reynoldsburg HS and Eastland-Fairfield Performing Arts' STEEL MAGNOLIAS
Posted: May. 14, 2021


Photo Coverage: Bishop Hartley High School Drama Department's YOU'RE A GOOD MAN, CHARLIE BROWN
Posted: May. 19, 2021


Photo Coverage: First look at Hilliard Arts Council's THE COMPLETE WORKS OF WILLIAM SHAKESPEARE (ABRIDGED)
Posted: May. 21, 2021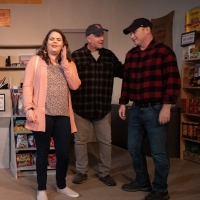 Photo Coverage: First look at Curtain Players' LAST GAS
Posted: Jun. 10, 2021


LAST 365 DAYS
Photo Coverage: First look at Eastland-Fairfield Career & Technical Schools Performing Arts' THE MEETING
Posted: Feb. 12, 2021


Photo Coverage: First look at THE ROCKY HORROR SHOW at the Garden Theatre
Posted: Oct. 15, 2020


Photo Coverage: First look at Curtain Players' REST ASSURED
Posted: Feb. 4, 2021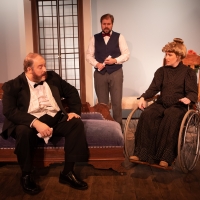 Photo Coverage: First Look at Red Herring Productions' A BETTER AND NOBLER MAN
Posted: Jan. 20, 2021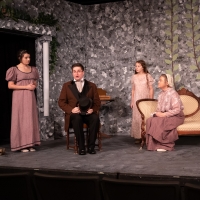 Photo Coverage: First look at Curtain Players' SENSE & SENSIBILITY
Posted: Oct. 22, 2020


Photo Coverage: First Look at Hilliard Arts Council's TALKING WITH
Posted: Feb. 27, 2021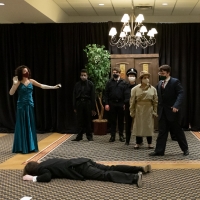 Photo Coverage: First look at Bishop Hartley's CLUE
Posted: Mar. 12, 2021


Photo Coverage: First Look at Red Herring Productions' A BETTER AND NOBLER MAN

January 20, 2021

A Better & Nobler Man, written by Sheldon Gleisser and directed by Michael Herring, is the story of Chester A. Arthur, James Garfield's Vice President. Arthur became the 21st President of the United States, an office he never wanted, when Charles Guiteau assassinated James Garfield in 1881. Live Stream performance on Friday, January 22nd at 7:00 PM. More info at www.redherring.info Video On-Demand January 24th through April 30th. Tickets https://www.showtix4u.com/events/17740
---
Photo Coverage: First look at Hilliard Arts Council's TALLEY'S FOLLY

November 11, 2020

The Hilliard Arts Council will present Talley's Folly as a virtual production available for viewing from November 13th at 7:00am through November 15th at 11:30pm. Lanford Wilson's Pulitzer Prize-winning play takes place in a deserted Victorian boathouse on the Talley place in Lebanon, Missouri in 1944. Matt Friedman, an accountant from St. Louis, has arrived to plead his love to Sally Talley, the susceptible but uncertain daughter of the family. Bookish, erudite, totally honest, and delightfully funny, Matt refuses to accept Sally's rebuffs and her fears that her family would never approve of their marriage. For more information about the show and to purchase tickets, visit https://www.showtix4u.com/event-details/41995
---
Photo Coverage: First look at Curtain Players' SENSE & SENSIBILITY

October 22, 2020

Kate Hamill's playful adaptation of Jane Austen's beloved novel follows the fortunes (and misfortunes) of the Dashwood sisters. Sense and Sensibility examines our reactions, both reasonable and ridiculous, to societal pressures. When reputation is everything, how do you follow your heart? Presented 'Drive-In' style, the play will be projected live onto a screen outside the playhouse while the actors perform inside. Performances run from October 23rd thru November 8th, 2020 at Curtain Players, 5691 Harlem Road, Galena, Ohio 43021. For more information or to purchase tickets, visit: http://curtainplayers.org
---
Photo Coverage: Inside New Vision Dance Company's #SAVETHEARTS SHOWCASE

October 20, 2020

Thank you for those who came to the show this weekend and for being a part of our family as we all try to #SaveTheArts. Performances were October 18th, 2020 in Dublin, Ohio. For more information about New Vision or how to donate, visit: http://www.newvisiondanceco.org/
---
Photo Coverage: First look at THE ROCKY HORROR SHOW at the Garden Theatre

October 15, 2020

In this cult classic, sweethearts Brad and Janet, stuck with a flat tire during a storm, discover the eerie mansion of Dr. Frank-N-Furter, a transvestite scientist. As their innocence is lost, Brad and Janet meet a houseful of wild characters, including a rocking biker and a creepy butler. Through elaborate dances and rock songs, Frank-N-Furter unveils his latest creation: a muscular man named 'Rocky.' Socially distant and masked onstage and in the audience. The Rocky Horror Show returns to the Garden Theater, 1187 North High St., Columbus, Ohio from Oct 15-25, 2020. Get your seats today at RockyHorrorColumbus.com
---
Photo Coverage: First look at Red Herring Productions' DR. JEKYLL & MR. HYDE

October 9, 2020

The road to hell is paved with good intentions. Dr. Jekyll is desperately seeking a cure for madness. So desperate, in fact, that he's willing to test is potion on himself. We all know how that works out for him. But you will be surprised by the twists and turns in this hilarious farce based on Robert Louis Stevenson's iconic novella. Show opens Oct 9th and runs until the 18th. In-person performances at 3723 S. High St. Columbus, Ohio. Tickets for virtual and in-person performances available at https://redherring.secure.force.com/ticket/
---
Photo Coverage: Inside New Vision Dance Co.'s MUSICAL THEATRE CABARET

October 5, 2020

After months of anticipation with the global pandemic causing the cancellation of their spring show and the hault of performers all around the country to do what they love in a public setting, New Vision Dance Company was so excited to produce and host a Cabaret featuring dance pieces performed by company members as well as vocal performances by guest artists to provide fellow community members with a safe space to perform after such a long break. The event required masks to be worn by both performers and audience members, was socially distanced and held outdoors in a space generously provided by Phil LaSusa in Westerville. Performances were September 26, 2020 in Westerville, Ohio.  For more information about New Vision or how to donate, visit:  http://www.newvisiondanceco.org/
---
Photo Coverage: First look at DADDY LONG LEGS

October 4, 2020

Based on the classic novel which inspired the 1955 movie starring Fred Astaire—Daddy Long Legs is the vivid account of a young orphan named Jerusha Abbott and a mysterious benefactor who gives her an opportunity to attend college, requiring that she write to him monthly, even though he will not respond. Her letters to him paint a moving portrait of her former life in the orphanage and the development of her mind and spirit. What: Drive In Movie Experience & On Demand Online Streaming.  When: October 16-18, @ 8PM for Drive-In Experience.  October 16-18, @Anytime for On Demand Online Streaming - Start anytime 10/16-10/18, 48hrs to watch.  Where: 400 West Rich, Columbus, OH 43215.  Ticket Prices: $20 per vehicle OR $10 per streaming device.  Box Office: https://www.showtix4u.com/events/Daddy   *Enter the code 'Daddy2020' for presale streaming tickets.*   Box Office Email: DLLBoxOffice@gmail.com  Facebook Event: https://fb.me/e/17lGMWkre
---
Photo Coverage: First look at Red Herring & Tipping Point Theatre Co's SOMETHING TO VOTE FOR

September 19, 2020

SOMETHING TO VOTE FOR is a modern morality play, written in 1911 but has profound resonance for today. At the turn of the 20th century, children were dying at an alarming rate from Dysentery, Diphtheria, and Tuberculosis. The source of those diseases was traced back to bacteria infested milk. At the time, the American Dairy industry was unregulated and sanitation practices were careless and irresponsible. At the same time, the Anti-Women's Suffrage movement was gaining momentum and it looked like women were never going to get the vote. It is with that backdrop that Charlotte Perkins Gilman wrote SOMETHING TO VOTE FOR. Once again, Red Herring sets themselves apart from other productions, by providing a LIVE STREAMED stage reading of this play. Encore broadcasts will be happening on Friday, Sept 25 and Sunday, Sept 27 - both at 8:00 PM. Tickets can be purchased online at: https://tinyurl.com/y4vl4a3v. For more information about Red Herring or to donate, visit http://www.redherring.info/
---
Photo Coverage: First look at Curtain Players' THE DIXIE SWIM CLUB

September 10, 2020

Presented 'Drive-In' style, the play will be projected live onto a screen outside the playhouse while the actors perform inside. Please note the special 8:30 p.m. start for all shows. A limited number of seats will be available inside the playhouse. Performances run September 11th thru the 26th, 2020 at Curtain Players, 5691 Harlem Road, Galena, Ohio 43021. For more information or to purchase tickets, visit: http://curtainplayers.org
---
Photo Coverage: First look at Red Herring's GROUNDED

August 16, 2020

Seamlessly blending the personal and the political, Grounded tells the story of a hot-rod F16 fighter pilot whose unexpected pregnancy ends her career in the sky. Repurposed to flying remote-controlled drones in the Middle East from an air-conditioned trailer near Vegas, the Pilot struggles through surreal twelve-hour shifts far from the battlefield, hunting terrorists by day and being a wife and mother by night. A tour de force play for one actress, Grounded flies from the heights of lyricism to the shallows of workaday existence, targeting our assumptions about war, family, and the power of storytelling. Directed by Nancy Shelton Williams and starring Carolyn Demanelis, the production will be live streamed on August 16th @ 7:00 pm and video broadcast on August 21st & 22nd. For tickets please visit: https://tinyurl.com/y59pf6g4. More information about Red Herring and how to donate, visit: http://www.redherring.info/
---
Photo Coverage: First Look at New Albany Community Playhouse's INTO THE WOODS

August 13, 2020

Into the Woods is a musical with music and lyrics by Stephen Sondheim and book by James Lapine. The musical intertwines the plots of several Brothers Grimm and Charles Perrault fairy tales, exploring the consequences of the characters' wishes and quests.
---
Photo Coverage: First look at Red Herring's THE MOTHER-LOGUES

June 29, 2020

On Monday evening June 30th, 2020 at 7:00 PM, Red Herring will be premiering a live streaming platform with a series of monologues curated from across the globe by Vivian Lermond. Hosted by emcee Ruth Sternberg, watch Nikki Smith, Kristin Green, Josie Merkle, Catherine Cryan Erney, Samantha Stark, and Harold Yarborough, perform touching and tender monologues about mothers. Originally scheduled to celebrate Mother's Day in May, Red Herring has revived the show and is using it to debut a new YouTube channel. For the next few months Red Herring is shifting gears and reinventing itself to continue to provide audiences with provocative programs during these challenging times. They have converted their 49 seat black box theater into a television studio and will be broadcasting the event on their new YouTube channel. Please subscribe to see this show and future productions: https://www.youtube.com/channel/UC1pAqVcVfg7RLStULNd5fww
---
Photo Coverage: First Look at Gallery Players' SHE LOVES ME

March 6, 2020

From the creative team behind Fiddler on the Roof, this delightful musical tells the story of Georg and Amalia, bickering co-workers at a Budapest perfume store who have no idea that each is the other's romantic pen pal. Based on a play that became both the Jimmy Stewart movie The Shop Around the Corner and the '90s classic You've Got Mail, She Loves Me is a charming romantic comedy about idealism and the promise of true love, guaranteed to lift your spirits and leave you grinning. Two-act musical appropriate for elementary school and up. Performances are March 7th thru the 22nd. Gallery Players, 1125 College Ave., Columbus, Ohio 43209. Please visit jccgalleryplayers.org to get specific show times and purchase tickets.
---
Photo Coverage: First look at Hilliard Arts Council's HOW TO EAT LIKE A CHILD

March 6, 2020

This hilarious musical features 20 local kid actors in grades 4-8 who will sing, dance and act through the joys and sorrows of being a child. "How to Eat Like a Child" reminds us that kids are smart and talented, and that problems of childhood are common but easily solvable by kids. They give us lessons in such subjects as how to beg for a dog, how to torture your sister, how to get the best seat in the family car and how to act after being sent to your room. The pace is fast, the tone subversive and the scenes easily recognized. This show is fun for audience members of all ages. Performances are on March 6th thru the 15th at the Hilliard Civic and Cultural Arts Center, 5425 Center St, Hilliard, OH, 43026. For tickets or more information, visit: http://www.hilliardartscouncil.org/
---
Photo Coverage: First look at The Lancaster Playhouse's Crimes of the Heart

March 5, 2020

In Hazlehurst, Mississippi the Magrath sisters have gathered to await news of the family patriarch. Their grandfather is living out his last hours in the local hospital. Lenny, the oldest sister, is unmarried at and facing diminishing marital prospects; Meg, the middle sister, who quickly outgrew Hazlehurst, is back after a failed singing career on the West coast; Babe, the youngest, is out on bail after shooting her husband in the stomach. Their troubles, grave and yet somehow hilarious, are highlighted by their priggish cousin, Chick. Also in the mix is the awkward young lawyer who tries to keep Babe out of jail while helpless not to fall in love with her. The play is about how its young characters escape the past to seize the future. Performances are March ,7,& 13, 2020 at 7:30pm and March 14, 2020 at 2:00pm at Maria's Mexican Restaurant, 129 E. Main Street, Lancaster, OH 43130. For more information or how to purchase tickets, visit: https://www.thelancasterplayhouse.org/
---
Photo Coverage: First look at Pickerington Community Theatre's PIRATES PAST NOON KIDS

March 3, 2020

This time around, Jack and Annie's tree house takes them to an exotic island with pirates, where the two discover the power of friendship and the simple pleasures in everyday life. Performances are March 6th thru the 15th, 2020 and will be held at the Wigwam Theater (10190 Blacklick-Eastern Road Northwest, Pickerington, OH 43147). For ticket call the box office at 614-508-0036 or you can purchase tickets online at pctshows.com.
---
Photo Coverage: Inside the Butterfly Guild's MAMMA MIA!

February 28, 2020

Butterfly Guild of Nationwide Children's Presents Mamma Mia! at the Palace Theatre February 28, 29 and March 1. Join us for this electric, fun, and colorful show! All proceeds benefit Nationwide Children's Hospice and Palliative Care programs. Performances are February 28, 29, and March 1, 2020 and will be held at the Palace Theatre, 34 W Broad St, Columbus, OH 43215. For tickets visit: my.cbusarts.com
---
Photo Coverage: First look at Little Theatre Off Broadway's THE SMELL OF THE KILL

February 27, 2020

Take three delicious, malicious wives, add three miserable, unloving husbands—and chill. Nicky, Debra and Molly have tolerated one another for years, until they exchange confidences for the first time revealing that all three marriages are on the brink of disaster and all three women are facing the challenges of their lives. Performances run February 28th thru March 15th, 2020 at Little Theatre Off Broadway, 3981 Broadway, Grove City, Ohio. For reservations/more info visit: http://www.ltob.org or call 614-875-3919.
---
Photo Coverage: First look at Ohio University Lancaster's ALMOST MAINE

February 26, 2020

Welcome to Almost, Maine, a place that's so far north, it's almost not in the United States. It's almost in Canada. And it's not quite a town, because its residents never got around to getting organized. So it almost doesn't exist. One cold, clear, winter night, as the northern lights hover in the star-filled sky above, the residents of Almost, Maine, find themselves falling in and out of love in unexpected and hilarious ways. Knees are bruised. Hearts are broken. But the bruises heal, and the hearts mend - almost - in this delightful midwinter night's dream. Ohio University Lancaster Theatre presents "ALMOST, MAINE." Performances are Thursday, February 27 through Sunday, March 1, 2020 at Ohio University Lancaster in the Wagner Theatre, 1570 Granville Pike, Lancaster, Ohio, 43130. For tickets, visit: https://commerce.cashnet.com/oul-theatre
---