Jerri Shafer - Page 3
Jerri has loved taking photos all her life and was always the one in the family who took everyone's picture. After her daughter was born, Jerri started scrapbooking and she became interested in taking better pictures for her scrapbooks. Then after her daughter started an interest in musical theatre, Jerri started taking pictures of the shows and developed a love for musical theatre as well. She has been seen snapping pics at many theatres around Columbus and surrounding areas. To see more of Jerri's work, visit http://jams.smugmug.com
MOST POPULAR ARTICLES
LAST 30 DAYS
Photo Coverage: Bishop Hartley High School Drama Department's YOU'RE A GOOD MAN, CHARLIE BROWN
Posted: May. 19, 2021


Photo Coverage: First look at Hilliard Arts Council's THE COMPLETE WORKS OF WILLIAM SHAKESPEARE (ABRIDGED)
Posted: May. 21, 2021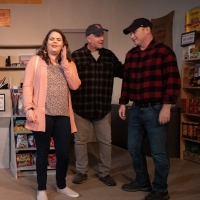 Photo Coverage: First look at Curtain Players' LAST GAS
Posted: Jun. 10, 2021


LAST 365 DAYS
Photo Coverage: First look at Eastland-Fairfield Career & Technical Schools Performing Arts' THE MEETING
Posted: Feb. 12, 2021


Photo Coverage: First look at THE ROCKY HORROR SHOW at the Garden Theatre
Posted: Oct. 15, 2020


Photo Coverage: First look at Curtain Players' REST ASSURED
Posted: Feb. 4, 2021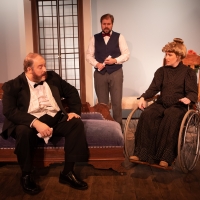 Photo Coverage: First Look at Red Herring Productions' A BETTER AND NOBLER MAN
Posted: Jan. 20, 2021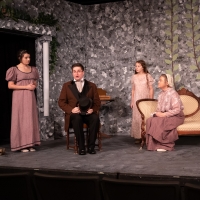 Photo Coverage: First look at Curtain Players' SENSE & SENSIBILITY
Posted: Oct. 22, 2020


Photo Coverage: First Look at Hilliard Arts Council's TALKING WITH
Posted: Feb. 27, 2021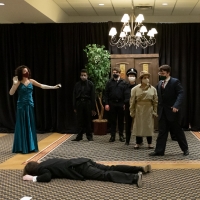 Photo Coverage: First look at Bishop Hartley's CLUE
Posted: Mar. 12, 2021


Photo Coverage: First look at Ohio University Lancaster's ALMOST MAINE

February 26, 2020

Welcome to Almost, Maine, a place that's so far north, it's almost not in the United States. It's almost in Canada. And it's not quite a town, because its residents never got around to getting organized. So it almost doesn't exist. One cold, clear, winter night, as the northern lights hover in the star-filled sky above, the residents of Almost, Maine, find themselves falling in and out of love in unexpected and hilarious ways. Knees are bruised. Hearts are broken. But the bruises heal, and the hearts mend - almost - in this delightful midwinter night's dream. Ohio University Lancaster Theatre presents "ALMOST, MAINE." Performances are Thursday, February 27 through Sunday, March 1, 2020 at Ohio University Lancaster in the Wagner Theatre, 1570 Granville Pike, Lancaster, Ohio, 43130. For tickets, visit: https://commerce.cashnet.com/oul-theatre
---
Photo Coverage: First look at Imagine Productions' A FUNNY THING ON THE WAY TO THE FORUM

February 21, 2020

A Funny Thing Happened on the Way to the Forum is a nonstop laughfest in which Pseudolus, a crafty slave, struggles to win the hand of a beautiful, but slow-witted, courtesan named Philia for his young master, Hero, in exchange for freedom. The plot twists and turns with cases of mistaken identity, slamming doors and a showgirl or two. This unforgettable, hysterical musical allows a terrific ensemble of comedic actors to shine – 'something for everyone, a comedy tonight!' Performances are February 21st thru the 29th at the Columbus Performing Arts Center, 549 Franklin Avenue, Columbus, OH 43215. For tickets or more information, visit: https://www.imaginecolumbus.org/
---
Photo Coverage: First look at Bruce Jacklin & Co's BREAKING LEGS

February 8, 2020

Mark your calendars for a hilarious clash of Mafia and the theatre. 'Breaking Legs' written by Tom Duluck takes place in an Italian restaurant owned by a successful mobster and managed by his beautiful unmarried daughter. When the daughter's former college professor arrives to ask for financial backing for a play he's written about a murder, the fun begins. Performances are February 7th thru March 7th, 2020 at The Alcove Restaurant, 116 South Main Street, Mount Vernon, OH 43050. For tickets or more information, visit: https://www.alcoverestaurant.com
---
Photo Coverage: First look at Curtain Players' FALSETTOS

February 6, 2020

Curtain Players presents the popular musical Falsettos. Falsettos is the tale of Marvin, who leaves his wife and young son to live with another man. His ex-wife marries his psychiatrist, and Marvin ends up alone. Two years later, Marvin is reunited with his lover on the eve of his son's bar mitzvah. Winner! 1992 Tony® Award, Best Book of a Musical, William Finn & James Lapine Winner! 1992 Tony® Award, Best Score of a Musical, William Finn. A beautiful reminder that love can tell a million stories. Performances run February 7th through the 23rd, 2020 at Curtain Players, 5691 Harlem Road, Galena, Ohio 43021. For more information or to purchase tickets, visit: http://curtainplayers.org
---
Photo Coverage: First Look at Hilliard Bradley Theatre's SHE KILLS MONSTERS

January 24, 2020

A comedic romp into the world of fantasy role-playing games, She Kills Monsters tells the story of Agnes Evans as she leaves her childhood home in Ohio following the death of her teenage sister, Tilly. When Agnes finds Tilly's Dungeons & Dragons notebook, however, she stumbles into a journey of discovery and action-packed adventure in the imaginary world that was Tilly's refuge. In this high-octane dramatic comedy laden with homicidal fairies, nasty ogres, and 90s pop culture, acclaimed young playwright Qui Nguyen offers a heart-pounding homage to the geek and warrior within us all. Performances are January 24 thru 26th, 2020 at the Bradley Theater, 2800 Walker Rd, Hilliard, Ohio 43026. For tickets or more information, visit: https://www.bradleytheater.com/
---
Photo Coverage: First look at Little Theatre Off Broadway's GYPSY

January 16, 2020

Loosely based on the 1957 memoir of famous striptease artist Gypsy Rose Lee, "Gypsy" tells the story of the dreams and efforts of one hungry, powerhouse of a woman to get her two daughters into show business. Gypsy includes some of Broadway's most beloved songs, including 'Everything's Coming Up Roses,' 'Let Me Entertain You,' and 'You Gotta Get a Gimmick.' It's the show the NEW YORK TIMES once said 'may be the greatest of all American musicals' Performances run January 17th thru February 2nd, 2020 at Little Theatre Off Broadway, 3981 Broadway, Grove City, Ohio. For reservations/more info visit: http://www.ltob.org or call 614-875-3919.
---
Photo Coverage: First look at Hilliard Arts Council's A CHRISTMAS CAROL

December 13, 2019

A Christmas Carol is a beloved holiday story. This production is the Art Council's charity event. Admission is 5 non perishable food items that will go to Hilliard Food Pantry or an unwrapped toy that will go to Firefighters for Kids or $5. After expenses have been subtracted from cash donations the rest of the money will also go to Hilliard Food Pantry. Performances are on Friday December 13th at 7pm and Saturday December 14th at 11am, 2pm and 7pm at the Hilliard Civic and Cultural Arts Center, 5425 Center St, Hilliard, OH, 43026.
---
Photo Coverage: First Look at Worthington Community Theatre's Bah Humbug

December 11, 2019

Bah Humbug is an original adaptation of Charles Dickens' classic tale A Christmas Carol, book and lyrics written by local professor Dr. William Kennedy with original music by local composer Derek Dunavent. This new version celebrates the heart of the story in a way that is accessible for all ages, featuring a cast of all ages, full of local children and adults. With new songs and timeless carols, join us December 13 – 15 for a family friendly night of holiday cheer while Ebenezer Scrooge discovers the true meaning of Christmas and joins Tiny Tim in wishing "God Bless Us Every One." Performances are December 13 thru the 15th at the Peggy R. McConnell Arts Center of Worthington, 777 Evening St., Worthington, Ohio. For more information, visit https://worthingtoncommunitytheatre.com/#. Purchase tickets through the McConnell Arts Center.
---
Photo Coverage: First look at Gallery Players' A GENTLEMAN'S GUIDE TO LOVE & MURDER

December 7, 2019

This Central Ohio premiere of the 2014 Tony Award- winner for best new musical is a riotous comedy about murder and ambition. When Monty Navarro discovers that he is ninth in line to be Earl of Highhurst, he sets about bumping off the eight members of the D'Ysquith family who stand in his way– all of whom are played by a single actor! Making things stickier are the affections of two dramatically different ladies, the conniving Sibella and the earnest Phoebe. Two-act musical with some mature content, appropriate for teens and up. Performances are December 7th thru the 22nd. Gallery Players, 1125 College Ave., Columbus, Ohio 43209. Please visit jccgalleryplayers.org to get specific show times and purchase tickets.
---
Photo Coverage: First look at Curtain Players' THE MOUSETRAP

December 6, 2019

This classic whodunit finds a group of strangers stranded in a boarding house during a snow storm, one of whom is a murderer. The suspects include the newly married couple who run the house, and the suspicions in their minds nearly wreck their perfect marriage. Others are a spinster with a curious background, an architect who seems better equipped to be a chef, a retired Army major, a strange little man who claims his car has overturned in a drift, and a jurist who makes life miserable for everyone. Into their midst comes a policeman, traveling on skis. He no sooner arrives, when the jurist is killed. Two down, and one to go. To get to the rationale of the murderer's pattern, the policeman probes the background of everyone present, and rattles a lot of skeletons. Another famous Agatha Christie switch finish! Chalk up another superb intrigue for the foremost mystery writer of her time. Performances run December 6th thru the 22nd at Curtain Players, 5691 Harlem Road, Galena, Ohio 43021. For more information or to purchase tickets, visit: http://curtainplayers.org
---
Photo Coverage: First Look at Pickerington Community Theatre's MIRACLE ON 34TH STREET

December 4, 2019

"This is a tale that we want to believe in, that creates a world we seem to desperately desire, free of the blatant commercialism that surrounds us, where love and decency and generosity of spirit are their own rewards. What we want Christmas to be all about, really." So writes the Santa Cruz Sentinel of this most heartwarming holiday story. By chance, Kris Kringle, an old man in a retirement home, gets a job working as Santa for Macy's. Kris unleashes waves of good will with Macy's customers and the commercial world of New York City by referring parents to other stores to find exactly the toy their child has asked for. Seen as deluded and dangerous by Macy's vocational counselor, who plots to have Kris shanghaied to Bellevue Psychiatric Hospital, Kris ends up in a court competency hearing. Especially at stake is one little girl's belief in Santa. Performances are December 6th thru the 15th, 2019 and will be held at the Wigwam Theater (10190 Blacklick-Eastern Road Northwest, Pickerington, OH 43147). For ticket call the box office at 614-508-0036 or you can purchase tickets online at pctshows.com.
---
Photo Coverage: First look at King Avenue Players' THE MUSIC MAN

November 14, 2019

The Music Man follows fast-talking traveling salesman, Harold Hill, as he cons the people of River City, Iowa, into buying instruments and uniforms for a boys' band that he vows to organize – this, despite the fact that he doesn't know a trombone from a treble clef. His plans to skip town with the cash are foiled when he falls for Marian, the librarian, who transforms him into a respectable citizen by the end of the show. Performance is November 14th thru the 17th at King Avenue United Methodist Church, 299 King Ave., Columbus, OH. Admission is free, but a $10 donation is encouraged.
---
Photo Coverage: First Look at Worthington Community Theatre's NEXT TO NORMAL

November 15, 2019

Next to Normal is an American rock musical with book and lyrics by Brian Yorkey and music by Tom Kitt. The story focuses on a mother who struggles with bipolar disorder and the effects that managing her illness has on her family. Next to Normal addresses grief, depression, suicide, drug abuse, ethics in modern psychiatry, and the underbelly of suburban life. Performances are November 14th thru the 17th at MadLab, 227 N. 3rd St., Columbus, OH 43215. For more information, visit the Worthington Community Theatre facebook page. Purchase tickets http://madlab.net
---
Photo Coverage: First look at Little Theatre Off Broadway's THE GREAT AMERICAN TRAILER PARK CHRISTMAS MUSICAL

November 8, 2019

The Girls are Back! Be on hand as Betty, Lin, and Pickles jingle all the way with some new neighbors in an all-new, all-trailer-park musical – but with tinsel & Keg Nog! Performances run November 8th thru the 24th, 2019 at Little Theatre Off Broadway, 3981 Broadway, Grove City, Ohio. For reservations/more info visit: http://www.ltob.org or call 614-875-3919.
---
Photo Coverage: First look at Original Productions Theatre's STEAM BATH BLUES

November 6, 2019

Seven wealthy men are sitting together in a Steam Bath at the Willow Creek Country Club after a round of golf, when they start complaining about their lives: Their jobs, their companies, their homes, their wives a?" nothing is right. When, one of them says: a?oeWe could all just disappear.a?? Why not? They've paid their dues. They have the means, and, as crazy as it sounds, these men do it. They decide to just bail out. To leave. To disappear. One of them, a bank president, arranges for half their money to be secretly left for their wives. They set a time and date, hope aboard a private plane a?" and without a word to anyone a?" they are gone. And we follow them on some of their adventures. The World Premiere Musical Steam Bath Blues will perform November 7th thru November 16th at the Abbey Theater of Dublin, 5600 Post Road, Dublin, OH 43017. Tickets available online at https://www.optheater.com/.
---
Photo Coverage: First look at Ad Hoc Theatre Company Presents CHAMBER MUSIC

November 1, 2019

Eight famous women from different time periods meet as representatives of the women's ward of an asylum in 1938. Besides their usual meeting concerns, their new focus is on ways they can show their strength over the men's ward. This dark comedy in one act showcases these strong and diverse women trapped in an absurd situation. Proceeds benefit Planned Parenthood. Chamber Music performs November 1st thru November 9th, 2019, at MadLab, 227 N 3rd St. Columbus, OH 43215.
---
Photo Coverage: First look at Wagnalls Community Theater Presents MATILDA

October 25, 2019

With book by Dennis Kelly and original songs by Tim Minchin, Matilda The Musical is the story of an extraordinary little girl who, armed with a vivid imagination and a sharp mind, dares to take a stand and change her own destiny. Matilda performs October 25th thru November 3rd, 2019, Fri/Sat at 7:00pm and Sun at 3pm at The Wagnalls Memorial, 150 E. Columbus, St., Lithopolis, OH 43136.
---
Photo Coverage: First look at New Albany Middle School Theatre Dept.'s GODSPELL JR.

October 19, 2019

Based on the Gospel According to St. Matthew and drawing from various theatrical traditions, such as clowning, pantomime, charades and vaudeville, Godspell Junior is a groundbreaking and unique reflection on the life of Jesus, with a message of kindness, tolerance and love. This cast of 26 students and 9 crew are all 6th, 7th and 8th graders. Performance dates: Saturday, October 19-10:30am, 12:30pm, 3pm, 5:30pm, 7:30pm & Sunday October 20 – 1pm & 3pm. Tickets will be $8 students/staff/senior, $10 adults. Where: Jeanne B McCoy Center for the Arts, 100 West Dublin-Granville Rd., New Albany, OH 43054General admission. Ticket sales: www.nams.seatyourself.biz
---
Photo Coverage: First Look at Westgate Theatre Co. and Carriage Place Players' ANNIE

October 18, 2019

Westgate Theatre Company and Carriage Place Players present 'Annie', the show about a young girl with an unstoppable spirit that became a worldwide phenomenon and winner of seven Tony Awards, including Best Musical. 'Annie' is presented in partnership with Empty Bowls, a local partnership with Mid-Ohio Foodbank, to fight hunger in our community. Join us for the Friday 10/18 performance to purchase a bowl at the Silent Auction (during Intermission), featuring specially-designed bowls donated by local artists. On Saturday 10/19 at 5:00 p.m., join us for the Bowls and Soup event, and for a $10 minimum donation, you can select a keepsake bowl and receive a complimentary serving of homemade soup and bread. Performances are October 18th thru 20th at Westgate Community Recreation Center, 455 S Westgate Ave., Columbus, Ohio. Tickets $5 at the door. For more information, call 614-645-3264.
---
Photo Coverage: First look at Curtain Players' SLEEPY HOLLOW: THE LOST CHAPTER

October 17, 2019

The story picks up in the final pages of Washington Irving's classic, Sleepy Hollow, revealing a previously untold piece of the legend. After Ichabod disappears, his students are determined to find out the truth of what happened. Their new schoolteacher, Abigail Seymour, is more focused on teaching than chasing ghosts - that is until she has her own run in with the Horseman. Now, she and the students must hurry to retrace Ichabod's final night in Sleepy Hollow and find a way to stop the Horseman once and for all. Along the way, we discover new revelations, gain clues on who the Headless Horseman could be and meet all the original Irving characters from The Legend of Sleepy Hollow. Performances run October 18th thru November 3rd at Curtain Players, 5691 Harlem Road, Galena, Ohio 43021. For more information or to purchase tickets, visit: http://curtainplayers.org
---
« prev  1  2  3  4  5  6 … 20  next »