Hadestown - Broadway
In Hadestown, a song can change your fate. This Tony-winning new musical by Anaïs Mitchell and innovative director Rachel Chavkin is a love story for today, and always.
Intertwining two mythic Greek tales - that of young dreamers Orpheus and Eurydice, and of King Hades and his wife Persephone - Hadestown invites you on a journey to the underworld and back.
Mitchell's alluring melodies and Chavkin's poetic imagination pit industry against nature, doubt against faith, and fear against love, with art perhaps being the one thing that can save it all.
Hadestown is a haunting and hopeful theatrical experience that grabs you and never lets go.
Video preview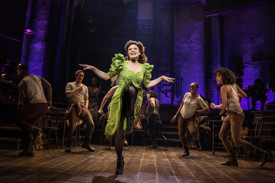 Photo preview
Schedule
Running Time: Two hours and 30 minutes, with one intermission
Tuesdays: 7:00pm
Wednesdays: 2:00pm and 7:30pm
Thursdays: 7:00pm
Fridays: 8:00pm
Saturdays: 2:00pm and 8:00pm
Sundays: 3:00pm
(New York, NY)
219 West 48th St.
Seating Chart
Twitter Watch
@hadestown
05/07/2021 06:15pm
To celebrate #AAPIHeritageMonth, we're shining a light on groundbreaking members of the #AAPI community. First up:… https://t.co/7J2s7rYJQv
Featured Reviews For Hadestown
HADESTOWN: RED, HOT, AND BLUESY SCORE FUELS A TRIP TO HELL AND BACK - New York Stage Review
A new Broadway musical that takes audiences to hell and back, Hadestown looks and sounds terrific, and yet it lacks something vital. Drawn from a classical Greek legend, the musical somehow reminds me of a handsome ancient statue that is missing its head.
'Hadestown' Broadway Review: A Mythic New Musical for the Trump Era - The Wrap
Chavkin, her production team and cast are working at the top of their form - and they go a long way to masking some of the show's shortcomings. Mitchell is a better composer than a lyricist, alas, and sometimes leans too heavily on De Shields' narration to advance the plot instead of her occasionally repetitive songs. And the fact remains that there's just not much story here - not nearly enough for a two and a half hour show.