Hadestown - Broadway
In Hadestown, a song can change your fate. This Tony-winning new musical by Anaïs Mitchell and innovative director Rachel Chavkin is a love story for today, and always.
Intertwining two mythic Greek tales - that of young dreamers Orpheus and Eurydice, and of King Hades and his wife Persephone - Hadestown invites you on a journey to the underworld and back.
Mitchell's alluring melodies and Chavkin's poetic imagination pit industry against nature, doubt against faith, and fear against love, with art perhaps being the one thing that can save it all.
Hadestown is a haunting and hopeful theatrical experience that grabs you and never lets go.
Video preview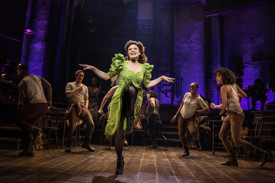 Photo preview
Schedule
Running Time: Two hours and 30 minutes, with one intermission
Tuesdays: 7:00pm
Wednesdays: 2:00pm and 7:30pm
Thursdays: 7:00pm
Fridays: 8:00pm
Saturdays: 2:00pm and 8:00pm
Sundays: 3:00pm
(New York, NY)
219 West 48th St.
Seating Chart
Twitter Watch
@hadestown
10/15/2021 11:36am
It's opening night for #HadestownTour at the @KenCen and @MorganSiobhanG is taking over our Instagram Story all day! https://t.co/0AGsWmT2SP
Featured Reviews For Hadestown
'Hadestown' Broadway Review: A Mythic New Musical for the Trump Era - The Wrap
Chavkin, her production team and cast are working at the top of their form - and they go a long way to masking some of the show's shortcomings. Mitchell is a better composer than a lyricist, alas, and sometimes leans too heavily on De Shields' narration to advance the plot instead of her occasionally repetitive songs. And the fact remains that there's just not much story here - not nearly enough for a two and a half hour show.
Broadway's Hadestown takes an epic musical journey to the underworld: EW review - Entertainment Weekly
As far as tales as old as time go, the stories of Greek mythology are pretty high up there, those epic stories of gods and men that have been told for thousands of years and inspired countless adaptations. But there's little that feels old or stately about the way those stories - those old songs, those sad songs - are told in Hadestown, which makes its Broadway bow Thursday with a journey to the underworld that feels like it sprung forth as something entirely new.