Hadestown - Broadway Tickets, News, Info & More
In Hadestown, a song can change your fate. This Tony-winning new musical by Anaïs Mitchell and innovative director Rachel Chavkin is a love story for today, and always.
Intertwining two mythic Greek tales - that of young dreamers Orpheus and Eurydice, and of King Hades and his wife Persephone - Hadestown invites you on a journey to the underworld and back.
Mitchell's alluring melodies and Chavkin's poetic imagination pit industry against nature, doubt against faith, and fear against love, with art perhaps being the one thing that can save it all.
Hadestown is a haunting and hopeful theatrical experience that grabs you and never lets go.
Video preview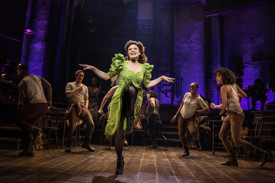 Photo preview
Schedule
Running Time:
Two hours and 30 minutes, with one intermission
Tuesdays: 7:00pm
Wednesdays: 2:00pm and 7:30pm
Thursdays: 7:00pm
Fridays: 8:00pm
Saturdays: 2:00pm and 8:00pm
Sundays: 3:00pm
About the Theatre
(New York, NY)
219 West 48th St.
Seating Chart
Twitter Watch
@hadestown
05/23/2022 08:08pm
Our man with feathers on his feet, @Andre_DeShields, departs Hadestown this Sunday, so we're celebrating him with a… https://t.co/au9Ee0wEmd
Featured Reviews For Hadestown
Broadway Review: 'Hadestown' - Variety
"Hadestown" triggered a lot of buzz when this wholly American show (which came to the stage by way of a concept album) premiered at Off Broadway's New York Theatre Workshop in 2016. Arriving on Broadway with its earthly delights more or less intact, this perfectly heavenly musical - with book, music and lyrics by Anaïs Mitchell - should stick around for a while.
Review: The Metamorphosis of 'Hadestown,' From Cool to Gorgeous - New York Times
The gods, or more likely Ms. Chavkin and her creative team, have saved "Hadestown" on its way uptown - via Edmonton and London - by turning it into something very much warmer, if not yet ideally warm. The story is clearer, the songs express that story more directly and the larger themes arise from it naturally rather than demanding immediate attention like overeager undergraduates.
Buy at the Theatre Shop
T-Shirts, Mugs, Phone Cases & More