December Shows Announced at City Winery Chicago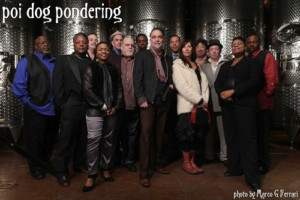 City Winery has announced its December lineup of musical acts. See the full list below!
Featured shows include Chicago's Queen of the Blues Shemekia Copeland (Dec. 9), back-to-back shows with multi-Grammy Award nominee Dwele (Dec. 14), The Empty Pockets' Holiday Wonderland Concert with special guest Nate Jones (Dec. 17), American Idol winner Kris Allen (Dec. 18), two nights with multi-Grammy Award nominee Bebel Gilberto (Dec. 19-20), New Year's Eve with BoDeans (Dec. 31) and more.
Lynne Jordan presents A Great Big Diva
Saturday, December 2; 1:00 p.m.
$12 advance/$15 day of show
Chicago's own Lynne Jordan has been thrilling audiences around the world with her vocal talents for 25 years, including sold out performances at City Winery venues in Chicago, New York and Atlanta. Now, under the guidance of Chicago composer and producer Ira Antelis with decorated LA-based playwright and co-writer Andrew Barrett, Lynne Jordan delivers the first staged reading of her one-woman musical A Great Big Diva which incorporates the stories and music of Jordan's rich life and brings together all her formidable talents to the stage. Following this reading, the show will be refined, completed and brought to a stage in Chicago over the next year. This endearing performance will represent a unique opportunity to get an exclusive first look at this compelling material and music that will become A Great Big Diva.
Ms. Lisa Fischer & Grand Baton
Saturday, December 2
$45/$48/$55/$58
Ms. Lisa Fischer is stepping into the spotlight at last. After four decades of singing backup for icons like the Rolling Stones, Tina Turner, Chaka Khan, and Nine Inch Nails, Fischer is finally offering her own humble, heartfelt songs accompanied by her inventive band Grand Baton.
The unexpected success of the Oscar-winning documentary Twenty Feet from Stardom (2013) altered the course of Fischer's musical journey. The film told her story, complete with clips of her 1991 Grammy-winning R&B hit "How Can I Ease The Pain," live footage of her legendary duets with Mick Jagger on "Gimme Shelter," and glowing testimonials from famous colleagues like Sting, Patti Austin, and Chris Botti. It showcased her virtuosity and vulnerability, opened a window on her sometimes lonely life on the road, earned her a second Grammy award, and left audiences eager to see and hear more.
Sunday, December 3; 11:00 a.m.
GA Seated - $12
Story Sessions features a collection of performers sharing true personal stories that will tug at your heart strings, tickle your funny bone and take your mind on a wild adventure. Story Sessions begins at 11:00 a.m. with an hour of live music followed by storytelling starting at noon. As each story is told, Story Sessions' resident artist will draw an illustration of the story as it unfolds. Brunch menu available.
Jeffrey Foucault & Kris Delmhorst
Sunday, December 3
$18/$20/$22/$25
Songwriter Jeffrey Foucault has taken, in his own words, "the small roads," building a brick and mortar independent international touring career of 10 studio albums, countless miles and critical accolades. His wife, Kris Delmhorst is an American songwriter, singer, and instrumentalist. She has released six full length records on the respected indie label Signature Sounds, as well as a panoply of EPs, side projects, and collaborations. Her newest album, The Wild, to be released this October, is co-produced with Foucault, and features a band drawn from players they share long history with as bandmates and friends. The album merges Delmhorst's sophisticated melodies and hauntingly open voice with Foucault's lean aesthetic to deliver a darkly hopeful, fiercely wise new collection of songs.
Monday, December 4
$18/$20/$22/$25
Americana singing and songwriting duo Laura and Lydia Rogers are The Secret Sisters. At one point, they went from touring with Bob Dylan to losing their label, purging their team, filing bankruptcy and almost permanently trading harmonies for housecleaning. But, the sisters kept moving forward, and they came out with a biting and beautiful third LP, You Don't Own Me Anymore. Their first release as New West signees, it's a document of hardship and redemption, of pushing forward when it would be so much easier to drown in grief. And, it's a story about how passion and pure artistry can be the strongest sort of salvation - how art is left, like perfect grains of sand, when everything else has washed away.
Tuesday, December 5; 7:00 p.m. & 9:30 p.m.
$45/$50/$55/$60
Lyricist, lead vocalist, and co-founder of O.A.R. Marc Roberge plays a rare solo performance at City Winery Chicago. His jam band O.A.R. is renowned for their intense, vibrant live shows with hits including "Hey Girl," "This Town," "Shattered," and their most recent, "Peace" about starting fresh. The Rockville, MD native points to Pearl Jam as his biggest musical influence.
Wednesday, December 6
$22/$25/$28/$32
The rise of Austin, TX singer/songwriter Joe Pug has been as improbable as it has been impressive. After dropping out of college and taking on work as a carpenter in Chicago, Pug got his musical start by providing CDs for his fans to pass along to their friends. This led to a string of sold out shows and a record deal with Nashville indie Lightning Rod Records (Jason Isbell, Billy Joe Shaver). Pug toured in support of his albums Messenger (2010) and The Great Despiser (2012) with a band that looked as much like a jazz trio as an Americana band. They've been on the road for over four hundred shows, including stops at Lollapalooza, Bonnaroo, and The Newport Folk Festival. His latest release is Windfall (2015).
Saturday, December 9
$38/$45/$48/$52
Whether she's belting out a raucous blues-rocker, firing up a blistering soul-shouter, bringing the spirit to a gospel-fueled R&B rave-up or digging deep down into a subtle, country-tinged ballad, Shemekia Copeland sounds like no one else. With a voice that is alternately sultry, assertive and roaring, Copeland's wide-open vision of contemporary blues, roots and soul music showcases the evolution of a passionate artist with a modern musical and lyrical approach.
Saturday, December 9; 11:30 p.m.
$10/$12/$15/$20
Mihali Savoulidis is the lead singer and guitarist for Vermont rock quartet, Twiddle. Barely 30 years old, the Jersey native has already drawn crowds at such notable rock shrines as Red Rocks, The Capitol Theatre and Bonnaroo. Twiddle's fan base is growing rapidly, and Savoulidis' signature vocals and guitar work are more than partly responsible for this undeniable momentum. During his twelve years with Twiddle, Savoulidis has shared the stage with groundbreaking rock legends, including members of Phish, Blues Traveler, Big Gigantic, Matisyahu, Nahko and Medicine for the People, Trevor Hall, and Jamaican reggae legend Ernest Ranglin. In this solo performance at City Winery, Savoulidis will be performing a collection of songs both new and old, including his newest hit, "Over Land and Sea."
Chicago Philharmonic Brunch Series - FairyTale Noël (Heavenly Trio and Holiday Cheer)
December 10; 12:00 p.m.
$25 General Admission; $10 Student Tickets
The Chicago Philharmonic Chamber Players, a subgroup of the Chicago Philharmonic Orchestra, is dedicated to the concept of chamber music as "the music of friends" by capturing the jam-session feel of great music performed by world-class musicians. Join the Chicago Philharmonic Chamber Players for the flowing melodies of Debussy's Sonata for Flute, Viola and Harp and Bax's Elegiac Trio, gorgeous works to transport you to a fairytale place. Travel to a fantasy realm as Chopin reinterprets the famous aria from Rossini's Cinderella (La Cenerentola).
Sunday-Wednesday, December 10-13
$65/$68/$75/$78
Los Lobos, one of America's most distinctive and original bands, returns for their 6th consecutive December engagement at City Winery Chicago with a four-night stand. Best known for "La Bamba," Los Lobos draws equally from rock 'n' roll, Tex-Mex, country, folk, R&B, blues and traditional Spanish and Mexican music. Since their first recordings, they have found ways to redefine and expand their sound, without ever straying from the musical traditions that form the heart and soul of the band.
Thursday, December 14; 7:00 & 9:30 p.m.
$38/$45/$55/$60
Influenced by the sounds of jazz and Motown, Dwele is a multi-Grammy Award nominated songwriter, producer, multi-instrumentalist and vocalist. He began his career in Detroit's underground hip-hop scene during the late '90s and has since released five albums and collaborated with artists like Big Sean and Kanye West, including work on West's 2007 Flashing Lights. His fifth studio album, Greater than One, mixes silky ballads and crispy up-tempo jams to create what Dwele calls "bedroom music."
Saturday, December 16
$35/$38/$42/$45
Louisiana born Blues star Tab Benoit is dedicated to drawing on his Cajun roots to fuel a long-standing discography of back-to-basics blues signatures, earning him several awards in the genre, including a 2006 Grammy nomination for Best Traditional Blues Album for Brother to the Blues, a collaboration with Louisiana's LeRoux. With a career spanning back to nightly impromptu gigs at the Blues Box, a local Louisiana institution, and a record deal with Justice Records, Benoit has produced over a dozen albums since 1993. Keeping in touch with his home state, Benoit also starred in the IMAX motion picture Hurricane on the Bayou, a documentary about Hurricane Katrina's effects and a call to restore the wetlands. Benoit returns to City Winery in celebration of his long career in blues.
The Empty Pockets' Holiday Wonderland Concert with special guest Nate Jones
Sunday, December 17; 7:00 p.m.
$28/$35/$38/$42
The Empty Pockets' often cerebral and sometimes playful indie rock sound is built on a foundation of Americana, Blues, and Motown Soul. An old-school sensibility showcased by multiple lead singers, rich harmonies, and skilled instrumentalists sets rootsy Chicago outfit Empty Pockets apart. Following their success as a Buddy Holly Tribute act, the foursome began an expedition to stomp on the floorboards, sing to the rafters, dance on their instruments and create music completely on their own. The Pockets return to their Chicago hometown for this special evening of music filled with critically acclaimed originals and holiday favorites. Soulful Ohio songwriter Nate Jones opens. A limited number of tickets for a VIP Wine Tour and Tasting with the band are available for $65, tickets to the show not included.
Kris Allen - Somethin' About Christmas Tour
Monday, December 18
$22/$25/$28/$30
After dazzling audiences with such performances as his keyboard-accompanied rendition of Bill Withers' "Ain't No Sunshine," Arkansas-born Kris Allen won season eight of American Idol. A limited number of Meet & Greet tickets are available for $50, concert not included.
Tuesday-Wednesday, December 19-20
$45/$50/$55/$65
The multi-Grammy-nominated Bebel Gilberto's latest album, Tudo, which means "everything" in English, showcases Gilberto's ethereal vocals and wistful, dreamy songwriting in each of the CD's 12 tracks. Gilberto splits her time between Rio de Janeiro and New York City; she's exquisitely synthesized musical influences from both cities in every track. Gilberto's sultry tonality is constant throughout Tudo as are the warm and playful Brazilian rhythms that include wood bongos and shakers. The gorgeous melodies are shaped by touches of electronica, and Bebel's intimate vocals hint at a fantastical Rio de Janeiro.
Thursday, December 21; 7:00 p.m. & 9:30 p.m.
$38/$45/$48/$52
Soul, R&B, and gospel singer/songwriter Avery*Sunshine, with thunderous pipes and heart-to-heart songs, is known for her invigorating and combustible live performances, compelling and revealingly honest songwriting, and her impeccable vocal instrument. Her life-inspired music is meant to spread joy and encouragement and to honor both human and spiritual relationships. "I want people to get my music. I don't want them to have to decipher some code in order to understand where I'm coming from," says Avery.
Avery*Sunshine's music is inspired by such diverse iconic figures as Nina Simone, Gladys Knight, The Doobie Brothers, Curtis Blow, B.B. King and John Coltrane to Parliament & Funkadelic, The Clark Sisters, Madonna, Miles Davis, Earth, Wind & Fire and?James Brown. In 2005, the singer lent her voice to the soundtrack for Paramount Pictures' The Fighting Temptations. In 2007, she was sought out by Grammy- and Tony Award-winning vocal powerhouse Jennifer Holliday to be choral director for the theatrical production of "Dreamgirls" during the National Black Arts Festival in Atlanta. Avery*Sunshine has also had the distinction of performing at the Democratic National Convention in Denver, CO and at private events during the 2009 Inauguration of President Barack Obama.
Michael McDermott's 6th annual "Mischief & Mistletoe"
Friday, December 22 with special guest Heather Horton
Saturday, December 23; 5:00 p.m. solo acoustic show & 8:00 p.m. with full band plus Canterbury Carolers
$28/$32/$35/$38
Described by author Stephen King as "one of the best songwriters in the world and possibly the greatest undiscovered rock 'n' roll talent of the last 20 years," Michael McDermott's brand of rock 'n' roll brims with the kind of well-honed style and wisdom that can only come from a career on the road and a pedigree in the studio. Effortlessly blending natural folk sensibility, pop hooks and honest rock, McDermott's music is as much for the outcast as the congregation. It's an exploration of the dark corners of life's journey and it resonates middle class truths through the passionate filter of a kid that grew up on Chicago's Irish South Side.
City Winery & Joel Chasnoff Present: Christmas for the Jews with John Fisch, Rabbi Barry Schechter and Ed Shulman
Monday, December 25
GA seated $25 in advance / $30 day of show
Following a sold-out show in 2016, Joel Chasnoff's Christmas for the Jews returns to City Winery Chicago with special guests stand-up comic Jon Fisch ("The Late Show with Stephen Colbert," "Late Night with David Letterman"), the "funniest rabbi in Chicago" Rabbi Barry Schechter and guitarist Ed Shulman. A Chicago native, Chasnoff is the author of the comedic memoir The 188th Crybaby Brigade about his service in the Israeli Army. He has performed on stage and screen in nine countries, including two off-Broadway shows, a USO comedy tour of Japan and Korea, more than 1,000 Jewish events in North America and Europe, and Israeli late-night TV. A graduate of I.O. (formerly Improv Olympic) in Chicago and UCB and The PIT in New York, Chasnoff regularly performs improv and teaches his Improv Comedy 101 Workshop to adults and teens. A portion of proceeds from Joel's comedy and book sales is donated to his foundation, Project Elijah.
Tuesday-Saturday, December 26-30
$48/$55/$58/$65
Thirty years on, upwards of 15 band members deep and an ocean in-between, Poi Dog Pondering keeps thriving because their ethic has always been about following their musical heart. They have let every sound that excited them flow through their music and flood it with ever changing colors - rock, soul, orchestral, acoustic, electronic textures. Americana, rock band, disco and international - all threaded along the way with lyrics that embrace the beauty and pain that life can bring.
Sunday, December 31; 7:30 p.m. & 11:00 p.m.
$65/$75/$80/$85
BoDeans celebrates the end of one year and the beginning of another with four shows at City Winery Chicago. BoDeans' accessible adult alternative sound has achieved many milestones, including a permanent installation at the Rock & Roll Hall of Fame Museum in Cleveland as part of their Midwest Artists exhibit. The group has made appearances at festivals including Farm Aid, Summerfest and ACL Festival along with TV appearances on Saturday Night Live, Letterman, Today, Imus, CNN, and ESPN. Currently, BoDeans' music is featured throughout the Netflix original series "The Ranch" starring Ashton Kutcher, Danny Masterson, Debra Winger, and Sam Elliott.
About City Winery Chicago
Opened in 2012, City Winery Chicago is a fully operational winery, restaurant with outdoor patio, concert hall and private event space located in the heart of the West Loop at 1200 W. Randolph, in the historic urban Fulton Market district. Once a refrigerated food distribution warehouse, the 1911 building has been transformed into a contemporary 33,000 square foot haven for those passionate about wine, music and culinary arts. The décor evokes the romance of being in wine country, from the exposed stainless steel fermenting tanks and French oak barrels, to the aroma of fermenting grapes. Chicago's only fully operation winery has produced dozens of in-house wines sourced from vineyards in California, Oregon, Washington, Argentina and Chile, including a Wine Enthusiast 90-point 2012 Bien Nacido Vineyard Reserve pinot noir. With more than 400 unique producers from around the world City Winery is recognized with 2014 and 2015 Best of Awards of Excellence "for having one of the most outstanding restaurant wine lists in the world" by Wine Spectator. The globally inspired, locally sourced, wine-focused food menu is conceived for pairing and sharing. The concert hall accommodates up to 300 guests, all seated at tables with complete beverage and dining service, ensuring a comfortable "listening room" experience enhanced by a state-of-the-art Meyer Sound system. Riedel is the official and exclusive provider of glassware, showing City Winery's commitment to enjoying quality wine in a quality vessel. American Airlines is the Official Airline and Virgin Hotels Chicago is the Official Hotel of City Winery. For more information, please visit www.citywinery.com.
Related Articles View More Chicago

Stories

Shows
More Hot Stories For You