LATE NIGHT WITH SETH MEYERS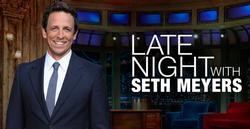 Beloved "Saturday Night Live" personality - and the longest serving "anchor" on the show's wildly popular "Weekend Update" - Seth Meyers takes over as host of NBC's "Late Night," home to A-list celebrity guests, memorable comedy and the best in musical talent.
As the Emmy-winning head writer for SNL, Seth has established a reputation for his sharp wit and perfectly timed comedy and has gained fame for his spot-on impersonations, unique characters and hilarious spoofing of topical news. Seth takes his departure from SNL to his new post at "Late Night" as Jimmy Fallon moves to "The Tonight Show."
From Emmy-winning executive producer Lorne Michaels ("Late Night with Jimmy Fallon," "Saturday Night Live") comes the next generation of Late Night jabs, laughs and unforgettable moments on "Late Night with Seth Meyers." One-hour daily show.
Latest Tweets from LateNightSeth
8/17 @ 11:00 AM

LateNightSeth - #ThisWeekInLNSMHistory: If Seth hosted his show from Twin Peaks. https://t.co/l7q6oxHjwL

Retweet | Reply | Original Link   
8/17 @ 7:30 AM

LateNightSeth - TONIGHT: @SethMeyers welcomes Oscar Isaac and Zazie Beetz! Plus, comedy from @PhilNWang. https://t.co/Ot33BL51ni

Retweet | Reply | Original Link   
8/16 @ 8:09 AM

LateNightSeth - Don't miss our collection of Aidy Bryant's best appearances on #LNSM! https://t.co/eYUgX3F6jX

Retweet | Reply | Original Link   
8/16 @ 7:30 AM

LateNightSeth - TONIGHT: @SethMeyers welcomes @terrycrews and @vanessabayer! https://t.co/igMFPe2W83

Retweet | Reply | Original Link   
8/15 @ 3:33 PM

LateNightSeth - #ThisWeekInLNSMHistory: Amy Poehler crashed Seth's monologue so they could roast Andrew Cuomo for nearly 20 minutes… https://t.co/YbCyYZaDBg

Retweet | Reply | Original Link   
Latest Articles About Late Night with Seth Meyers on NBC