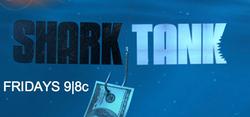 Just when you thought it was safe to go back to the remote control!
The Sharks are back to continue their search to invest in the best products and businesses that America has to offer. The critically acclaimed Shark Tank gives budding entrepreneurs the chance to make their dreams come true, and possibly make a business deal that will make them a millionaire. Season Three continues to make TV history, with the Sharks offering over $6.2 million of their own money in investment deals to bankroll a creative array of innovative entrepreneurs.
Billionaire Mark Cuban, owner and chairman of HDNet and outspoken owner of the 2010-2011 NBA championship Dallas Mavericks, returns as a Shark and appears in all 13 episodes. Also, Lori Greiner, a prolific inventor of retail products and often referred to as the "Queen of QVC," will join the show as a guest Shark investor for three episodes.
Returning "Sharks" joining Cuban and Greiner are real estate mogul Barbara Corcoran, technology innovator Robert Herjavec, fashion and branding expert Daymond John and venture capitalist Kevin O'Leary, who we all know has also been called Mr. Wonderful (by himself, of course).
The panel of five Sharks will hear pitches of the best business and product ideas from some of America's brightest entrepreneurs, ranging from start-ups from stay-at-home moms and dads, to simple yet brilliant ideas in a wide range of areas including children's products, music, sports, automotive, and even the nightclub scene.
Joining some entrepreneurs in their pitches will be indie-pop singer-songwriter Ingrid Michaelson and Hall of Fame basketball player Bill Walton. Business experts that will provide advice by phone to the entrepreneurs include Apple Computers co-founder Steve Wozniak, and Jim Koch, co-founder of Samuel Adams beer. Armando Christian Perez, aka Pitbull, appears in one of the follow-up stories, which allow viewers the opportunity to see how investments led to success.
The entrepreneurs who dare to enter the "Shark Tank" must try to convince the tough, self-made, multi-millionaire/billionaire tycoons to part with their own hard-earned cash and give them the funding they desperately need to jumpstart their business ideas. But the Sharks have a goal, too. They want a return on their investment and own a piece of the next big business idea.
In exchange for the Sharks' cash investment, the entrepreneurs give up a percentage of their companies' equity. When the Sharks hear a great idea, they're ready to fight each other for a piece of it. Then the once-desperate entrepreneur can rejoice that the Sharks find value in their product, service or business. But if the pitch is poor, the Sharks will tear into the ill-prepared presenters and pass on the idea with a simple "I'm out!"
In Season One, the Sharks, using their own money, made investment commitments with entrepreneurs adding up to more than $5 million. During the show's second season, they made investment commitments totaling close to $4 million.
There were also deals that were rejected by the Sharks. Some of these turned out to be missed opportunities when the disappointed entrepreneurs defied the odds and managed to persevere with their businesses. Will that happen again in Season Three? There's only one way to find out. Catch the season premiere of "Shark Tank" airs FRIDAY, JANUARY 20, 2012 (8:00-9:00 p.m., ET) on ABC.
Mark Burnett, Clay Newbill and Phil Gurin are the executive producers of "Shark Tank," based on the Japanese "Dragons' Den" format created by Nippon Television Network Corporation. The series is from Sony Pictures Television.
Latest Tweets from ABCSharkTank
| | |
| --- | --- |
| 5/29 @ 12:55 PM | ABCSharkTank - 🦈🦈🦈 |
| | |
| --- | --- |
| 5/28 @ 9:59 AM | ABCSharkTank - What do you think Anne and Mark are talking about? Wrong answers only 😂 #SharkTank https://t.co/BeA0EW6pfc |
| | |
| --- | --- |
| 5/26 @ 10:00 AM | ABCSharkTank - Just going to leave this set selfie here 🤳 #SharkTank https://t.co/Avykn5P64C |
| | |
| --- | --- |
| 5/21 @ 12:19 PM | ABCSharkTank - https://t.co/BhVscShLef |
| | |
| --- | --- |
| 5/21 @ 12:06 PM | ABCSharkTank - #SharkTank is officially coming back for season 12! 👏 Get those pitches ready 🦈 https://t.co/GPcvh5XAcf |
Latest Articles About Shark Tank on ABC