Click Here for More Articles on FOOD & WINE
Entertain and Dine NEW JERSEY STYLE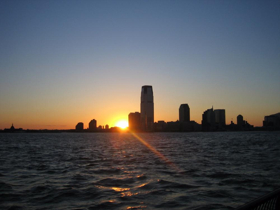 New Jersey theatre season is in full swing. Pair a restaurant with a show and you have an outing to remember. We have rounded up shows that are being performed and some that will open soon in the Garden State along with a local restaurant that you can enjoy.
Mayo Performing Arts Center (Morristown) Coming soon to MPAC are shows that include Opening Night: An Evening with Sutton Foster, Dixie's Tupperware Party, New Jersey Symphony Orchestra, So You Think You Can Dance Live, America, and much more. Visit: https://www.mayoarts.org/. The Stirling Tavern - This local restaurant is a welcoming, family-owned establishment with great food, craft beer and spirits. Visit: https://www.stirlingtavern.com/.
New Jersey Performing Arts Center (Newark) Check out NJPAC's upcoming performances in October that includes The Temptations and The Four Tops, Conversations with David Cameron, Nathan Lane Plus The Birdcage, and Tango Buenos Aires: The Spirit of Argentina. Visit: http://www.njpac.org. Nico Kitchen + Bar - Adjacent to NJPAC, you can enjoy dining before or after the show in their chic venue. Visit: http://www.nicokitchenbar.com/.
Paper Mill Playhouse (Millburn) An exciting, brand new musical comedy, The Honeymooners will be performed from September 28 to October 29. Visit: https://papermill.org/. The Hills Tavern - The restaurant is a short walk from the Playhouse and offers American tavern fare in a welcoming, neighborhood setting. They also have a special pre-theatre menu. Visit: http://www.thehillstavern.com/.
George Street Playhouse (New Brunswick) I Love You, You're Perfect, Now Change will be performed at George Street Playhouse from October 10th to November 12th. Visit: https://georgestreetplayhouse.org/. Harvest - Just up the road from George Street Playhouse's interim location is Harvest. Housed in the New Jersey Institute of Food, Nutrition, and Health (IFNH), the new dining venue has been developed as a showcase for the mission and principals of the IFNH. Visit: https://ifnh.rutgers.edu/harvest.html.
State Theatre New Jersey (New Brunswick) The Theatre is featuring a fantastic schedule of Broadway shows that include the New Jersey premiere of Jersey Boys. In addition there is a full line-up their musical performances, family entertainment, comedy, dance, and more. Visit: https://www.stnj.org/. Stage Left Steak and Catherine Lombardi - Just steps from the State Theatre are two restaurants, Stage Left Steak and Catherine Lombardi. Both offer delightful fine dining and have top beverage programs. Visit: http://www.stageleft.com and https://www.catherinelombardi.com/.
Premiere Stages (Union) Free staged readings in November include Brick City and Black Tom Island and stay tuned for news about their next production. Visit: http://www.premierestagesatkean.com/. The Garden in Union - The restaurant serves a fine array of food for lunch, dinner, twilight dining and dessert. Visit: http://gardenrestaurantnj.com/.
The Wellmont (Montclair) In the next few months the theater and concert venue will have Yacht Rock Revue, Gavin DeGraw Tour, and Dee Snider and more. Visit: https://wellmonttheater.com/. Plum on Park - This stylish, cozy restaurant serves a creative menu of seasonal, new American cuisine and gluten-free choices. They also have a local gluten-free bakery. Visit: http://www.plumonpark.com/.
Two River Theater (Red Bank) Now onstage is a highly acclaimed production of A Raisin in the Sun through October 8. Coming up on at the Theater is The Importance of Being Ernest from November 11 to December 3. Visit: https://www.tworivertheater.org/. Siam Garden - An area favorite, the restaurant offers delicious Thai cuisine and it is conveniently located across the street from the theater. Visit: http://siamgardenrestaurant.com/.
New Jersey Repertory Theater (Long Branch) Next onstage at NJ Rep is Mutual Philanthropy from October 19 to November 19 and check out their ALL ABOUT EVE Festival of the Arts from October 1st to October 8th at their new West End Art Center in Long Branch. Visit: http://www.njrep.org/. Avenue - In the Pier Village area, enjoy gourmet fare at Avenue along with great ocean views. They feature a Happy Hour and a 3-course meal that is ideal for pre-theatre dining. Visit: http://www.leclubavenue.com/.
Photo Credit: Courtesy of Freeimages.com

Related Articles