Stephen Sorokoff - Page 2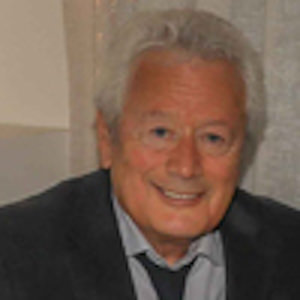 Stephen is also the cabaret/ music and co-theatre editor of the Times Square Chronicles. He studied at the Manhattan School of Music. Besides being a pianist, Stephen's business career was in the Fashion Industry. He was CEO of a textile manufacturing facility and President of an international textile machinery company. Stephen was on the Board of Directors of the "First All Children's Theatre" which brought the Stephen Schwartz musical The Trip and Captain Louie to the Kennedy Center in Wash DC. His wife Eda, an interior space designer and classical pianist was on the Board of Barrington Stage Company and is still active at BSC. Stephen's photographs, videos and articles appear on Broadwayworld.com, T2Conline.com and The New York Observer. He is active in the entertainment events at the Friars Club, where he is a member, and a voting member Berkshire Theatre Critics Association. Stephen is an Honorary Advisory Board Member of The Society For The Preservation of the Great American Song Book. Email: stephensorokoff@gmail.com.

MOST POPULAR ARTICLES
LAST 30 DAYS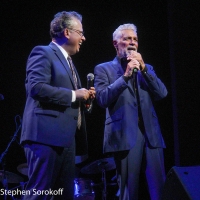 Photos: Clint Holmes and Billy Stritch Bring STRAIGHTEN UP & FLY RIGHT to The Wick Cabaret Theater
Posted: Jul. 9, 2021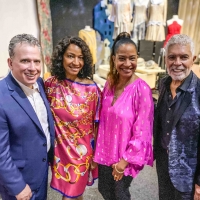 Photos: Nat King Cole's Daughters Attend Clint Holmes Billy Stritch Tribute Show at Wick Cabaret Theater
Posted: Jul. 10, 2021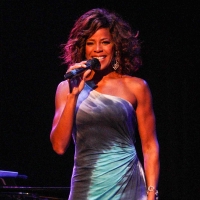 Photos: Nicole Henry Plays The Arts Garage
Posted: Jul. 25, 2021


LAST 365 DAYS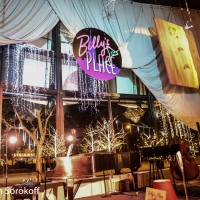 Photo Coverage: Billy Stritch Live and in Person at the Wick Theatre
Posted: Jan. 30, 2021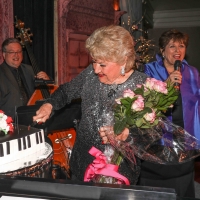 Photo Coverage: CBS SUNDAY MORNING and Mo Rocca Attend Marilyn Maye Birthday Performance at Wick Cabaret
Posted: Apr. 11, 2021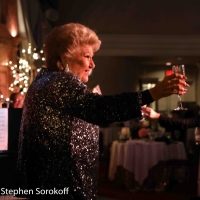 BWW Review: Marilyn Maye at the Wick Cabaret
Posted: Apr. 8, 2021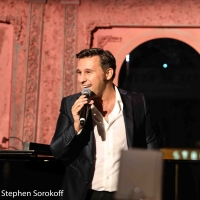 Photo Coverage: Nicolas King at Wick Cabaret
Posted: Mar. 6, 2021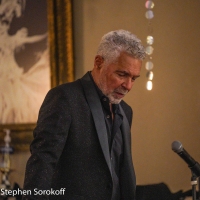 Photo Coverage: Clint Homes Electrifies Audiences at the Wick Theatre Cabaret
Posted: Apr. 17, 2021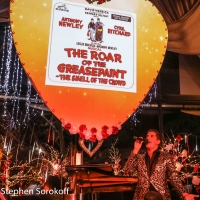 Photo Coverage: Anthony Nunziata Brings LOVE SONGS FROM BROADWAY Live to the WICK Theatre
Posted: Feb. 13, 2021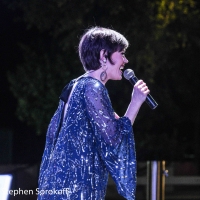 Photo Coverage: Carole J. Bufford Launches New Cabaret Series at Harbourside Place Amphitheater
Posted: Mar. 14, 2021


Photo Flash: Melissa Errico & Joel Grey Head 25th Anniversary Gold Coast Arts Gala

October 14, 2020

Melissa Errico & Joel Grey headed an All Star Cast at the 25th Anniversary Opening Night Gala Celebrating Gold Coast Arts. The organization founded by Regina Gil in 1995 has seen hundreds of thousands of students pass through it's doors and has been the host to numerous musical and art events over the years.
---
Photo Coverage: Live Music Begins At The Pelican Cabaret

August 20, 2020

Last night the audience at the Pelican Cabaret came together in spirit and song, (albeit 6 feet apart) as singer/entertainer Rob Russell ended his "cabaret quarantine" with a lively show at the popular Palm Beach establishment.   
---
BWW Review: Tom Dreesen's STILL STANDING... MY JOURNEY FROM STREETS & SALOONS TO THE STAGE AND SINATRA

August 14, 2020

Frank Sinatra loved to play along with the TV game show Jeopardy. Here's a Jeopardy question .....What little boy in Chicago, used to shine shoes in taverns while a jukebox in the background played Sinatra tunes and then became Frank Sinatra's opening act on tour for 14 years? He was also MC and pallbearer at Mr. Sinatra's funeral.
---
BWW Feature: Entertainment Company Pivots To Socially Distanced Interactive Virtual Events

May 23, 2020

Every seat in the house will have a great view at shows which are offered by renowned event planner  Craig Neier. 
---
BWW Interview: Kravis Center's Lee Bell Talks Kravis @ Home

May 20, 2020

Until the curtain rises again, the Kravis Center for the Performing Arts in West Palm Beach is entertaining its patrons with Kravis @ Home featuring a curated selection of virtual concerts, lectures, dance performances and arts educations activities, as well as original programs and presentations. 
---
BWW Interview: GFour Productions' Seth Greenleaf Talks MENOPAUSE THE MUSICAL and Future Streaming Plans

May 7, 2020

On Monday, May 4, GFour Productions - whose collective shows have won 56 Drama Desk and 44 Tony Awards - announced that their international hit show MENOPAUSE THE MUSICAL is now available for online streaming. For the first time in history, the beloved show will entertain fans from the comfort of their homes. Not only is the stream available for purchase - GFour has offered a revenue share to participating partners who market the online streaming, as a way to help venues across the country generate revenue at this time. Additionally, GFour is donating 10% of all sales to The Actors Fund, in support of their COVID-19 efforts to provide emergency financial assistance to performing arts and entertainment professionals.
---
Photos: Deana Martin Sings For Her Palies On Facebook

March 28, 2020

Dean Martin did it the old fashioned way, entertaining millions with his widely successful Variety TV show.
---
Photo Coverage: Steve Tyrell Concludes Engagement at Table 26

March 13, 2020

Because of the current crisis there may not have been many places on the planet where anyone was smiling last night but for 90 minutes at least, Steve Tyrell was able to remind us that there will be a "Sunny Side Of The Street". It's one of his signature songs that was used by NASA to wake up the astronauts in space every morning.   Sitting in Table 26 and listening to Steve's song list which had many Great American Songbook tunes on it written during the Great Depression and WWll it reminded me that this too shall pass albeit with some pain.  
---
Photo Coverage: Kenny G Plays the Kravis Center

March 11, 2020

It's common knowledge that musicians also possess a facility for math ( pianist Albert Einstein). There seems to be some correlation between dexterity of numbers and mastery of music notes. Kenny G who majored in accounting in college brought a countless amount of beautiful notes to the Kravis Center last night. It was also impossible to count any empty seats in the Dreyfoos Concert Hall for the musical extravaganza. Kenny came on stage before the start of the performance to announce that some lucky person in the audience would be taking home one of his saxophones, adding comically that he guaranteed they would be having great "sax" that night.
---
Photo Coverage: Steve Tyrell Returns to Table 26

March 9, 2020

There has never been a "menu special" more special than the one that Table 26 served up last night. Steve Tyrell one of the most celebrated crooners of American Songbook standards returned to Eddie & Ozzies popular restaurant and brought the excitement, glamour, and great music that used to reign in the legendary Royal Room back to the Palm Beach area. The food at Table 26 has some secret ingredients that stimulate the palate and Steve Tyrell possesses the melodic secret ingredients that stimulate your musical palate. It's that combination of exceptional melody, harmony, rhythm, and his vocal expression that make the songs of the great American composers and lyricists come to life.
---
Photo Coverage: Avery Sommers & Rob Russell at New Cabaret Room

March 4, 2020

Here are two statements rarely heard in the world of Cabaret. "There goes that Cabaret Singer driving off in his new Bentley!" and "Did you check out that beautiful new Cabaret Room?"
---
Photo Coverage: Loston Harris Plays the Kravis Center

March 1, 2020

From every corner of the musical world artists perform on the stages of the Kravis Center. Last night coming from such a corner, that of Madison Avenue and 76th street in NYC the Kravis welcomed Loston Harris. Loston for many years has entertained New Yorkers at his annual engagement in Bemelmans Bar at The Carlyle. The audience in Persson Hall may have been dressed a bit more casually than folks at the legendary hotel on Manhattan's storied upper East Side, but their musical taste was just as sophisticated as they relished Loston's cosmopolitan stylings.
---
Photo Coverage: Michael Feinstein Brings Guest Jimmy Webb To The Kravis Center

February 20, 2020

Michael Feinstein, through his performance and music history archiving is the country's foremost guide of The Great American Songbook. He had a songwriter/composer as his guest on the Kravis Center stage last night who has contributed a very important page of that book….Jimmy Webb.
---
Photo Coverage: Catskills On Broadway's Freddie Roman Receives Lifetime Achievement Award at Footlighters

February 17, 2020

We headed out on I95 but my mind superimposed Rt 17 in New York State. The signs advertising Medical Facilities, Orthopedic Surgeons, and The Hard Rock Casino became the Billboards for Grossingers, The Concord, and Browns Hotel. Freddie Roman, creator and star of Catskills on Broadway and comic superstar was going to receive the Footlighters Club's Shecky Greene Lifetime Achievement Award at Miami Shores Country Club. Getting such an award is usually a momentous solemn ritual, but when 7 of your fellow comedians will be toasting and honoring you the event becomes a room that is filled with the most amount of laughter on the planet.
---
Photo Coverage: The Maltz Jupiter Theatre Honors Milton & Tamar Maltz At Annual Gala

February 16, 2020

The Roaring Twenties became the Roaring 2020s at the Maltz Jupiter Theatre's annual gala last night. Amazon.com and retail establishments in Florida must have run out of Flapper dresses leading up to this exciting event as most of the women wore the traditional 1920's dresses to the gala put on by Florida's largest regional theatre.
---
Photo Coverage: Rob Russell Brings Safari Night To Cabaret At Cafe Centro

February 12, 2020

From the wilds of Palm Beach, Cabaret starved creatures journeyed to their favorite watering hole in West Palm last night. Cafe Centro was the place to be for an evening of roaring music and fun with head Safari guide Rob Russell who managed to tame the assembled with his soothing voice.. There were some beautiful and exotic species at this gathering and my stealthy telephoto lens managed to bag a few shots as everybody in the room were acting like they were let out of a cage. New York City may have Cafe Society but Palm Beach now has Cafe Safari.
---
Photo Coverage: Pat Boone Receives Lifetime Achievement Award at Debby Boone Concert

February 8, 2020

The Pat Boone family and the Legends Radio family were on the Eissey Campus Theater Stage last night as the legendary singer/actor/composer received the Lifetime Achievement Award from The Society for the Preservation of The Great American Songbook and daughter Debby Boone performed a concert that thrilled the Palm Beach audience.
---
Photo Coverage: Lianne Marie Dobbs Brings WHY CAN'T A WOMAN BE MORE LIKE A MAN? to the Green Room 42

February 2, 2020

Lianne Marie Dobbs brought her highly acclaimed show to The Green Room 42 last night. "Why Can't A Woman Be More Like A Man…? first premiered at The Beach Cafe and this enhanced version for the larger space was just as effective. Here's our report then which still holds true. Leanne had Ken Ard and Travis Poelle join her at the Green Room. Pianist Ron Abel supplied the highly effective arrangements.
---
Photo Coverage: Nicolas King, Sandy Stewart, and Mike Renzi at the Beach Cafe

February 2, 2020

Remember how great it was when "Harry Met Sally". Well, when Nicolas (King) met Sandy (Stewart), chaperoned by pianist Mike Renzi last night at the Beach Cafe it was a "Shidduch" that produced music of epic proportions.
---
Photo Coverage: Billy Stritch, Carole J. Bufford, Liam Forde, and Barry Day Come To The Kravis Center With HOORAY FOR HOLLYWOOD

January 27, 2020

Billy Stritch wasn't at the Grammy's last night (he won a Grammy for his song "Does He Love You" recorded by Reba McEntire), but he was at the Kravis Center for the revue devised and narrated by Barry Day titled Hooray for Hollywood! On stage with music director Stritch were Carole J. Bufford and Liam Forde.
---