Once Upon a One More Time - Broadway Tickets, News, Info & More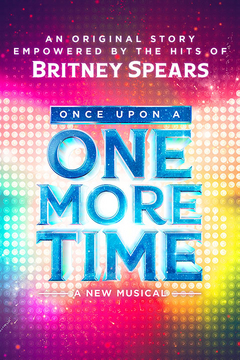 Oh baby baby! Once Upon a One More Time weaves the definitive hits of Britney Spears into an original story that proves there's more to life than finding a prince. Every fortnight, when our storybook heroines gather for book club, they always discuss the same book, Grimm's Fairy Tales — because as far as they know, it's the only book that's ever been written. That's when a rogue fairy godmother drops The Feminine Mystique into their corseted laps. From now on, "happily ever after" will never be the same. It's the ultimate revisionist fairy tale that'll make you feel stronger than yesterday.


History:
Original Production
Run Type:
Open Run
Market:
Broadway
Previews:
May 13, 2023
Schedule:
Tuesday at 7pm, Wednesday at 2pm & 8pm, Thursday at 7pm, Friday at 8pm, Saturday at 2pm & 8pm, Sunday at 3pm

Address:
210 W. 46th St.
New York,NY10036
Once Upon a One More Time Frequently Asked Questions
What productions of Once Upon a One More Time have there been?
Once Upon a One More Time has had 3 productions including Chicago which opened in 2020, Washington, DC (Regional) which opened in 2021 and Broadway which opened in 2023.