York Symphony Orchestra Announces 2018-2019 Season HEROES!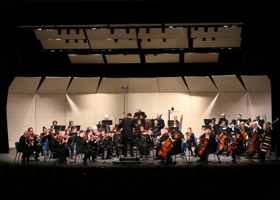 The York Symphony Orchestra is proud to announce the 2018-2019 season, HEROES!, featuring performances inspired by musical heroes, national heroes, heroes from olden times, sports heroes and even superheroes. HEROES! will offer audiences twelve performances, including six Classical Series concerts, four Pops Series concerts and the annual Young Person's Concert.
"Audiences of the York Symphony Orchestra can look forward to an exciting season with energetic and dramatic music inspired by various types of heroes including those from the world of music, history or even our childhoods," said Lawrence Golan, music director and conductor of the York Symphony Orchestra. "The York Symphony Orchestra is looking forward to welcoming audiences for another year of music."
Season subscriptions for the 2018-2019 York Symphony Orchestra season are now available. Again, this year, season subscription guests have the option of subscribing to the complete Classical and Pops season or selecting the Classical or Pops series individually.
In addition, guests may mix and match five performances (Classical or Pops) by selecting the flexible "Pick 5" Package to create a custom season experience. Pick 5 Packages will be available beginning July 2, 2018.
Single tickets - $5 for students and starting at $9 for adults - will also go on sale on July 2, 2018. Season subscriptions, Pick 5 Packages and single tickets may be purchased, when available, by calling 717-846-1111 or visiting www.yorksymphony.org.
HEROES! includes the following performances:
Classical Series
The Eroica
Oct. 6, 2018 at 7:30 p.m.
The York Symphony Orchestra season of heroes begins with Beethoven's monumental Symphony No. 3, The Eroica (Heroic Symphony). Although the work was originally dedicated to Napoleon, that dedication was withdrawn once Napoleon declared himself Emperor! The Classical Series opens with Beethoven's Egmont Overture portraying the life and heroism of the 16th-century Count of Egmont. YSO principal trumpeter Nathan Clark will also perform the Hummel Trumpet Concerto.
Musical Heroes
Nov. 3, 2018 at 7:30 p.m.
The York Symphony Orchestra pays homage to America's greatest musical hero, Leonard Bernstein, during his 100th birthday in 2018 with concertmaster Denise Dillenbeck performing his Serenade inspired by Plato-a hero of ancient philosophy. The evening concludes with Johannes Brahms' epic first symphony, which established the composer as Beethoven's successor-a very heroic feat!
National Heroes
Jan. 19, 2019 at 7:30 p.m.
For this concert, the York Symphony Orchestra looks to two composers who were National Heroes in their homelands-Dmitri Shostakovich in Russia and Jean Sibelius in Finland. Additionally, the concert commemorates the late Dr. Martin Luther King, Jr. in a piece using Robert Kennedy's speech in the wake of MLK's tragic assassination. National Heroesfeatures guest pianist, Natasha Paremski.
Knights in Shining Armor
March 9, 2019 at 7:30 p.m.
The heroic adventure continues with Beethoven's Overture to Leonore, the story of a heroine rescuing her husband from death in a political prison. The program finishes with Bruckner's powerful fourth symphony, a work that is subtitled "The Romantic" due to its underlying program relating to medieval knights, nature and birdsong.
Heroes from Olden Times
April 6, 2019 at 7:30 p.m.
Travel back to the days of yore with Edvard Grieg in his honoring of Dano-Norwegian hero and playwright, Ludvig Holberg. Likewise, come see the York Symphony Chorus' rendition of the Lord Nelson Mass, Joseph Haydn's celebration of British Admiral Nelson's victory over Napoleon in 1798. Heroes from Olden Times features guests vocalists Melissa Mino, Soprano; Kirsten Sollek, Contralto; Blake Friedman, Tenor; and Michael Scarcelle, Bass-Baritone.
Ein Heldenleben (A Hero's Life)
June 1, 2019 at 7:30 p.m.
No heroic season would be complete without Ein Heldenleben (A Hero's Life) by Richard Strauss. This
orchestral tour de force is not just the inspiration for this concert but for the entire year. Our 2018-19 grand finale will also include Tchaikovsky's 1812 Overture, a depiction of Russia's defeat of Napoleon, and a concerto showcasing guest artist Christopher Rex, former principal cellist of the Atlanta Symphony Orchestra.
Pops Series
Heroes and Super-Heroes
Sept. 23, 2018 at 2:00 p.m.
You can't get much more 'heroic' than Superman, Batman, Spider Man and Wonder Woman. Experience the music of America's beloved TV and film caped crusaders. Families and children are encouraged to attend dressed as their favorite hero or superhero!
Holiday Pops
Nov. 24, 2018 at 2 p.m. and 7:30 p.m.
The York Symphony Orchestra's annual holiday concert is back with the York Symphony Chorus and special guest group, Greater York Dance. Now with a matinee and evening performance, this annual tradition will allow family and friends to kick off the season with warmth and good cheer.
Tribute to David Bowie
Feb. 16, 2019 at 7:30 p.m.
The York Symphony Orchestra will pay tribute to a recently fallen hero of rock-David Bowie. Come hear popular hits like Rebel Rebel, Space Oddity and more! This concert features guest artists Jeans 'N Classics and guest conductor Chelsea Tipton, II.
Sports Orchestrated
May 4, 2019 at 7:30 p.m.
From Rocky to Chariots of Fire, this concert will highlight the greatest sports music ever. Enjoy pieces from the Olympic Games, NFL Football ... and be ready for appearances by some very special surprise celebrities!
Young Person's Concert
Mozart's Magnificent Voyage
Oct. 31 and Nov. 1 at 10 a.m.
This family-friendly performance features assistant conductor Stephen Czarkowski.
About York Symphony Orchestra
Made up of talented professional musicians from the greater York area and beyond, the York Symphony Orchestra has been engaging audiences with outstanding orchestral music for 85 years. Performing at the Appell Center for the Performing Arts under the leadership of Music Director Lawrence Golan, the orchestra presents an eclectic mix of classical masterworks and contemporary selections. The 2018-2019 season is sponsored by People's Bank; the Classical Series is sponsored by W. Dale Brougher Foundation; and the Pops Series is sponsored by The Anstadt Company. The York Symphony Orchestra is dedicated to music education, offering programs to engage youth and adults. For more information on the York Symphony Orchestra, visit www.YorkSymphony.org or find us on Facebook at www.facebook.com/YorkSymphony/.