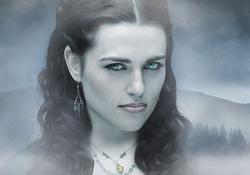 Merlin is a drama series which updates the story of the infamous sorcerer of Arthurian legend for a new audience.
The mythical city of Camelot, in a time before history began. A fantastical realm of legendary beasts and mysterious peoples. The kingdom is ruled by Arthur, with his kind wife Gwen at his side. His loyal servant, Merlin, has a secret. For Merlin is magic, and it is his destiny to protect Arthur. The challenge is, magic is outlawed, and Merlin must use his powers in secret.
Together, Arthur and Merlin (along with Merlin's mentor, the court physician Gaius) battle against the evil forces of the dark sorceress Morgana, who wants to claim Camelot as her own.
Latest Tweets from syfy
2/4 @ 6:00 AM

syfy - We've never been so paralyzed by a decision. Join us for an Alien Invasion Marathon all weekend long on SYFY and se… https://t.co/m0pkGGG5tD

Retweet | Reply | Original Link   
2/2 @ 11:00 AM

syfy - Is there any GOOD news? Yes! If you missed the first episode of #TheArk, catch up now on @peacock! https://t.co/w4t12c4PEF

Retweet | Reply | Original Link   
2/2 @ 6:00 AM

syfy - It's #GroundhogDay and #Chucky saw his shadow. That means 6 more weeks of mayhem. You're welcome. 🔪 https://t.co/9NJqZ9fMJ4

Retweet | Reply | Original Link   
2/1 @ 11:00 AM

syfy - A message from mission control: strap in and prepare for launch 🚀 #TheArk premieres TONIGHT 10/9c on SYFY! https://t.co/wpy38uoGtV

Retweet | Reply | Original Link   
2/1 @ 8:00 AM

syfy - There's no turning back now. See if Earth's last hope makes it out of orbit on the series premiere of #TheArk, TONI… https://t.co/2X0ZThox9Y

Retweet | Reply | Original Link   
Latest Articles About Merlin on Syfy