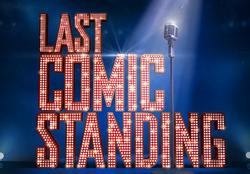 America's most compelling comedy competition is back on May 22 when NBC's Emmy-nominated series "Last Comic Standing" returns starring three new celebrity judges - comedy icons Roseanne Barr ("Roseanne," "The Office") and Keenen Ivory Wayans ("Scary Movie," "In Living Color"), and international comic sensation Russell Peters ("Comics Without Borders," "Russell Peters Presents") - and dynamic new host JB Smoove ("Curb Your Enthusiasm," "The Millers").
The lively laugh fest resumes its search for the funniest comic in the country with innovative format changes, surprise celebrity guests and unexpected twists and turns guaranteed to deliver the funniest season yet. Season 8 will open up with hilarious auditions, this time by invitation only. The top 100 comics in America will vie for the top 20 spots. These 20 comics will compete in a semifinal round, and as the best of the best emerge, the top 10 move into the compelling challenge rounds. They will compete in this phase in different comedy disciplines like sketch, improv and stand-up, proving themselves individually and in teams. Then the funniest of all will take the coveted title of "Last Comic Standing," winning a prize package that includes an NBC talent deal and a half-hour scripted project to be developed by Universal Television.
Emmy Award winner Wanda Sykes ("Wanda Sykes Presents Herlarious," "Curb Your Enthusiasm") and Page Hurwitz ("Wanda Sykes Presents Herlarious," "Last Comic Standing"), producing partners at Push It Productions, will executive produce the season's 13 one-hour episodes, along with Javier Winnik ("Last Comic Standing," "The Marriage Ref"). "Last Comic Standing" is produced by Universal Television and Push It Productions.
The microphone design shown in promotional materials for this program is a registered trademark of Shure Incorporated, which is not affiliated with NBC.