ESQUIRE 5-0: CELEBRATING A HALF-CENTURY OF DAVID F. SLONE At House Of Yes, 4/4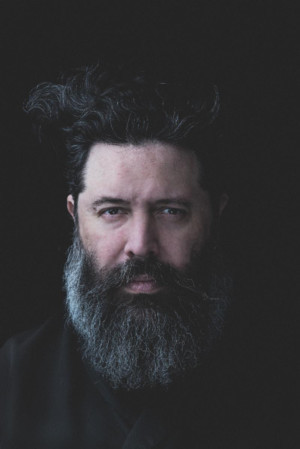 David F. Slone has been blessed to spend much of his life attending and performing in fabulous shows. Nonetheless, he's particularly giddy to be able to celebrate his the culmination of his fifth decade on the planet by presenting this ridiculously eclectic evening of song, dance, magic, circus, comedy, and more!
Confirmed performers include:
Disco legend, Randy Jones (The Village People)
Globetrotting cabaret dance troupe, The Love Show ("Nutcracker: Rated R", "Boomstick Ballet", "SEVERED: The Tragic Loves of Frankenstein's Monster", "Dance Mayhem: A Grindhouse Ballet")
Multiple MAC Award winning lyricist and impresario, Bobbie Horowitz (Horowitz & Spector, "It's Just a Number")
Art world luminary, Eric Schmalenberger (Blunderland)
Aerial phenom, Anya Sapozhnikova (House of Yes, Lady Circus)
Corn Mo (.357 Lover, Tragedy) cornmo.com
Master of illusion, The Great Dubini (The McKittrick Hotel, Ripley's Believe It or Not)
The worlds only aerial accordionist, Erica Mancini (The Bee's Knees)
Bistro Award winning actor & writer, Dan Ruth ("A Life Behind Bars")
Punk accordionist/thereminist, Matt Dallow (Sunnyside Social Club, Amour Obscur, The Pendulum Swings)
Satanic metal monster, Ken Weaver (Growler)
Gothic opera diva, Alexis Karl (LEX, Anima Animus Animal, Ondyne's Demise, Parallax Born)
Gender bending parodist, Evan Laurence (Sexahol, Carne Musica)
21+
April 4, 2017
Doors: 7pm
Show: 8pm
$20-$45
Tickets available at:
http://bit.ly/esquire5-0
House of Yes
2 Wyckoff Avenue (corner of Jefferson St.)
Brooklyn, NY 11237
L to Jefferson St.
www.houseofyes.org
Born on the day that Dr. Martin Luther King, Jr. was assassinated, David F. Slone, Esq. was born to save the world - a destiny from which he has been running his entire life. Raised on the Upper East Side of Manhattan, his was a life of relative ease an privilege. Mixing from an early age with debutantes and drag queens, he was exposed to all that life had to offer.
He was quick to channel these life experiences into the arts. He debuted on the New York Theater scene in the early seventies in the title role of an all but forgotten musical, Off-White. However, shortly thereafter, he disappeared from the professional stage for nearly two decades.
While historians disagree as to the exact details, it seems that David spent the era from the mid-seventies to the mid-nineties focussing on his formal education. By the time he returned to the New York stage, he had earned Ivy League degrees in both philosophy and law. It has been theorized that he pursued the latter degree simply so that he might add the honorific of Esq. to his name. This theory is lent some credit by another example of his strange vanity: Some years ago, realizing that he would never be a rocket scientist or a brain surgeon, David became a member of Mensa, strictly for bragging rights. However, despite strong academic scholarship suggesting that non-Hassidic Williamsburg was overwhelmingly clean-shaven before his arrival one-decade ago, he refuses to accept credit for having introduced the beard to the hipster community of Brooklyn.
Upon his return to the city, he returned to the stage, working with such underground luminaries as Jonathan Ames, Julie Atlas Muz, Tom Murrin, and David Levine. Along with his mother, performer and lyricist Bobbie Horowitz, David founded, ran and taught for The Times Square Group, bringing arts education to underserved populations in the NYC school system. His edgy, remixed arrangements of standards and show tunes have been commissioned by the likes of notorious gender illusionist, Lady Clover Honey. He produces and emcees Angela Harriell's The Love Show and their alternative holiday perennial, Nutcracker: Rated R, traveling the country and touring Japan.
As a singer, actor, and variety performer, David has shared the stage with such stars of cabaret, circus, film, radio, and Broadway as F. Murray Abraham, Sarah Rice, Big Daddy Kane, Slick Rick, Rob Base, Phoebe Legere, Constantine Maroulis, Tammy Grimes, Michael Musto, and Randy Jones.
www.davidslone.com
__________________________
The Love Show
The Love Show is a theatrical dance company based in Brooklyn that combines cabaret, ballet, rock, comedy, and theater into creative performances all over the US and beyond. The Love Show has entertained all audiences, rocking stages from Lebowskifest to The Public's Shakespeare in The Park. The Love Show was commissioned to perform original choreography for clients including Banksy, Veuve Clicquot, Bacardi, and Vogue Magazine.
An active presence on the New York art scene, The Love Show was also awarded a week-long residency with Chashama, and recently closed the seventh season of their very popular holiday show, "Nutcracker: Rated R", which they also performed in Tokyo. The Love Show also has three other full-length productions, "Dance Mayhem: A Grindhouse Ballet", "SEVERED: The Tragic Loves of Frankenstein's Monster" (premiered to a sold-out house at Highline Ballroom), and "Boomstick Ballet: A Rock Opera tribute to Bruce Campbell" (set to reopen October 2016). The Love Show has been featured in The Wall Street Journal, The New York Post, and TONY, and The New York Times sent a reporter to exclusively follow the troupe's exploits on Bastille Day. The Love Show recently performed on a resort in Egypt for a live and electronic music festival, premiered a cameo piece commissioned by The Public Theater in their run of "Twelfth Night" at the Delacorte Theater in Central Park, and danced in the Macy's Thanksgiving Day Parade.
www.theloveshownyc.com
__________________________
Jonathan Cunningham (Corn Mo) has toured America, Australia, New Zealand and Europe supporting the Bindlestiff Family Cirkus, Wheatus, The Pontani Sisters, Nick Offerman, Ben Folds, They Might Be Giants and the Polyphonic Spree. He is Disco Mountain Man in a Bee Gees Metal Tribute called Tragedy. In the studio, he shared vocals with Ben Folds on Folds' cover of "Get Your Hands Off My Woman" for the Supersunnyspeedygraphic EP, joined the choir for the Polyphonic Spree's Together We're Heavy and played accordion on TMBG's "Particle Mo". He has written 7 albums for Corn Mo and his band .357 Lover, the latest being The Purchase of the North Pole. He co-wrote a musical about Grizzly Adams with Nick Jones for The Huntington Theatre in Boston, MA. He co-wrote "The Rainbow Song" with Nick Offerman of Parks and Rec for his American Ham show. He co-produced a ballet called SEVERED: The Tragic Loves of Frankenstein's Monster with The Love Show featuring the music from his album The Purchase of the North Pole. He's is currently working on the next albums.
www.cornmo.com
__________________________
Randy Jones, an actor, author, American Music Award winner and multi-platinum recording artist, is the original Cowboy and a founding member of Village People. In his career spanning four decades before, with and since Village People, he has sold more than 100 million units and garnered in excess of a quarter billion views on YouTube. Perhaps best known for his hits with the group, like "Macho Man", "In the Navy", "Go West" and "Y.M.C.A," he has earned 75 Gold and Platinum record certificates, toured worldwide, starred in the camp classic film, "Can't Stop the Music", made the cover of Rolling Stone Magazine and in 2008, was honored with a star on Hollywood's Walk of Fame.
Continuing a career as an actor, singer and dancer, Jones has released solo CDs (most recently "Ticket to the World", 2008 and "Your Disco Needs You!", 2011). His forthcoming CD, "Mister Right" is due Autumn, 2016. He performs internationally his own solo concerts and has appeared onstage in musicals and plays in New York City and elsewhere, including "When Joey Married Bobby", "Joseph and the Amazing Technicolor Dreamcoat", "Mame", "Music Man", "Chicago", "The Madonna Whore: Confessions of a Dirty Mind", "Carousel", "Oklahoma!", "Applause", "Barefoot in the Park", "Hello Dolly!", "Camelot, "42nd Street", and "The Anthem", a new hit musical, and radical retelling of Ayn Rand's classic novella. Included in the motion pictures in which he can be seen are "Tales of Poe"(2016), "Alexander Jamieson" (in which he portrays the American President), "An Affirmative Act", "Bear City", "The Gentleman", "Three Long Years", "Beyond the Facade", "A Tale About Bootlegging", "College Debts", "Violet Tendencies" and "Can't Stop the Music". He has just wrapped shooting the new family-oriented action film, "The Rack Pack", co-starring C. Thomas Howell.
He appears in various documentaries such as HBO's "The Strange History of Don't Ask, Don't Tell", the History Channel's "'70's FEVER!", BBC4's "The Joy of Disco", "Roxy: The Last Dance", "When Ocean Meets Sky", "Disco: Spinning the Story", VH-1's RockDoc "NY77: The Coolest Year in Hell", "The Godfather of Disco", "Behind the Music", VH1's "Sex: The Revolution" and others as narrator and interview subject. He is featured in the 2009 season of HBO's hit comedy series, "Flight of the Conchords" directed by Oscar winner Michel Gondry. And for the first time, he creates a new character in the popular video game, POSTAL 3. For 2016, he has joined the cast of the outrageous new comedy series "Child of the 70s" with costars Michael Vaccaro, Ann Walker, Judy Tenuta, Bruce Vilanch, Susan Olsen and Ted Lange.
He has been featured on the covers and in the pages of countless magazines and publications around the globe in every language including RollingStone, People, TIME, GQ, Vanity Fair, US, Paris Match, The New York Post and The New York Times. Along with John Wayne, Clint Eastwood and Roy Rogers, Randy Jones was listed as one of the Great Pop Culture Cowboys by Entertainment Weekly in honor of National Cowboy Day July 26. He is featured in SWINDLE Magazine as one of the ICONS of 2008 as well as the 35th Anniversary of PLAYGIRL Magazine. He is the co-author of "Macho Man", a new book published by Greenwood/Prager/ABC/Clio Publishers. His upcoming memoir, "Glory Days, Disco Nights" is due 2019.
www.RandyJonesWorld.com
__________________________
Bobbie has, once again, been nominated for the MAC Award for Best Emcee for her series,"It's Just a Number! " presented at the Metropolitan Room. (She won the 2016 & 2017 MAC Awards for Best Emcee.)
Bobbie has collaborated with composers such as David Friedman, John Meyer, Sharon "Spector" Schapow, Jimmy Curtiss, Malcolm Dodds, Ales Rybeck, Bill Zeffiro and others.
She wrote a musical, The S.C.R.A.P. Workshop with Mr. Meyer. She was asked to write a special tribute for Jimmy Smith, recipient of the Ambassador Award given by Isagenix, which she performed at the Mandalay Bay Resort in Las Vegas. As half of the comic musical writing/performing team Horowitz & Spector, she won a MAC Award (Manhattan Association of Cabarets & Clubs) for their show, "Whatever Happened To the Kids From Brooklyn?" Their songs have received NY Daily News, Billboard and ASCAP panel awards and have been played on theatrical & country music radio stations, scoring highly on the independent country charts. Tony winner, Chuck Cooper recorded "Together America", a song they wrote with Malcolm Dodds, composer of "We Always Look For The Union Label". They appeared three times on the Joe Franklin TV Show and were frequently featured in news columns. There video, "Fudge Fish Cakes", was featured on American Airlines flights. Bobbie can be seen on You Tube as part of Horowitz & Spector and, also, in a featured You Tube video. Bobbie appeared in a group show at The Oak Room of the Algonquin Hotel, as Part of the Squeeze Box Review in Brooklyn's Public Assembly and has been seen, singing her songs at The Salon and at Wednesday Night at the Iguana, Le Sqeezebox Cabaret and in The Taffy Jaffe Show at The Cornelia Street Cafe.
www.bobbiehorowitzproductions.com
__________________________
Anya Sapozhnikova is one of the founders of House of Yes and Lady Circus, and is an accomplished aerialist.
www.houseofyes.org
__________________________
Dan Ruth
Dan Ruth is an Actor, Writer, Director and Performance Artist who has called New York City his home since 1993. After years of working in the restaurant/bar industry, Mr. Ruth has returned to his performance career with the autobiographical A Life Behind Bars, his latest biting & funny original solo work, which garnered him a Bistro Award. Dan has performed throughout New York City at The Courtyard Playhouse, The Hamlet of Bank Street, The West Bank Café (Laurie Beechman), The Duplex and Don't Tell Mama, where he performed with long-time colleague Tanya Moberly in Fresh Brewed. Dan served as core Director for multiple installations of The A-Train Plays at the Sanford Meisner Theatre and as both Director and Performer for the queer comedy troupe Planet Q, with their productions of Yabba Dabba Q and The History of the World Part Q. Original solo shows include White Noise and Once a Catholic at The Duplex, where he also staged a radio Foley-drama entitled Lights Out, based on the work of horror radio master, Arch Oboler. Regionally, Dan has starred in productions of Brooklyn Boy, The Mystery of Irma Vep, Laughing Wild and Sex Drugs Rock & Roll. Mr. Ruth is a member of Actors Equity and SAG-AFTRA and he holds a BFA from Virginia Commonwealth University. Dan is the Artistic Director of ANTICCS Theatre Company (Alternative New Theatre In Club/Cabaret Spaces) in New York City.
danruthbkny.com
__________________________
Ken Weaver
Best known for his baroque gothic paintings, Ken Weaver is also the lead vocalist for over-the-top Satanic metal band, Growler.
growler.bandcamp.com
__________________________
Alexis Karl
Karl received her MFA in figurative painting at The New York Academy of Art, Graduate School of Figurative Art, and BFA in painting at Cornell University. Karl has exhibited her paintings, multimedia, fragrance and performance works both in NYC, Italy and UK, most notably at The Whitney Biennial, Corcoran Museum of Art, The Morbid Anatomy Museum and Stephen Romano Gallery. Her work has been featured in The NY Post, London Times, Art News, ARCO Japan, Gothic Beauty Magazine, various blogs, radio and television spots. Karl teaches figurative painting and fragrance and art at The School of Visual Art, narrative painting and art and fashion at Pratt Institute, and is a regular lecturer on art, fashion, and fragrance at the Metropolitan Museum of Art and The Morbid Anatomy Museum. Karl is a perfumer as well- owner of Scent By Alexis and co-owner of House Of Cherry Bomb
Karl's rather unique childhood was spent in a cemetery ( her father's business), where she would wander through the grounds creating intricate stories and drawings of ghosts and imaginary beings within. This has served to inspire her dark, haunting multimedia works as an adult.
www.alexiskarlart.com/
__________________________
Matt Dallow is a composer and multi-instrumentalist based out of Brooklyn, New York. Well known for his mastery and innovation on the accordion, Mr. Dallow also plays the theremin, melodica, synth and guitar. He has played accordion and acted in numerous New York City theatrical productions, including Chautauqua!, Caligula Maximus, Richard II on Trapeze, Manuscripts Don´t Burn, Hansel and Gretel, Circus of Circus, and Manuscripts Don't Burn. He has also lent his musical skills to a wide array of bands, such as What Time is it, Mr. Fox?, This Way to the Egress, World Inferno Friendship Society, Outernational!, The Pendulum Swings, The Trachtenburg Family Slideshow Players, Big Volcano, and Space Robot Scientists. Additionally, Mr. Dallow is a founding member of the "Gypsy Punk Cabaret" band, Amour Obscur, the child-oriented brass band, The TrummyTones and the New Orleans style street band, The Sunnyside Social Club.
Although he can generally be found busking in the streets and subway stations of New York City, Mr. Dallow has performed at a number of venues including The Public Theater, The House of Yes, La MaMa, Etc., Southpaw, The Parkside Lounge, Dixon Place, The Downtown, various stops along the Vans Warped Tour, The Tank, Joe´s Pub, the Coney Island Sideshow Stage, Bowery Ballroom, Angel Orensanz Foundation, and The Slipper Room. Often appearing on television and in the news, he has been featured by Vanity Fair, Newsday, The New York Times, The New Yorker, New York Magazine, The New York Daily News, NBC, Eyewitness News 7, Bravo's Million Dollar Listing, HBO's Girls, The Gothamist and those annoying little TV's in the back of the yellow cabs.
Mr. Dallow recently played himself in an episode of Law & Order SVU, which was loosely based on the notorious Night Heron water tower speakeasy, for which he was once house musician in real life. He accompanied the Grim Reaper in a bumper car via the accordion as part of a public art display by the elusive street artist, Banksy (no, he won't tell you who he is!), which landed him in HBO's "Banksy Does New York" documentary. He also lends his talents to various secret pop-up events, such as The Timothy Convention scavenger hunt and the Domino's Sugar Factory photo hunt. He played a drunken, homeless, glockenspiel and accordion playing elf for the Barney's Holiday Window unveiling directed by Baz Luhrmann and costumed by Catherine Martin. Mr. Dallow also performs regularly at Bushwick Burlesque and many other other variety and circus theater shows.
For further information on what Matt Dallow is up to now, check out facebook.com/mattdallowmusic, and follow him on twitter @mattdallow
__________________________
Gregory Dubin, aka "The Great Dubini," has charmed audiences from the streets of New York City to the stages of Tokyo. He has performed regularly at Ripley's Believe It or Not!'s Sideshow Wonders, The Love Show, and the off-Broadway hit Sleep No More, as well as his own magic and variety show The Mystique Boutique. More information at www.DubiniMagic.com
__________________________
Eric Schmalenberger, known to some as Babybird, is a nightlife impresario, curator, and cabaret performer. A clown about town with a love for the whimsical and ridiculous Mr. Schmalenberger's adorable perversity is his bedrock in the business of show. Eric puts together and hosts the hit monthly variety shows BLUNDERLAND and EXTRA at the infamous House of Yes, is part of New York's most extreme clown troupe FOU YORK and can be seen on stages around the city and touring the globe as both a variety and solo performer; singing, dancing, stripping, and clowning his way into the hearts of those brave and crazy enough to get anywhere near to him.
__________________________
Erica Mancini, a Chicago-land native born to Argentine parents, moved to New York City in 2009 to pursue a degree at NYU's Gallatin School of Individualized Study. Before her move, she was deeply involved in marching band, orchestra, and jazz band (doubling on drum set/percussion and electric bass), as well as other musical projects of her own.
Shortly before arriving to NYC, she decided to pick up a new instrument-the accordion. She worked closely with teacher and mentor Bill Schimmel, with whom she studied with privately for the duration of her time at NYU. At Gallatin, she focused her studies on subcultures, music, and identity. Not only did she gain bearings as a performer, musician, and writer, but also she was the recipient of two Dean's Awards for Summer Research, with which she conducted ethnographic work in Argentina, Chicago, and in New York City.
After graduating in 2013, she has performed as an accordionist, vocalist, and percussionist internationally and throughout the US. She has performed in jazz bands (singing, playing and leading her own ensemble "The Bee's Knees" and has been on an East Coast tour with Albert Ayler-inspired jazz sea shanty group "The Blowhards", also plays in several NYC based gypsy jazz ensembles). She is also a member of acoustic punk band "Let's Get Sushi and Not Pay", and has performed and recorded (a single, also featured in a compilation) with them. She has also recorded with folk metal band, Tsarina. She has played percussion in marching bands (Kings County Pipes and Drums, Gotham Pipes and Drums, NYU Pipes and Drums, Hungry March Band) as well as in rock bands (all-girl dream thrash rock band "Huff This!"). She is involved in many original and world music projects (French reggae fusion with "The Blue Dahlia", original folk music from the Dominican Republic with "Irka Mateo y La Tirindanga", traditional Bavarian polka and rock with "The Jajajas", jazz-forward Italian songwriter Emmanuelle Tozzi)
Mancini has worked for private agencies and high-end clients (Hermes of Paris, Delta Airlines, Gwenyth Paltrow, Jessica Alba, Vueve Cliquot, Carven) and has performed at private events at The Whitney Museum of Art, World Trade Center One, The Biltmore Estate, The Breakers. She has also been featured in curated urban public performances at City Center in Washington DC, and Penn Plaza 33, Battery City Park, and Bryant Park in NYC.
She has also been part of immersive theater productions (Sleep No More, Atlas Obscura, Dances of Vice, Speakeasy Dollhouse, Truffles: A Murder Mystery off-Broadway) and more traditional theater as well (Daniel Catan's opera 'Il Postino' and Kurt Weill's "Happy End"). She has been featured on national and international television, and has performed at Radio City Music Hall, Madison Square Garden, The Kaye Playhouse, The New School of Drama, The Highline Ballroom and countless other NYC venues. Recently, Mancini has discovered a new passion in acrobatics and the circus arts, (particularly with the aerial silks), and has been collaborating with classical harpist and pole dancer Stephanie Babirak to produce an experimental variety show featuring circus, burlesque, classical music, and jazz called "Dr. Wilkes's World of Wonders".
__________________________
Evan Laurence
Singer/songwriter, playwright, puppeteer, and milliner Evan Laurence has produced numerous cabaret and variety shows, plays, and musicals. He specializes in quirky and off-kilter parodies of pop turns, with a bent toward the kinky and fabulous.