Torch Song - 2018 - Broadway
Critics have fallen in love with HARVEY FIERSTEIN's TORCH SONG, now on Broadway for a strictly limited engagement.
Ben Brantley of The New York Times calls it "Spectacular! A Grade-A energizing joy!" And Entertainment Weekly raves, "TORCH SONG brings laughter and tears simultaneously. It's impossible not to feel electricity in the theater." Don't miss this "profoundly moving" (The Hollywood Reporter) production of the Tony Award-winning play, starring Drama Desk Award winner MICHAEL URIE ("Younger," "Ugly Betty," Buyer & Cellar) and Academy Award and Tony winner MERCEDES RUEHL (The Fisher King, Lost in Yonkers), directed by Tony nominee MOISES KAUFMAN (The Laramie Project, I Am My Own Wife).
Hilarious and heart-wrenching TORCH SONG follows Arnold Beckoff's odyssey to find happiness in New York. All he wants is a husband, a child and a pair of bunny slippers that fit, but a visit from his overbearing mother reminds him that he needs one thing more: respect.
Join Arnold on this all too human journey about the families we're born into, the families we choose and the battles to bring them all home.
Video preview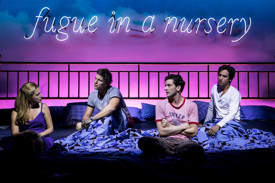 Photo preview
Schedule
Running Time: Two hours and 40 minutes, with 1 intermission
Featured Reviews For Torch Song
Michael Urie shines in fiery revival of Harvey Fierstein's Torch Song: EW review - Entertainment Weekly
More than just an illumination onto incredible acting, these final scenes end Torch Song on a bittersweet note that helps ground this dramedy in reality. Arnold, smartly, isn't perfect - "You cheated me out of your life and then blamed me for not being there," Ruehl's character says at one point, exposing her son's biggest flaw in all of his relationships - but as the play ends, he's found peace in his journey by maintaining a hope that everything will be alright. And it's hard not to feel the same way about life when leaving the theater. A-
'Torch Song' Review: Less Radical, Still Funny - Wall Street Journal
The only thing wrong with Second Stage's off-Broadway revival of 'Torch Song,' which has been very effectively directed by Moisés Kaufman, is Mr. Urie, a fine actor who is miscast as Mr. Fierstein (yes, he's called 'Arnold Beckoff' in the play, but we all know who he really is). Whether on stage or screen, Mr. Fierstein was unforgettable, and to see Mr. Urie trying to put his own stamp on the part merely underlines why his predecessor was so good in it.