Click Here for More Articles on TORCH SONG
Michael Urie Designs Special TORCH SONG Bow Tie for Jesse Tyler Ferguson's Charity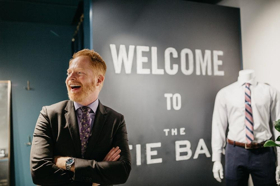 Jesse Tyler Ferguson, husband Justin Mikita, and their non-profit advocacy organization, Tie The Knot, are happy to announce their newest limited edition bowtie launching on November 1. The latest addition will honor the triumphant return to Broadway of Harvey Fierstein's iconic Tony-winning play Torch Song. The design will also add the show's star Michael Urie to Tie The Knot's extensive list of guest designers. The Torch Song bow tie will be available exclusively at the Hayes Theater store and online at The Tie Bar, with $20 of every $25 purchase will be donated directly back to Tie The Knot.
"Tie The Knot is so thrilled to be partnering with such an important play this season," says charity co-founder and Torch Song producer Justin Mikita. "Our organization has been advocating for LGBTQ equality since 2012, but stand on the shoulders of people like Harvey Fierstein whose important work helped change hearts and minds. When Torch Song was coming back to Broadway, I felt it was imperative to be a critical part of this historic and intensely relevant piece, both personally and through Tie The Knot. We are all proud to carry the torch!"
"I'm honored to have helped design the Torch Song bowtie. Design genius (and Tony winner) David Zinn did our neon light-accented set - turned out to be the perfect inspiration! In today's world standing tall and being proud of who we are can be the ultimate act of resistance, so I encourage everyone to go to The Tie Bar or drop by the Hayes and help us continue fighting for LGBTQ equality." - Michael Urie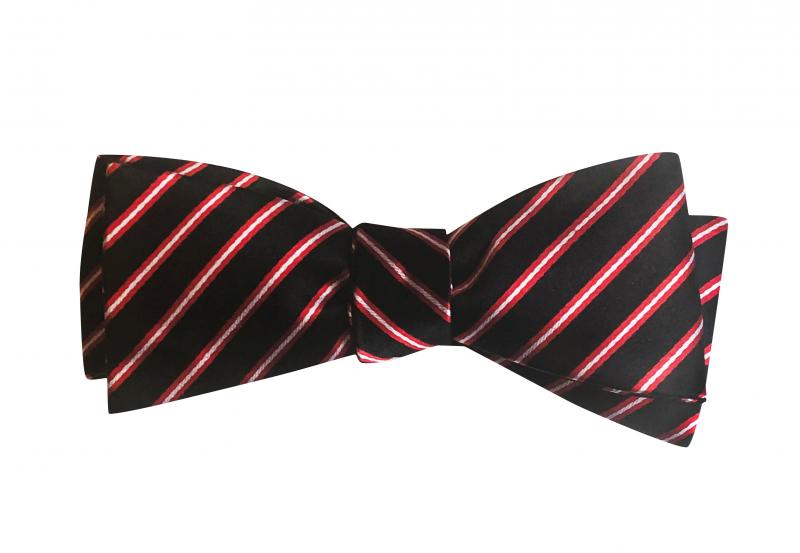 Drawing inspiration from the Torch Song set, the bow tie design is both formal and whimsical, perfect for anyone looking to recapture the golden age of formal dressing for the theater. Imagine a new take on the classic black tie look, with just the right amount of pop. The end result is a vibrant new stripe, playful yet elegant - ideal for sitting in the front row or onstage taking a final curtain call.
When Tie The Knot was founded in 2012 to advocate for marriage equality throughout the United States, only six states and Washington D.C. recognized marriages for same-sex couples. Today, having raised over $1,000,000 - six years and forty-four states later - the initial Tie The Knot goal of realizing full federal marriage equality was accomplished; same-sex couples across the country can marry in all 50 states. But there is still more work to do. As such the charity has rededicated itself to advocating for comprehensive federal protections nationwide and LGBTQ equality around the world by financially supporting front-line organizations fighting for equality and human rights for all.
Founded a decade ago on the premise that a well-made tie shouldn't cost a fortune, The Tie Bar has become the destination for cool men's accessories at awesome prices -neckties, bow ties, tie bars, pocket squares, belts, socks, and more. By designing its own products in-house and offering the largest selection available, The Tie Bar allows men to find the right accessories to match their personal style while delivering premium quality at an exceptional value. The Chicago-based company has been hailed for its ability to predict and drive trends in men's fashion with a loyal fan base that includes countless celebrities, bloggers, and professional athletes. For additional information about The Tie Bar, please visit www.thetiebar.com.
Using a fun play on words, Tie The Knot was founded by Jesse Tyler Ferguson to raise awareness and advocate on behalf of LGBTQ equality throughout the world. Combining elements of art, style & entertainment - Tie The Knot releases limited edition collections of neckwear and other fashionable products. Tie The Knot's debut bow tie line, which launched in November of 2012, sold out in less than four weeks. Each collection of ties features a single bow by a celebrity guest designer who lends their voice to the fight for LGBTQ equality. For more information or to stay up-to-date on the fight for LGBTQ equality, Tie The Knot will keep an active blog on their website at www.tietheknot.org.
After a smash-hit run Off-Broadway, Harvey Fierstein's Torch Song heads to Broadway for a strictly limited engagement. This critically acclaimed production of the Tony Award®-winning comedy stars Drama Desk Award winner Michael Urie ("Younger, "Ugly Betty," Buyer & Cellar) and Academy Award® and Tony winner Mercedes Ruehl (The Fisher King, Lost in Yonkers) and is directed by Tony nominee Moisés
Kaufman (The Laramie Project, I Am My Own Wife). Hilarious and heart-wrenching, Torch Song follows Arnold Beckoff's odyssey to find happiness in New York. All he wants is a husband, a child and a pair of bunny slippers that fit, but a visit from his overbearing mother reminds him that he needs one thing more: respect. Tickets: torchsongbroadway.com.
Related Articles
More Hot Stories For You
Tony-Nominated Broadway Actor Nick Cordero Dies at 41
BroadwayWorld is very sad to report that actor Nick Cordero died this morning at 41 years of age at Cedars Sinai in Los Angeles after 91 days in the h...

VIDEO: Watch A CAPITOL FOURTH with Kelli O'Hara, Brian Stokes Mitchell, Renee Fleming and More!
A Capitol Fourth will present a virtual version of its annual concert, in honor of its 40th anniversary. This year's show is co-hosted by John Stamos ...

VIDEO: HAMILTON Musicians Perform 'Stars and Stripes Forever'
In a special 4th of July edition of Saturday Night on Broadway, Kurt Crowley, Alex Lacamoire, and more created a special performance of 'Stars and Str...

THE MOUSETRAP To Reopen in the West End on Friday 23 October
Agatha Christie's The Mousetrap - the longest running show in the world, which had to be suspended when the Coronavirus Pandemic resulted in the closu...

Broadway Jukebox: 50 Songs for a Very Red, White and Broadway Fourth of July!
Kick off the holiday weekend with fifty of our favorite patriotic showtunes. From musicals about American history like Ragtime and Hamilton, to Americ...

Virtual Theatre Today: Friday, July 3- It's HAMILTON Day!
Today (July 3) in live streaming: Hamilton arrives on Disney+, the cast reunites on Sirius XM and so much more!...