Click Here for More Articles on TORCH SONG
BWW Review: Michael Urie and Mercedes Ruehl Bring Harvey Fierstein's Groundbreaking TORCH SONG Back To Broadway
The play is no longer titled Torch Song Trilogy and the venue is no longer known as The Little Theatre, but there's still a marvelous homecoming taking place at The Helen Hayes, where Second Stage's recent Off-Broadway revival of Harvey Fierstein's groundbreaking Torch Song has transferred to the home of its historic original Broadway run.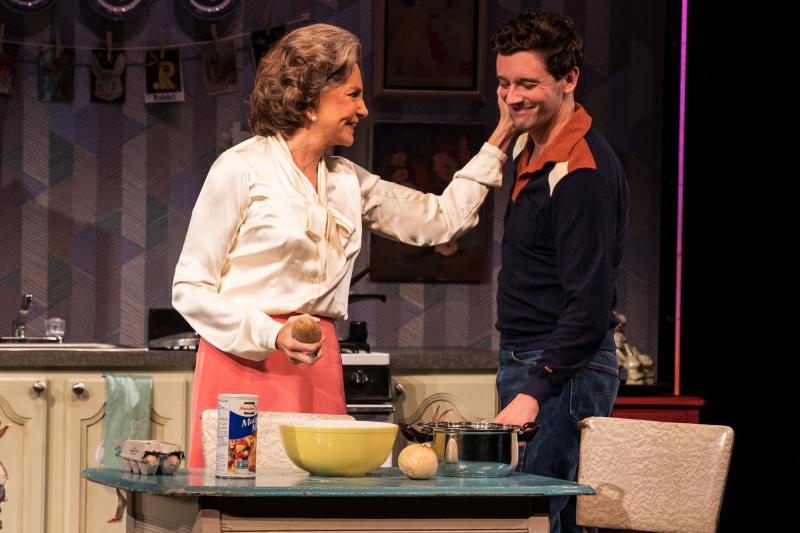 The very funny, heartwarming and uplifting drama that turned its unknown author and leading man into an overnight sensation began quite modestly, as a trio of one-act plays that had each premiered separately on East 4th Street at the basement of Ellen Stewart's La MaMa, E.T.C.
"The International Stud," named for a popular gay bar on Perry Street, was the first written and draws heavily on Fierstein's years as a Greenwich Village drag performer. The central character, Arnold Beckoff, is a gay, Jewish, cross-dressing entertainer with an open heart and a hopeful view of romance. Appearing under the stage name Virginia Ham in a joint known for its back room where men engage in anonymous sex, Arnold knows that the emotional passions expressed in beloved 1920s Torch Songs are rare to come by. His latest disappointment is an affair with an attractive bisexual named Ed who is hesitant to stray too far from the b/g side of the equation.
The playful middle piece, ''Fugue in a Nursery," takes place on an enormous bed, which represents the country home where Arnold and his new boyfriend, a model named Alan, are visiting Ed and his new girlfriend, Laurel. Private discussions reveal insecurities, as Laurel notices the lingering attraction between her husband and his ex, which neither is willing to acknowledge.
Finally, "Widows And Children First" introduces Arnold's devoted, but overbearing mother, who still has her heart set on her boy turning straight. Alan is no longer around and, on a visit to Arnold's apartment, Ma discovers that he's been living as a father to a gay teenage boy with a troubled past, hoping to adopt him.
Fully-fleshed, sympathetic gay characters who could be defined by much more than their sexual preference were not a staple of New York theatre in the early 1980s, so it took a huge leap of faith for producer John Glines to mount all three as a full production, first on West 62nd Street and then at Greenwich Village's Actors' Playhouse.
Business was extremely slow at first, but great word of mouth led to packed houses and a Broadway transfer. At the 1983 Tony Award ceremony, Fierstein took the award for Best Actor, Torch Song TRILOGY won the prize for Best Play and John Glines made history by thanking "my partner and my lover, Lawrence Lane," on network television.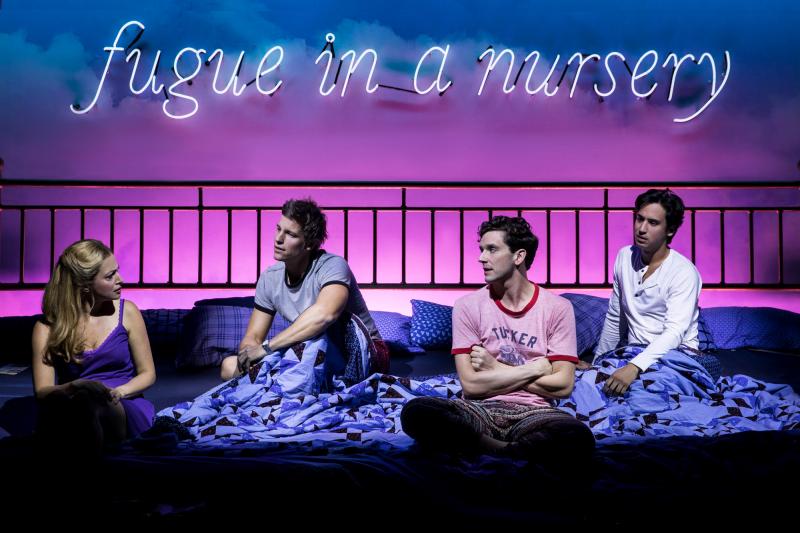 Fierstein has shaved about an hour from the play's original running time to suit 21st Century attention spans, but it still clocks in at close to three hours. You probably won't feel it at all, as the realistically clever banter seamless blends into moments of passion, disillusion and heartache in director Moisés Kaufman's brisk and energetic production.
At the center of it all is the thoroughly engaging Michael Urie, a performer who may be regarded as the polar opposite of the role's creator and originator. Graceful and perky, as opposed to Fierstein's more grounded presence, he masks the shyness that he reveals to the audience with a fluttery energy that draws you in, mixed with intriguing moments of intense wisdom. Quips are shaded with flippant Hollywood voices, but, in the climactic moment, he angrily demands from his mother what he has rarely received from a lover; respect.
Adding beautifully to that climax is that his mother is played by an actor known for generating stage electricity, Mercedes Ruehl. In a role that can easily be played for its boulevard comedy wisecracks, Ruehl, while not ignoring what's funny, keeps us aware that Ma takes it as a personal humiliation that her son is gay, something that, decades ago, was more widely viewed as a lifestyle or a choice. The seriousness with which Ruehl's Ma finally lashes out at Arnold makes for a shocking moment where it seems clear that she feels she is the abused one in their relationship.
There's a better-defined chemistry between Urie's Arnold and Ward Horton's Ed than what this reviewer noticed during one of the production's Off-Broadway press previews. Urie's compassionate looks suggest Arnold's understanding that Ed can't stay committed to a lover because he lacks the courage to be committed to himself.
In their small roles, Roxanna Hope Radja is a hoot, playing Laurel as an affectionate goofball and Michael Hsu Rosen's Alan is thoughtful and endearing. Jack DiFalco adds a lot of fun show-biz spark as snarky foster kid David, but he looks far too mature to be playing the 16-year-old character.
Designers David Zinn (sets), Clint Ramos (costumes) and David Lander (lights) do a great job with the visuals, contrasting the smoky glamour backstage, the frisky fantasy of the bedroom and the domestic normalcy of Arnold's apartment.
When it opened in June of 1982, Torch Song Trilogy's success helped establish a changing Broadway, more open to realistic and sympathetic stories of people whose lives aren't lived as part of the heterosexual majority. Now Torch Song opens on Broadway during a time when New York's stages are seeing more portrayals of people whose lives aren't lived as part of the cisgender majority. The stories are being written. With visionary, risk-taking producers like John Glines, they will be seen.