Straight White Men - 2018 - Broadway
It's Christmas Eve, and Ed has gathered his three adult sons to celebrate with matching pajamas, trash-talking, and Chinese takeout. But when a question they can't answer interrupts their holiday cheer, they are forced to confront their own identities. Obie Award-winning playwright Young Jean Lee takes a hilariously ruthless look at the classic American father-son drama. This is one white Christmas like you've never seen before.
Video preview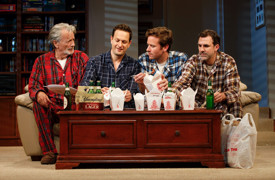 Schedule
Running Time: One hour and 30 minutes
Twitter Watch
@2STNYC
09/18/2021 11:00am
Lights up, it's a new day. Share some laughs with May Adrales, JC Lee, Austin Pendleton, Kara Young, and Jesse Will… https://t.co/WwYmHeeyBm
@2STNYC
09/17/2021 10:48am
We're back in the game! Take Me Out is on sale now. Our spring season begins March 9 at the Hayes Theater. Get tic… https://t.co/gAYrukjZwm
Featured Reviews For Straight White Men
'Straight White Men' review: Young Jean Lee's milestone comedy underwhelms - amNY
There is no character development or plot, besides a handful of guys sitting around on a couch. As their father looks on, the three young men play games (including a retooled version of "Monopoly" created by their mother), joke around (breaking into a parody version of the title song of "Oklahoma!") and strut around in matching pajamas.
'Straight White Men': The Best Play You've Ever Seen About Mediocrity - New York Observer
So the play works both as a political satire/PC PSA and also as a philosophical study of human limitations. It does both brilliantly because Lee is, in fact, one of our boldest living playwrights, one I rank with Wallace Shawn, Suzan-Lori Parks and Tony Kushner. She's superficially goofier and perhaps less lofty than those canonized worthies, but the thinking drills deep and the writing is superbly executed. For a hard, clinical look at mediocrity, Straight White Men is thrillingly great.
Straight White Men Broadway Cast