Straight White Men - 2018 - Broadway
It's Christmas Eve, and Ed has gathered his three adult sons to celebrate with matching pajamas, trash-talking, and Chinese takeout. But when a question they can't answer interrupts their holiday cheer, they are forced to confront their own identities. Obie Award-winning playwright Young Jean Lee takes a hilariously ruthless look at the classic American father-son drama. This is one white Christmas like you've never seen before.
Video preview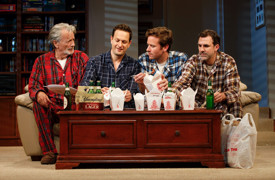 Schedule
Running Time: One hour and 30 minutes
Twitter watch
@2STNYC
09/28/2020 02:15pm
Congratulations Amanda Seyfried & Thomas Sadoski (2015's "The Way We Get By") on welcoming a baby boy!
Featured Reviews For Straight White Men
Straight White Men - TimeOut NY
Hammer, in his stage debut, leans on sincerity a bit heavily but radiates charm, which goes a long way. Likability matters here; it helps keep the play's potential didacticism in check. She may poke fun at these guys as they poke at each other, but Lee is not dismissive as she gently squeezes their universe into a foosball and rolls it toward an overwhelming question.
Review: 'Straight White Men,' Now Checking Their Privilege on Broadway - New York Times
The casting of shiny actors like Mr. Hammer (of "Call Me By Your Name") and Mr. Charles (of "The Good Wife") has the perverse effect - though they are both spot on - of making the play seem mainstream. So does Ms. Shapiro's direction, which is confident and highly polished; even the boys' mortifying, half-remembered rec-room dance routines are snappily choreographed, by Faye Driscoll.
Straight White Men Broadway Cast