Review Roundup: Critics Weigh In On STRAIGHT WHITE MEN on Broadway!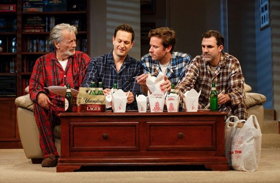 Straight White Men officially opens on Broadway tonight, July 23, 2018. Young Jean Lee's dark comedy, directed by Anna D. Shapiro, stars Kate Bornstein, Josh Charles, Ty Defoe, Armie Hammer, Stephen Payne and Paul Schneider.
It's Christmas Eve, and Ed has gathered his three adult sons to celebrate with matching pajamas, trash-talking, and Chinese takeout. But when a question they can't answer interrupts their holiday cheer, they are forced to confront their own identities. Obie Award-winning playwright Young Jean Lee takes a hilariously ruthless look at the classic American father-son drama. This is one white Christmas like you've never seen before.
Let's see what the critics had to say!
Jesse Green, The New York Times: The casting of shiny actors like Mr. Hammer (of "Call Me By Your Name") and Mr. Charles (of "The Good Wife") has the perverse effect - though they are both spot on - of making the play seem mainstream. So does Ms. Shapiro's direction, which is confident and highly polished; even the boys' mortifying, half-remembered rec-room dance routines are snappily choreographed, by Faye Driscoll.
Matt Windman, amNY: There is no character development or plot, besides a handful of guys sitting around on a couch. As their father looks on, the three young men play games (including a retooled version of "Monopoly" created by their mother), joke around (breaking into a parody version of the title song of "Oklahoma!") and strut around in matching pajamas.
Christopher Kelly, NJ.com: Young Jean Lee's play "Straight White Men," starring Armie Hammer in his Broadway debut, is a consideration of the experiences of, well, Straight White Men struggling to find their place in these "woke" times. Or at least I think that's what the play is about, since it's impossible to tell whether Lee is lampooning her characters, who have a tendency to wield their privilege even when they're ostensibly trying to surrender it, or if she finds their plights genuinely worthy of empathy.
Robert Hofler, TheWrap: Like so many 90-minute plays these days, "Straight White Men" is a mildly amusing extended skit. Lee gooses her fragile and very contrived story line by having the men engage in outrageous horseplay. But their dancing, singing, and physical gross-out antics are the kind of theatrics one learns from watching too many episodes of "Two and a Half Men."
Frank Scheck, Hollywood Reporter: Straight White Men is great fun for much of its running time, but the play falters when it attempts to explore more serious terrain. The playwright doesn't manage to convey successfully what she's trying to say about the expectations that inevitably accompany privilege. The work's ambiguity, deliberate or otherwise, ultimately proves frustrating, especially in its unresolved conclusion.
Adam Feldman, Time Out New York: Hammer, in his stage debut, leans on sincerity a bit heavily but radiates charm, which goes a long way. Likability matters here; it helps keep the play's potential didacticism in check. She may poke fun at these guys as they poke at each other, but Lee is not dismissive as she gently squeezes their universe into a foosball and rolls it toward an overwhelming question.
David Cote, New York Observer: So the play works both as a political satire/PC PSA and also as a philosophical study of human limitations. It does both brilliantly because Lee is, in fact, one of our boldest living playwrights, one I rank with Wallace Shawn, Suzan-Lori Parks and Tony Kushner. She's superficially goofier and perhaps less lofty than those canonized worthies, but the thinking drills deep and the writing is superbly executed. For a hard, clinical look at mediocrity, Straight White Men is thrillingly great.
Tim Teeman, The Daily Beast: However, Lee's wider point about privilege is sharply made. Straight White Men proposes that this privilege does not have to be enacted in a viciously spoken word, or an active and overt act of discrimination or cultural mastery. It can simply be a powerful silent presumption, and in the aimless Matt Straight White Men satirically toys with what the rejection of that presumption may mean.
Sara Holdren, Vulture: The 90-minute examination of the ingrained dynamics at work amongst an aging father and his three adult sons is, in large part, exactly those things Lee points to as so currently unfashionable: It's nuanced, curious, and compassionate. That's not to say it's comfortable-Lee's sense of mischief and her expert control of tension are still at play-but it is, in its bones, gentle. Those buying tickets hoping for a gleeful evisceration of straight white male privilege, a parodic fuck-you of a play, may be disappointed. Good. Lee is doing something much harder and much more humane.
Greg Evans, Deadline: Young Jean Lee's delicate balance of a play, directed by Anna D. Shapiro with a more sensitive understanding of character than pace, brings together three adult brothers and their widowed dad over a Christmas holiday that will see laughter and tears.
Marilyn Stasio, Variety: The re-written version of the play seems to have extended and pumped up the fun and games from the original version that played downtown at the Public under the playwright's own direction. But who would begrudge this super cast a few extra laughs? Charles plays an inspired game of "Privilege" and Hammer is especially fetching rubbing his sore nipples after one of these bro-on-bro matches.
Melissa Rose Bernardo, New York Stage Review:
You'll remember that our mission, as explained by the Persons in Charge, was to "try to find some understanding for straight white men." Understanding turns out to be in short supply. But Lee's perspective-wry, unflinching, and altogether unique-is an unexpected privilege.
Nick Maslow,
Entertainment Weekly
: Straight White Men might sound like a frat-tastic comedy in the vein of The Hangover, but it's actually a powerful social commentary opening Monday at the Hayes Theatre on Broadway. With the help of a star-studded male ensemble making impressive Broadway debuts - including
Armie Hammer
(Call Me By Your Name) and
Josh Charles
(The Good Wife) - the play examines toxic masculinity and white male privilege while making you disappointed that modern men still haven't harnessed their strength in a positive movement the way women have with feminism.
To read more reviews, click
here
!