Click Here for More Articles on STRAIGHT WHITE MEN
BWW Review: Young Jean Lee's STRAIGHT WHITE MEN Returns to New York Faster, Funnier and Focused
There was plenty to admire when playwright/director Young Jean Lee's Straight White Men opened at The Public Theater in November of 2014. Those familiar with the exceedingly non-traditional work of the Obie-honoree, whose past dramatic choices have included inserting a scene from "Sesame Street" about Mr. Hooper's death into a play about King Lear and having silent nude performers interact with audience members to explore the boundaries of comfort zones may have chuckled a bit at the thought of her stepping into theatrical territory more or less defined in this country by the naturalistic classics of dramatists like Arthur Miller and Eugene O'Neill.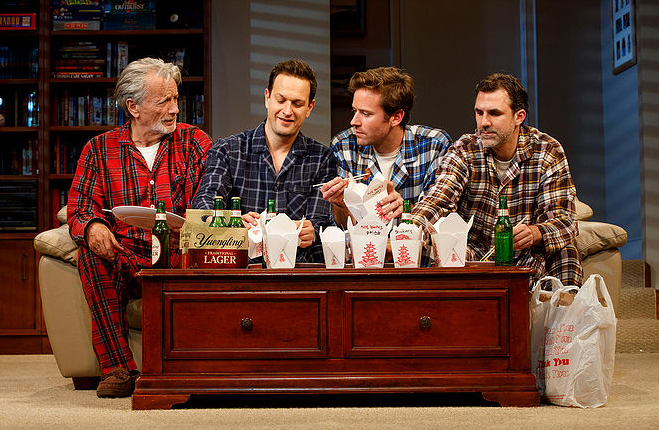 This critic's review concluded that part of the play's cleverness was the many ways the piece could be taken. It's quite possible the playwright disagreed with that point of view because, with new director Anna D. Shapiro on board, a revised version of the play (now the published version) has played stints at Stepphenwolf and with the Marin Theatre Company. With a return to New York that makes Lee Broadway's first woman playwright of Asian descent, this playful new version is faster, funnier and played within a specific context with a far more focused point of view.
As is often the case with Lee, comfort zones are an important factor; as is, no matter what self-identifying adjectives you prefer, a viewer's willingness to venture beyond them. The script instructs that "loud hip-hop with sexually explicit lyrics by female rappers" be played as pre-show music. Frankly, this reviewer couldn't understand the lyrics because the music was pretty much overwhelmed by the energetic chatter of the audience members. Nevertheless, characters referred to as the people in charge mingle with seated guests, asking if the music is too loud for them and (according to the script) offering ear plugs or an escort to a quieter section of the lobby.
The two in charge are, in fact, performance artist Kate Bornstein and actor Ty Defoe, appearing as themselves.
"I'm from the Oneida and the Ojibwe nations," says Defoe in a pre-show presentation held before a curtain made of shimmering strips of mylar. "My gender identity is Niizhi Manitouwug, which means 'transcending gender' in the Ojibwe language."
"Me, I'm a Jew from the Jersey shore," quips Bornstein. "And I'm what's called 'non-binary,' which means 'not man/not woman' in the English language."
They express sympathy for anyone who felt uncomfortable with the pre-show music ("Kate and I are well aware that it can be upsetting when people create an environment that doesn't take your needs into account.") and congratulate those who liked the music for enjoying a "moment of privilege."
After some charming banter about how they got involved with the play and some words about compassion and their own curiosity about Straight White Men, the curtain rises to designer Todd Rosenthal's appropriately bland depiction of a Midwest suburban family room. The set is literally framed with a gold frame that has a plaque on the bottom labeling the contents as "Straight White Men." This reviewer imagined himself looking at one of those environmental dioramas at the American Museum of Natural History, especially when (as they do at the beginning of each scene) Bornstein and Defoe guided two of their fellow actors onto the space and into their places.
It's Christmas Eve at the home of the widowed Ed (Stephen Payne, gritty but sweet) and while his middle son Jake (hard-nosed Josh Charles), a successful banker, tries to concentrate on his video game, youngest Drew (goofy and slightly spacey Armie Hammer), a college professor and a prize-winning writer, does his best to distract him by singing an annoying children's song, blocking his view with his body and threatening to perform a bodily function or two. Like baby animals, these two tend to partake in a lot of physical competitiveness with each other. At one point they even try establishing dominance in a wacky dance-off.
Jake, Drew and eldest Matt (Paul Schneider, barely masking inexpressible anguish) are, like their father, Straight White Men and were raised by their now-deceased mother to be especially aware of the advantages those factors give them in life.
As part of her effort to remind her sons "not to be assholes," she had them play her homemade board game called "Privilege." ("Excuses Card: 'What I said wasn't sexist-slash-racist-slash-homophobic because I was joking.' Pay fifty dollars to The Lesbian and Gay Community Services Center.")
In fact, if you wanted to throw in another adjective to describe these four characters, "liberal" would be a good choice, although, as the 90-minute play progresses, it's their contrasting degrees of liberal thinking and actions that fuel the proceedings.
A retired engineer, Ed has lived his life according to the societal expectations of his generation; get a good job, fall in love and get married, raise a family and build enough financial security so you can relax in your old age. Ideas like helping to change the world and improving conditions for the marginalized were not in the plan, but with his wife's influence he made sure his sons were instilled with an appreciation of their advantages and the responsibility that comes with them.
Drew has been gaining notoriety as a progressive voice after the New York Times described his last book as a "radical attack on the crassness of American materialism," but now he's looking for a more commercial subject to write about.
Jake is the type who would never make a racist/sexist/homophobic joke but will laugh if an important client makes one. He speaks out against the rigged system that assumes women to be less intelligent and keeps getting black people stopped by police for just going about their lives, but he doesn't bring anyone other than white males to client meetings because he knows it would be frowned upon.
Jake expresses admiration for Matt, who, unlike himself, has always put himself at the forefront of recognizing the needs of the marginalized. In high school Matt got the drama teacher fired when he staged a protest against his casting only white kids in OKLAHOMA! His method of protest, however, dressing up in KKK robes and singing a "Springtime For Hitler"-like parody song ("We know we belong to the Klan, and the Klan we belong to is grand"), might put off those he was advocating for. Remembering the moment, the boys enthusiastically perform the song, including goose-stepping choreography. In their minds, they're attacking racism, but when it's all over, Matt sullenly comments, "Well, it was fun for us."
But despite his history of activism and a Harvard degree, the flat broke Matt, overwhelmed by student loans and a series of career failures, has moved in with his father, and has taken a temp clerical job at a community organization. In Jake's eyes, Matt is walking the walk, intentionally not taking advantage of all his privileges so that a marginalized person might stand a better chance of getting ahead.
"Our success is a problem, not a solution!," declares Jake.
But is that what's going on? Or maybe Matt is experience self-loathing as a result of his upbringing. Or maybe, as Drew insists, he just needs therapy.
And this discussion, which nearly turns violent, of the definition of success as defined by the privileged class for the privilege class, is where Straight White Men becomes volatile. The comfort zone in question becomes how Matt's family feels about his reluctance to aggressively aim for achieving his potential and how Matt feels about being regarded as a failure for staying within his safe surroundings.
While we can agree that a patriarchal, Eurocentric cis-gender heterosexual society creates glass ceilings for those who don't fit into those slots, Straight White Men asks us to consider how it may also create glass floors for those who do.
Related Articles
After 20-odd years singing, dancing and acting in dinner theatres, summer stocks and the ever-popular audience participation murder mysteries (try improvising with audiences after they?ve (read more about this author...)