Dear Evan Hansen - Broadway Tickets, News, Info & More
Dear Evan Hansen is the deeply personal, and profoundly contemporary, musical about what happens when we let a lie consume us. This groundbreaking musical - featuring a book by Tony-winner Steven Levenson and a score by the Grammy, Tony and Academy Award winners Benj Pasek and Justin Paul - examines what it means to be alive.
A letter that was never meant to be seen, a lie that was never meant to be told, a life he never dreamed he could have. Evan Hansen is about to get the one thing he's always wanted: a chance to finally fit in.
Video preview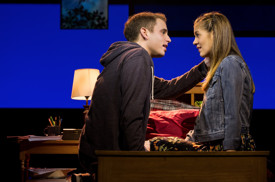 Photo preview
Schedule
Running Time: Two hours and 25 minutes, with one intermission
Schedule may vary. Visit the official website for an up to date schedule.
(New York, NY)
239 West 45th St.
Seating Chart
Twitter Watch
@DearEvanHansen
12/05/2021 01:34pm
Dear @DoubtfireBway, Hellooooo and Happy #OpeningNight. Sincerely, the #DearEvanHansen Family.
Featured Reviews For Dear Evan Hansen
Ben Platt Leads Powerful 'Dear Evan Hansen' To Broadway – Review - Deadline
Platt seems more to inhabit Evan than to merely portray him. The halting delivery of soulful lines, the arms that flutter out in birdlike spasms as if grasping for logic or reason and, most of all, with a voice that rises from assured tenor to plaintive falsetto all conspire to bring this character to life. Evan could be cousin to The Glass Menagerie's Laura Wingfield.
Dear Evan Hansen: EW stage review - Entertainment Weekly
Leaving a new musical with a great song or two running through your head is a rare but exciting thing. Leaving with about 10 great songs running through your head is pretty much unheard of. But that's the power of Dear Evan Hansen, which just opened on Broadway after a world premiere at Washington, D.C.'s Arena Stage and a stint at Second Stage Off-Broadway.
Dear Evan Hansen Broadway Cast
Buy at the Theatre Shop
T-Shirts, Mugs, Phone Cases & More