Beetlejuice - 2019 - Broadway
Everybody's favorite ghost-with-the-most has finally made it to Broadway. Beetlejuice appears on stage in this hilarious new musical that subverts all of Broadway's conventions. Based on Tim Burton's classic, other-worldly film, this hilarious new musical is an absolute killer.
Beetlejuice tells the story of a strange and unusual teenager whose whole life is upended when she meets a recently deceased couple in her father's new house. Then, when a dastardly demon with a thing for stripes wants to use her for his own nefarious purposes, she has to figure out what is truly important. With an irreverent book, an astonishing set, and a score that will have you tapping your toes long after you've shuffled off this mortal coil, Beetlejuice is musical unlike anything you will see in this world (or the next).
And under its uproarious surface (six feet under, to be exact), it's a remarkably touching show about family, love, and making the most of every Day-O!
Video preview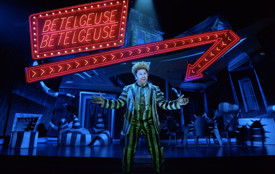 Photo preview
Schedule
Running Time: Two hours and 30 minutes, with one intermission
Featured Reviews For Beetlejuice
Theater Review: 'Beetlejuice' - NY1
The score by Eddie Perfect isn't exactly perfect but it's plenty jaunty, though "The Banana Boat Song" and "Shake Senora" from the film are the show's musical highlights. Director Alex Timbers matches film director Tim Burton's ceaseless creativity. Obviously the challenge was on having to compete with all the filmic effects, and thanks to scenic designer David Korins and the special effects creators, the imagery is truly dazzling. Besides Beetlejuice, the showcase character is Leslie Kritzer's ditzy Delia, and she utterly slays us with this off-the-wall performance. For all the talent here, the show suffers from sensory overload. Then again, that may be just the way "diehard" fans prefer it.
'Beetlejuice' on Broadway: It Was a Horror Show. Now It Feels Like a Hit. - Daily Beast
If you are a fan of the film, there are plot similarities and divergences. Actually, the story careens all over the place, which doesn't matter because the performances are mostly excellent and the sets by David Korins notably stunning (including a mansion living room seemingly redecorated mid-performance).
Beetlejuice Broadway Cast