Beetlejuice - 2019 - Broadway
Everybody's favorite ghost-with-the-most has finally made it to Broadway. Beetlejuice appears on stage in this hilarious new musical that subverts all of Broadway's conventions. Based on Tim Burton's classic, other-worldly film, this hilarious new musical is an absolute killer.
Beetlejuice tells the story of a strange and unusual teenager whose whole life is upended when she meets a recently deceased couple in her father's new house. Then, when a dastardly demon with a thing for stripes wants to use her for his own nefarious purposes, she has to figure out what is truly important. With an irreverent book, an astonishing set, and a score that will have you tapping your toes long after you've shuffled off this mortal coil, Beetlejuice is musical unlike anything you will see in this world (or the next).
And under its uproarious surface (six feet under, to be exact), it's a remarkably touching show about family, love, and making the most of every Day-O!
Video preview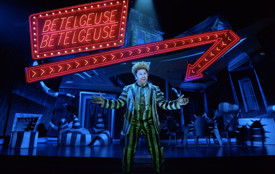 Photo preview
Schedule
Running Time: Two hours and 30 minutes, with one intermission
Featured Reviews For Beetlejuice
BEETLEJUICE: THESE GHOSTS ARE GONNA LIVE FOREVER - New York Stage Review
And thus is conjured a very enjoyable, very self-aware, very slick, very tuneful, very constructed-to-please-the-crowds new Broadway musical. It opened tonight at the Winter Garden, that frequent home to now-and-forever-running staples, and it's nearly guaranteed to follow suit.
Beetlejuice comes to Broadway with a fun jaunt through the Netherworld: EW review - Entertainment Weekly
Beetlejuice, with music and lyrics from Eddie Perfect (King Kong: The Musical) and a book by Scott Brown and Anthony King, was crafted from a group of creative minds who clearly love the source material, though not all of it works. There are still second act problems and a song list void of any real bops, but it's a fun time for the Burton novice and pure fan service for the Burton stans, thanks in large part to the titular puckish undead spirit breathing life into a Broadway experiment that could've been dead in the water.
Beetlejuice Broadway Cast