Anastasia - 2017 - Broadway
Inspired by the beloved films, the romantic and adventure-filled new musical Anastasia comes to Broadway.
From the Tony Award-winning creators of the Broadway classic Ragtime, this dazzling show transports us from the twilight of the Russian Empire to the euphoria of Paris in the 1920s, as a brave young woman sets out to discover the mystery of her past. Pursued by a ruthless Soviet officer determined to silence her, Anya enlists the aid of a dashing conman and a lovable ex-aristocrat. Together, they embark on an epic adventure to help her find home, love, and family.
Anastasia features a book by celebrated playwright Terrence McNally and a lush, new score by Stephen Flaherty (music) and Lynn Ahrens (lyrics). Tony Award-winning director Darko Tresnjak directs.
Video preview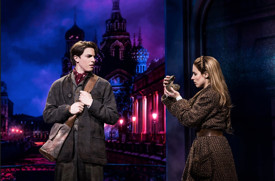 Photo preview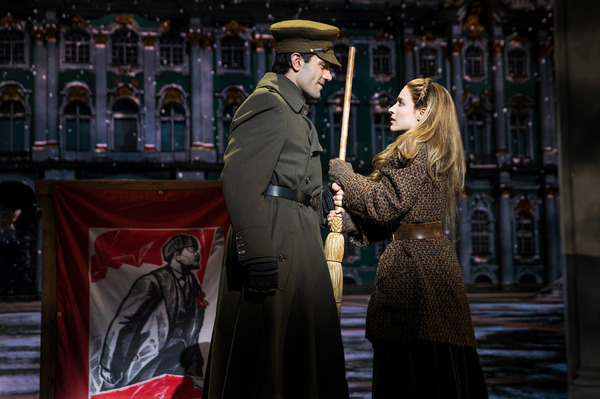 Schedule
Running Time: Two hours and 25 minutes, with one intermission
Featured Reviews For Anastasia
Anastasia review at the Broadhurst Theatre, New York – 'cloying and bland' - The Stage
The Oscar-nominated hit from the original movie, Journey to the Past, as well as Once Upon a December are the stand-outs here, though they've been augmented by nearly 20 new songs. Other significant changes from the film see the character of Rasputin replaced by a vengeful Russian police sergeant called Gleb, who is determined to fulfil his father's mission to destroy the Russian royal family. He's played by Ramin Karimloo - the Iranian-born musical star who first came to prominence in the West End - with impressive authority and strong vocals.
Review: 'Anastasia' Lives Again on Broadway - Daily Beast
If you are particular about Russian political and cultural history, you might want to be gripping a stress ball before taking your seat at the musical Anastasia on Broadway. If you want to watch a proudly old-school Broadway musical with the best snow effects ever (thank you, projection designer Aaron Rhyne), however, then no stress balls needed. Despite a closing curtain of narrative ambiguity, this lushly orchestrated, gently delightful musical, directed by Darko Tresnjak, takes the view that the famous daughter of the Romanovs did survive the massacre of the Russian imperial family at the hands of the Bolsheviks in 1918, and-having fallen in with a loveable conman and louche aristocrat-sets off for Paris to prove her identity to her surviving grandmother.