Anastasia - 2017 - Broadway
Inspired by the beloved films, the romantic and adventure-filled new musical Anastasia comes to Broadway.
From the Tony Award-winning creators of the Broadway classic Ragtime, this dazzling show transports us from the twilight of the Russian Empire to the euphoria of Paris in the 1920s, as a brave young woman sets out to discover the mystery of her past. Pursued by a ruthless Soviet officer determined to silence her, Anya enlists the aid of a dashing conman and a lovable ex-aristocrat. Together, they embark on an epic adventure to help her find home, love, and family.
Anastasia features a book by celebrated playwright Terrence McNally and a lush, new score by Stephen Flaherty (music) and Lynn Ahrens (lyrics). Tony Award-winning director Darko Tresnjak directs.
Video preview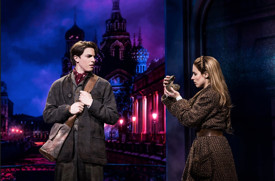 Photo preview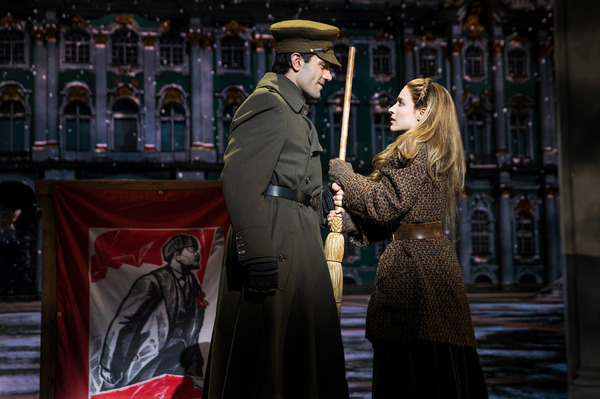 Schedule
Running Time: Two hours and 25 minutes, with one intermission
Featured Reviews For Anastasia
Tweaked 'Anastasia' An Even Stronger Show On Broadway - Hartford Courant
In its yearlong journey from Hartford to Broadway, "Anastasia" has found itself. When this sweet-natured musical of self-discovery premiered a year ago at Hartford Stage, it was just as lush and romantic, but underneath those gorgeous trappings it seemed uneven, insincere, unsure of itself. At the Broadhurst Theatre, where it opened Monday night, the show is now fluid, smooth and clear-headed. "Anastasia" has not fundamentally changed. But dozens of small fixes have made it a much sharper show. Had the Hartford Stage version hurried to Broadway sooner without these tweaks - or heaven forbid, had not tried out in Hartford at all - the show's stylistic inconsistencies would have doomed it. It speaks and sings now with a stronger voice.
'Anastasia' Broadway Review: A Muddled, Pro-Czarist Russia Musical for the Trump Era - The Wrap
Terrence McNally's book goes through so many contortions on the subject of Anastasia. She is the royal daughter. She isn't the daughter. She is, then she isn't again. But then why does this Russian girl know so much about the Romanovs' pet cat and why is there a diamond the size of the Ritz sewn into her rag of an overcoat? Also unexplained is where Anya/Anastasia learned to jump from trains a la Tom Cruise and defend herself (and her boyfriend) by kicking men in the nuts. No Disney princess ever did that before! As the two lovers, Christy Altomare and Derek Klena display pretty singing voices, and otherwise show as much depth as the animated-film characters their roles are based on.