Click Here for More Articles on ANASTASIA
BWW Interview: Constantine Germanacos Gets Ready to Say 'Dasvidaniya' to Three Years of ANASTASIA
As BroadwayWorld previously reported, on Sunday, March 31, after 808 performances on Broadway, Anastasia will take its final journey to the past- a journey that has lasted for three years. Even before it started winning the hearts of audiences at the Broadhurst Theatre in 2017, the musical made its world premiere in a sold-out, record breaking run at Hartford Stage in Connecticut.
Constantine Germanacos has been there through it all.
In December, after a brief hiatus from the show, the original company member rejoined the production as Gleb- a role that he understudied during the runs of both Ramin Karimloo and Max von Essen. Before he officially took over as the Bolshevik bad guy, he originated the parts of Tsar Nicholas II and Count Ipolitov.
As the show enters its final weeks, Germanacos checked in with BroadwayWorld to reflect on his three years of Anastasia.
---
Your journey with Anastasia started at Hartford Stage, correct?
Yes, I was one of the last additions in Hartford. It was like a late February audition for an April beginning and it was to play the part of the Tzar and they said I may understudy, they weren't sure yet. And then on the first day of rehearsal they also assigned me "Stay, I Pray You," the solo at the train station that Count Ipolitov sings, so that was a total surprise.
And that was three years ago?
Yeah it was three years ago! We're closing March 31st and our first rehearsal in Hartford was April 5, 2016.

Does it feel like it was a million years ago or more like it was just yesterday?
Both, but it mostly feels like a million years ago because in that time, that was just Hartford. We all hoped it would go to Broadway, but we had no way of assuring that, so in that time I've been on Broadway, I've continued a big chunk of my degree at Parsons where I'm studying interior design, I've gotten engaged, I'm getting married in six weeks and I'm playing a lead on Broadway. A lot has happened in that time!
Wow, I forgot that it wasn't announced to transfer to Broadway from the beginning.
It was definitely not announced but the hope was there. That's how it was kind of framed to us by our agents and the team- it definitely had plans, but as an actor in this business, you don't really know. But with the creative team and the director and the story, we all had hopes and were keeping our fingers crossed that it would happen. They announced a week or so after we closed in Hartford that we were transferring to Broadway.
Is this the longest time you've spent in a show?
For sure. Even with leaving the show, I left the show in July to continue my studies at Parsons because it was quite challenging to do double duty. At the point I had been with the show for a year and a half, add the three months at Hartford so about 20 months, and now these four months, it has been about two years cumulatively for me which is still the longest I've been in a show.

There's definitely a solid group of the cast too that's been there since the beginning, correct?

Since the beginning, yeah. Christy Altomare and John Bolton are the originals from Hartford, it's so cool. Ken Krugman, Molly Rushing and Janet Dickinson have also been there from the beginning in Hartford.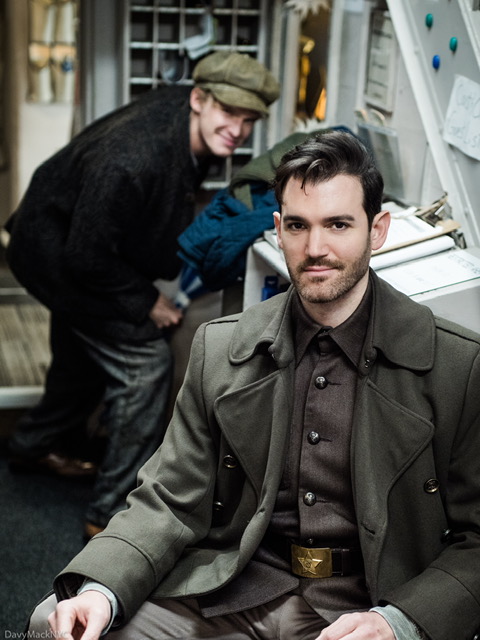 There must be a very special family feeling going on backstage...

There really is. I've been lucky with both my Broadway shows, Evita as well, to have a really familial energy between the cast. I think a lot of it has to do with who's leading the ship, meaning the director, the creative team and the energy they set forth and a lot of it to do with the stories, they're both emotional stories and very old- fashioned in the best sense. Just so many emotional and moving moments in both Evita and Anastasia which allow you to be emotional. In "Stay, I Pray You" for instance, you connect and it carries into backstage. A real connection, friendship and support of each other.
As someone who has been there since the beginning, is it weird seeing a show slowly mutate? When a cast member leaves, a new person goes in, a cast member comes back?

It's so bizarre and at times, especially because you do it so often, it's such a frequent repetition of the show eight times a week, you really sense when someone is out, someones on vacation, you feel that presence not there. Especially on a days when a cast member leaves, I always feel like "Oh my god, don't leave me." I felt a little like, physiologically speaking, a slight abandonment issue like "Oh my god you're leaving us, where are they going?" They're going out into the world and leaving our little cocoon. But because the show never stops, it's the train that keeps on going, the new person comes in and with time they bring their energy and their own sense of humor and you have your own little bits and moments with them onstage. I will say when I came back in December for my costume fittings and my three days of brush up rehearsals before I went on for Gleb, it felt so different because half the cast was different from when I left the cast five months prior. It was very bizarre, so weird.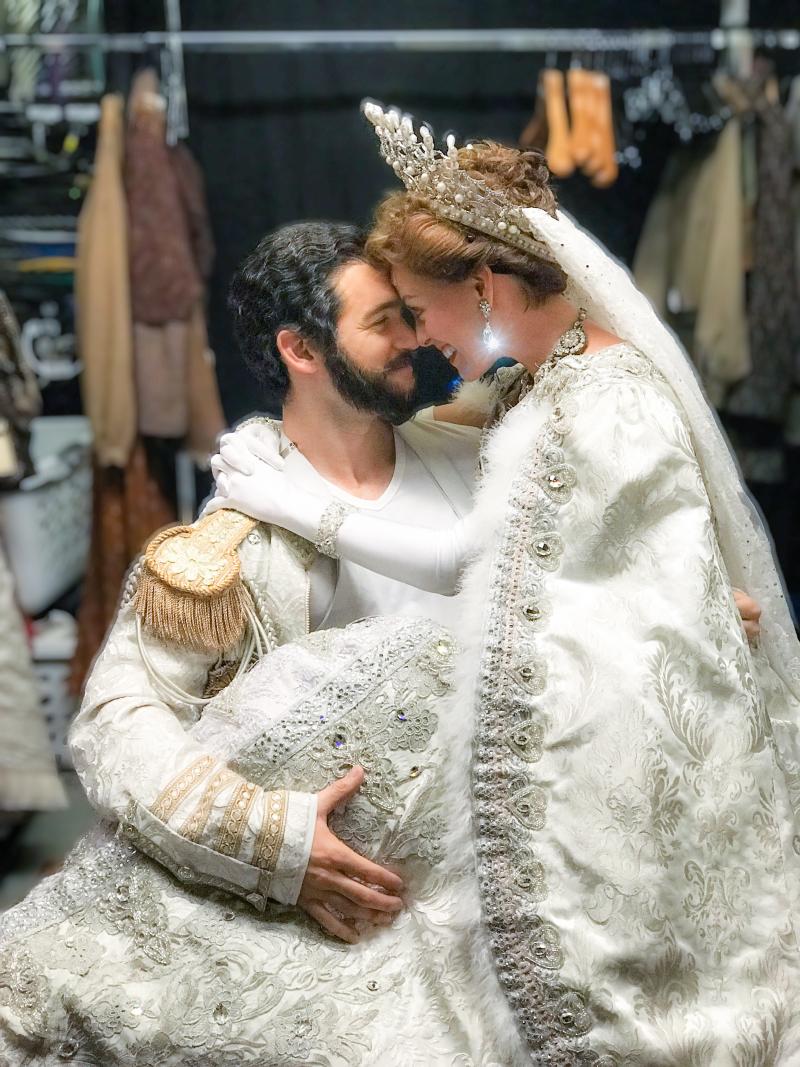 Before you went in as Gleb officially in December, you understudied. Going from understudying for Ramin to Max, did that inform how you performed the role? Did your interpretation of him change at all after seeing a new version of the character?

It did not. I felt such a deep connection and empathy for this character, perhaps on the surface he is the antagonist, not the protagonist and the much more realistic replacement of Rasputin from the movie. He's more of a real guy. I felt there were so many layers to him and so much turmoil and angst that I just connected with him and I had my very specific way of feeling into him. Actually, before Hartford, they had told me that I might understudy and if I did understudy, it'd be Dmitry. I'm getting older, but I had always been the ingenue so that was what they thought and I never thought, Gleb was such a leap for me in terms of the guy he is, the angst, the fury he has and unleashes, I had never done anything like that. My way in was a very personal way into figuring him out.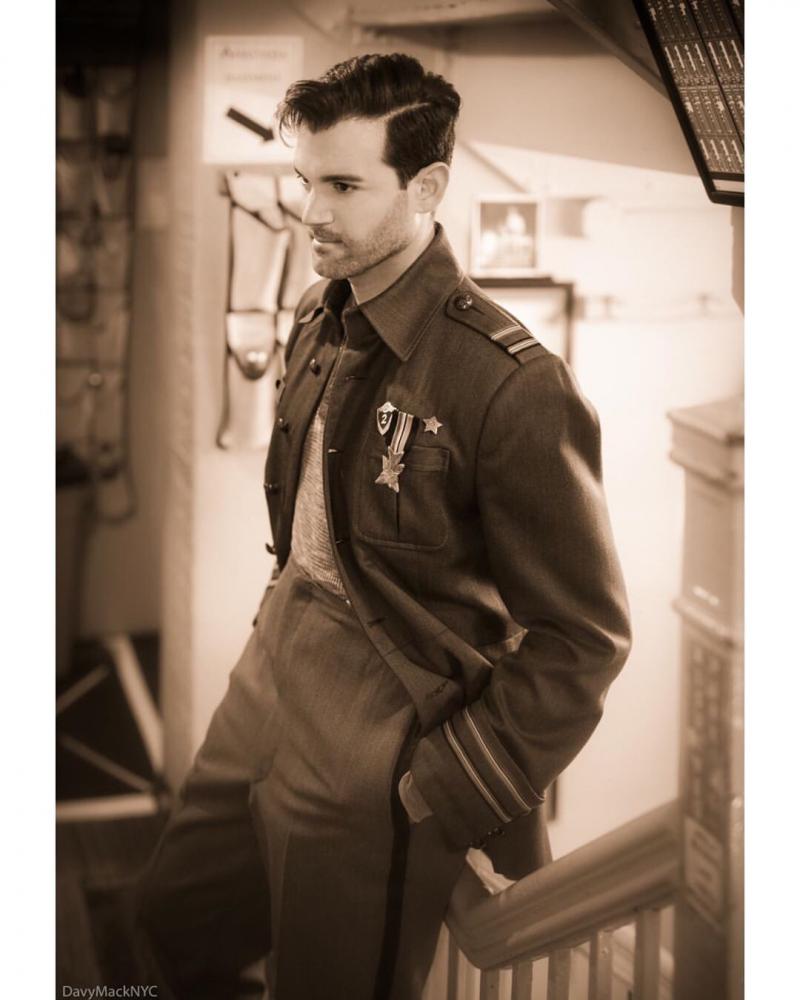 That said, the portrayal that has informed me the most is Ramin's for sure. He definitely set the mold for me and I went on quite a few times by the the time Ramin left. I'd say maybe 10 times and I went on another 20 times when Max was there and they were both amazing, both very specific portrayals that both actors gave, but mine was already on it's own course by the time Max came and I continued deepening and specifying it.

The characters you've played have gotten a lot of the new songs written for the stage. What's it been like singing those new songs?

I booked Hartford so last minute. I think it was four weeks notice? I know we're gypsies by trade, we move around, but I'm someone who has always been a homebody and prefers stability, which might be why I've been studying interior residential design. I love my home and love feeling that safety and routine, being in my hometown. So it's a big deal for me to get up and go to Hartford for three months. I was also at Parsons so I was leaving in the middle of the semester and for the first couple days I wasn't sure it was the right decision. By the third day we had our first full read through of the show, just sitting in chairs and by the first number by Anastasia "In My Dreams"... I was just in tears. Probably even before that with the Grandmother and little Anastasia, I just immediately saw how special this was and it spoke so personally to me that relationship between a grandchild and grandmother. The music just bowled me over. That's when I just felt how special this show was, how strong the material was.
The new music weaves in and connects and supports the existing songs that are so iconic at this point. "Still" which is Gleb's big act one closer was the last song added and I think after the first or second week of our rehearsals on Broadway, I had a little rehearsal with the amazing music director Tom Murray who is just incredible. In some ways he's my biggest partner on stage. He's incredible at supporting a performer onstage and we had a rehearsal where I sang "Still" for the first time and it sat perfectly in my voice. I felt such a connection to it, it's the kind of singing I love, powerful singing, not in terms of volume but the emotion. Clear emotion that you can really sink your teeth into. Stephen Flaherty was standing outside the door and I walked out and he said "Wow! I wish I could sing like that." It was amazing.
"Stay, I Pray You" was also a new song and even that when I received it as the audition material for the ensemble men, I felt such a connection to it. I was born in Greece, raised in Greece, my mom is Jewish American from San Francisco, my dad is Greek and British. I was moved back and forth as a child to visit family, go to school in Greece, go to summer camp in San Francisco and visit my mom's family. It always was like what is my homeland, where is my place? I always felt this connection to Greece and when I left to come to school here, it's an interesting thing when born in a foreign country and you've left that. In "Stay, I Pray You" no matter what happens when you leave your home, it'll always be in your heart, you'll always carry it and that bittersweet pain. I felt an immediate connection to it, it had these Russian overtones to it, like folksong.
---
With closing being posted, has the vibe backstage changed at all? Are people starting to get sentimental?
It is a shock. You always prepare yourself for a show closing because theatre is such a changing art form. We got there on a Tuesday, we got an email about a meeting and my heart sank... all of ours did. It's very sad. I feel nothing but gratitude. Other than Dear Evan Hansen and Come From Away, we're the only other show from that season that is still open. I think that's a huge accomplishment to have a solid two year run and beyond that all these productions now internationally, it has such an outreach beyond a Broadway stage. We all know it'll all keep evolving and connecting audiences.
For us, that first day there was some melancholy.As one brilliant cast member put it, it's like a low-grade depression, you're fine and then you think about it and are like "Oh no, I'm closing." But you shake it off, it's the nature of showbiz. You have eight shows a week and you have to give 110% because an audience is coming to see it for the first time. We also had a solid eight weeks notice, it's great we have that much time.
If you could pick one single highlight from the whole journey, what's been the best part of it for you?

That's tough. On opening night, my fiancee Jason gave me the most incredible opening nigh gift. I told my mom about it and she said "If you don't marry this guy, I don't know what you're doing!" He contacted four different suppliers, from four different states, and had them make a custom music box that played "Stay, I Pray You," my solo in the show. This beautiful cream and gold box, I thought it was just a box to put trinkets in, and I opened it up and was shocked it was a music box. He had a beautiful message inscribed in a brass plaque and I hit the button and realized it was "Stay, I Pray You." It was amazing.
The other moment was the first time I got the call to go on for Gleb, it was a Friday and I was taking a little nap because us Greeks take siestas. So I was taking a little power nap and I woke up at 4:45 for a 7:30 curtain and there's text from our stage manager that said "Call me." For a second, I can't believe I'm saying this, but my heart sank because I was like "I think I'm going on, am I ready, oh my god!" I looked at the text and the first thing I said was "Noooo!" It was terror. I called her back and she said "Can you go on for Ramin tonight, he's out?" I said "Of course I can, of course I'm ready." I ran to the gym, I did cardio and sweated it all out. Thankfully the day before I had understudy rehearsal so I did feel ok. My mom happened to be in New York and I told her right when I got the call and she asked if I wanted her to come and I told her no because I'd be too nervous. Five minutes later I called her back and realized it wasn't just about me, it was about everyone who has supported me and has loved me through this. I texted her and told her to come if she can, but don't tell me if you're coming and I didn't hear from her until intermission. I figured she was coming, even though she didn't tell me, but that was a special moment, having my mom in the audience the first time going on for Gleb. It was an electrifying night to be thrown on in such an intense role. She texted me at intermission and said "You're amazing," so I knew she was there. It was a really special night.
What will you miss most about being in Anastasia?
I'll miss my own journey with it. It's been such a full three years so it's kind of closing this incredible chapter. I've been with my fiancee for four years, so three of those four years Anastasia has been very much in my life, such a chronicler of our courtship and relationship as boyfriends to moving in and getting engaged. It's closing a chapter. I'm going to miss our audiences, they have been amazing, our fanastasias. They've made the show, they have supported us and kept us going in such a strong way. I have never heard cheers like I've heard from them at the end of every show. The audiences are very specific to our show because of the demographic of young adults taking to it.
Of course I'll miss Gleb. When we got our closing notice, I said my mission for the remaining eight weeks is to take care of Gleb, take care of his character because I'm going to close it on Broadway and it's going to be the last portrayal this show has of Gleb in New York City. I'm going to miss playing him because it's a very cathartic thing to get to do every night, to get this part of releasing the demons of one's parents and figuring how to be your own person. In a much smaller scale way, he's on the same journey Anastasia is on which is figuring out the man he is. I'll miss playing him.
And of course I will miss the deep pathos and heart that emanates from our show. A story that values love and family, and where in a world of great pain and adversity, we should choose to be kind and good. To not follow the flock, to be fully ourselves. Individuals.
---
ANASTASIA features a book by celebrated playwright Terrence McNally, a lush, new score by Stephen Flaherty (music) and Lynn Ahrens (lyrics), and direction by Tony Award-winning director Darko Tresnjak.
From the Tony Award-winning creators of the Broadway classic RAGTIME, and inspired by the beloved films, Anastasia is the new Broadway musical that's "one of the most gorgeous shows in years!" (New York Observer). This dazzling show transports us from the twilight of the Russian Empire to the euphoria of Paris in the 1920s, as a brave young woman sets out to discover the mystery of her past. Pursued by a ruthless Soviet officer determined to silence her, Anya enlists the aid of a dashing conman and a lovable ex-aristocrat. Together, they embark on an epic adventure to help her find home, love, and family.
Related Articles