Allison Strong To Receive 2019 Rising Star Award at The 17th Annual Garden State Film Festival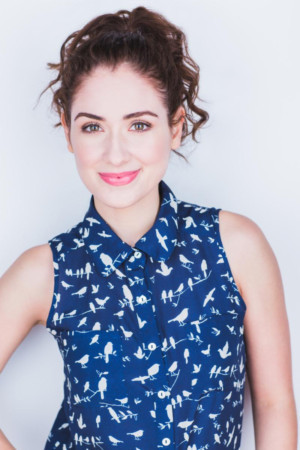 New Jersey's world-renowned celebration of independent film, The Garden State Film Festival (GSFF), is proud to announce that actress and singer Allison Strong has been named the Festival's 2019 Rising Star. The award, which recognizes up-and-coming actors for achievements in theater, film and television, is open to actors of all ages and affiliations. Eligible candidates must showcase an undeniable passion for acting, with a progression of work in theater, commercials, television or film. Strong will be honored for her vast achievements in the performing arts at a black-tie-optional Awards Banquet at The Berkeley Oceanfront Hotel in Asbury Park on Sunday, March 31st.
Upon hearing that she had been selected, Strong said, "I am overjoyed to have been chosen as GSFF's Rising Star Award Recipient for 2019! As actors, being honored is something we hope for but don't expect. Grateful to the Garden State Film Festival for this opportunity-and looking forward to seeing all of the wonderful selections in March."
New Jersey native, actress and singer Allison Strong is a proud Columbian-American who was born and raised in Hudson County. She can be seen leading alongside Adam Sandler and Chris Rock in the Netflix original feature THE WEEK OF, released on April 27th, 2018. Directed by Robert Smigel, Strong portrays Sandler's 'bride-to-be daughter, 'forced to endure the shenanigans that ensue during the planning of her wedding. She is currently recurring as 'Talia Goldstein' in the Emmy-Award Winning THE MARVELOUS MRS. MAISEL on Amazon Prime. Strong's other television credits include NBC's THE BLACKLIST and Nickelodeon's DORA AND FRIENDS.
As a teenager, Strong made her Broadway debut as an ensemble cast member of BYE BYE BIRDIE. She has since gone on to perform in the Broadway cast of MAMMA MIA, while simultaneously completing her studies as a Musical Theater Major and honors student at Montclair State University. Strong also starred as 'Ado Annie' in Daniel Fish's OKLAHOMA at Bard Summerscape. Ben Brantley of the New York Times called her performance "captivating." Strong's theater aspirations began at age 9, when she became a member of the Metropolitan Opera Children's chorus and appeared in productions of CARMEN and A MIDSUMMER NIGHT'S DREAM.
Strong is an alumna of the prestigious Johnny Mercer Songwriter's Project and ASCAP's Pop Songwriter's Project. In 2014, she released her debut album MARCH TOWARDS THE SUN and was featured in Diego Luna's Fusion Network documentary series BACK HOME. She continues to record original music in English and Spanish. Her new single, HUMAN YEARS, will be released in early this year.
A self-proclaimed foodie, Strong also studied Pastry Arts and excels in pie making. She is bilingual and enjoys American and Latin Folk Music, Oldies and Standards and has had the privilege of sharing the stage with Ray Charles.
Allison Strong Online:
Official Site: http://www.allisonstrong.com