Photo Flash: First Look at Larry Yando and More in Goodman Theatre's A CHRISTMAS CAROL
The most wonderful time of the year is underway as Goodman Theatre's A Christmas Carol begins its 36th annual production. Directing the holiday favorite for the first time, Henry Wishcamper's production features all-new on stage magic-set elements, special effects and more. The cast of 27 (below, includes 14 new and 13 returning cast members) stars Larry Yando, who most recently appeared in Mary Zimmerman's production of The Jungle Book as Shere Khan, in his sixth turn as Ebenezer Scrooge and 8-year-old Matthew Abraham as Tiny Tim for the second year. A Christmas Carol runs now through December 28 in the Goodman's Albert Theatre. BroadwayWorld has a first look at the cast in action below!
Longtime Executive Director
Roche Schulfer
established A Christmas Carol as an annu
Al Goodman
holiday offering in 1977/1978-a time when only a handful of U.S. theaters mounted the production. Thirty-six years, 31 Tiny Tims and 20,000 "Bah, Humbug!"s later, 1.2 million theatergoers have experienced A Christmas Carol, which has also served as an entry point to theater for generations of Chicagoans. Stage and screen notables including
Del Close
, Harry J. Lennix,
Felicia P. Fields
,
Raul Esparza
,
Sally Murphy
and
Frank Galati
have appeared in the show over the years. Wishcamper becomes the 10th director to helm the production over three decades. Previous directors include Tony Mockus (1978-1983);
Gregory Mosher
(1984); Sandra Grand (1985, 1986);
Michael Maggio
(1987, 1988);
Steve Scott
(1989-1992 and 2011, 2012);
Chuck Smith
(1993-1995);
Henry Godinez
(1996-2001);
Kate Buckley
(2002- 2005); and
William Brown
(2006-2010). Yando is the production's eighth Ebenezer Scrooge, a role previously played by veteran Chicago actors
William J. Norris
(1977-1983 and 1985-1990);
Frank Galati
(1984); Tom Mula (1991- 1997);
Rick Snyder
(1998- 2001);
William Brown
(2002-2005);
Jonathan Weir
(2006); and
John Judd
(2007). Since 1989, the Goodman has used former dramaturg
Tom Creamer
's adaptation of
Charles Dickens
' classic 1843 novella-the unforgettable tale of miserly Ebenezer Scrooge, a wealthy business man with a disdain for holiday cheer in Victorian London. One Christmas, Scrooge is visited by four ghosts who take him on an incredible journey that offers him a new perspective on everything from his dusty past to his dark future, and presents him with an opportunity to sympathize with his fellow man and rediscover life and love. The design team includes longtime Resident Lighting Designer
Robert Christen
, who has designed the lights for all 36 productions; Andrew Hansen (Composer), Heidi Sue McMath (Costume Designer since 2001),
Tommy Rapley
(Choreographer),
Todd Rosenthal
(Set Designer),
Malcolm Ruhl
(Music Director) and
Richard Woodbury
(Sound Designer). Flying effects are provided by ZFX Inc.
Margaret Smith
is the assistant director.
Alden Vasquez
is the production stage manager. Tickets to A Christmas Carol ($25 - $83; subject to change) are currently on sale at
GoodmanTheatre.org/Joy
. Photo Credit:
Liz Lauren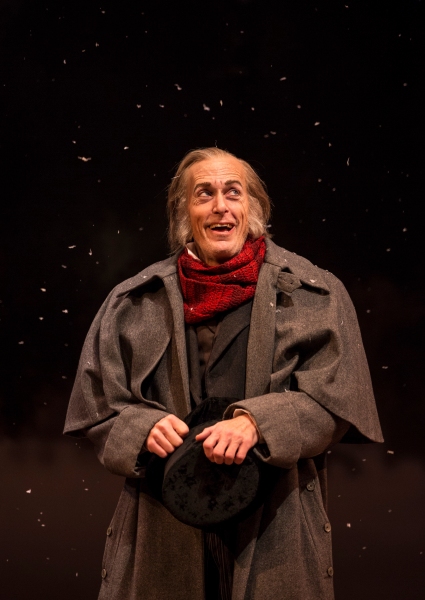 Larry Yando (Scrooge)

The Cast of A CHRISTMAS CAROL

Ron Rains (Bob Cratchit) and Larry Yando (Scrooge)

Mia Moore (Belinda Cratchit), Ron Rains (Bob Cratchit), Matthew Abraham (Tiny Tim), Francesca Mereu (Emily Cratchit), Penelope Walker (Mrs. Cratchit), Brynden Cleveland (Peter Cratchit) and Haley Bolithon (Martha Cratchit)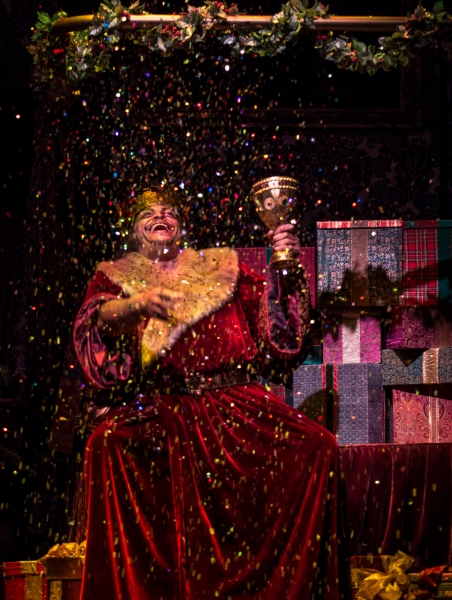 A.C. Smith (Ghost Of Christmas Present)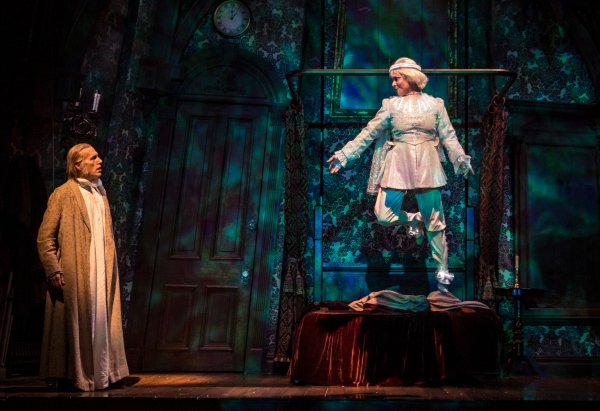 Larry Yando (Scrooge) and Elizabeth Ledo (Ghost of Christmas Past)

Larry Yando (Scrooge), Larry Neumann Jr (School Master), Brynden Cleveland (Peter Cratchit), Francesca Mereu (Emily Cratchit) and Matthew R. Dwyer (Boy Scrooge)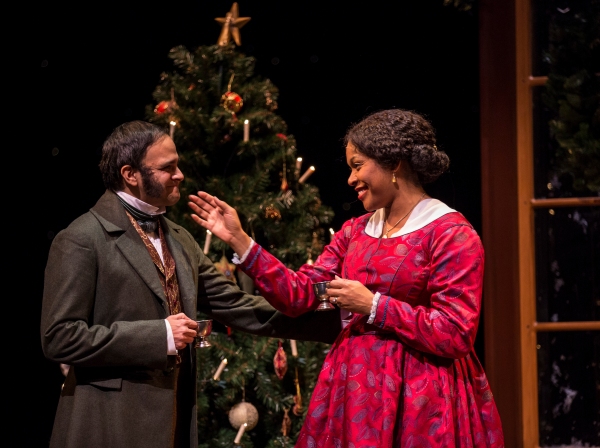 Anish Jethmalani (Fred) and Tania Richard (Abby)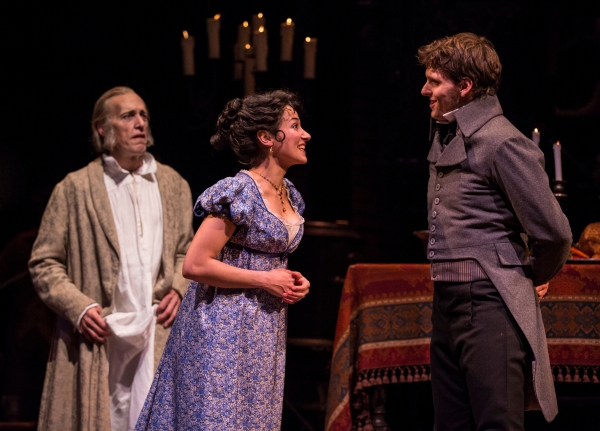 Larry Yando (Scrooge), Robert Hope (Young Scrooge) and Atra Asdou (Belle)

A.C. Smith (Poulterer), Brynden Cleveland (Turkey Boy), Larry Yando (Scrooge), Justin Amolsch (Musician), Malcolm Ruhl (Musician) and Andrew Coil (Musician)

Elizabeth Ledo (Ghost of Christmas Past) and Larry Yando (Scrooge)

More Hot Stories For You