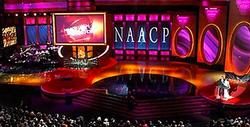 "The 44th NAACP Image Awards," a live, two-hour special on Friday, February 1 (8-10 p.m. ET), will showcase the best achievements and performances of people of color in the arts featuring a star-studded lineup of performers, winners and presenters.
Nominations were announced on Tuesday, December 11, and included contributions in television, film, music and literature.
Founded on February 12, 1909, the National Association for the Advancement of Colored People (NAACP) is the nation's oldest and largest civil rights organization. Its one-half million adult and youth members throughout the United States and the world are the premier advocates for civil rights in their communities, and monitor equal opportunity in the public and private sectors.
For more information on the NAACP Image Awards, please visit www.naacpimageawards.net.
The awards event is a production of Vicangelo Films. The executive producer is Vicangelo Bulluck.