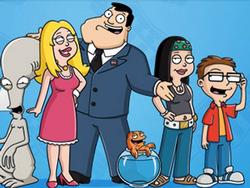 AMERICAN DAD, which recently received its second Emmy Award nomination for Outstanding Animated Program, follows staunch GOP supporter and CIA agent STAN SMITH (Seth MacFarlane) and the misadventures of his unconventional family in Langley Falls, VA. The series returns for an eighth season this fall.
Stan's blissfully unaware wife, FRANCINE (Wendy Schaal), has an unfaltering loyalty that allows her to turn a blind eye toward Stan's unabashed arrogance. Meanwhile, Stan constantly butts heads with his 18-year-old left-wing activist daughter, HAYLEY (Rachael MacFarlane), who knows just how to push her father's buttons, whether it's by helping the homeless, demanding women's rights or advocating gun control. Hayley's 14-year-old brother is the geeky yet cocky STEVE (Scott Grimes), a kid who spends his time playing video games and obsessing about the opposite sex.
The Smith cabinet is rounded out by two rather unconventional members. There's the sassy and sarcastic space alien, ROGER (Seth MacFarlane), who lives in the attic, loves to play dress-up and, earlier this year, announced his candidacy for U.S. President; and KLAUS (Dee Bradley Baker), an attention-starved goldfish with the brain of a German guy who always throws in his two cents regardless of whether anyone is listening.
This screwball family full of radically different personalities is just trying to figure out how to love and trust one another in a bi-partisan world. And with a guy like Stan in charge of national security, it's guaranteed to be one whacky ride. In the upcoming seventh season, the Smiths are back with more mischief and mayhem. Roger recruits Hayley as the lounge singer for the new high-class bar he's installing in the attic, and Stan and Roger have an entrepreneurial "eureka" moment when they think of the world's next game-changing business opportunity. And, SPOILER ALERT: the Smiths must say goodbye to Roger when he leaves Earth for his home planet. Guest voices visiting Langley Falls this season include Danny Glover as a Christmas demon in the holiday episode, plus Allison Brie, Charlie Day, Nathan Fillion, Sarah Michelle Gellar, Rupert Grint, Jon Hamm and Patrick Stewart. AMERICAN DAD is a 20th Century Fox Television production. Seth MacFarlane, Mike Barker and Matt Weitzman serve as co-creators and executive producers, while Kenny Schwartz, Rick Wiener and Nahnatchka Khan are executive producers.
Latest Articles About American Dad! on FOX