AFI LIFE ACHIEVEMENT AWARD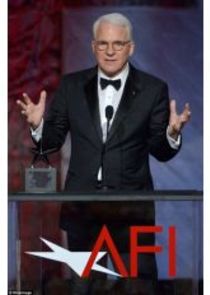 The AFI Life Achievement Award was established by the Board of Directors of the American Film Institute on February 26, 1973 to honor a single individual for his or her lifetime contribution to enriching American culture through motion pictures and television. The Recipient is selected and honored at a ceremony annually, with the award presented by a master of ceremonies and recently, the prior year's recipient, who usually gives a brief synopsis of the awarded individual and career background including highlights and achievements. The Trustees initially specified that the recipient must be one who fundamentally advanced the art of film and whose achievements had been acknowledged by the general public as well as by film scholars and critics and the individual's peers. The Trustees also specified that the work of the recipient must have withstood the test of time.
All Life Achievement Award ceremonies have been televised since 1973. Agreeing to appear at the televised ceremony apparently is part of the AFI's criteria for selecting the award. The televised ceremony generates income for the AFI, which is no longer funded by the US government. Due to the exigencies of television, the popularity of the award recipient in terms of potential ratings likely is a factor in selecting the Life Achievement Award honoree, which could explain why it never has been awarded to such major American directors as Robert Altman and George Cukor or such actresses as Joanne Woodward, all of whom were Film Society of Lincoln Center Gala Tribute honorees, or such distinguished actors as Robert Redford, Gene Hackman and Doris Day, all of whom were recipients of The Golden Globes Hollywood Foreign Press Association's Cecil B. DeMille Award for life achievement. Of the first 43 honorees, eight have been women: Bette Davis, Lillian Gish, Barbara Stanwyck, Elizabeth Taylor, Barbra Streisand, Meryl Streep, Shirley MacLaine and Jane Fonda!
- Source
TVMaze