Martin Ganeider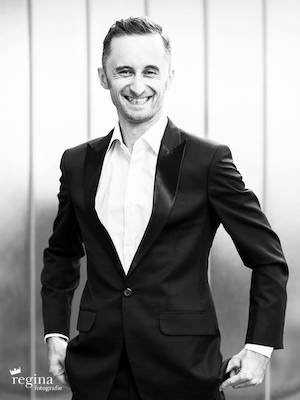 Martin Ganeider, born in the beautiful mountains of Austria (not so Sound of musicish as some might think)
Felt in love with Musical theatre when he found a Vinyl from the Austrian production of CATS. With 16 he made a tough decision, he quit Soccer and joined a local ballet school.
Loves to Dance, loves to travel, is a sports addict (he doesn't know why but he is running Marathons and IronMan races, maybe because he is to dumb to Play Chess)
A perfect day starts with a great breakfast, a good workout, a coffee break with lovely people and a musical in the evening. Oh and don't forget some ice cream ( he is in love with ice cream, especially B&J)
MOST POPULAR ARTICLES
LAST 30 DAYS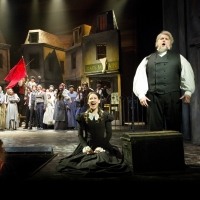 BWW Review: LES MISERABLES at Nová Scéna Bratislava
Posted: Sep. 22, 2019


BWW Review: CATS at Ronacher
Posted: Sep. 21, 2019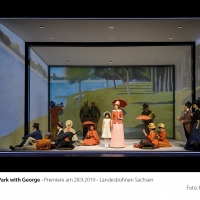 BWW Interview: ROBIN KULISCH of SUNDAY IN THE PARK WITH GEORGE at LANDESBÜHNEN SACHSEN
Posted: Sep. 28, 2019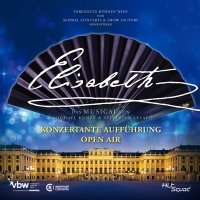 BWW Feature: ELISABETH IN CONCERT THE RECORDING at Schönbrunn Palace
Posted: Oct. 5, 2019


BWW Previews: INTO THE WOODS at BRUNO CENTER BRUNN AM GEBIRGE
Posted: Oct. 17, 2019


LAST 365 DAYS
BWW Review: AN AMERICAN IN PARIS at Landestheater Linz
Posted: Nov. 26, 2018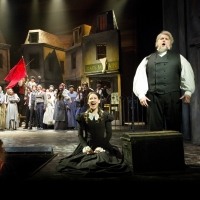 BWW Review: LES MISERABLES at Nová Scéna Bratislava
Posted: Sep. 22, 2019


BWW Review: ELISABETH IN CONCERT at Schönbrunn Palace
Posted: Jul. 8, 2019



BWW Previews: 2019 Theatre Season Preview in Austria
Posted: Feb. 21, 2019


Be my Valentine! The Perfect Way To Spend Valentines Day In Vienna
Posted: Feb. 2, 2019


BWW Review: MAMMA MIA! at Stadthalle Wien
Posted: Jan. 18, 2019


BWW Interview: Judith Jandl of KNIE THE MUSICAL
Posted: Jan. 9, 2019


BWW Previews: INTO THE WOODS at BRUNO CENTER BRUNN AM GEBIRGE

October 17, 2019

The magical masterpiece from Stephen Sondheim ( Music and Lyrics) and James Lapine (Book) is coming back to Austria for 12 nights only in 2020. Maya Hakvoort (Elisabeth, Evita, Fantine, Norma Desmond, and many others) gathered together some of the finest artists for one of the must-see events next summer. Linda Hold and Birgit Noisternig ( Choreography), Dean Welterlen (Director) and Jeff Frohner (Musical Director) are taking care of Sondheims not so fairy tale. Into the Woods/ Ab in den Wald (German lyrics by Michael Kunze) is a very unusual choice for a summer production. Apart from cheesy funny shows, Maya Hakvoort is showing some guts for putting on such a pretentious show. Hakvoort is not only producing the show she is also playing the Witch, accompanied by Ann Mandrella ( the Baker's Wife), Reinwald Kranner ( the Baker), Jan Amann ( the Wolf, Prince), Andreas Kammerzelt ( Stepmother, Prince), Eve Rades ( Cinderella), Missy May ( Little Red Ridding Hood), Nazide Aylin ( Rapunzel), Matthias Trattner ( Jack), Inez Timmer ( Jacks Mother and others), Thomas Weissengruber ( The Narrator), Stephanie Rieger ( Stepsister) and Silke Braas-Wolter (Stepsister). For tickets and further information visit www.somerfestspiele-brunn.at
---
BWW Feature: ELISABETH IN CONCERT THE RECORDING at Schönbrunn Palace

October 5, 2019

HitSquad released the Live Recording from the Musical Mega Event of this year's summer, ELISABETH in CONCERT. An All-Star Cast lead by Pia Douwes, together with the amazing Orchestra of the Vereinigte Bühnen Wien, created a special night for an audience of 22000 people at the two night only event.
---
BWW Interview: ROBIN KULISCH of SUNDAY IN THE PARK WITH GEORGE at LANDESBÜHNEN SACHSEN
September 28, 2019
---
BWW Review: LES MISERABLES at Nová Scéna Bratislava
September 22, 2019
---
BWW Review: CATS at Ronacher
September 21, 2019
---
BWW Review: CATS PRESS CALL at Ronacher Theater Wien
September 17, 2019
---
BWW Previews: BODYGUARD THE MUSICAL ON TOUR
September 8, 2019
---
BWW Feature: SEASON OPENING at Summerstage Vienna

September 3, 2019

The Vereinigte Bühnen Wien got together to celebrate the traditional Season Opening at the summerstage, Oswald Schellmanns In-Location in the heart of the city. Artistic Director Christian Struppeck talked about the upcoming CATS Opening and and was looking forward to set a new record. Cast and Orchestra just finished the 'Sitzprobe'. AD Struppeck is really passionate, when he is talking about this production. Something really special to expect from the Vienna CATS. The hand-picked cast is a mix of well known artists and some fresh faces. A relaxing get together during the stressful rehearsals. It is less than 3 weeks until Opening Night.
---
BWW Previews: MUSICAL UNPLUGGED at Bauermühle Mattersburg
August 24, 2019
---
BWW Previews: LES MISERABLES at Nová Scéna Bratislava

August 20, 2019

The record breaking musical from Alain Boubil and Claude-Michel Schönberg based on Victor Hugos novel is ready to open for the first time in Slovakia. The show has played in 52 countries and more than 424 cities. It has been translated in 22 different languages. The beautiful city of Bratislava will host the first slovakian production at the New Stage Theatre/ Nová Scéna . The show will be directed by Marie Zamora and Gabriela Petráková. The role of JeanValjean will be shared by Titusz Tóbisz and Petr Gazdik. Les Mis is a musical phenomenon. We are looking forward to hear the people sing for the first time in their foreign language. As it is going to be a Non-Replica production, let's see how the directors are going to set up their revolution. Opening Night will be on Sept. 20 and 21st. Bratislava should be on your bucket list for various reasons and now there is one more reason to visit the historical slovakian capitol.
---
BWW Previews: Patricia Medeen To Release THE BODYGUARD Album

August 15, 2019

Hit Squad Records is going to release an album with all the Hits from THE BODYGUARD . The perfect teaser for the tour start in Cologne. Patricia Meeden (Rachel Marron in Cologne and Vienna) and Ana Milva Gomes ( Cover Rachel Marron/Vienna) some of the finest voices of musical theatre are presenting the songs from the show.
---
BWW Previews: BROADRAY! IN PRETORIA at The Maslow Hotel Time Square
August 10, 2019
---
BWW Review: CHICAGO at LANDESTHEATER LINZ

July 17, 2019

A five, six seven eight.....! After more than 22 years, the masterpiece from John Kander (Music), Fred Ebb ( Book and Lyrics) and the one and only Bob Fosse ( Book and Original Choreography) is still razzle dazzling people all over the world. CHICAGO is one of Broadways longest running shows in history. A must see for everyone who is visiting New York City. For those who can't make it to the Big Apple, Chicago is on the road, playing all over the world. This summer is getting even hotter in Austria as the Landestheater Linz is hosting the tour for a limited run. It is no surprise that tickets sold as fast as ice cream on a hot summer day. CHICAGO is more accurate than ever. It is all about love, violence, greed, corruption, exploitation, adultery, treachery and of course murder. It is also about fake news and the manipulation of the press. Things we all now form todays Daily News. There are Velma Kellys, Roxie Harts, numerous Billy Flynns and also poor guys like Amos Hart between us. That might be the key of success from the show. It is timeless. Describing a Fosse show to someone who hasn't seen one yet is one of the hardest things, maybe even harder than getting a ticket for the Tony Awards. His moves, his style to direct dancers on stage, to minimize movements, like a beautiful painting with many bits and pieces to explore in it.
---
BWW Review: ELISABETH IN CONCERT at Schönbrunn Palace

July 8, 2019

You can put on a revival of a hit show. You can add or cut songs, costumes or scenes. Some might love it, others might moan about it and some even don't care about it.
---
BWW Review: I AM FROM AUSTRIA at Raimund Theatre
June 17, 2019
---
BWW Review: I AM FROM AUSTRIA at Raimund Theater
June 15, 2019
---
Casting Announced for CATS in Austria

June 4, 2019

Here it is, the cast for the 2019 CATS in Vienna. Christian Struppeck, together with original director Trevor Nunn, presented the cast earlier today. His cast will be lead by the famous Ana Milva Gomez in the role of Grizabella. Milva Gomez is well known for her stunning performances in Austria, Germany and the Netherlands. She will be joined by Dominik Hees (Rum Tum Tugger), Felix Martin (Gus/ Bustopher Jones), Rory Six ( Old Deuteronomy) Carin Filip?i? as Walk In Cover for Grizabella and others. Some familiar faces and some fresh talent should be a perfect mix for the opening night in september. The show sold more than 10.000 tickets in the first 72 hours. CATS is really, once and forever a sensation, everybody wants to see. Expectations are high, let's see if Christian Struppeck has chosen the right kind of people. The naming of CATS, as we all know is a diffcult matter.
---
BWW Previews: CHESS at Landestheater Linz

May 30, 2019

The Landestheatre Linz is getting ready for CHESS IN CONCERT. The stage will be shared by the amazing Bruckner Orchestra, the choir, the musical ensemble and their leading actors.
---
BWW Previews: From Broadway to Germany/Austria! Which Shows Might Be a Perfect Fit for the German Speaking Market?

May 15, 2019

Traveling to the most beautiful cities in Germany and Austria is always a good idea. There are many things to do, cultural highlights, historical places, great food and adorable people everywhere. Not to forget, the german speaking musical cosmos. Some of the shows are homemade, like ELISABETH, TANZ DER VAMPIRE (not the rotten Broadway version), I AM FROM AUSTRIA or MOZART ( all of them from the Vereinigte Buhnen Wien) and some are transferred from the Great White Way. Translating a show into the german language means a lot of work to keep the magic of the production as close to the original as possible.
---
BWW Previews: 2019/2020 SEASON at Landestheater Linz

April 25, 2019

Let's have a look at the 2019/2020 season at the Landestheater Linz. It is all about confessions. Confessions have to be made when you select your shows for the next season. Linz has done it wisely in the past. The Landestheater brought huge success into the steel city. Let's see, if the 2019/2020 is able to cope with the past ones.
---
1