Martin Ganeider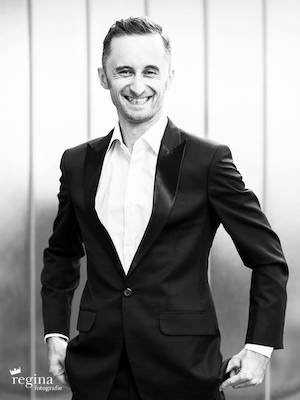 Martin Ganeider, born in the beautiful mountains of Austria (not so Sound of music as some might think) felt in love with Musical theatre when he found a Vinyl from the Austrian production of CATS. With 16 he made a tough decision, quit Soccer and joined a local ballet school. Loves to Dance loves to travel and is a coffee and sports addict. Martin can be seen at the  TANZSCHRITT TV youtube Channel and is also a member of Austrias Musical magazine MUSICALCOCKTAIL. You can find Martin at the theatre or on the running course. Martin loves to talk about Musical Theatre and eating icecream.
Review: REBECCA THE MUSICAL at Raimund Theatre

September 23, 2022

REBECCA, the musical about love and obsession reaching from beyond the grave, is back! Daphne Du Maurier's novel has been adapted several times successfully for stage and screen, like Alfred Hitchcock's Academy-Awarded Version or the late Netflix Adaption with Lily James and Armie Hammer. Silvester Levay (Music) and Michael Kunze (Book and Lyrics) brought up a Musical Version of Du Maurier's gothic thriller back in 2006.
---
Review: DAS VINDOBONA SEASON PRESENTATION at Das Vindobona

September 7, 2022

What did our critic think of DAS VINDOBONA SEASON PRESENTATION at Das Vindobona? Summer is coming to an end, and theatres all over the country are ready to welcome back their audiences. So did Wolfgang Ebner, head of DAS VINDOBONA, a place already known for its diversly entertaining program.
---
Previews: HARRY POTTER THE EXHIBITION at MetaStadt Vienna

September 6, 2022

J.K. Rowlings Harry Potter is still fascinating to audiences old and young. The fascinating Wizarding World, with all its magical surprises and thrilling adventures, is a place everyone would love to visit. Warner Bros. Themed Entertainment, Imagine Exhibitions, and EMC Presents have chosen Vienna for the enormous European Premiere of Harry Potter-The Exhibition. After opening the Never Seen Before Exhibit at the Franklin Institute in Philadelphia earlier this year, Vienna is getting ready for some spellbinding magic.
---
Review: THE GRAND SHOW IN ST. MARGARETHEN'S QUARRY

August 27, 2022

What did our critic think of THE GRAND SHOW at QUERRY ST.MARGARETHEN?
---
Previews: THE GRAND SHOW in ST.MARGARETHENS QUARRY

August 20, 2022

After last year's success, the star-studded Musical concert is back in the picturesque quarry.
---
Previews: MOULIN ROUGE at Musical Dome Köln

August 1, 2022

We are still in the middle of summer, enjoying the sun and chatting about the upcoming shows opening later this year all over Austria and Germany. In the meantime, Nils Lunow and his team are working hard on transforming Colognes Musical Dome into the spectacular home of Moulin Rouge. Over 30 chandeliers, numerous fairy lights, the Windmill, and Moulin Rouges's elephant need to find a place in Cologne's famous Musical tent.
---
Previews: ELISABETH IN CONCERT at SCHÖNBRUNN PALACE

July 13, 2022

ELISABETH, VBW's most successful show, is back for a three-night-only Concert at Vienna's stunning Schönbrunn Castle, starting performances on July 30. This year's Empress will be Maya Hakvoort, who has played ELISABETH in Vienna and worldwide. She boosted her career back in the days when she stepped into the role at the famous Theater an der Wien. To shorten the waiting, the VBW released a video with Hakvoort and the excellent VBW Musical Orchestra, conducted by the show's composer Silvester Levay singing the show's Hit Song 'Ich gehör nur mir.' It's been too long since we got the chance to enjoy the dramatic story in the breathtaking scenery, but now one of the most significant summer events is just around the corner, and we are more than interested to see this year's Concert Cast on stage.
---
Review: ELISABETH IN CONCERT at Schönbrunn Palace

July 1, 2022

What did our critic think of ELISABETH IN CONCERT at SCHÖNBRUNN PALACE? After the massive success in 2019, ELISABETH, the Musical about Austria's famous empress, is back at Schönbrunn Palace for a three-night-only run. You might never witness a concert in such a unique location perfect for one if not the most successful Austrian musical, written by Michael Kunze (book and lyrics) and Silvester Levay (music). The concert feels like a celebration of the show's unbroken success. Since opening night in 1992, ELISABETH has become a global phenomenon. More than twelve million people have seen the story about Elisabeth's tragic life and death. A Musical National treasure, history Made In Austria.
---
Review: CATS AND MISS SAIGON

June 26, 2022

Final Bows for MISS SAIGON and CATS in Vienna.
---
BWW Previews: REBECCA at Raimund Theater

June 9, 2022

REBECCA finally returns to the Raimund Theater! Michael Kunze & Sylvester Levay ('Elisabeth,' 'Mozart!') have created another magnificent masterpiece that has already captivated more than 2 million visitors* worldwide in twelve countries and ten languages. The spectacular production, based on the world-famous novel by Daphne du Maurier, is coming back to Vienna this September. Francesca Zambello (Director of Original Production) is recreating the show for the revival run with Simon Eichenberg (Choreography) and Peter J. Davison. ( Set Design)
---
BWW Previews: DER MUSICAL'ISCHE SOMMERABEND at Das Vindobona

June 7, 2022

Stefan Konrad ( Chairmann of Nestwärme Austria) and his Vize-Chairman, Barbara Obermeier ( curr. CATS/Vienna) are doing it again. After their successful first charity concert (click here to read about it), Konrad and Obermeier are doing it again on June the 13th.
---
BWW Review: A TRIBUTE TO STEPHEN SONDHEIM at Old Council House Vienna

May 25, 2022

Stephen Sondheim is one of Musical Theatre's most splendid of all time. He gifted us with numerous shows full of hit songs everyone is familiar with. Sondheim sadly passed away, but his work will live forever on.
---
BWW Previews: DISNEYS THE HUNCHBACK OF NOTRE DAME at Ronacher Theater

May 24, 2022

Christian Struppeck invited Austria's most influential press members to the Cast Presentation for the upcoming production of Disney's The Hunchback of Notre Dame into one of the most iconic landmarks in Vienna, the St. Stephans Cathedral with its famous bell, the Pummerin.
---
GREAT COMENT, ANASTASIA, CATCH ME IF YOU CAN, FUN HOME & More Announced For 2022/23 Season at Landestheater Linz

April 25, 2022

The upcoming 2022/23 Season at the Landestheater Linz marks the 10 Anniversary of Linz's very own Musical Ensemble. With a successful story, numerous Opening Nights, Multi Awarded shows, and performers, Linz became an international Address in the Musical circus. Expectations are always high and even higher after productions like the recent TITANIC or many others. The 2022/23 Season presentation proves undoubtful that there will be no exception in the Anniversary season.
---
BWW Interview: Christian Rey Marbella of MISS SAIGON at Raimund Theater

March 26, 2022

Christian Rey Marbella, who plays the Engineer in Vienna's recent production of MISS SAIGON  chatted with us about his connection to the show and how he once saved a performance of MISS SAIGON in the West End. MISS SAIGON at the Raimund Theater is running until June.
---
BWW Interview: ARNE BEEKER of FANNY AND ALEXANDER at Landestheater Linz

March 20, 2022

It's getting busier at our theatres, rehearsals, opening nights, the lights coming back on, and our beloved theatres back. Arne Beeker, Linz's very own Dramatic Adviser, texted me after a rehearsal of FANNY AND ALEXANDER, the latest work of Gisele Kverndokk (music) and Øysten Wiik (book and lyrics), based on Ingmar Bergman's 1982 movie, about how special this show is going to be.
---
BWW Review: WE WILL ROCK YOU ON TOUR at Wiener Stadthalle

February 24, 2022

Welcome back to GAGA-Land, WE WILL ROCK YOU by QUEEN, and BEN ELTON is back on tour with a new staging by Cornelius Baltus. WE WILL ROCK YOU went out to be a Hit after Opening Night back in 2002 at Londons Dominion Theatre.
---
BWW Review: RICHARD O'BRIAN'S ROCKY HORROR SHOW at MusemusQuartier Vienna

February 16, 2022

Time is fleeting. More than 20 million people worldwide have done the Time Warp since Opening Night back in 1973. Richard O'Brian's tunes still made people dance and sing, some of them perfectly dressed for Frank'n'Furter's Floorshow. No one ever expected this little show to generate an ongoing hype, a musical party that nothing can rely on. If you don't know, you know now! The ROCKY HORROR SHOW is a one-of-a-kind Musical Theatre sensation. A divine party with illustrious characters and catchy tunes, one of the secrets of the show's huge success. The likes of Rob Fowler ( Frank'n'Furter) or Stuart Matthew Price ( with one of the best Riff-Raff interpretations of all time) set a very high bar when the Tour first hits the road. Massive shoes or heels to fill for the current cast members. The whole plot is brought back to the roots, and the (thrifty) set design reminds you of the good old B-Movies. The fewer people you get on stage, the more you have to increase the volume. Of course, Rockn Rolls Number one rule is, the louder, the better, and damn it ( Janet), Musical Director Dan Tomkinson and his fellowship of musicians transformed the Halle F into a Rock Venue.
---
BWW Review: TITANIC THE MUSICAL at Landestheater Linz

February 7, 2022

The Tony Awarded Musical from Maury Yeston ( Music and Lyrics) and Peter Stone ( Book) brought back on stage at the beautiful Landestheater Linz, one of my favorite modern theatres in our hemisphere. A show with many different stories, full of tragedy and sadness, all about a supposed to be, unsinkable ship, created to write history. History was written on April 14, 1912, but not how J.Bruce Ismay ( Karsten Kenzel) hoped. It went out to become a historical tragedy, remembered even after more than a hundred years as the fatal collision with an iceberg, and many lost souls in the Atlantic Ocean.
---
BWW Review: MISS SAIGON at RAIMUND THEATER

January 24, 2022

After almost two years and all the Covid 19 difficulties, MISS SAIGON finally raised the curtain for Opening Night at the beautifully refurbished Raimund Theater in the presence of Producer Cameron Mackintosh.
---