Click Here for More Articles on Opening Night
BWW Review: MAMMA MIA! Opens the Tour at the Landestheater Linz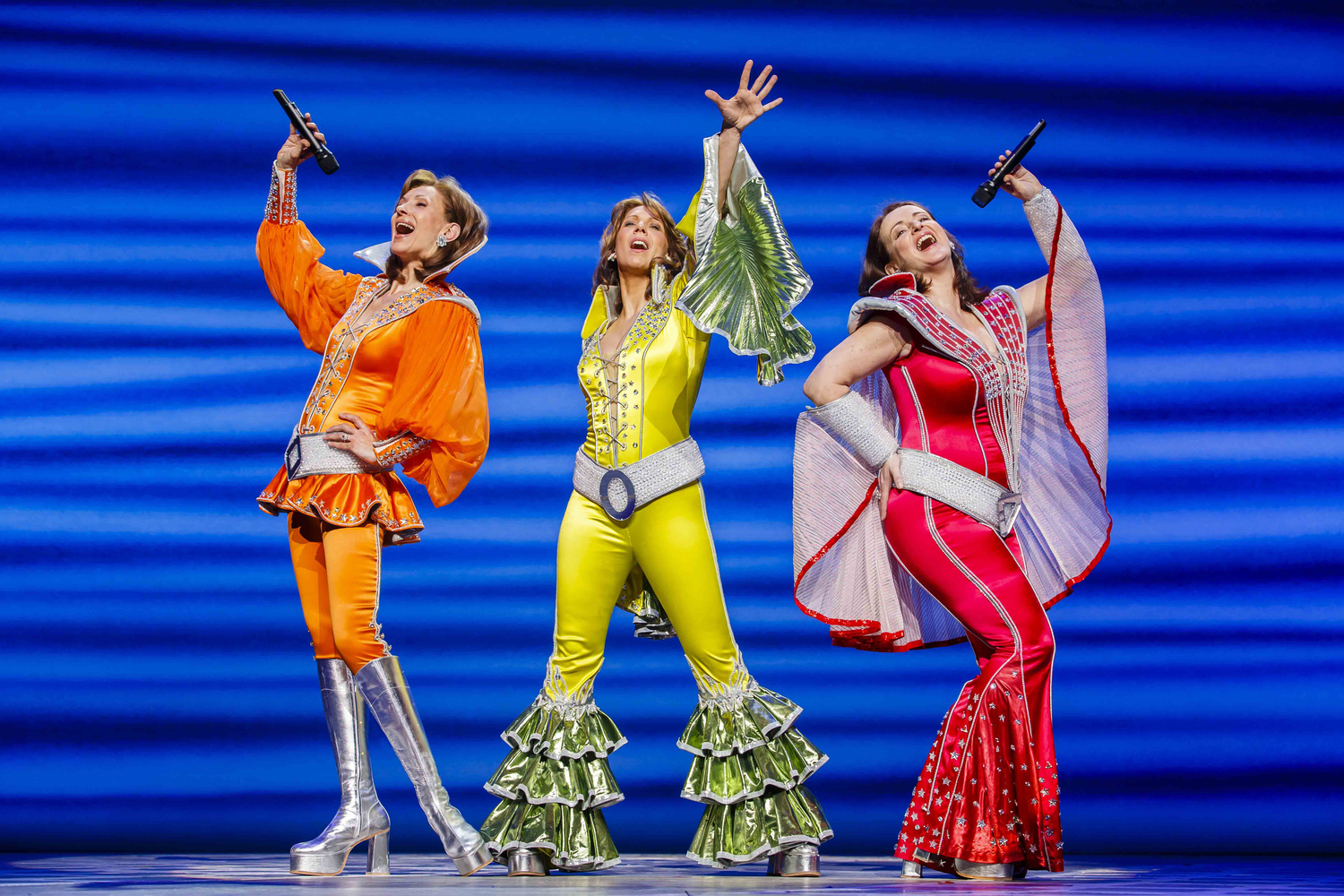 More than 60 million people in over 440 cities have seen the show. You can think whatever you want but Mamma Mia! the mother of juke box musicals is a musical phenomenon. It swept the world and brought some of the all time favorite songs from ABBA into the musical theatre world.
Here we go again. After sucessful runs in Hamburg, Stuttgart, Berlin, Oberhausen and Vienna, it's time to bring back Donna and her Dynamos. After rehearsals in Duisburg/ Germany, the Cast traveled to Linz / Austria, which was chosen as the Tour Start. Stage Entertainment has brought together a group of talented artists, Mamma Mia! veterans and newbies.
Sabine Mayer (Donna), Betty Vermeulen (Tanja) and Barbara Raunegger (Rosie), the Leading Ladies, are all familiar with the show and know how to keep it fresh and strong. A very good choice from the casting agency, to put them in front of a young and very talented cast.
Karim Khawatmi(Sam), Detlef Leistenschneider (Harry) and Jörg Zuch (Bill) have also played their parts before. A fresh face is Katharina Gorgi, she left I AM FROM AUSTRIA in Vienna to be a part of the Mamma Mia! journey.
The company is filled with familiar names in the german speaking musical universe.
Gerd Achilles, Camilla Bates, Matthew Bailey, Eva Maria Bender, Sanne Buskermolen, Brad Corben, Anneka Dacres, Sanne Groenen, Kevin Hudson, Eiko Keller, Peter Knauder, Oliver Koch, Tommy Luyben, Timo Muller, Carl Richardson, Marc Schlapp, Bettina Schurek, Marvin Schütt, Marije van Sonsbeek, Ben Tyas, Enya Maria Oshaug Weibell, Livia Wrede, Rosalie de Jong (Alternate Donna), Abla Alaoui (Alternate Sophie).
The story is simple, but charming in so many different ways. Of course it is a fun show, something you might enjoy after a hard day at work but Mamma Mia! also has it's silent and touching moments. Slipping through my fingers for example, there is not one mother in the audience without a tear in her eyes. Of course you can say, it is a cheesy ABBA song but on the other hand it's an emotional one, with so much truth in it, that people can identify with. And of course the 11 o' clock number. THE WINNER TAKES IT ALL. It is no longer a song from a swedish pop group, it is a big musical ballad, the so important 11 o'clock number. Sabine Mayer's stunning performance is bringing the house down. Her sensitive interpretation is giving you goosebumps. Something you want to experience over and over again.
The tour production is vital and full of energy, you might think of it as a fresh, new show and not something which is around for quiet some time. The house laughed, cried and finally got crazy. Standing Ovations, people dancing, smiling and loads of applause.
The Landestheater Linz might be an unusual location for a tour start, but Linz is a place to be. The Theatre is usually home for a huge repertoire of Ballett, Opera, Plays and Musicals. It's a beautiful and well designed building you immediately will fall in love with. If you get the chance to see a show in Linz, go for it, you will not be disappointed.
MAMMA MIA! is hitting the road with strong voices, a great cast and some of ABBA's finest songs. Don't miss the chance to enjoy the german version!
Everything you need to know about the show:
The Tour Dates:
Linz: 12.7. - 5.8.2018
Graz: 8. - 12.8.2018
Munich*: 15.8. - 7.10.2018
Cologne: 10.10. - 18.11.2018
Frankfurt: 19.12.2018 - 12.1.2019
Vienna: 16.1. - 3.2.2019,
Bregenz: 6.2. - 17.2.2019
Zurich: 12.3. - 31.3.2019
Basel: 2.4. - 14.4.
Munich: 17.4. - 23.4.2019
Baden-Baden: 26.4. - 2.5.2019
For tickets and further informations click here: www.musial.de
Related Articles