DISNEY JUNIOR DANCE PARTY TOUR Coming to Atlanta This Spring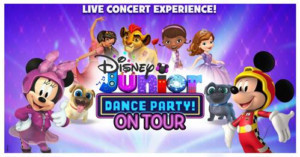 The high-energy "Disney Junior Dance Party Tour" will bring its national tour to Atlanta's Fox Theatre on Saturday, March 24 at 1 p.m.
Inspired by favorite Disney Junior series, the interactive concert tour includes songs from Mickey and the Roadster Racers, Sofia the First, Elena of Avalor, Doc McStuffins, The Lion Guard, as well as newest hit series Vampirina and Puppy Dog Pals. The live concert will also include a brand-new interactive experience featuring Disney Junior's highly-anticipated series, Muppet Babies, launching in early 2018.
Tickets will go on sale Friday, Nov. 17 at 10 a.m. Tickets range from $32.50-$52.50, plus applicable fees, and will be available at FoxTheatre.org, by calling (855) 285-8499 or at the Fox Theatre Box Office.
Disney Visa Cardmember presale tickets, as well as VIP meet-and-greet packages, will be available starting Wednesday, Nov. 8 at 12 p.m. EST, with Disney Junior Facebook pre-sales starting Tuesday, Nov. 14 at 10 a.m. EST. Parents can go to disney.com/disneyjuniortour to get more information.
VIP package offers include an after-party and meet-and-greets following each performance. Kids and families will also have the opportunity to enjoy breakfast with characters including Mickey, Sofia and Doc on weekend show days. Performances during the week will include a special VIP offering, an afternoon tea featuring appearances by Princess Elena, Princess Sofia and Minnie Mouse.
Join hosts, Dee and Jay, and the DJ Dance squad as they welcome Mickey, Minnie and other Disney Junior characters on-stage to perform popular songs including "Hot Dog Dance" from Mickey Mouse Clubhouse, "Time For Your Check Up" from Doc McStuffins, "Zuka Zama" from The Lion Guard and "Happy Helpers" from Mickey and the Roadster Racers. It's going to be a dance party you won't want to miss!
"We are delighted to collaborate with Red Light Management to bring some of Disney Junior's biggest hit series to the stage for kids and families nationwide to enjoy in a truly immersive concert experience," said Jennifer Rogers-Doyle, Vice President, Franchise Management, Disney Channels Worldwide.
The tour will make stops at marquis venues including Rosemont Theatre (Chicago), The Fox Theatre (Atlanta) and The Grand Ole Opry (Nashville).
"The 'Disney Junior Dance Party On Tour' is going to be the premiere family concert event of the year and for many years to come. The production is absolutely stunning and working alongside Disney and Amy Tinkham to create this show has been an incredible experience and an honor," says executive tour producer Jonathan Shank. "Parents and children are going to truly love this show. There are new songs, greatest hits and some mashups, which are really fun!"
Follow "Disney Junior Dance Party On Tour" on DisneyJuniorTour.com, Facebook: facebook.com/DisneyJuniorTour, Twitter: twitter.com/DisneyJunior and Instagram: instagram.com/DisneyJunior.
Disney Junior reflects the emotional connection generations of consumers have to Disney storytelling and Disney characters, both classic and contemporary. It invites mom and dad to join their child in the Disney experience of magical, musical and heartfelt stories and characters while incorporating specific learning and development themes designed for kids age 2-7. Disney Junior's series blend Disney's unparalleled storytelling and characters kids love deeply with learning, including early math, language skills, healthy eating and lifestyles, and social skills. In the U.S., Disney Junior is a daily programming block on Disney Channel and a 24-hour channel reaching over 71 million U.S. homes. In total, there are 37 Disney Junior channels in 27 languages around the world.
With offices in New York, Los Angeles, Charlottesville, Nashville, Atlanta, Bristol and London, Red Light Management is one of the most innovative artist management companies in the industry. Founded by Coran Capshaw in 1991 when he began managing the Dave Matthews Band, RLM's roster now also includes Phish, Luke Bryan, Lady Antebellum, Alabama Shakes, Victoria Justice, Magic!, Lionel Richie and many more. RLM is a leader in live family entertainment having produced the national touring productions of Peppa Pig Live and The Octonauts, along with the Fresh Beat Band Live concert. RLM is known for taking an entrepreneurial approach with its diverse roster of clients. Its managers are also at the forefront of defining the expanding role of personal management in the music and entertainment business. The company's capabilities include a broad expertise in artist development, touring, commerce, festivals, licensing, branded entertainment, tour production services, artist-driven philanthropy, and more.
The Fox Theatre is one of Atlanta's premier venues for live entertainment and declared a "Top Stop of the Decade" by Venues Today Magazine. Listed as #1 non-residency venue worldwide for the decade by Billboard Magazine, the Fox most recently won 2017's "Theatre of the Year" by the International Entertainment Buyers Association. Other notable achievements include Rolling Stone Magazine's "The Best Big Rooms in America" as part of their "Venues That Rock" series (2013), nominated for Theatre of the Year by Billboard and Pollstar Magazines, and awarded the 2011 Outstanding Historic Theatre of the Year award by the League of Historic American Theatres. For the past decade, the Fox Theatre has consistently ranked in the top three non-residency theatres in North America for gross ticket sales by industry trade magazines, Pollstar, Billboard and Venues Today. The Fox Theatre has the #1 social media presence for any theatre or performing arts center in North America (2,000-5,000 seats), and for any Georgia venue according to the "Social Media Power 100" compiled by Venues Today Magazine. With 4,665 seat theatre, the Fox hosts 250 performances a year, from rock concerts to Broadway, ballets, comedy and movies, attracting 500,000 visitors per year. In addition, the Fox hosts wedding receptions, trade shows, corporate meetings and association functions in its fabulous ballrooms, lounge and outdoor terrace. As a 501(c)(3) non-profit arts organization, the Fox Theatre stands today as a fiercely protected landmark and a nationally acclaimed theater and is celebrating its 88th year. The Fox Theatre proudly acknowledges its partners for their generous support: Coca-Cola, Lexus, Georgian Terrace Hotel, Georgia Natural Gas, Atlanta Beverage- Budweiser, Regions, Grady Health Systems, and Whole Foods Market. Tickets for all events are available at the Fox Theatre Ticket Office, online at www.FoxTheatre.org, or toll free at 855-285-8499. For group sales information contact the Fox Theatre at (404) 881-2000, or visit The Fox Theatre website at www.foxtheatre.org. Stay connected with the Fox Theatre on Instagram, Twitter and Facebook.