Atlanta Theater Reviews
BWW Review: LAG Reminds Us to Breathe
by Ashley Elliott - June 07, 2020
This show is such a good vessel for the message that reminds us to inhale and exhale, despite the fact that 'our whole lives are lagging.'...
BWW Review: INDECENT Inspires Empathy & Connection at Theatrical Outfit
by Ella Embry - March 16, 2020
INDECENT by Paula Vogel is equal parts demanding and rewarding for both performers and audience members alike. Theatrical Outlet's cast steps up to that demanding challenge without reservation and leans into the emotionally complicated story with palpable respect and admiration....
BWW Review: A GENTLEMAN'S GUIDE TO LOVE AND MURDER at City Springs Theatre
by Amy Zipperer - March 08, 2020
On Friday evening, City Springs Theatre opened a dazzling, well-sung production of the 2012 Tony Award-winning stage farce A Gentleman's Guide to Love and Murder, placing the theatre squarely among the best professional theatres in Atlanta. The production, a pure technical delight, showcases gorgeo...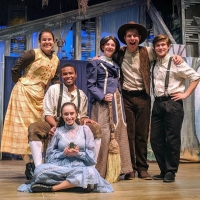 BWW Review: GET's TUCK EVERLASTING is Nothing Short of Delightful
by Ashley Elliott - March 03, 2020
There's something so thrilling about a story about a group of people who somehow have the ability to live forever, but this adaptation brought out all of the bleak reality of their story without losing the magic....
BWW Review: THE HOBBIT at Synchronicity Theatre
by Amy Zipperer - February 04, 2020
Synchronicity Theatre was teeming with excitement this past Friday evening as Atlanta families gathered in pajamas to watch the opening of the imaginative, high-energy new Family Series production of J.R.R. Tolkien's beloved classic, The Hobbit, a joint venture with Havoc Movement Company. Though th...
BWW Review: MAYBE HAPPY ENDING at Alliance Theatre
by Amy Zipperer - February 02, 2020
There's something wonderful on the Coca-Cola stage at the Alliance Theatre this February. It's the English-language premiere of the Korean musical Maybe Happy Ending, a fresh and quirky tuner by Will Aronson and Hue Park that made its celebrated world premiere in Seoul, South Korea in 2016 and went...
BWW Review: FUN HOME is Viscerally Compelling at Actor's Express
by Ella Embry - January 24, 2020
Actor's Express has created a fundamentally visceral production of the Tony-Award winning musical that's impossible to look away from and a thrill from start to finish....
BWW Review: 20/20 Vision Does A Double Take During TWELFTH NIGHT at The Shakespeare Tavern Playhouse
by Ella Embry - January 11, 2020
The Shakespeare Tavern is greeting 2020 with the perfect play for a new decade of doubled-up dates: Twelfth Night. With an unforgettable sword fight, an unwittingly hilarious antagonist, and undeniably magical music, this doubly troublesome show is a delight....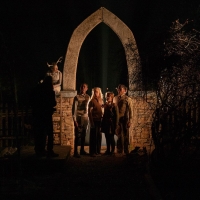 BWW Review: Relive the Magic of NARNIA at Serenbe Playhouse
by Ashley Elliott - January 02, 2020
NARNIA, an immersive walkthrough experience, proves that Serenbe Playhouse is doing something special and has a firm grasp on how to put on a unique show, even to an audience that has seen other adaptations....
Guest Blog: HOLIDAY INN Brings the Joy of the Season to Sandy Springs
by BWW News Desk - December 22, 2019
Atlanta's newest professional theatre company continues to capture Atlanta's great appreciation of its cultural arts....
BWW Review: THE WICKHAMS: CHRISTMAS AT PEMBERLEY at Theatrical Outfit
by Amy Zipperer - December 22, 2019
In a few short days, we'll usher in a new decade, and a new decade inevitably promises change. Baby Yoda memes are going to get old. The iPhone 11 Pro Max is going to be replaced by something newer and better. And we are going to get a new president. But there's one thing we can count on not to ...