Switzerland Photos
Browse photos from live + streaming theatre in Switzerland.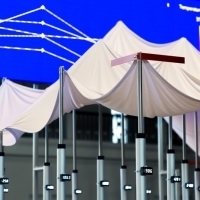 Photo Flash: First Look At Switzerland's National Contribution To The Prague Quadrennial
by Julie Musbach - Switzerland

(6/11/2019) - Challenging ideas of 'untouched' nature and the impact of technology on natural landscapes, the Swiss contribution to the international festival of performance design and space has environmental issues at heart.
---
Photo Flash: First Look at International Tour of MARY POPPINS
by Christina Mancuso - Switzerland

(1/31/2017) - Disney and Cameron Mackintosh announce casting for the 2017 performances of the international tour of their multi award-winning musical MARY POPPINS, which will play in Switzerland and Dubai in 2017. Following the current highly acclaimed run of the production at the Wales Millennium Centre in Cardiff, the new cast of MARY POPPINS will open at the Theater 11 in Zurich, Switzerland on Wednesday 1 February 2017 with performances until Sunday 19 March 2017. The production will then run at Dubai Opera in Dubai, UAE from Monday 1 May 2017 until Wednesday 18 May 2017.
---
Fotos! Große Klänge, schlichte Inszenierung: JESUS CHRIST SUPERSTAR in Basel
by Iris Moebius - Germany

(1/26/2016) - Seit vergangenem Samstag läuft am Theater Basel die Rockoper JESUS CHRIST SUPERSTAR unter der Regie von Tom Ryser. Aus der Feder von Andrew Lloyd Webber und Tim Rice schlägt das Musikalbum 1970 ein wie eine Bombe. Die LP der Rock-Oper von trifft haargenau den Nerv der Zeit. Erzählt werden die letzten sieben Tage Jesu aus der Sicht von Judas. Webber und Rice zeichnen Judas aber nicht nur als den Verräter, sondern als einen Anhänger und vor allem Freund Jesu, der mit seiner zunehmenden Desillusionierung zu kämpfen hat und beobachten muss, wie ihnen ihr gemeinsamer Traum zunehmend aus den Händen gleitet. In den Hauptrollen stehen Alexander Klaws (Jesus), Patrick Stanke (Judas) und Andrea Sanchez del Solar (Mary Magdalene) auf der Bühne.
---
Premiereneport: Starchoreographin Melissa King bringt WEST SIDE STORY nach St. Gallen
by Iris Moebius - Germany

(12/15/2015) - Leonard Bernsteins WEST SIDE STORY zahlt zu den Klassikern des Musicalrepertoires. Die Geschichte um zwei Banden in Amerika basiert auf William Shakespeares Drama um Romeo und Julia und ist bis heute zeitlos. Zwischen Spannung und Ruhrung vereint Bernsteins die Perspektiven der unterschiedlichen Kulturen und Generationen in seiner Musik. Regisseurin und Choreographin Melissa King bringt die WEST SIDE STORY unter der Musikalischen Leitung von Chefdirigent Otto Tausk auf die Buhne des Theaters St.Gallen. Die Premiere in St. Gallen, mit Lisa Antoni und Andreas Bongard in den Hauptrollen fand am vergangenen Samstag statt. Weitere Vorstellungen finden noch bis zum 1. Juni statt. Die Kritiker zeigten sich begeistert von dieser explosiven Inszenierung, die gerade heute wieder hochaktuell ist.
---