& Juliet
Romeo & Juliet final scene. Juliet picks up the dagger and....gets a life.
This vital new musical sees Juliet getting over Romeo by running off to Paris with Nurse and her best friends on a whirlwind trip of romance and self-discovery. You know, like a normal young woman! Shakespeare and his wife Anne Hathaway may have their own ideas but this is Juliet's story now. So don't tell her how it ends.
A timely and timeless tale of one independent young woman writing her own story, & Juliet is a riotous comic blast of fun and glorious pop music that proves when it comes to love, there's always life after Romeo...
Schedule
Monday - 7:30
Tuesday - 7:30
Wednesday - 7:30
Thursday - 2:30, 7:30
Friday - 7:30
Saturday - 2:30, 7:30
Shaftesbury Theatre
(London, )
Holborn end of Shaftesbury Avenue
London,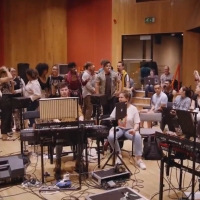 by Stage Tube - August 21, 2019
& Juliet the joyous new musical that imagines Juliet's famous ending as just her beginning soars with the music of Max Martin, the acclaimed song-writer of some of the biggest pop anthems of the last 30 years.
by BWW News Desk - February 11, 2019
& Juliet is the irreverent and fun-loving new West End musical that asks: what if Juliet's famous ending was really just her beginning? What if she decided to choose her own fate? & Juliet, starring Miriam-Teak Lee, runs at London's Shaftesbury Theatre from 2 November - book tickets here!