Review: Liza Minnelli and Michael Feinstein Perform Together at OC's Segerstrom Center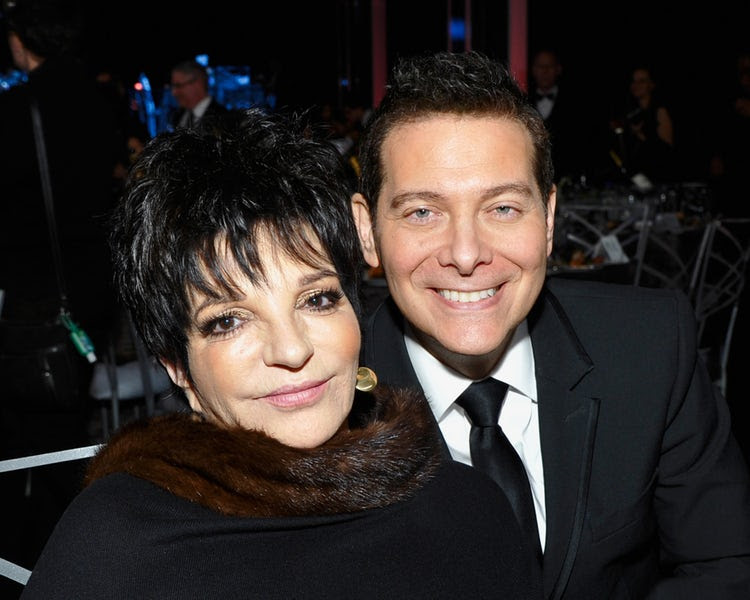 A beloved entertainment icon borne from showbiz royalty, it was certainly no surprise that living legend Liza Minnelli---a past recipient of four Tony Awards, an Oscar, a special Grammy, two Golden Globe Awards, and an Emmy Award---was greeted with thunderous cheers and ovations during her recent return appearance on June 30, 2018 at Orange County's Segerstrom Center for the Arts in Costa Mesa, accompanied by her friend and fellow music phenom Michael Feinstein.
The one-night-only special event---billed as "Liza Minnelli and Michael Feinstein: In Conversation and Performance"---featured the award-winning singer, actress and stage superstar as, naturally, the night's main attraction, which had her singing (while seated) through a few classics while, in between, waxed nostalgic about her storied career and, of course, her famous parents, film icon Judy Garland and renowned director Vincente Minnelli.
Feinstein---who performed his own set during the first half of the engagement joined by principal pianist Tedd Firth, bassist Phil Palombi, and drummer Ray Marchica---played talk show host and, as expected, occasional accompanist and duet partner. Much of the seemingly informal, unrehearsed conversation portion revolved around questions submitted online, which Ms. Minnelli answered so succinctly, the segment felt shorter than it probably was intended to be.
But, overall, the concert and (eventual) casual chit-chat did accomplish two objectives.
First, the evening confirmed the undeniable vocal talents of Feinstein, a remarkable singer with his own long career, who has a technical, encyclopedic, and quite reverent command of the Great American Songbook.
Second, the evening definitely reiterated just how encompassing Ms. Minnelli's star status is (and always will be). More than anything, her participation provided fans and curious audience members alike a chance to once again witness first-hand the endearing persona that is Minnelli herself---a tenacious, winningly self-effacing showbiz survivor with a colorful, layered backstory and a still palpable can-do gusto that she sets loose even when she's ever feeling a little under the weather or not as spry as she used to be.
A bit more vulnerable in her gait these days towards center stage, Ms. Minnelli, now a spunky 72 years old, understandably clung onto Feinstein as she was gingerly escorted to her director's chair while the audience rose to their feet in a long, seemingly endless ovation, as was fitting for a frikkin' living legend! She expressed that she wanted to still come and perform despite a bad back injury. As such, her OC return necessitated that she perform her whole set while seated, a declaration the audience was more than willing to accommodate (if seemingly pre-planned all along).
This lovable display of quirky humbleness continued for most of the night, along with several sips of, uh, Gatorade from her coffee cup to aid in her goals for the evening. From the looks of things, Minnelli's half of the evening was designed to feel more like a living room fireside chat at a very intimate party at Feinstein's home. The effect made for a cozier, less formal trip down memory lane.
Adding to the throwback nature of the night were several video montages that highlighted not only Ms. Minnelli's greatest accomplishments but also the legacies left behind by her famous parents, both whom instilled their knowledge to their very talented daughter.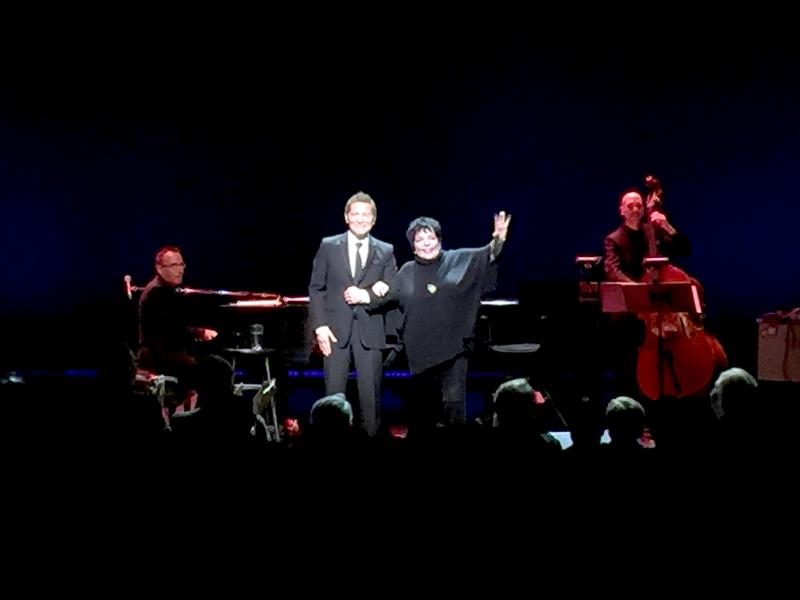 But despite this lineage, several times during her back-and-forth with Feinstein, one refrain was repeated: that Minnelli saw herself more as a great actress rather than a great singer. It was certainly a surprising admission, only because the world has known her to have created a stable career being great at both with equal notoriety. I, myself, might even dare say that even without her biological DNA factored in, her honed talents aren't hard to miss.
Perhaps, this declaration---along with her chair---may have been ways to ease the audience into forgiving her for a vocally-edgy performance. But, to no one's surprise, the adoration was overwhelmingly present in the room regardless. Ms. Minnelli knows full well how to enchant an entire room. I mean, she could have chosen to just speak the entire evening and the whole audience would have been automatically enraptured.
I witnessed her do this exact same thing on this very stage back in December of 2012. As a member of MenAlive, the Orange County Gay Men's Chorus, I had the rare privilege of singing behind her when the chorus invited her to be our special guest star for that Christmas concert, which brought Ms. Minnelli back to the Orange County area after several decades. I can honestly say that performing with her was one of the most exciting highlights of my life which I won't soon forget.
The day before we opened those holiday concerts at Segerstrom Hall, the chorus and I were treated to an intimate concert from Ms. Minnelli, as she faced the chorus (instead of facing out to the empty seats in the hall) to rehearse her set for the concert, which included "duets" with the chorus. A pistol of a gal, she had the chorus laughing and we were completely beguiled. And that thing about her being a great actress---yeah, we all saw that first-hand, a mere inches away from us. It was stunning how she can interpret a song.
This was definitely the case in her version of Alan Jay Lerner and Burton Lane's "What Did I Have That I Don't Have" which she dedicated to her father Vincente Minnelli. Aching with pathos and longing, the song does accentuate her ability to act the hell out of a song, even if her notes occasionally wander off course.
Ms. Minnelli's other songs in her set included "What A Lovely Night," "Yes," a haunting "God Bless the Child," a cheeky "You've Let Yourself Go," a whimsical "I Love a Piano," (dieting with Feinstein) and "Great Day." Naturally, her encore song was an endearingly rough but defiantly triumphant (and barefoot) duet with Feinstein in "New York, New York." The audience, not surprisingly, loved it.
A curious thing, though... somehow there was no intermission to get the audience ready for Ms. Minnelli's second half, only a brief video montage to welcome her.
For Feinstein's part in the show, he was, as always, a consummate entertainer, opening the first half with his own set of jazz, cabaret and standards mixed with some spot-on impersonations of Hollywood Squares mainstay Paul Lynde. Opening with "That's Entertainment" (accompanied by a movie musical video montage overhead), his set also included a swinging "Luck Be a Lady/All I Need Is The Girl," followed by "Old Friend," "St. Louis Blues," and a stunning "You and Me Against The World" that I could listen to over and over again. My friend who came with me was inconsolably tearful during his gloriously beautiful rendition of the Alan Bergman / Marilyn Bergman / Billy Goldenberg classic "50 Percent" from the Broadway musical BALLROOM, which Feinstein sings with gender pronouns unchanged---to heart wrenching effect. It was definitely a wow moment. He finished his half of the concert with a Sinatra medley that had the nostalgic patrons extra happy. (Coincidentally, I also have performed behind Mr. Feinstein before when he was a guest star of another previous concert by my chorus)
When all is sung and done, seeing a living legend like Liza Minnelli singing live inescapably brought a flood of emotions both to her rapid fans and those seeking to witness her star power again. Though many other artists her age continue to perform on stages everywhere, seeing her in particular still feels like a special moment to be savored, even if the voice (among other body parts) are bit more worn from time. I enjoyed seeing Ms. Minnelli purely for her admirable perseverance. It's nice to know that she's got a talented, kind collaborator and a fan in Mr. Feinstein to help her along the way.
Watch a clip from the concert HERE.
** Follow this reviewer on Twitter: @cre8iveMLQ **
Photo courtesy of Segerstrom Center for the Arts. Final Bows photo by Michael L. Quintos.
----
For tickets or more information on other shows at Segerstrom Center for the Arts, visit SCFTA.org.