Michael Quintos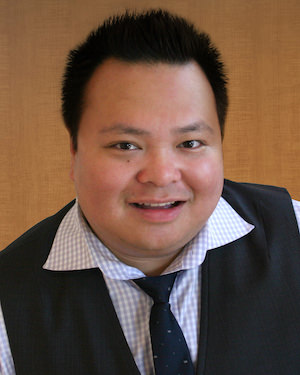 A So. Cal. Contributing Editor since 2009, Michael Lawrence Quintos is a talented, mild-mannered Designer by day. But as night falls, he regularly performs on various stages everywhere as a Countertenor soloist, actor, and dancer for MenAlive since 2002. He sings everything from Broadway, Jazz, R&B, Classical, Gospel and Pop, and has shared the stage with Bernadette Peters, Debbie Reynolds, Michael Feinstein, and Liza Minnelli. In June 2019, he made his soloist debut at the Hollywood Bowl in front of 17,000 concertgoers. His musical theater roots started early, performing in various stage productions and a couple of nationally-televised programs. The performing bug eventually brought him a brief championship run in the Philippines' version of "Star Search" before moving to Las Vegas at age 11. College brought him out to Orange County, California, where he earned a BFA in Graphic Design and a BA in Film Screenwriting. He has spent several years as a designer and art director for various media companies, while spending his free time going to Disneyland, binge-watching shows, or performing in or critiquing shows. Follow Michael on Twitter or Instagram @cre8iveMLQ.
MOST POPULAR ARTICLES
LAST 365 DAYS
BWW Review: 3-D Theatricals Gets Glam with its Fun, Fierce, and Fabulous KINKY BOOTS

February 21, 2020

There are certainly plenty of movie-to-stage adaptations that have appeared (and continue to pop up) on Broadway, but few can boast being one of the most jubilant and unabashedly open-minded as the gloriously glam 2012 hit KINKY BOOTS, the Tony Award-winning stage musical adaptation of Geoff Deane and Tim Firth's 2005 independent cult film inspired by actual true events. The critical and audience favorite---which features memorable music from Grammy-winning pop icon Cyndi Lauper and a book by Tony winner Harvey Fierstein---enjoyed a healthy run on Broadway and in several national tours that followed, spreading its genuinely heartwarming yet cheekily-delivered message of acceptance and empathy. Now back in Southern California for its flashy, beautifully remounted West Coast regional premiere for 3-D Theatricals, KINKY BOOTS---now continuing performances through March 1, 2020 at the Cerritos Center for the Performing Arts---is just as fun and fabulous as ever.
---
BWW Review: Deeply Moving FUN HOME Gets Intimate Staging at OC's Chance Theater

February 19, 2020

A deeply complex father-daughter dynamic is the central narrative that drives the searingly poignant and emotionally absorbing musical FUN HOME, the Tony Award-winning stage adaptation of Alison Bechdel's 2006 autobiographical graphic memoir now appearing in an admirable new intimate theater production at Anaheim's Chance Theater through March 1, 2020. Under the thoughtful and attentive direction of Marya Mazo, the production's smaller footprint automatically enhances the musical's rich, engrossing story and its lovely musical score.
---
BWW Review: Musical Theatre West Revisits the Epic RAGTIME in Grand Splendor

February 14, 2020

Fifteen years after its first production of the musical, Musical Theatre West revisits the Tony Award-winning musical RAGTIME for only its second time---smartly reviving the musical in a similarly lavish production that beautifully converges the show's classic staging and vibe with wonderfully integrated 21st Century tech upgrades that help elevate the material rather than hinder its storytelling. Under the enlightened direction of Paul David Bryant (who also provides the production's high-energy choreography), this brand new, spectacularly engrossing production bellows with an emotional fervor and is one of my favorite iterations of this musical I have seen in recent years. This local revival---which continues performances at the Carpenter Center for the Performing Arts in Long Beach through February 23, 2020---is a feast for the senses.
---
BWW Review: Old School Musical Comedy SHE LOVES ME Mostly Charms at OC's South Coast Repertory

February 11, 2020

Though SCR's admirable new production of the 1963 Broadway musical SHE LOVES ME, for the most part, still has many charming, beautifully-staged, and well-sung moments, it also somehow feels like it is slightly reigned in, as if there was a purposeful attempt to downscale some of its built-in whimsy and spirited vivaciousness---particularly in the first act where emotional expressions all seem to sit in the same middle areaa?? never tipping over to too angry or too sad or too happy or too, well, anything. Now on stage in Costa Mesa through February 22, 2020, the production---directed by the theater's own artistic director David Ivers---is genuinely entertaining, but still needs a huge shot of joy, romance, and pep to make it feel complete.
---
BWW Review: Tony Award Winner Lillias White Makes Divalicious Return to OC's Segerstrom Center

January 26, 2020

During the opening night performance of her fun return engagement at Segerstrom Center for the Arts' Cabaret Series at the Samueli Theatre, Tony Award winner Lillias White felt strongly about putting on a a?oehappy show,a?? as a way to combat all the sadness and fear that have overtaken our world. Joined on stage by her talenteda?"and gleefully playfula?"artistic director/accompanist Abdul Amid, Ms. White definitely accomplished her goal of making us smilea?? while also gifting us with a heaping portion of exactly why she has remained one of musical theater's most treasured voices. Ms. White's show continued for two additional shows on January 24-25, 2020.
---
BWW Review: Stirring Drama FIREFLIES Explodes at OC's South Coast Repertory

January 21, 2020

In their continued and laudable feat of presenting diverse voices in theater, Orange County's South Coast Repertory is currently staging another stirring new drama, this time from playwright Donja R. Love entitled FIREFLIES, which continues performances through January 26, 2020 in Costa Mesa under the admirable direction of Lou Bellamy. At times heartbreaking and devastating, but ultimately empowering and (slightly) hopeful for future generations, FIREFLIES is a must-watch drama with searing emotions and real-world importance, highlighted by powerful performances from its two talented leads.
---
BWW Review: PETER PAN & TINKER BELL Panto Flies Into Laguna Playhouse

December 14, 2019

The family-friendly fun of Lythgoe Family Productions' annual holiday British Panto returns to the Laguna Playhouse, this time with the reimagined Yuletide re-telling of PETER PAN & TINKER BELL: A PIRATE'S CHRISTMAS, which continues through December 29, 2019 in the city of Laguna Beach. Overall, the show is an amusing, energetic Panto, though admittedly not as over-the-top as the two previous holiday Panto's that I have seen staged here. Still, the show had me smiling the whole time, and it's safe to say that you and your family will like sharing the experience, too.
---
BWW Review: Megan Hilty Brings Fun, Delightful Cabaret Set to OC's Segerstrom Center

November 16, 2019

Here's my understatement of the year so far: Broadway star Megan Hilty is one of the most delightful creatures that has ever graced a stage. This was wonderfully confirmed all throughout the Tony Award nominee's Segerstrom Center for the Arts Cabaret series solo debut, which recently opened to an enthusiastic, candlelit crowd Thursday night and continues for two more performances through November 16, 2019 at the Samueli Theater in Costa Mesa. Beautiful, quirky, bawdy, self-deprecating, and undeniably talented, Ms. Hilty was thoroughly engaging and entertaining during her nearly 80-minute acoustic set backed by musical director and principal pianist Matt Cusson and her bassist/guitarist husband, fellow Broadway performer Brian Gallagher.
---
BWW Review: South Coast Repertory Serves Slow Burning Food Drama AUBERGINE

November 14, 2019

Food has many uses, one of which is communicating an emotion. It can even hold a memory. These themes surrounding the emotional resonance of food is the overarching raison d'être for playwright Julia Cho's 2016 play AUBERGINE, which continues performances at Orange County's South Coast Repertory in Costa Mesa through November 16, 2019. In her introspective, cautiously-paced play, food is used as a means for bonding and connection---because standard communication by other methods doesn't seem to be as effective in conveying one's feelings.
---
BWW Review: Gorgeous but Flawed Stage Adaptation of ANASTASIA Substitutes Whimsy for Stilted Drama

November 13, 2019

At first glance, the musical stage adaptation of ANASTASIA looks and feels like an appropriately grand, luxe affaira?"from its gorgeous costumes designed to the lush soundscapes created by the orchestra and the vocal talents that have been assembled for this tour. But the undeniable wow factor of the show is, of course, the stunning visual trifecta of its scenic design working in keen harmony with dazzling projections and stage lighting. The overall technical prowess of this stage musical is just jaw-droppinga?"and, I must say, is quite an adequate enough reason to experience the show. The adaptation's execution of the story itself, however, suffers slightly from its well-meaning intentionsa?"revealing a stage show that feels stilted by its own drama, and with an unsure footing of what it truly wants to be.
---
BWW Review: 3-D Theatricals' Deeply Heartfelt ONCE Spreads the Love All Around

October 24, 2019

The experience of seeing the Grammy and Tony Award-winning stage adaptation of ONCE - THE MUSICAL begins the minute you enter the theatre as you make your way to your assigned seat. It starts with a welcoming, celebratory environment where music is communally enjoyed by both the talented artists on stage and the audience who have come to immerse themselves in this euphoric special space. What's awesome is that this feeling never truly goes away. This is the feeling of synergetic glee and fulfillment one experiences when enveloped inside the world of ONCE - THE MUSICAL, the remarkably poignant, touching stage show about the ways music can inspire, attract, and bring people together in more ways than one. Currently, a brilliantly-staged, can't-miss new regional production has just emerged in Southern California by way of 3-D Theatricals under the thoughtful, eloquent direction of Kari Hayter. Performances of this impressive, Broadway-caliber local revival continue at the Cerritos Center for the Performing Arts through October 27, 2019.
---
BWW Review: Betty Buckley Returns with Jazzy New Cabaret Set at OC's Segerstrom Center

October 19, 2019

It's amazing to think that it has only been just six weeks since Tony Award winning stage and screen actress Betty Buckley ended her much-lauded 13-month-long engagement starring as the title role in the recent Broadway national tour production of HELLO DOLLY. During that brief stretch of time post-Dolly Levi, Ms. Buckley has been preparing to go back out on the road again, this time returning to her series of touring intimate one-woman concerts---no elaborate period costumes or scripted story dialogue this time, just her selection of favorite songs and her undeniable talent in its purest form. Luckily, Orange County is the first stop of her new show, which continues through October 19, 2019 at Segerstrom Center for the Arts' Samueli Theater in Costa Mesa, where the show serves as the 2019-2020 Season Opener for the Center's Cabaret Concert Series.
---
BWW Review: Endearing Gay Rom-Com THE CANADIANS Sails Into OC's South Coast Repertory

October 16, 2019

For playwright Adam Bock's endearing new gay romantic comedy THE CANADIANS---now having its infectiously giddy World Premiere production at South Coast Repertory in Costa Mesa through October 20, 2019---the typical blueprint for the usual girl-meets-boy trope gets a fresh, heady spin and an inspired recast that elevates it higher that your average rom com. Sweet and endearing without having to be too sanitized for a mainstream audience, the play, overall, is simply a winning play that both straight and queer audiences can equally cheer for. Don't be surprised if even you shed a tear or two for its touching, absolutely satisfying climax.
---
BWW Review: Stunning MISS SAIGON Revival at Segerstrom Center Can't Wipe Away Its Outdated Problematic Motifs

October 12, 2019

30 years after its stage debut, experiencing MISS SAIGON nowadays exposes just how outdated and out-of-touch it is with our increasingly diverse world view. The musical's original production---which first debuted in the West End in 1989 before transferring to Broadway in 1991---became a global hit despite some loud, very understandable controversy. Most audiences, however, ignored the accusations of orientalism, misogyny, and white-washing and instead focused on the show's epic melodrama and theatrical splendor, much of it powered by the lush music of Claude-Michel Schönberg and the lyrics by Alain Boublil and Richard Maltby Jr. The show continues at Orange County's Segerstrom Center for the Arts in Costa Mesa through October 13, 2019.
---
BWW Review: Gloriously Reimagined LITTLE SHOP OF HORRORS Kills at Pasadena Playhouse

October 7, 2019

At its core, the original production of LITTLE SHOP OF HORRORS (and the movie adaptation it spawned) unabashedly celebrated its campy outlandishness. But unlike the original source material which was filled to the brim with sassy sight gags, cartoonish mannerisms, and pulp thrills, this new, gloriously reimagined production---now on stage at the Pasadena Playhouse through October 20, 2019 helmed by director Mike Donahue---feels much more grounded in reality and feels much more guided by the emotions of its characters, rather than have them just play second banana to the monstrous plant of excess vying for all the attention. With this pivoted focus, this incredible new production also now requires a cast of performers that can truly showcase that change---and, wow, did they ever find them in this brilliant ensemble!
---
BWW Review: Musical Ladies Triumph in the Delightful AMERICAN MARIACHI at South Coast Repertory

September 27, 2019

Serving as the gloriously buoyant 56th season-opening production at Orange County's South Coast Repertory in Costa Mesa, AMERICAN MARIACHI---which continues performances through October 5, 2019---is a wonderful play about the love of family and the love for achieving personal dreams. Playwright José Cruz González's joyful, musical-leaning play combines gorgeous music with broad comedy and touching drama that gives a fresh spin to the story of pioneering women subverting expectations to achieve their dreams in a world dominated by men's old world outlook.
---
BWW Review: 3-D Theatricals' Revisit with SHREK Offers Colorful Cheeky Fun

August 16, 2019

As the final show of its 10th Anniversary Season, 3-D Theatricals is revisiting the hilarious SHREK - THE MUSICAL, the stage musical adaptation of the hit 2001 Dreamworks animated film, itself an adaptation of William Steig's 1990 novel. Witty, silly, and, at times, surprisingly full of heart, SHREK is a fun, madcap distraction we all need these days. The impressive, high-quality production continues at the gorgeous, state-of-the-art Cerritos Center for the Performing Arts through August 25, 2019.
---
BWW Review: Broadway Vets Shine in Delightful, Star-Studded INTO THE WOODS at the Hollywood Bowl

July 27, 2019

An inspired choice of a show, the Hollywood Bowl has decided to present an effervescently buoyant new production of the Tony Award-winning 1986 musical INTO THE WOODS, Stephen Sondheim and James Lapine's much beloved twisted take on traditional fairy tale stories mashed together with witty charm, tongue-tying lyrics, and gallows humor. Directed and choreographed by Robert Longbottom, this enjoyable, sublime production is exquisite and thoroughly delightful from start to finish---much of which can be attributed to its top-notch, musical theater-trained cast that includes Tony Winners Sutton Foster and Patina Miller giving exceptional acting and singing performances alongside theater favorites Cheyenne Jackson, Skylar Astin, Sierra Boggess, Hailey Kilgore, and Stranger Things breakout star Gaten Matarazzo. The show continues with two additional evening performances July 27-28, 2019.
---
BWW Review: THE LITTLE MERMAID Enchants at Musical Theatre West

July 22, 2019

Currently docked at the Carpenter Center for the Performing Arts in Long Beach through July 28 is Musical Theater West's wonderfully vibrant new regional production of THE LITTLE MERMAID, Disney's Broadway stage adaptation of their hit 1989 animated classic, which itself was adapted from the Hans Christian Andersen fairy tale. The resulting show achieves a cheerful, pleasant, and often charming hybrid that honors the original Disney-esque qualities of the film, but also shows what one may call a 'director's cut'---wherein the new 'extras' expand the musical even further in size, elements, and thematic mood. MTW's production is a visual treat.
---
BWW Review: Chance Theater Offers Ambitious 'Intimate' Production of Still Timely Epic RAGTIME

July 19, 2019

A sweeping, grandiose, and emotionally-searing stage musical adaptation of E.L. Doctorow's expansive 1975 novel, RAGTIME is a gripping, multi-character, and multi-story theatrical experience that uses era-authentic specificity to depict America's past during a time when its increasingly diverse population has been forced to adjust to the ramifications of new technological, social, political, and economic changes that are spreading throughout the nation. Of course, one can't help but observe that, eerily, many of these very same issues are somehow still top-of-mind today, particularly in recent years with the surge in anti-immigrant policies and sentiments, the increasing gap between the rich and the poor, and, of course, the horrific rise of racist sentiments and, worse, racist acts against people of color. Perhaps this overarching motif---that many of these era-specific issues that RAGTIME's characters struggled with in 1906 are still alarmingly present in 2019---is the true motivator behind director Casey Stangl's impressive, 'intimate' theater reimagining of RAGTIME for Chance Theater, which continues performances in Anaheim through August 11, 2019.
---