Michael Quintos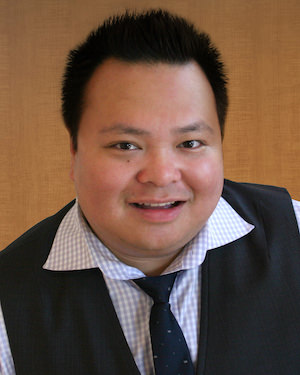 A So. Cal. Contributing Editor since 2009, Michael Lawrence Quintos is a talented, mild-mannered Designer by day. But as night falls, he regularly performs on various stages everywhere as a Countertenor soloist, actor, and dancer for MenAlive since 2002. He sings everything from Broadway, Jazz, R&B, Classical, Gospel and Pop, and has shared the stage with Bernadette Peters, Debbie Reynolds, Michael Feinstein, and Liza Minnelli. In June 2019, he made his soloist debut at the Hollywood Bowl in front of 17,000 concertgoers. His musical theater roots started early, performing in various stage productions and a couple of nationally-televised programs. The performing bug eventually brought him a brief championship run in the Philippines' version of "Star Search" before moving to Las Vegas at age 11. College brought him out to Orange County, California, where he earned a BFA in Graphic Design and a BA in Film Screenwriting. He has spent several years as a designer and art director for various media companies, while spending his free time going to Disneyland, binge-watching shows, or performing in or critiquing shows. Follow Michael on Twitter or Instagram @cre8iveMLQ.
MOST POPULAR ARTICLES
LAST 30 DAYS
LAST 365 DAYS
Review: Wayne Brady Leads Spectacular KINKY BOOTS at the Hollywood Bowl

July 9, 2022

Featuring a superb performance from Emmy-winning improv king Wayne Brady as Lola, this new Hollywood Bowl production of KINKY BOOTS---which continues with two more performances July 9-10---marks the triumphant return of the annual summer musical to the world famous venue, armed with a very timely pro-queer, 'be who you wanna be' message that we all need to hear again, especially now.
---
Review: Stage Musical Adaptation of PRETTY WOMAN Struts Into OC's Segerstrom Center

July 8, 2022

Fresh from its three-week stop at the Dolby Theater in Hollywood, the first national tour of PRETTY WOMAN - THE MUSICAL---based on that hit 1990 movie about a Hollywood hooker who finds true love---has made the short drive to OC's Segerstrom Center for the Arts in Costa Mesa for a two-week engagement ending July 17, 2022.
---
Review: Uplifting COME FROM AWAY Tour Makes Return Trip to OC's Segerstrom Center

June 23, 2022

Endearingly inspirational and beautifully performed, COME FROM AWAY---as experienced in this relaunched post-lockdown tour now playing at Segerstrom Center for the Arts in Costa Mesa through June 26, 2022---certainly proves itself worthy of repeat visits. At its core, the show is a hopeful, positive reminder that unconditional kindness does still exist in our world, even if evidence of such behavior is harder to find these days.
---
BWW Review: A Joyous, Must-See Production of IN THE HEIGHTS Thrills in La Mirada

June 10, 2022

Exuding pure joy, blissful camaraderie, and high-energy theatrics, this exuberantly performed new SoCal production of IN THE HEIGHTS—continuing through June 26, 2022 at the La Mirada Theatre for the Performing Arts—feels like such an emotionally amped-up, escapist antidote to the divided times we currently must live with in our daily lives.  
---
BWW Review: Funny But Flawed TOOTSIE Musical Adaptation Sashays Into OC's Segerstrom Center

June 8, 2022

What did our critic think of Tootsie in Costa Mesa? Despite a still problematic central premise, the non-equity national tour of the stage adaptation of TOOTSIE---now playing at Segerstrom Center for the Arts in Costa Mesa through June 12, 2022---is, for the most part, a funny but flawed musical sprinkled with lots of funny lines, rapid-fire humor, and amusing shenanigans.
---
BWW Review: Satirical Play TIGER STYLE! Mocks Stereotypes at South Coast Repertory

June 1, 2022

Funny, outrageous, and surprisingly thought-provoking beneath all its biting sarcasm, Mike Lew's reverberating satire TIGER STYLE!---now on stage at OC's South Coast Repertory in Costa Mesa through June 5, 2022---shines a light on the merits of a controversial parenting style and whether it results in happy, well-rounded adults (um, likely not).
---
BWW Review: South Coast Repertory Revisits Classic Play OUR TOWN

May 25, 2022

Thornton Wilder's Pulitzer Prize-winning 1938 three-act play OUR TOWN has a superb new iteration now performing at South Coast Repertory in Costa Mesa, CA through June 4, 2022. Directed by Beth Lopes, the show employs a wonderfully diverse cast, as it re-stages its seemingly ordinary but ultimately impactful vignettes of everyday life.
---
BWW Review: 3-D Theatricals Returns with Disney's Triumphant, High-Energy Musical NEWSIES

May 18, 2022

After a two-year delay due to COVID, this long-awaited So. Cal. production of NEWSIES---currently on stage at the Cerritos Center for the Performing Arts through May 29, 2022---marks the much-anticipated live and in-person return of 3-D Theatricals. The wait, as the saying goes, was worth it.
---
BWW Review: Audience Favorite THE SOUND OF MUSIC Sings Once More in La Mirada

April 27, 2022

THE SOUND OF MUSIC's built-in charm and charisma is indeed very much present in McCoy Rigby Entertainment's latest stage iteration of this classic stage production, now playing at the La Mirada Theatre for the Performing Arts through May 15, 2022. Filled with visually-captivating production values, a gorgeous-sounding orchestral sound, and an overall, infectiously winning spirit, this new production is a fun, pleasantly nostalgic throwback to the old-fashioned Broadway book musical.
---
BWW Review: Poignant Play CRY IT OUT Spotlights Modern Motherhood at OC's Chance Theater

April 15, 2022

Now having its Orange County premiere performances at Chance Theater in Anaheim through May 1, 2022, CRY IT OUT is a poignant slice-of-life that takes an eavesdropper's look at the hopes, fears, and lessons that come with new motherhood in our current times, and just how different each new mother chooses to handle the balancing act.
---
BWW Review: Deeply Powerful CLEAN / ESPEJOS Wrings Out Emotional Catharsis at South Coast Rep

April 4, 2022

Now on stage through April 10, 2022 at South Coast Repertory in Costa Mesa, Christine Quintana's searing, bilingual two-character play CLEAN / ESPEJOS is a riveting drama showcasing how two different women of different cultures cope with past trauma.
---
BWW Review: THE BAND'S VISIT Makes a Great Impression at OC's Segerstrom Center

March 28, 2022

Even without dazzling special effects and spectacular theatrics, or histrionic high drama, THE BAND'S VISIT---the Tony Award-winning stage musical now on stage at Orange County's Segerstrom Center for the Arts in Costa Mesa through April 3---still provides a powerful show that is quietly poetic in its precious, slow-burning delivery.
---
BWW Review: Amusing Interplay Surrounds WHAT I LEARNED IN PARIS at South Coast Rep

March 7, 2022

Playwright Pearl Cleage's WHAT I LEARNED IN PARIS---now on stage at South Coast Repertory in Costa Mesa through March 19, 2022---takes place during the historic win of Atlanta's first black mayor in 1973 and focuses on a romantic triangle between a young campaign staffer and two much older men she works with at the election HQ.
---
BWW Review: Caissie Levy Makes Lovely Cabaret Series Debut at OC's Segerstrom Center

March 3, 2022

Accompanied by her music director Matt Hinkley, Broadway and West End theater favorite Caissie Levy's lovely, powerful, stunning vocals were live and on display for her rapt audience, who were treated to an acoustic, no frills, intimate, candlelit show that was essentially a musical résumé of her past work--from RENT and LES MIS to GHOST and FROZEN
---
BWW Review: Impressive Cast Brings Renewed Energy to Latest WICKED National Tour at OC's Segerstrom Center

February 15, 2022

What better way to ease ourselves back (again) to live theater than with a tried-and-true bonafide hit like the musical WICKED, the 19-year-old global stage phenomenon now back for a nice, long stay in Orange County's Segerstrom Center for the Arts in Costa Mesa through March 6, 2022. Still as vibrant, as thrilling, and as emotionally satisfying as ever, the show boasts a pair of impressive leading ladies that give fresh new life to these memorable characters. Lovely bonus: a trio of Broadway vets are along in supporting roles, too!  
---
BWW Review: South Coast Rep's 41st Annual Production of A CHRISTMAS CAROL Remains Enchanting

December 13, 2021

While most Southern California theatergoers are likely more aware of the 'big deal,' direct-from-Broadway production of Charles Dickens' classic A CHRISTMAS CAROL now playing in Los Angeles featuring big star names in its roster, many should not necessarily bypass the other, less star-studded mounting now entertaining audiences in Costa Mesa through December 26, 2021---that's more subtle in its grandeur, but still just as enchanting and timeless at its core. SCR's 41st annual production now features Richard Doyle in the role of Ebenezer Scrooge.
---
BWW Review: Tony Award Winner Laura Benanti Debuts Beguiling Solo Cabaret Concert at OC's Segerstrom Center

November 14, 2021

Originally scheduled back in September, the wait was worth it to hear Laura Benanti sing selections from her roles on Broadway and a few tracks from her 2020 self-titled studio album in her debut Cabaret at the Center which was part uproarious stand-up comedy act, and part beguiling Broadway/Jazz concert. Continues through November 13, 2021.
---
BWW Review: High-Decibel JESUS CHRIST SUPERSTAR Tour Rocks Out at OC's Segerstrom Center

November 12, 2021

Far more concerned with style over (narrative) substance, this brand new '50th Anniversary' re-staging of the 1971 musical that recounts the final days leading up to the crucifixion and death of Jesus Christ is undeniably entertaining. The palpable, intentional vibe of this new US National Tour---directly imported from the well-received 2016 Regent's Park Theatre London production helmed by director Timothy Sheader that won the Olivier Award for Best Musical Revival---is to emphasize the show as a series of high-decibel, highly-stylized Big Musical Production Numbers where the 'story' acts as merely a way to organize the songs in a linear order. Overall, it's a fascinating hybrid of a rock opera arena concert, a Sunday morning modern-hipster MegaChurch service, and some, I suppose, after-thought musical theater-izing that mesmerizes the audience not with its central story but with high-budget music video production values, beautiful modern choreography, and bombastic vocal stylings from an extremely talented cast.
---
BWW Review: Vibrant, Fun-Filled MAMMA MIA! Dances Its Way to La Mirada

November 3, 2021

Some stage shows just refuse to retreat into the sunset, and one of those is MAMMA MIA!, that enduring, unapologetically giddy jukebox musical, now getting a fun, vibrant new staging at the La Mirada Theatre for the Performing Arts, under the direction of T.J. Dawson. With performances continuing in the city of La Mirada, CA through Sunday, November 21, this infectiously peppy show---featuring a book by playwright Catherine Johnson that wraps around songs made famous by ABBA---is certainly an invigorating way to welcome theatergoers back for live, in-person performances, especially those looking for a silly, non-serious respite from our current realities. If you're looking for some cute laughs paired with some terrific singing and dancing, this show should fit the bill.
---
BWW Review: Kristin Chenoweth Brings Girl-Powered Concert Tour to OC's Segerstrom Center

October 27, 2021

It's not a stretch to say that it was quite a treat to witness the undeniable talents of Kristin Chenoweth live and in-person again at Orange County's Segerstrom Center for the Arts in Costa Mesa, CA for a one-night-only concert on October 23, 2021 in support of her most recent studio album For The Girls---a tribute to some of her favorite female singers of all time. In front of a full house of masked and (hopefully, thoroughly screened) vaccinated audience members, the Tony and Emmy-winning star of stage and screen sang, belted, and entertained with a solid 90-minute set filled with familiar, Girl-powered favorites, sprinkled with plenty of wit, humor, and heart in between. Her frequent musical director Mary-Mitchell Campbell joins her again for this concert.
---