Art and Politics Will Collide in Rubicon's TAKING SIDES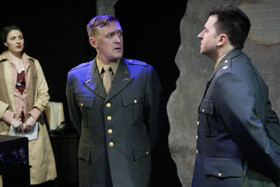 Rubicon Theatre Company (RTC) opens the company's 2017-2018 20th Anniversary Season with a provocative and gripping drama based on the story of German conductor and composer Wilhelm Furtwängler, who remained in Germany after Hitler's rise to power and was later accused of being a Nazi sympathizer. Written by Academy Award-winner SIRRonald Harwood ("The Pianist") and directed by Ovation Award-winner STEPHANIE COLTRIN, the play explores the terrible collision between art, power, politics and personal responsibility. The cast includes stage and screen veteran and returning Rubicon artist Peter Van Norden (A Christmas Carol, Copenhagen) as Furtwängler, Patrick Vest (Moonlight and Magnolias) as interrogator Major Arnold, and Cylan Brown, TARA DONOVAN, VIVIEN LATHAM and Adrian Sparks (Ovation Award-nominee for Papa).
TAKING SIDES opens at 7 p.m. on Saturday, October 28, 2017 at Rubicon Theatre, 1006 E. Main Street in Ventura's Downtown Cultural District. The opening night is followed by a party with the cast and local dignitaries at Rhumb Line Restaurant in the Harbor. Low-priced previews are Wednesday, Oct. 25, at 7 p.m., Thursday, Oct. 26 at 8 p.m. and Friday, Oct. 27 at 8 p.m. The production continues Wednesdays through Sundays through November 12, 2017. For tickets, go to www.rubicontheatre.org or call 805.667.2900.
Harwood's dramatization of the investigation into Furtwängler is set in 1946 in the American Zone of occupied Berlin. Major Steve Arnold interviews Wilhelm Furtwängler, a conductor at the pinnacle of his career, (and Hitler's favorite conductor) in preparation for his de-Nazification tribunal. Furtwängler had become increasingly controversial when he chose to remain in Germany while many of his colleagues had fled out of protest or persecution. Did he naively believe that art was above politics? Did he allow himself to be manipulated by the Nazi propaganda machine? Or was he, in fact, a collaborator?
Taking Sides starkly asks complicated questions about personal and artistic responsibility in the face of unspeakable horror. Furtwängler recognized that the Nazis needed him, and by many accounts often used this to effect good, flouting Nazi authority where he thought he could, helping some Jewish musicians escape, and even arguing with Josef Goebbels in the newspaper. When it became clear that Germany had lost the war, he became a Nazi target and escaped to Switzerland. But as Nazi crimes came to light during the trials at Nuremberg, and the Allied de-Nazification Tribunals took place, answers were relentlessly pursued. Where other artists who had been members of the Nazi party were allowed to quickly return to work, Furtwängler's case dragged on.
Says Taking Sides Director Stephanie Coltrin, "The investigation into Furtwängler's motives and the far-reaching consequences of his choices for himself and others lead us ultimately to ask ourselves what we might do in similar circumstances."
More about the Actors
Broadway and film actor Peter Van Norden returns to Rubicon in the role of Furtwängler after appearing as Ebenezer Scrooge in the company's production of Charles Dickens' A Christmas Caroland Neils Bohr in Michael Frayn's Copenhagen. Most recently, Van Norden was the first American actor to play the title role in Mike Bartlett's King Charles III (at Arizona Theatre Company). Other recent appearances include Don Reyo in Serrano, the Musical at Matrix Theatre in L.A.; Sir Arthur Conan Doyle in Flim Flam at Malibu Playhouse; Shylock in The Merchant of Venice at L.A. Shakespeare Center; Henry Kissinger in Top Secret: The Battle for the Pentagon Papers at L.A. Theatre Works, New York Theatre Workshop and China tour; and as Edna Turnblad in Hairspray at San Diego Repertory. Favorites in his native NYC include Little Johnny Jones with Donny Osmond,Hamlet with both Kevin Kline and Sam Waterston, Jungle of Cities with Al Pacino, Henry V with Meryl Streep, and Saint Joan with Lynn Redgrave. Included among Van Norden's dozens of film and TV roles are leads opposite Oscar winner Jodie Foster in "The Accused," Steve Guttenberg's inept partner in "Police Academy 2" and Ralph Brentner in the Stephen King mini-series, "The Stand."petervannorden.com
Patrick Vest (Major Arnold) also returns to Rubicon after playing David O. Selznick in Moonlight and Magnolias last season (also directed by Coltrin). He has been working as a professional actor and director for over 25 years and has performed at theatres all over the country. His credits include work with Michael Kahn at The Shakespeare Theatre in Washington D.C., Arne Zaslove at the Bathhouse Theatre in Seattle, and multiple roles at the Alabama Shakespeare Festival, including Planchet in Chuck Morey's The Three Musketeers and his favorite childhood character of Eeyore. Vest holds an M.F.A. in acting from the Alabama Shakespeare Festival and has played key roles in over 40 plays written by the Bard, among them Macbeth, Petruchio, Prince Hal, Mercutio, Malvolio, Marc Antony (in Julius Caesar), Shylock, and Caliban. Other notable roles include Yvan in Art at Hermosa Beach Playhouse, The Bandit in Rashomon at American Southwest Theatre Company, Clitandre in The Misanthrope at The New American Theatre Company, Rev. David in The Foreignerat Odyssey Theatre Ensemble and David O. Selznick in Moonlight and Magnolias at Hermosa Beach Playhouse. Vest also created and performed a one-man show about Henry David Thoreau. He is also a company member of The New American Theatre, where he continues his studies with Jack Stehlin and Alfred Molina. Patrick is a multiple Stage Scene L.A. award winner for his work as both actor and director; he also won "breakout performer" in 2010.
A recent Ventura transplant, award-winning veteran actor Adrian Sparks makes his Rubicon debut in the role of Helmuth Rode. Born in the UK and raised in the U.S., he has played leading roles at some of the most prestigious theatres in the country, including the Guthrie, Seattle Rep, Long Wharf, and the Shakespeare Theater Company in Washington, DC, to name a few. His 2005 Los Angeles performance of Ernest Hemingway in the one-man play Papa, by Pulitzer Prize winning author John deGroot, garnered him an Ovation Award nomination for Best Actor. In 2009, he received an Acclaim Award for Best Leading Actor, as well as a CEA Award for Best Actor for his portrayal of Sharky in The Seafarer at the Ensemble Theatre in Cincinnati. Since 2010, he has spent multiple seasons at The Old Globe in San Diego as a leading member of the Shakespeare Company created by Adrian Noble. The range of his roles at the Globe includes Stephano in The Tempest, Kent in King Lear, Uncle Ben in Death of a Salesman and Leanato in Much Ado About Nothing (a role he reprised at Shakespeare Theater Company under the direction of Ethan MacSweeney. During his final season at the Globe, his portrayal of Matthew Harrison Brady in the highly acclaimed production of Inherit the Wind led to a nomination for a Craig Noel Award as Best Actor. As a film actor, he has appeared in more than 75 film, television, and commercial productions. Most notable is his starring portrayal of Ernest Hemingway in the 2015 film "Papa: Hemingway in Cuba" (2015), written by Denne Bart Petitclerc and directed by Bob Yari. The film won Best Picture Awards from juries of the Boston Film Festival, Key West Film Festival and Sonoma Film Festival.
Cylan Brown as Lt. David Wills returns to Rubicon after playing Victor Fleming in Moonlight and Magnolias. Hailing from Flagstaff, Arizona where he received a B.S. in theatre from Northern Arizona University, Brown has lived in L.A. for eight years. He recently appeared as Lee Harvey Oswald in the L.A. premiere of Oswald: The Actual Interrogation at Little Fish Theatre. Other roles include Georg Lenck in Bach at Leipzig, Serge in Art at Civic Light Opera of the South Bay Cities, Victor Primm in Private Lives, and HarRy Pepper in Barefoot in the Park at Hermosa Beach Playhouse. Brown has been seen in many Shakespearean roles including, Hamlet for Shakespeare by the Sea; and Julius Caesar, Romeo, Demetrius, Parolles, Edmund, Touchstone and Dromio of Syracuse at Los Angeles Theatre Ensemble.
TARA DONOVAN (Emmi Straube) holds a B.A. in both Theatre Performance and Political Science. She is currently the Managing Director of Little Fish Theatre and the Executive Director of Broads' Word Ensemble. Favorite stage roles include Beatrice in Much Ado About Nothing, Tyler in Some Girl(s) and Diedre Ryan in the West Coast Premiere of The Lady Was a Gentleman. TV roles include "Days of Our Lives" and the pilot episode of "Blood Relatives."
Ventura resident VIVIEN LATHAM makes her Rubicon debut in the role of Tamara Sachs. She is a classically trained stage/film actress, who has lived, worked and studied throughout the world. Latham is one of Ventura County's most busy actors, starring or co-starring in over 50 plays in the last 17 years, and appearing in several films, radio shows, commercials, and TV. Her first movie (as an extra) was "Chaplin," directed by her beloved cousin Richard Attenborough. Favorite roles include Katharine Hepburn in Tea at Five, Judy Garland in Judy's Scary Little Christmas, Regan inKing Lear (with the late John Slade), Beatrice in Much Ado About Nothing, the 2 Dromios in A Comedy of Errors, Stella in A Streetcar Named Desire, Agnes in Dancing at Lughnasa, Milady deWinter in The Three Musketeers, Elvira in Blithe Spirit, Claire in A Delicate Balance, and Eleanor of Aquitaine in The Lion in Winter. Latham is a multiple recipient of the Four Star Theater Alliance for Outstanding Lead Actress.
History of the Production
Taking Sides premiered at the Minerva Theatre in Chichester on May 18, 1995, directed by Harold Pinter. The play then transferred to the West End and premiered on July 3, 1995.

The original West End production of Taking Sides was performed at the Criterion Theatre in Piccadilly Circus, London. It starred Daniel Massey as Wilhelm Furtwängler and Michael Pennington as Major Steve Arnold. Harwood was nominated for an Olivier Award for Best New Play. Massey was nominated in 1996 for his role as Furtwängler.
TAKING SIDES transferred to Broadway for a limited run in 1996. Ed Harris took over the role of Major Steve Arnold and Daniel Massey reprised his award-winning role as Wilhelm Furtwängler. The show began previews on October 4 at the Brooks Atkinson Theatre, opening on October 17. It ran for 85 performances, closing on December 29, 1996. For his performance in the role of Furtwängler, Massey was nominated for the Drama Desk Award for Outstanding Actor in a Play.
More About Wilhelm Furtwängler
Born in Berlin, in 1886, into a prominent family, Furtwängler's father was an archaeologist, his mother a painter and his brother a mathematician. He spent his youth in Munich, where his father lectured at the university. He was given a musical education from an early age and developed an early love of Beethoven, a composer he remained closely associated with throughout his life.
By the time of Furtwängler's conducting debut at the age of twenty, he had made several early attempts at composing which had not been well received. This, coupled with the financial insecurity that a career as a composer could provide, led him to concentrate on conducting. At his first concert, he led the Kaim Orchestra (now the Munich Philharmonic) in Anton Bruckner's Ninth Symphony. He subsequently held posts at Munich, Lübeck, Mannheim, Frankfurt, and Vienna, before securing a job at the Berlin Staatskapelle in 1920. Two years later, he was conductor at the Leipzig Gewandhaus Orchestra where he succeeded Arthur Nikisch, while also working with the prestigious Berlin Philharmonic Orchestra. Later, he became music director of the Vienna Philharmonic Orchestra, the Salzburg Festival and the Bayreuth Festival, which was regarded as the greatest post a conductor could hold in Germany at the time.
When the Nazis came into power in 1933, Furtwängler strongly and publicly opposed the Nazi agenda, despite pride in his German heritage, and refused to give the Nazi salute, even in Hitler's presence. Towards the end of the war, under extreme pressure from the Nazi Party, Furtwängler fled to Switzerland. He resumed performing and recording following the war and remained a popular conductor in Europe. In 1936, the New York Philharmonic offered him the position of music director, but he was dissuaded from accepting the position by anti-Nazi sentiment. After the war's conclusion, the Allied command cleared Furtwängler of charges of being a Nazi sympathizer, although the American government did not clear Furtwängler until 1946. In 1949, the Chicago Symphony Orchestra courted the German conductor, but its board of directors quickly withdrew its offer under the heavy and largely unjustified criticism from the orchestra's musicians. He died in 1954 in Baden-Baden.
Furtwängler is most famous for his performances of Beethoven, Brahms, Bruckner and Wagner. However, he was also a champion of modern music and gave performances of contemporary composers such as Bartók, Hindemith, Schoenberg, Stravinsky and Bloch.
Sponsors
Rubicon Theatre Company Season Sponsors are Janet and Mark L. Goldenson, Diane and Peter Goldenring, Sandra and Jordan Laby, Anne and Michael Towbes; and Barbara Meister, to whom Rubicon's 20th Anniversary Season is dedicated.
Full Schedule, Special Performances and Ticket Info

Low-priced previews for TAKING SIDES begin on Wednesday, Oct. 25 at 7 p.m., continuingThursday, Oct. 26 and Friday, Oct. 27 at 8 p.m. Opening night is Saturday, Oct. 28 at 7 p.m., with a post-show party at Rhumb Line on the Harbor. The production continues Wednesdays at 2 and 7 p.m., Thursdays and Fridays at 8 p.m., Saturdays at 2 and 8 p.m. and Sundays at 2 p.m. throughNovember 12. Talkbacks are scheduled after the Wednesday 7 p.m. performances on Nov. 1 and 8.
Regular tickets for TAKING SIDES range from $30 to $55 (plus a $4 processing fee). Opening night is $100, including the pre-and post-show reception. Tickets for students with ID for regular performances are $25; Equity members and military are $30. There is a $5 discount for seniors 65 and older. Discounts of 10% to 20% are available for groups of 10 or more, depending on the size of the group.
All performances are at Rubicon Theatre, 1006 E. Main Street in Ventura's Downtown Cultural District (the corner or Main and Laurel).
Tickets for TAKING SIDES may be purchased in person through the Rubicon Theatre Company Box Office at 1006 E. Main Street, the corner of Main and Laurel in Ventura (Laurel entrance and downstairs), or online at www.rubicontheatre.org. To charge by phone, call 805.667.2900. Box office hours are Noon to 6 p.m., seven days a week.
About the Playwright
SIR Ronald Harwood is a playwright, screenwriter and author. He is best known for his works for the stage, as well as his screenplays for "The Dresser" with Albert Finney and Tom Courtenay (Oscar nomination) and "The Diving Bell and the Butterfly," (BAFTA Award, Humanitas Award and Oscar nomination); and Roman Polanski's "The Pianist" with Adrien Brody, for which he won the 2003 Academy Award for Best Adapted Screenplay.
Harwood was born Ronald Horwitz in Cape Town, South Africa in 1934 and moved to London in 1951 to pursue a career in the theatre. After attending the Royal Academy of Dramatic Arts, he joined the Shakespeare company of one of the last great actor-managers in Great Britain, Sir Donald Wolfit.
Harwood's fascination with the stage is a recurring theme in much of his work. In addition to The Dresser, he has written plays about Sarah Bernhardt (After the Lions), a gifted piano player (Another Time), aging opera singers (Quartet), and non-fiction books about the history of the theatre ("The Faber Book of Theatre" and "All the World's a Stage, the latter of which was made into a BBC-TV series).
As is the case with Taking Sides, Harwood's work also reflects a connection to his Jewish heritage, and a deep interest in events related to World War II, especially situations where individuals voluntarily collaborated with the Nazis or were pressured to do so and survived through some combination of resistance, deception and compromise. Works focusing on this period includes the films "Operation Daybreak" (about the assassination of Nazi leader Reinhard Heydrich by the Czechoslovakian Resistance), "The Statement" (a fictionalized account of French collaborator Paul Touvier after the war), "The Pianist: (an adaptation of the autobiography of the Jewish-Polish musician W?adys?aw Szpilman set during the Nazi occupation of Poland); and the playsCollaboration (about the composer Richard Strauss and his partnership with the Jewish writer Stefan Zweig), and An English Tragedy (dealing with the British fascist John Amery).
Harwood has written more than 20 plays, many of which have been produced throughout the world.Another Time, under the title Temps Contre Temps, won the Moliere Award for Best Play. His comedy Quartet opened at the Alberty Theatre in 1999 and was nominated for an Olivier Award. Charles Spencer, Chief Reviewer for The Daily Telegraph, wrote of Harwood that he has "a rare gift of combining intellectual rigour with profound emotion."
In addition to those films for which he received Academy Awards or nominations, Harwood has also written or adapted "The Browning Version" starring Albert Finney, "Cry, the Beloved Country" starring James Earl Jones and Richard Harris, "Being Julia" with Annette Bening and Jeremy Irons, "Love in the Time of Cholera" directed by Mike Newell with Javier Bardem, the box office blockbuster "Australia" directed by Baz Luhrmann with Nicole Kidman and Hugh Jackman, Roman Polanski's version of "Oliver Twist" with Ben Kingsley, and "Quartet" directed by Dustin Hoffman with Maggie Smith and Tom Courtenay. In 2007, he became the first Oscar-winning screenwriter to write a book solely about the craft of screenwriting ("Ronald Harwood's Adaptations").Harwood began a career as a non-fiction and fiction writer with "All The Shadows," published in 1961. He has since written more than a dozen novels, including "Articles of Faith," winner of the Winifred Holtby Prize; and "Home," which was awarded the Jewish Quarterly-Wingate Prize for Fiction. His non- fiction works includes biographies of actors Alec Guinness, John Gielgud and a history of the British restaurant The Ivy.
Harwood was made Fellow of the Royal Society of Literature in 1974, later becoming Chairman pointed Commander of the British Empire (C.B.E.) for his services to literature. Harwood was president of the international PEN Club from 1993 to 1997 after presiding the British section during the four previous years. He was awarded the Knight Bachelor of the Order of the British Empire in the 2010 Queen's Birthday Honours List for his services to drama. He has received numerous honorary doctorates and is an Honorary Fellow of the Central School of Speech and Drama and the University of Chichester. He has been the Chairman of the Yvonne Arnaud Theatre, Guildford since 2008. He received the National Jewish Theatre Foundation Lifetime Achievement Award in 2014. Harwood married Natasha Riehle, a descendent of Russian nobility, in 1959. They had three children (Antony, Deborah and Alexandra). Riehle died of cancer in 2013. Harwood currently resides in South Kensington, London, England.
About the Director
STEPHANIE COLTRIN has directed Sylvia, Moonlight and Magnolias and the Ovation-recommended production of The Last Five Years for Rubicon. She has been a producer and director for the past 25 years, with nearly 200 productions to her credit, ranging from Shakespeare and other classics; to contemporary comedies, dramas and musicals; to World Premieres. Prior to coming to Rubicon, Coltrin was the Artistic Director of CLO of South Bay Cities and the Hermosa Beach Playhouse, helming a ten-show season at both venues. While there, she won the Ovation Award for Best Musical for producing Miss Saigon (which she also directed). Other favorite directing credits include Who's Afraid of Virginia Woolf? (Garland Award nomination), Seussical (Broadway World Award for Best Director), Art, Jesus Christ Superstar (Stage Scene L.A. Award for Best Director), Oklahoma!, A Midsummer Night's Dream, Godspell, She Loves Me (Stage Scene L.A.Award, Director of the Year), Private Lives, Blithe Spirit, Steel Magnolias, Bach at Leipzig, The Weir,Stones in His Pockets, Barefoot in the Park, Wait Until Dark, Manson's Girls, Oswald: the Actual Interrogation, The Green Room (World Premiere), and Come Back to the Five and Dime. Coltrin has served as Associate Festival Director for Shakespeare by the Sea for the last seven years, directingHamlet, Othello, The Tempest, Julius Caesar, King Lear, Romeo and Juliet and King John, each of which toured to more than 24 locations in Southern California.
Production Team
Scenic Designer CHRISTOPHER BEYRIES returns to Rubicon, having designed Moonlight and Magnolias and A Tuna Christmas. His design work includes shows for Princess Cruises, NBC TV, TheatreWorks, Actors Theatre of Louisville and many more. Beyries' design credits include She Loves Me, Ain't Misbehavin', Jesus Christ Superstar, Joseph and the Amazing Technicolor Dreamcoat, The Full Monty, Beehive, Kiss Me, Kate at Civic Light Opera of South Bay Cities;Private Lives, Who's Afraid of Virginia Woolf, The Light in the Piazza, A Midsummer Night's Dream,The Taming of the Shrew, Godspell, Tracers, Barefoot in the Park, Art, Moonlight and Magnolias,Wait Until Dark, Steel Magnolias, Spit Like a Big Girl, and many others. For Little Fish Theatre, he designed Bach at Leipzig, Oswald: The Actual Interrogation, Stones in His Pockets, Loot, Laughter on the 23rd Floor and Steel Magnolias.
J. Kent Inasy, lighting designer, has won multiple awards for his work in theatre. He received an Ovation Award for his work on Mad Forest at the Matrix Theatre in Los Angeles and an L.A. Drama Circle Critics Lifetime Achievement Award. Recently, Inasy completed a new Hip Hop musicalStrength of this Nation at Tim Robbins' The Actor's Gang. On the national stage, Inasy designed lights for the Hershey Felder hit George Gershwin Alone, presented at The American Repertory Theater in Cambridge, Massachusetts and Ford's Theatre in Washington DC. He designed the lighting for the Actor's Fund benefit "Back from Broadway" at the Vivian Beaumont Theatre at Lincoln Center in New York. His last show here at the Rubicon was Tea at Five starring Stephanie Zimbalist. Inasy is also a cinematographer with many television shows to his credit, and just received a Webby Award for best cinematography for the science fiction fantasy series "Warrior One." He just completed filming the upcoming feature "Stardust Hotel."
Prop design for the production is by T. THERESA SCARANO, and JESSIE VACCHIANO serves as Production Stage Manager.
About Rubicon
Rubicon Theatre is a non-profit regional theatre based in Ventura, California. True to the company name and the vision of founders Karyl Lynn Burns and James O'Neil, Rubicon is committed to providing a nurturing environment for artists where exploration and experimentation are encouraged and supported. Now in its 20th Season, Rubicon has earned a reputation for innovative, reinvigorated productions of classics; and for the development of new works. The company has presented more than 130 diverse mainstage productions to more than 440,000 audience members. Described by critics as "the rising star of the Southern California cultural scene" and the "best theatre between Los Angeles and San Francisco," the company has won a New York Drama Desk Award (four nominations), the L.A. Drama Critics Circle Award for "Sustained Excellence," 15 Ovation Awards, an NAACP Award, and multiple Indy, Garland and Robby Awards. Luminaries such as Susan Clark, Dana Delany, Bonnie Franklin, Joel Grey, Gregory Harrison, Bill Irwin, Harold Gould, Larry Hagman, Stacy Keach, Michael Learned, Ted Neeley, Paul Provenza, Linda Purl, Joe Spano, Bruce Weitz, Efrem Zimbalist, Jr. and Stephanie Zimbalist have graced the Rubicon stage. Jack Lemmon and John Ritter made their final stage appearances with Rubicon. Rubicon is governed by a Board of Directors led by DIANE GOLDENRING and supported by a regional Board of Advisors helmed by chair SUSAN VAN ABEL and a volunteer auxiliary under the direction ofKATHIE HIRA.