BWW Interview: Anne Martinez and BAZ-A MUSICAL TOUR DE FORCE at The Palazzo Theatre at The Venetian Las Vegas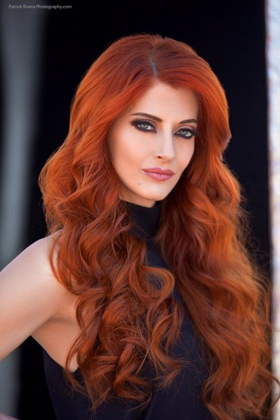 BAZ-A MUSICAL TOUR DE FORCE is one on the most fun and exciting shows on the Las Vegas Strip. It is performed at The Palazzo Theatre at The Venetian six times a week, Tuesday through Sunday at 8:00 pm. This summer, the energetic and highly talented cast is about to celebrate the show's second anniversary.
Set in a modern and intimate cabaret, BAZ is a real celebration, a mash-up of music and moments from the greatest love stories imagined by Oscar, Grammy, and Tony Award-nominated director Baz Luhrmann. Theatregoers follow the romances from Luhrmann's iconic films that include Romeo and Juliet, Moulin Rouge, and The Great Gatsby as the lovers discover whether or not fortune is in their favor. The production has even been named one of the "Best Shows to See in Las Vegas" by Condé Nast Traveler.
Broadwayworld.com had the pleasure of interviewing Anne Martinez who plays the role of Satine in BAZ.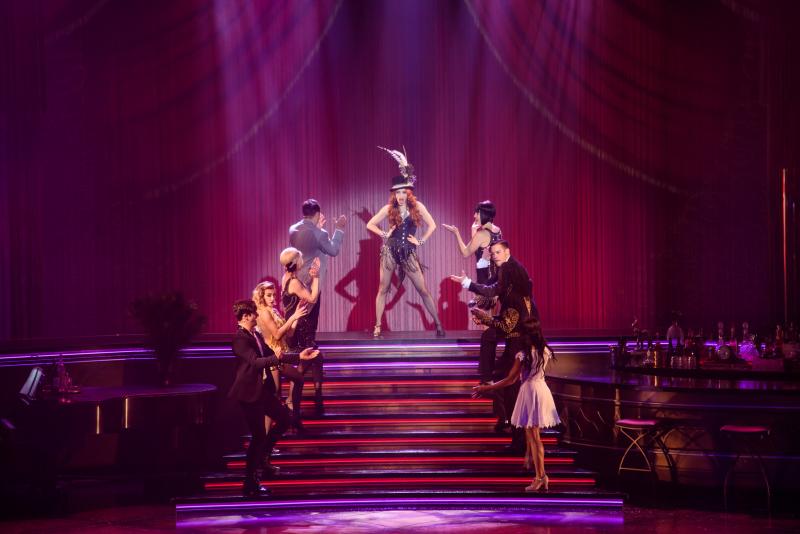 Originally from Pittsford, New York, Martinez is an actor, singer, dancer, and aerialist. She holds a Bachelor of Fine Arts in Acting from State University of New York at Fredonia and a Master of Fine Arts from Royal Central School of Speech & Drama. Past credits include Millie in "Thoroughly Modern Millie," Polly in "Crazy for You," Amneris in "Aida," Lucy Harris in "Jekyll and Hyde," Ellen in "Miss Saigon," Winifred in "Once Upon a Mattress," Cinderella in "Into the Woods," Fastrada in "Pippin," Sally Simpson in "The Who's Tommy," Evelyn Nesbit in "Ragtime," and Cinderella in "Cinderella." Las Vegas credits include "Alice," "Jubilee!," "Showstoppers," "Fantasy," "Zombie Burlesque," "Pin Up," "Electric Candy," "50 Shades The Musical," "The World's Greatest Rock Show," and "Dancing Queen." She has also been a featured vocalist and backup singer on Engelbert Humperdinck's national tour.
Do you have any particular mentors or people who have inspired your career?
I would have to say my professors from college, Dr. James Ivey and Dr. Paul W. Mockovak have mentored me and inspired me. They both believed in me from day one. They made me feel like anything was possible. They encouraged me to go further and think limitlessly. The love of theatre they both possess is so inspiring....it's infectious. They also instilled in me the importance of continued hard work and dedication throughout my career. I will always be grateful for their guidance and honesty.
What music or musical artists do you enjoy listening to when you have time?
Linda Ronstadt was my Mom's favorite singer and I grew up listening to her. She sang EVERYTHING. I love her calm confidence. I'm big into variety. I love Queen, The Beatles, Sia, Biggie, Marilyn Manson, Johnny Cash, Nirvana, Korn, Tori Amos and Roy Orbison. I also love the work of Clint Manell, especially on the film The Fountain.
You have a great musical theatre background. Which roles have you found to be the most challenging and why?
Roles can be difficult from the physicality, to emotional dedication, to musical difficulty. I would say the most challenging is Satine. Physically, I am running at full speed in a corset, train, and heels. It's important to be in top physical shape for every performance. I train two hours a day in strength training and aerial work. Musically, BAZ is very difficult and I have to take very good care of my voice. I make sure I sleep plenty of hours, don't speak until later in the day, eat the right foods, and warm up properly before every show.
What advice do you have for people wishing to enter the performing arts?
Always remember....it's show BUSINESS. Preparation is everything. Always be prepared to the highest degree. Continue to take dance classes. Remember that you are an athlete. Never think that you're "done" and can stop growing. There is never a moment where you can stop learning. It's NOT a competition. It's about what YOU do and how you do it.
Tell us a little about your part as Satine in BAZ.
She is the consummate showgirl. Her dream is to be a "real" actress and she has worked to perfect her craft and control her emotions. When Christian enters into her life, he sends her into a tailspin that makes her question everything. His love allows her to open her heart for the first time. To be truly free to love in the world she exists in, seems unreal to her but she dares to believe. As she finally let's go, her body is failing her. Satine is truly a complex character. She has so many dimensions in her. She's very particular on who she allows to see who she truly is and why. She is very different from me and that has been the greatest challenge. I tend to leap and she holds her cards to the chest. I love the challenge of her. Satine goes through so much emotionally and physically and it's very important to me the she is portrayed honestly.
I know you have worked a good deal in Las Vegas. Why do you like performing there?
I moved here with my husband as he as beginning his career with Cirque as a technician. I was extremely fortunate to book a show immediately and I hit the ground running. It's definitely a wild town, but I've been so happy to perform in large variety of shows from classic showgirls (Jubilee!), wild and zany (Zombie Burlesque), to the innovative (BAZ). What I love about performing here is the variety of audience members we receive. People travel from all over the world to experience Las Vegas. Being a part of their adventure is so much fun! It's a crazy city, but when you leave the strip it feels like a small town where everyone knows each other.
Why do you think BAZ has been such a successful show?
For the Record truly created something so special with BAZ. To take these love stories and intertwine them had to be a monumental challenge. They keep us entranced with one word: LOVE. The language we all speak is love, and BAZ speaks that from the beginning to the end. We have all experienced the love that these characters are feeling. There is no fourth wall. There are no rules. Characters exist all around you and their love and pain are so close you can feel every fiber of it. This show creates an experience for the audience that is unlike any other. From the enjoyment of the music, to their own emotional connection to the characters, the lights, the costumes, the liveness, the audience can truly feel immersed in a way like no other. It is truly an unique and beautiful experience.
What would you like potential audience members to know about the show?
It is an experience that you will never forget. The Palazzo Theatre is gorgeous. The music and stories of BAZ remind us why Baz Luhrmann films are so beloved and clever. "The greatest thing you'll ever learn is just to love and be loved in return."
Anything else, absolutely anything you want BWW readers to know!
There is nothing better than doing what we do. Enjoy every moment and never stop growing.
You can follow Anne Martinez on social media on Instagram: @annemartinezlv.
BAZ-A MUSICAL TOUR DE FORCE is being performed at The Palazzo Theatre at The Venetian Las Vegas through April 2019. Tickets and Packages can be purchased at any box office at The Venetian or The Palazzo or by calling 702.414.9000 or 866.641.7469. Information regarding Group Tickets or Experiences for 10 or more guests please call 702.414.1685 or email groupticketsales@sands.com.
For more information on The Venetian, visit: https://www.venetian.com/.
For more information on The Palazzo, visit: https://www.palazzo.com/.
Follow BAZ on Facebook, Twitter, and Instagram: #bazpalazzo.
Photo Credit: Patrick Rivera Photography and Courtesy of BAZ