Bard SummerScape Will Celebrate Nadia Boulanger With 31st Bard Music Festival, NADIA BOULANGER AND HER WORLD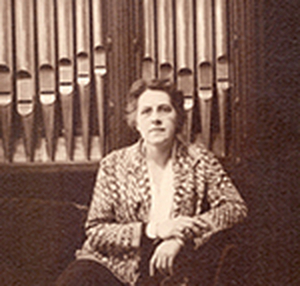 Bard Summerscape's 17th edition celebrates one of the most important female figures in classical music history, with seven weeks of music, opera, theater, dance, film and the SummerScape Spiegeltent, centered around the 31st Bard Music Festival, "Nadia Boulanger and Her World." This rare and intensive examination of the life and times of Nadia Boulanger - the pioneering Parisian pedagogue, composer, conductor, pianist, organist and indomitable personality who shaped a generation of American musicians and more - features themed concerts and panel discussions, together with a film series exploring "Nadia Boulanger's Cinematic Influence" and the first fully staged American production of King Arthur (Le roi Arthus), the only opera by her compatriot Ernest Chausson. For SummerScape's theater and dance programs, Tony Award nominee Daniel Fish returns to the Fisher Center to direct Most Happy, a setting of songs from Frank Loesser's exuberant and operatic 1956 musical, The Most Happy Fella, and New York City Ballet MOVES presents new choreography: from MacArthur Fellow Kyle Abraham, who makes his festival debut with the ballet/street-dance fusion of The Runaway, and Fisher Center Choreographer-in-Residence Pam Tanowitz, who follows the resounding success of Four Quartets at SummerScape 2018 with Bartók Ballet, featuring a live performance by FLUX Quartet. To complete the summer lineup, multi-genre live music highlights a generous program of events in Bard's authentic and sensationally popular Belgian Spiegeltent. Taking place from June 26 to August 16 in the Frank Gehry-designed Fisher Center for the Performing Arts and other venues on Bard College's picturesque Hudson Valley campus, SummerScape 2020 once again makes for a full "seven weeks of cultural delight" (International Herald Tribune). Tickets are now on sale; click here for more information.
Music: 31st Bard Music Festival, "Nadia Boulanger and Her World"
Founded by co-artistic director Leon Botstein, it is the Bard Music Festival - "a highlight of the musical year" (Wall Street Journal) - that provides the creative inspiration for SummerScape. Since its inception more than three decades ago, the Bard Music Festival has enriched the standard concert repertory with a wealth of important rediscoveries; as the New York Times points out, "wherever there is an overlooked potential masterpiece, Leon Botstein is not too far behind." "One of the most remarkable figures in the worlds of arts and culture" (NYC Arts, THIRTEEN/WNET), Botstein serves as music director of both the American Symphony Orchestra (ASO) and The Orchestra Now (TŌN), a unique graduate training orchestra designed to help a new generation of musicians break down barriers between modern audiences and the orchestral literature. Under his leadership, both ensembles perform in the music festival, and the ASO anchors the annual staged opera.
The first woman to come into Bard's festival spotlight, Nadia Boulanger (1887-1979) was, as a composer, her own least forgiving critic. Having initially dedicated herself to composition, winning numerous honors at the Paris Conservatory, she voluntarily gave up the practice in her mid-30s, telling her teacher Gabriel Fauré, "If there is one thing of which I am certain, it is that I wrote useless music." Many critics have disputed her harsh judgement, however. Her cantata La sirène took second place at the 1908 Prix de Rome, and almost a century later the Musical Times spoke for many in observing: "There is much to regret in the self-imposed brevity of her composing career." As a true musical polymath, however, Boulanger remains of incalculable importance to 20th-century composition, scholarship and performance. Representing styles ranging from modernism to easy listening, tango, jazz and hip-hop, her numerous students include such key figures as
George Antheil
, Grażyna Bacewicz,
Burt Bacharach
,
Daniel Barenboim
,
Lennox Berkeley
,
Marc Blitzstein
,
Donald Byrd
, Elliott Carter,
Aaron Copland
,
John Eliot
Gardiner,
Philip Glass
,
Roy Harris
,
Quincy Jones
, Dinu Lipatti, Gian Carlo Menotti, Thea Musgrave, Per Nørgård,
Astor Piazzolla
, Walter Piston, Louise Talma and
Virgil Thomson
, who famously dubbed her "a one-woman graduate school so powerful and so permeating that legend credits every American town with two things - a five-and-dime and a Boulanger pupil." The first woman to conduct the Boston Symphony, Philadelphia Orchestra, and the
New York Philharmonic
at
Carnegie Hall
, as well as England's BBC Symphony, Hallé and Royal Philharmonic orchestras, Boulanger also spearheaded the Renaissance and Baroque performance revivals, promoting Monteverdi's music in particular, and single-handedly ensured that the work of her sister, fellow composer Lili Boulanger, survived the latter's untimely death in 1918, at just 24. It was Nadia who served as soloist in the first performance of Copland's Organ Symphony and directed the world premiere of Stravinsky's "Dumbarton Oaks" Concerto, in the creation of which she herself played a part. Considering her to be "arguably ... the most important woman in the history of classical music," BBC Music magazine concludes: "It is frankly unimaginable that a man with a similar degree of influence over 20th-century music would have been so ignored."
Drawing on recent scholarship, the Bard Music Festival's signature thematic programming, multidisciplinary approach, and emphasis on context and reception history provide the perfect platform for a reexamination of Boulanger's extraordinary legacy. Through the prism of her life and career, "Nadia Boulanger and Her World" comprises an illuminating series of chamber, vocal, choral, and orchestral concerts - as well as pre-concert talks, commentaries, and panel discussions - held over the final two weekends of SummerScape. On August 7-9, Weekend One explores Music in Paris in the first half of the 20th century, and on August 14-16, Weekend Two addresses The 20th-Century Legacy of Nadia Boulanger. Twelve concert programs spaced over the two weekends explore such themes as Paris as the epitome of chic, the crosscurrents of influence between France and America, and French Catholicism and spirituality.
The festival will present examples of Boulanger's own, little-known oeuvre, including selected songs and piano pieces, and Lux aeterna, the work with which she commemorated her sister. Other featured composers will include her teachers and mentors, like Fauré, Raoul Pugno, Louis Vierne and Charles Marie Widor; her Parisian contemporaries, like
Claude Debussy
, Olivier Messiaen,
Francis Poulenc
,
Maurice Ravel
,
Erik Satie
, and expats
George Gershwin
,
Cole Porter
and
Igor Stravinsky
; her male students, like Jean Françaix, Piazzolla, and illustrious Americans Blitzstein, Carter, Copland, Glass, Piston and Thomson; her female students, like
Peggy Glanville-Hicks
, Marcelle de Manziarly, Thea Musgrave, Julia Perry and Louise Talma; other women composers, like Lili Boulanger, Jeanne Demessieux and Germaine Taillefaire; and some of the bygone composers whose music she vociferously championed, like Monteverdi, Bach and Brahms. Finally, two thought-provoking panel discussions will be supplemented by informative pre-concert talks and commentaries, illuminating each concert's themes; these are free to ticket holders. Since its founding, each Bard Music Festival has been accompanied by the publication of a companion volume of new scholarship and interpretation, with essays and translated documents relating to the featured composer and his world. Published by the University of Chicago Press, the forthcoming volume, Nadia Boulanger and Her World, will be edited by Bard's 2020 Scholar-in-Residence, the University of Southampton's Jeanice Brooks, whose previous publications include The Musical Work of Nadia Boulanger.
Opera: Ernest Chausson's King Arthur (first fully staged American production)
Arthur with Excalibur by Edward Coley Burne-Jones
Of an earlier generation than the Boulanger sisters, Ernest Chausson (1855-99) died in a cycling accident at just 44, and while his Poème for violin and orchestra remains a staple of the repertoire, the rest of his slender output is seldom programmed. Yet in leavening the Gallic sounds of his teachers César Franck and Jules Massenet with the influence of Wagner, Chausson played a pivotal part in the development of French late-Romanticism.
Set to his own libretto, Chausson's sole completed opera, King Arthur (Le roi Arthus, 1886-95), follows Tristan und Isolde in drawing on British chivalric mythology and depicting a king caught in a tragic love triangle. Unlike Wagner's, however, the French composer's sympathies lie not with the adulterous lovers but with the betrayed monarch, whose longstanding code of honor, like his marriage, is now in jeopardy. Posthumously premiered in Brussels in 1903, King Arthur has enjoyed recent revivals in Edinburgh and Paris but not to date on the American stage. As The Guardian observes, "few significant operas have suffered neglect on the scale that has for so long been endured by Ernest Chausson's Le roi Arthus." This disregard is far from justified, however. With its rich lyricism, ravishing harmonies and otherworldly final chorus, the opera has won many advocates. King Arthur, notes the UK's Independent, is "no mere Wagner clone, but a score packed with French sensibilité and a Symbolist, world-weary wisdom." As Gramophone affirms: "Passion is often white-hot; the orchestration is opulent; and there are ... passages of sheer beauty." Marking the first fully staged American presentation of King Arthur, Bard's new production will be directed by International Opera Award-nominee Mary Birnbaum, whose semi-staged treatments of Halka, Le Villi, and La Navarraise have been featured at recent Bard Music Festivals. Sets will be designed by Obie,
Henry Hewes
, and Princess Grace Award-winner
Riccardo Hernandez
and costumes by Barrymore Award-winner
Oana Botez
, who previously costumed SummerScape's world-premiere production of Love in the Wars.
Geoff Kanick
, who hails from the worlds of magic and contemporary circus, will serve as director of illusion for Bard's production of King Arthur. The title role will be sung by
Norman Garrett
, who has won top prizes in more than a dozen international vocal competitions and is currently appearing at the Metropolitan Opera in Porgy and Bess. Raeann Bryce-Davis, a "striking mezzo soprano" (New York Times) known for her "electrifying sense of fearlessness" (San Francisco Chronicle), sings the role of Arthur's wife, Guinevere, and tenor
Matthew White
, who took first place at both the Gerda Lissner and
Deborah Voigt
International Vocal Competitions, completes the doomed triangle as Arthur's knight Lancelot. The presentation will be anchored by the Bard Festival Chorale and American Symphony Orchestra under the direction of Botstein, who has previously led the opera both on a Telarc recording with the BBC Symphony Orchestra and in a 2001 concert performance with the ASO at Lincoln Center; that performance was hailed as "one of the best
Leon Botstein
and the American Symphony have given together," showing Chausson's score to be "sumptuous, majestic, brilliant in its fanfare moments and often powerful" (Paul Griffiths, New York Times). King Arthur runs for five performances in the Fisher Center's Sosnoff Theater between July 24 and August 2, with an Opera Talk, free and open to the public, before the matinee on July 26.
Theater: Most Happy
The legendary composer-songwriter behind Guys and Dolls and How to Succeed in Business Without Really Trying, Frank Loesser accrued a string of honors including an Oscar, multiple Tony Awards and a Pulitzer Prize.
Loesser's songs take center stage in Most Happy, a setting of his ebullient songs for a cast of eight performers. Most Happy distills the underlying themes of The Most Happy Fella into a meditation on longing, an examination of the lengths we go to satisfy our desires, and a celebration of music and the human voice. Plot fades away, leaving behind music, voice, and raw emotion, giving audiences an entirely new way to experience the songs of an American musical treasure. Helming the production is director
Daniel Fish
, whose revelatory, Tony Award-winning revival of Oklahoma! debuted at SummerScape 2015 before opening at St. Ann's Warehouse in Brooklyn, where it ranked among the New York Times's "Best Theater of 2018" and was named No. 1 on Time magazine's list of "Ten Best Plays and Musicals of 2018." The production subsequently moved to Broadway, scoring the director his first Tony nomination. For Most Happy's new musical arrangements, orchestrations and musical direction, Fish reunites with his musical collaborators on Oklahoma!,
Nathan Koci
and
Daniel Kluger
, the latter of whom earned a Tony nomination, Drama Desk Award and Outer Critics Circle Award for his work on the production. Bard's production also features choreography by Jawole Willa Jo Zollar, recently recognized with a Bessie Lifetime Achievement Award; costumes by
Terese Wadden
, the director's SummerScape collaborator on both Oklahoma! and 2019's Acquanetta; lighting design by Outer Critics Circle Award nominee
Stacey Derosier
; and scenic design by
Andrew Lieberman
and
Amy Rubin
, who draw inspiration from Florent, the iconic restaurant that was a hub for entertainment, activism and community in Manhattan's Meatpacking District for more than 20 years. Most Happy plays in 24 performances between July 9 and August 2 in the Fisher Center's LUMA Theater, with press invited to attend from July 16, and a press opening on July 17. Casting will be announced shortly. SummerScape's Tony Award-winning theatrical track record is a stellar one. Last season, Fish's staging of
Michael Gordon
's Acquanetta was named "a must-see" by the New York Times; as New York Arts declares: "Bard summer drama has been consistently of the highest order."
Dance: New York City Ballet MOVES in Kyle Abraham's The Runaway and Pam Tanowitz's Bartók Ballet
Bard Summerscape 2020 opens in the Sosnoff Theater on June 26-28, when New York City Ballet MOVES returns with a double-bill showcasing two of today's foremost American choreographers. MacArthur Fellow Kyle Abraham makes his festival debut with The Runaway; set to an eclectic mix of music by artists ranging from Nico Muhly to James Blake, Jay-Z and Kanye West, and boasting original costumes by couturier-to-the-stars Giles Deacon, this was chosen among the New York Times's "Best Dance of 2018" and heralded as "a paragon of outsider infiltration, stretching and revealing the givens of ballet" (Financial Times). Marking Abraham's first ballet, The Runaway shares the program with Bartók Ballet by Pam Tanowitz, recently appointed as the Fisher Center's inaugural Choreographer-in-Residence. A poetic meditation on Béla Bartók's Fifth String Quartet, Tanowitz's new ballet features a live musical performance from FLUX Quartet, which also took part in her 2015 festival debut.
SummerScape has long produced and premiered significant dance productions, including commissions from choreographers Trisha Brown,
Lucinda Childs
, Bill T. Jones,
John Heginbotham
and
Mark Morris
. Last year's world premiere of Grace and Mercy, a new SummerScape commission from Evidence, A Dance Company and its founder and artistic director Ronald K. Brown, was named a "Critic's Pick" by the New York Times.
Film series: "Nadia Boulanger's Cinematic Influence"
Held from July 23 to August 16, the 2020 film series explores Nadia Boulanger's far-reaching influence on film scoring throughout the 20th century, through the work of some of her most gifted students from around the world.
Based on
Henry James
's novel Washington Square,
William Wyler
's ambitious film The Heiress (1936) features an original score by
Aaron Copland
. It will be screened alongside The Plow that Broke the Plains (1949), a Dust Bowl documentary with a score developed in close collaboration between director Pare Lorentz and
Virgil Thomson
.
George Antheil
wrote an aggressively modernist score for the iconic French avant-garde short Ballet mécanique (1924), before composing a more romantic one for
Nicholas Ray
's poetic masterpiece In a Lonely Place (1950) more than a quarter of a century later. Director Marcel L'Herbier claimed that with El Dorado (1921) he had invented a new form of cinema that brought together all the technical resources of the period, including a score by Marius-François Gaillard that was fully synchronized with the finished film. Every element of sound, including dialogue and background noise, is worked into
Michel Legrand
's continuous score for The Umbrellas of Cherbourg (1964), a key work of the French New Wave, and one of the best-known and beloved French musicals. Adapted from an evocative story by Danish writer
Isak Dinesen
(aka Karen Blixen), Babette's Feast (1984) has a score by Boulanger student Per Nørgård, who strove to fuse the late Romanticism of Carl Nielsen and Jean Sibelius with a more modernist approach. Starring Marcello Mastroianni, Marco Bellocchio's adaptation of Henry IV (1984) draws on
Luigi Pirandello
's 1922 play of the same name and features a score by preeminent tango composer and former Boulanger student
Astor Piazzolla
. In Elena (2011), Andrey Zvyaginstev makes extensive use of the music of
Philip Glass
, particularly the Third Symphony, to enrich his exploration of spatial and social isolation in contemporary Moscow. Finally, The Deep Blue Sea (2011), one of the most underrated films by British director Terence Davies, is set in 1950s London, and prominently features
Samuel Barber
's 1939 Violin Concerto throughout.
Spiegeltent
Back for a 15th magnificent summer, Bard's authentic Spiegeltent has enchanted guests since its introduction to the festival in 2006. A handmade Belgian pavilion, decorated with mirrors and stained glass and evoking an era of bygone glamour, the tent provides a sumptuous and magical environment in which to enjoy cutting-edge cabaret and world-class musical performances - almost all of which have sold out in recent years - capped by dining and late-night dancing throughout the festival. Each weekend, a lineup of Spiegeltent favorites and irresistible newcomers take the reins for an eclectic array of multi-genre live music, performance and special events. Dining is inspired by seasonal Hudson Valley ingredients and served with a full bar offering to complement the menu. Programming begins June 26 and runs from Thursday to Sunday each week through August 15. Tickets, as well as full programming and schedule, will be available in March.