Baryshnikov Arts Center Presents St. Luke's Chamber Ensemble, Plus Adam Rosenblatt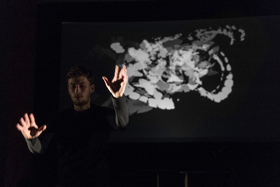 Baryshnikov Arts Center (BAC) continues its Spring 2019 season on Friday, April 12, 2019 at 7:30pm with a performance by St. Luke's Chamber Ensemble +Adam Rosenblatt, percussionist, at BAC's Jerome Robbins Theater (450 W. 37th Street). Rosenblatt will perform Belgian composer Thierry de Mey's theatrical and dramatic piece Light Music, in which movements and gestures produce light and sound through interactive technology. This interdisciplinary solo performance will be bookended by Viennese classics - Joseph Haydn's festive Divertimento for Strings from 1754 and Joseph Lanner's charming 19th century waltzes, performed by the St. Luke's Chamber Ensemble. These virtuosic musicians make up the artistic core of the renowned Orchestra of St. Luke's - who share the performing arts complex with BAC at 450 W. 37th Street.
This combination of the old and new is an unusual approach to concert programming but is typical of BAC's music offerings, which often juxtapose contrasting pieces to allow even familiar works to be seen in a new light. The Haydn and Lanner on this concert were both likely scored for festive occasions - Haydn's Divertimento, written when he was 22, is a precursor to the lively music he would later compose for the wealthy Esterházy family's many occasions. Lanner was an Austrian dance music composer, and dance orchestra conductor. He is best known known for transforming the Viennese waltz from peasant dance into a dance for high society. Neither the Haydn nor the Lanner include a cello in the instrumentation, presumably because the musicians were all meant to stand at the parties for which these works were originally composed.
In contrast, the only instruments used in Thierry de Mey's 2004 work Light Music are percussionist Adam Rosenblatt's hands, which pass through light and trigger electronically created sounds, using motion sensors. Rosenblatt explains in Johns Hopkins University's Hub, "If the camera senses your hand in a certain quadrant of its visual space, it will trigger certain sounds. Moving quickly triggers a different sound. And it all depends on the section of the piece and what the composer chose, but it's all composed and it's all planned, even the gestures and the choreography."
The performance will run 60 minutes with no intermission.
Program:
J. Haydn: Divertimento for 2 violins, 2 violas, and bass, Hob. II:2 (1754)
Thierry de Mey: Light Music for soloist, projections, and interactive systems (2004)
J. Lanner: Marie's Waltz for 2 violins, viola, and bass, op. 143 (1839)
J. Lanner: The Romantics for 2 violins, viola, and bass, op. 167 (1841)
Baltimore-based percussionist and performer Adam Rosenblatt has a penchant for finding interesting and uncommon ways to present and perform contemporary music. He has a keen interest for growing an interdisciplinary performance practice, believing that a mix of media and art forms can speak more directly and powerfully to our current context. He frequently performs with such groups as the Ictus Ensemble in Brussels, Belgium, and Trinity Wall Street's NOVUS NY, and is a founding member of percussion trio QuaQuaQua and mixed ensemble Something Out There, both of which focus on the ambiguous space between musical and theatrical performance. He has recently performed in such varied venues as The Onassis Cultural Centre in Athens, Greece; Berghain in Berlin with experimental electronic duo Matmos; The Banff Centre for the Arts as part of the Concerts in the 21st Century residency; and the Palais des Beaux-Arts in Brussels, Belgium to perform a work for drumset, electronics, and motion sensors for school children. His interest in interdisciplinary performance has led him to collaborate with dancers and choreographers on several occasions, including the In Vivo Danse workshop through IRCAM's Manifeste festival, and in Rosas dance company's production of Drumming Live. He has premiered many works by emerging composers in venues such as Gare du Nord in Basel, Het Veem in Amsterdam, the Walters Art Gallery in Baltimore, and Q-O2 in Brussels. With Something Out There, Rosenblatt recently co-developed and performed in new productions in Moers, Germany, and Paris and Orleans, France. He has worked closely with such composers as David Lang, Thierry de Mey, Martin Bresnick, and James Wood. Rosenblatt earned a Bachelor of Music Degree from the Peabody Conservatory and a Master of Music Degree from the Yale School of Music, both under the tutelage of Robert van Sice. Through grants from the Flemish Government, the Frank Huntington Beebe Fund, and the Belgian American Education Foundation, Rosenblatt performed and studied contemporary chamber music with the Ictus and Spectra Ensembles in Belgium as part of their Advanced Masters academy program. He is currently an artist in residence at The Creative Alliance in Baltimore.
Orchestra of St. Luke's (OSL) grew from a group of virtuoso musicians performing chamber music concerts at Greenwich Village's Church of St. Luke in the Fields in 1974. Now in its 44th season, the Orchestra performs diverse musical genres at New York's major concert venues, and has collaborated with artists ranging from Renée Fleming and Joshua Bell to Bono and Metallica. In 2018 internationally celebrated expert in 18th-century music Bernard Labadie became OSL's Principal Conductor, continuing the Orchestra's long tradition of working with proponents of historical performance practice. OSL's signature programming includes a subscription series presented by Carnegie Hall, now in its 32nd season; an annual summer residency at Caramoor Center for Music and the Arts; and a chamber music series featuring appearances at The Morgan Library & Museum, Brooklyn Museum, and Merkin Hall at Kaufman Music Center.
Leadership support for music programming provided by the Thompson Family Foundation.
ABOUT BARYSHNIKOV ARTS CENTER (BAC)
BAC is the realization of a long-held vision by artistic director Mikhail Baryshnikov to build an arts center in Manhattan that would serve as a gathering place for artists from all disciplines. BAC's opening in 2005 heralded the launch of this mission, establishing a thriving creative laboratory and performance space for artists from around the world. BAC's activities encompass a robust residency program augmented by a range of professional services, including commissions of new work, as well as the presentation of performances by artists at varying stages of their careers. In tandem with its commitment to supporting artists, BAC is dedicated to building audiences for the arts by presenting contemporary, innovative work at affordable ticket prices. For more information, please visit www.bacnyc.org.
Baryshnikov Arts Center is grateful for the support of its generous individual and institutional annual fund donors in 2017-­­-2019.
Anonymous (2); Pierre Apraxine; Joanne and Tuvia Barak; Mikhail Baryshnikov and Lisa Rinehart; Carol Baxter and Loren Plotkin; Edin Buturovic and Mirjana Ciric; Carroll Cartwright; Lori Cohen and Christopher Rothko; Frank and Monique Cordasco; Michael and Denise Deleray; Richard and Jennie DeScherer; Joseph and Diana DiMenna; James H. Duffy; Cheryl Lee and Steven C. Dupré; William James Earle; Alan and Judy Fishman; Sandra Foschi; Eve R. France; Alex and Jenia Fridlyand; Randy Gaugert; Carol Giles-Straight; Jon Gilman and Brad Learmonth; Denise L. Stefan Ginascol; Slavka B. Glaser; Michael Goldstein and Carolyn Katz; Ain Gordon; Peter Greenleaf; Charles Hamlen; The Hare Family; Kim Hendrickson and Grant Delin; Jeffery Hentze; Jano Herbosch; Joan Hooker; In Honor of Roger Hooker; Sarah Hooker; Huong Hoang; Fred Humphrey; Pamela Ingram; Yukiko Inoue; Susan Israel; Bobbo Jetmundsen; Carine Joannou; Stephanie Joel; Colleen Keegan; Leo and Nadine Keegan; Sean Kelly Gallery; Donald M. Kendall; Herman Krawitz; Nicole Leibman; Tania J. Leon; Lisa and Anton LeRoy; Harvey Lichtman and Lauren Best; Jarrett and Maritess Lilien; Julie Lilien; Topper Lilien; Bruce Lipnick; Marianne Lockwood and David Bury; Nick and Cass Ludington; Sarah and Alec Machiels; Deanna Maclean; Maia Mamamtavrishvili; Elizabeth Manigault; Cheryl Yeager Marshall and David Marshall; Paul and Caroline McCaffery; Karen McLaughlin and Mark Schubin; Patrick A. Meere, MD and Ingrid E. Weigel, MD; Adam Miller; Valerie and Stuart Mogul; In Honor of Natalie Moody; Bob and Carol Morris; Alexander Nakhimovsky; Zoya and Anna Obraztsova; Alvise Orsini; Hubert and Joanna Parzecki; Ray Pepi and Karen Arrigoni; Alvin Perlmutter; Steven and Michèle Pesner; Georgiana Pickett; Darryl Pinckney; Ronnie Planalp; Piedad Rivadeneira; Laila Robins; James Roe; Isabella Rossellini; Christopher Rothko; John Sansone; Sophia Schachter; Hillary Schafer and Mark Shafir; Dorothy Scheuer; Natasha Schlesinger; Laura Schoen; Vernon Scott; Dennis T. Serras; Dawn Sequeira and Edward Limowski; Joel Shapiro and Ellen Phelan; Wallace Shawn; Gus Solomons; Jerry I. Speyer; Christina Sterner and Steve Poses; Lev Sviridov; Rosalie Swedlin; Michael Tersigni and David Palachek; Jennifer Tipton; Robert Warshaw and Debbie Schmidt; Mary R. Waters; Suzanne Weil; Roger Weisberg and Karen Freedman; Edgar Wilson; Michael Worden; Tony Zisa
Affirmation Arts Fund; Altman Foundation; American Chai Trust; Anonymous (2); Rose M. Badgeley Residuary Charitable Trust; Bay and Paul Foundations; Consulate General of Israel in North America; Dance/NYC's New York City Dance Rehearsal Space Subsidy Program, made possible by The Andrew W. Mellon Foundation; The Gladys Krieble Delmas Foundation; The Enoch Foundation; FACE Foundation; Ferriday Fund Charitable Trust; Anne and Chris Flowers Foundation ; Ford Foundation; Howard Gilman Foundation; Harkness Foundation for Dance; Irving Harris Foundation; Francena T. Harrison Foundation Trust; Dubose & Dorothy Heyward Memorial Fund; Israel Institute; Japan Foundation; Danny Kaye and Sylvia Fine Kaye Foundation; Kent Van-Alen Fund; The Frances Lear Foundation; The Lupin Foundation; The Andrew W. Mellon Foundation; Mertz Gilmore Foundation; Mid Atlantic Arts Foundation; Stavros Niarchos Foundation; Rudolf Nureyev Dance Foundation; Muriel Pollia Foundation; Princess Grace Foundation-USA; rag & bone; The Reed Foundation; The Jerome Robbins Foundation; Blanchette Hooker Rockefeller Fund; Fan Fox and Leslie R. Samuels Foundation; The Shubert Foundation; The Seth Sprague Educational and Charitable Foundation; Soros Fund Charitable Foundation; The Thompson Family Foundation; Trust for Mutual Understanding; Twin Beeches Foundation
Baryshnikov Arts Center is also grateful for support provided by the National Endowment for the Arts and public funds from the New York City Department of Cultural Affairs in partnership with the City Council. Funding is also made possible by the New York State Council on the Arts with the support of Governor Andrew Cuomo and the New York State Legislature.
Yamaha is the official piano of the Baryshnikov Arts Center
More Hot Stories For You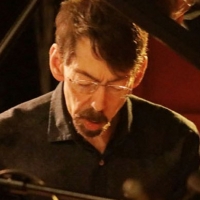 Fred Hersch And Esperanza Spalding Celebrate New Album At NJPAC, January 29

December 6, 2022

Pianist/composer Fred Hersch and vocalist/bassist/songwriter esperanza spalding (stylized in all lower case) can both be counted among the most acclaimed and inventive artists in modern jazz. The Village Vanguard is the music's most reveredvenue, having played host to countless legendary musicians and beloved live recordings. The duo and the club converge for a magical performance on Alive at the Village Vanguard, a rare opportunity for listeners to enjoy the singular and thrilling collaboration between two marquee jazz artists at the top of their game.
---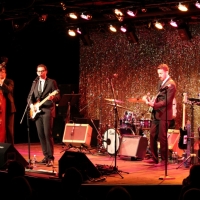 Cortland Repertory Theatre Presents Three Concerts With The Rave-Ons

December 6, 2022

This weekend, Cortland Repertory Theatre Downtown, located at 24 Port Watson Street in Cortland, is presenting three opportunities to see one of their most popular bands, Todd Meredith and the Rave-Ons. 
---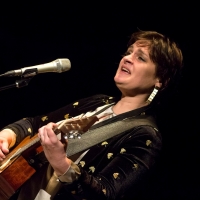 Madeleine Peyroux Brings Her CARELESS LOVE FOREVER Tour To City Winery Boston, December 28-30

December 6, 2022

Jazz singer-songwriter Madeleine Peyroux takes over the City Winery Boston's Mainstage for three shows as part of her Careless Love Forever Tour December 28-30. 
---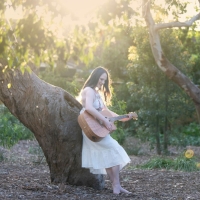 Karen Harding to Release 'It's Okay' And 'Greener On The Other Side' This Month

December 6, 2022

Following on from previous single, 'Strong For You', Australian Singer-Songwriter, Karen Harding reveals the second half of her musical project with Argentinian P&M Records, with the dual release of 'It's Okay' and 'Greener On The Other Side', featuring the Cologne Chamber Orchestra, on Friday 16th December 2022.
---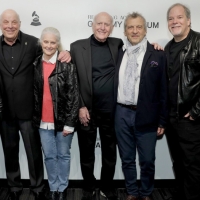 Award-Winning Composer Charles Fox Celebrated in New Documentary KILLING ME SOFTLY WITH HIS SONGS

December 6, 2022

The Songwriters Hall of Fame recently presented at the GRAMMY Museum an intimate panel event and special screening of the uplifting musical documentary 'Killing Me Softly With His Songs,' which chronicles the life and work of composer Charles Fox.
---