Andrea Stephenson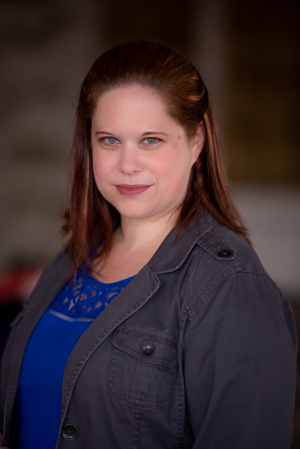 Andrea Stephenson's love of music and theatre was nurtured by her parents. She started performing as a singer and actor in elementary school, and her passion for the performing arts grew throughout the years. As a psychology student at Juniata College, Andrea performed with a touring choir and founded a Musical Theatre Club. It was during this time that she explored life behind the scenes as a stage manager and as a director. After a bit of a theatre drought while getting her Ph.D. in Philosophy, Andrea returned to central PA and jumped into the community theatre scene at The Belmont Theatre in York.
Along with appearing on stage, Andrea has stage managed and directed multiple shows over the last ten years. Her favorite acting experiences include portraying Cecily Pigeon in The Odd Couple, Sister James in Doubt, and Vivian Snustad in The Church Basement Ladies. Among her directing credits are Once Upon a Mattress; Sex Please, We're Sixty; Girls' Weekend; Ring of Fire; and Love, Sex, and the IRS. In her non-theatre life, Andrea works as an optician. She loves writing reviews under the careful supervision of her cats.
Review: SHE KILLS MONSTERS at TAFE-Theatre Arts For Everyone

July 30, 2022

She Kills Monsters also illuminates the ways in which our stories intersect with one another. Audiences can join in this humorous and dramatic story for four more performances at TAFE (Theatre Arts for Everyone) in York, PA. The cast and crew put together a production that is funny and heartwarming, evoking laughter and tears from the audience.
---
Review: LITTLE SHOP OF HORRORS at Oyster Mill Playhouse

July 23, 2022

This show, directed by Eric Mansilla with music director Lindy Mack, is an engaging and brilliantly staged production with a talented group of actors who bring their whole hearts to the performance. Remember, don't feed the plants, but do buy your tickets for Little Shop of Horrors before it's too late!
---
Interview: Grace Atherholt And Amy Fenicle of THE LITTLE MERMAID at Dutch Apple Dinner Theatre

July 21, 2022

The Little Mermaid is the perfect summer show, and audiences can enjoy this delightful show at The Dutch Apple Dinner Theatre through August 6th. Grace Atherholt and Amy Fenicle, who portray Ariel and Flounder, took a few moments from their busy show schedule to share their insights into the production.
---
Review: AVENUE Q at DreamWrights Center For Community Arts

July 16, 2022

Avenue Q dives into some serious themes in a comedic manner. This production at DreamWrights is engaging and entertaining, inviting the audience to become part of life on Avenue Q. Visit Princeton and his friends by getting your tickets today.
---
Review: MURDER ON WEST MOON STREET at Little Theatre Of Mechanicsburg

July 2, 2022

Murder on West Moon Street is a fast-paced and witty script that explores, in a playful way, questions of free will and fate. Director Meredith Hensel and her team at Little Theater of Mechanicsburg deliver a delightful night of intrigue, murder, and comedy with Murder on West Moon Street.
---
Review: SPRING AWAKENING at DreamWrights Center For Community Arts

June 25, 2022

Spring Awakening is a challenging and important show that does not shy away from the difficult experiences in life. The cast and crew at DreamWrights have put together a truly wonderful production of this show.
---
Review: THE SECRET GARDEN at Players On High At The Carlisle Theatre

June 24, 2022

Overall, this production of The Secret Garden, directed by Ashley Shade Byerts, is a lovely retelling of the classic tale. As Byerts states in the Note from the Director, this show marks the most ambitious and challenging production the Carlisle Theatre has undertaken. This reviewer certainly looks forward to their future endeavors.
---
Review: THE WINTER'S TALE at Gamut Theatre

June 16, 2022

One of the best things about Gamut's Shakespeare in the Park is the sense of community that fills the audience. Many audience members have made Shakespeare in the Park an annual tradition, so come on out to Reservoir Park for The Winter's Tale and then keep an eye on the upcoming shows at https://www.gamuttheatre.org.
---
BWW Review: CROWNS at Sankofa African American Theatre Company At Open Stage

May 29, 2022

This cast is comprised of superb storytellers who use their voices, facial expressions, and movement to draw the audience into the performance. The most remarkable part of Crowns is the way in which it tackles heavy and complicated themes in a way that leaves the audience with an overwhelming feeling joy and hope that unites and uplifts.
---
BWW Review: COME BLOW YOUR HORN at Little Theatre Of Mechanicsburg

May 21, 2022

In true Neil Simon fashion, Come Blow Your Horn explores complicated themes in hilarious yet poignant ways. This production, with its intelligent staging and talented cast, will keep audiences hanging on every word, laughing uproariously, and joining the characters on their emotional journey.
---
BWW Review: MOONLIGHT AND MAGNOLIAS at Oyster Mill Playhouse

May 14, 2022

Moonlight and Magnolias is a farce that combines physical comedy with rapid-fire dialogue to create a hilariously funny, yet thought-provoking play. Treat yourself to an enjoyable evening with a talented cast and crew.
---
BWW Interview: Dale Obermark of ROCK OF AGES at Dutch Apple Dinner Theatre

May 4, 2022

Rock of Ages is not your typical musical theatre show. Be ready to experience a show like none you've ever seen at Dutch Apple now through May 15th!
---
BWW Review: ORLANDO at Gamut Theatre Group

March 20, 2022

In partnership with the PA Coalition for Trans Youth, Gamut Theatre Group presents Orlando under the direction of Francesca Amendolia now through March 27th.This entire production is astonishingly beautiful, from the staging to the costumes and lighting to the acting. Get your tickets now for this extraordinary and thought-provoking production.
---
BWW Review: A MURDER IS ANNOUNCED at Oyster Mill Playhouse

March 19, 2022

Overall, this show, that the actors have been waiting to perform since January, is a well put together production. From the set to the costumes to the casting, A Murder is Announced will delight fans of Christie's mysteries. Visit www.oystermill.com for information on tickets and the other upcoming shows in their 2022 season.
---
BWW Review: THE COMPLETE WORKS OF WILLIAM SHAKESPEARE (ABRIDGED) [REVISED] at Gettysburg Community Theatre

March 12, 2022

This is the perfect show for those who struggled through Shakespeare in school or for anyone who just needs a good laugh. Audiences can enjoy this mad-cap romp through Shakespeare at Gettysburg Community Theatre through March 20th.
---
BWW Review: WAIT UNTIL DARK at Little Theatre Of Mechanicsburg

February 26, 2022

Between the talented cast and the well-designed set, blocking, lighting, and sound, this is a production that will keep audiences on the edge of their seats. Visit ltmpa.com to get your tickets for this thrilling performance of Wait Until Dark.
---
BWW Review: ECHOES OF VOICES OF THE EIGHTH at Sankofa African American Theatre Company At Gamut Theatre

February 19, 2022

Sankofa African American Theatre Company and Gamut Theatre Group bring an unique, uplifting, and thought-provoking experience to audiences with their production of Echoes of Voices of the Eighth: Stories from Harrisburg's Old Eighth Ward. It is an illuminating play filled with history, heart, and hope.
---
BWW Review: THE MAD ONES at Open Stage

February 13, 2022

This production of The Mad Ones is full of heart, reminding us all that those who leave us live on in our memories and in the way in which we honor them in our lives. The performance from the cast and crew at Open Stage works its way into the hearts and minds of the audience.
---
BWW Review: THE SECRET GARDEN at Theatre Harrisburg

February 12, 2022

Directed by Winnona Piazza and Music Director Mitchell Sensenig, this production of The Secret Garden is, in a word, gorgeous. It is an authentic, emotional, skillful production that brings this classic tale of love, loss, renewal, and hope to life. Do not miss this beautiful show by Theatre Harrisburg at the Whitaker Center.
---
BWW Review: TWILIGHT: LOS ANGELES, 1992 at DreamWrights Center For Community Arts

January 29, 2022

The cast and crew at DreamWrights deserve a round of applause for taking on Twilight: Los Angeles, 1992, dealing with its difficult but important themes, and presenting an authentic and well-designed performance. Find information about tickets as well as a recorded Community Conversation about the show and its themes at www.dreamwrights.org.
---