The Alliance Theatre and Aurora Theatre Lead Suzi Bass Awards Nominations; Full List Announced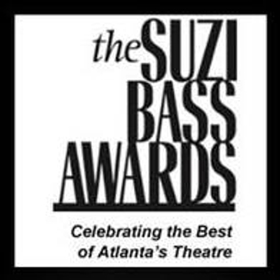 The Suzi Bass Awards revealed nominations for the 2016-2017 Atlanta professional theatre season on Monday evening, September 18, to patrons and industry artists. The Suzi Nomination Party was generously hosted by the Atlanta Lyric Studio, at 7pm, 12 Powder Springs St, Marietta, GA 30064.
The nominations were announced by Topher Payne and some of the Suzi judges.
The 13th Annual Suzi Bass Awards Ceremony will be held on Monday, November 6, 2017, at the Conant Performing Arts Center at Oglethorpe University. Members of the media are invited to cover the event. Release with details and media invitation forthcoming. Tickets to the general public will be on sale soon. The evening includes awards, performances, and a reception with nibbles and a cash bar.
NOMINEES BY THE NUMBERS
The ALLIANCE THEATRE, producing on two stages, led the Suzi nomination tally with forty-two (42) nominations. Aurora Theatre took second place with twenty-four (24) nominations. Actor's Express ranks third with nineteen (19) nominations, Horizon Theatre takes fourth with fourteen (14) nominations, and Synchronicity Theatre takes fifth with eleven (11) nominations. As for the productions with the highest number of nominations, they are: The Bridges of Madison County, at Aurora Theatre, with twelve (12); The Prom, at ALLIANCE THEATRE, also with twelve (12); The Crucible at Actor's Express with eleven (11); and Nobody Loves You, at Horizon Theatre, with ten (10); and Troubadour, at ALLIANCE THEATRE, with nine (9).
Many area theatres were recognized with nominations, in addition to the above: Georgia Ensemble (7); Atlanta Shakespeare Company (7); Serenbe Playhouse (7); Theatrical Outfit (6); Center for Puppetry Arts (5); The Legacy Theatre (3); 7 Stages (2); Atlanta Lyric Theatre (2); and Gypsy Theatre Company (1).
Check out the full list below!
ABOUT THE SUZI BASS AWARDS
The Suzi Bass Awards were founded in 2003 by Gene-Gabriel Moore and a small group of industry professionals to celebrate outstanding work in live theatre and the artists who produce it. This season, The Suzi Bass Awards volunteer judges chose nominees and recipients in thirty performance categories. In addition, the annual Spirit of Suzi Award honors a person or organization for their long-time dedication to Atlanta theatre; the Gene-Gabriel Moore Playwriting Award recognizes Atlanta's talented local playwrights through special notice of a recently produced play; the Audience Choice Award recognizes one theatre's entire season through voting by the general public; and the Volunteer of the Year Award recognizes an individual or group with long-time volunteer contributions to a particular theatre.
THE NOMINEES
OUTSTANDING PRODUCTION - MUSICAL
• Big Fish at Theatrical Outfit
• The Bridges of Madison County at Aurora Theatre
• Nobody Loves You at Horizon Theatre
• The Prom at the ALLIANCE THEATRE
• Troubadour at the ALLIANCE THEATRE
OUTSTANDING DIRECTION - MUSICAL
• Justin Anderson for The Bridges of Madison County at Aurora Theatre
• Susan V. Booth for Troubadour at the ALLIANCE THEATRE
• Brian Clowdus for Grease at Serenbe Playhouse
• Heidi McKerley for Nobody Loves You at Horizon Theatre
• Casey Nicholaw for The Prom at the ALLIANCE THEATRE
OUTSTANDING MUSICAL DIRECTION
• Brandon Bush for Troubadour at the ALLIANCE THEATRE
• Mary-Mitchell Campbell for The Prom at the ALLIANCE THEATRE
• AlLi Lingenfelter for Nobody Loves You at Horizon Theatre
• Chika Kaba Ma'atunde for Simply Simone at Theatrical Outfit
• Ann-Carol Pence for The Bridges of Madison County at Aurora Theatre
OUTSTANDING CHOREOGRAPHY
• Ricardo Aponte for The Legend of Georgia McBride at Actor's Express
• Bubba Carr for Grease at Serenbe Playhouse
• Heidi McKerley & Jeff McKerley for Nobody Loves You at Horizon Theatre
• Casey Nicholaw for The Prom at the ALLIANCE THEATRE
• Melissa Zaremba for Smokey Joe's Cafe at The Legacy Theatre
OUTSTANDING LEAD ACTOR/FEMALE - MUSICAL
• Kylie Brown* for Ghost the Musical at Georgia Ensemble Theatre
• Randi Garza* for Grease at Serenbe Playhouse
• Caitlin Kinnunen* for The Prom at the ALLIANCE THEATRE
• Beth Leavel* for The Prom at the ALLIANCE THEATRE
• Kristin Markiton for The Bridges of Madison County at Aurora Theatre
OUTSTANDING LEAD ACTOR/MALE - MUSICAL
• Brooks Ashmanskas* for The Prom at the ALLIANCE THEATRE
• Andrew Benator* for Troubadour at the ALLIANCE THEATRE
• Chase Peacock* for Ghost the Musical at Georgia Ensemble Theatre
• Travis Smith* for Big Fish at Theatrical Outfit
• Travis Smith* for The Bridges of Madison County at Aurora Theatre
OUTSTANDING FEATURED ACTOR/FEMALE - MUSICAL
• Jennifer Alice Acker for Nobody Loves You at Horizon Theatre
• Kandice Arrington for Ghost the Musical at Georgia Ensemble Theatre
• Wendy Melkonian* for Nobody Loves You at Horizon Theatre
• Valarie Payton* for The Bridges of Madison County at Aurora Theatre
• Julissa Sabino* for Grease at Serenbe Playhouse
OUTSTANDING FEATURED ACTOR/MALE - MUSICAL
• Rob Cleveland* for The Bridges of Madison County at Aurora Theatre
• Don Finney* for The Threepenny Opera at 7 Stages
• Matt Lewis for The Bridges of Madison County at Aurora Theatre
• Brad Raymond* for Nobody Loves You at Horizon Theatre
• Austin Tijerina* for Nobody Loves You at Horizon Theatre
OUTSTANDING ACTING ENSEMBLE - MUSICAL
• The cast of Church Basement Ladies at The Legacy Theatre (Amanda Lyn Hornberger, Autumn O'Ryan, Katie Patterson, Nikki Savitt, Jeremy Skidmore)
• The cast of Company at Actor's Express (Lowrey Brown*, Rhyn Saver*, Daniel Burns, Jimmica Collins, Laura Floyd, Dan Ford, Jill Hames, Steve Hudson, Phillip Lynch, Kelly Chapin Martin, Jessica Miesel, Emily Stembridge, Craig Waldrip, Libby Whittemore)
• The cast of Million Dollar Quartet at Georgia Ensemble Theatre & Atlanta Lyric Theatre (Chase Peacock*, Allison Wilhoit, Chris Damiano*, Christopher Kent*, Justin D. Thompson, Ethan Ray Parker, Andrew Patton, Kroy Presley)
• The cast of Smokey Joe's Cafe at The Legacy Theatre (Nick Abbott, Amanda Bridgette, Brian L. Boyd, Meg Dickens, Jordan Ellis, Rakeem Lawrence, Allie Richardson, Hillary Scales-Lewis, Christopher "CJ" Williams)
OUTSTANDING COSTUME DESIGN - MUSICAL
• DeeDee Chmielewski for The Threepenny Opera at 7 Stages
• Lex Liang for Troubadour at the ALLIANCE THEATRE
• Brandon McWilliams for Grease at Serenbe Playhouse
• Linda Patterson for The Bridges of Madison County at Aurora Theatre
• Ann Roth & Matthew Pachtman for The Prom at the ALLIANCE THEATRE
OUTSTANDING LIGHTING DESIGN - MUSICAL
• Bradley Bergeron for Grease at Serenbe Playhouse
• Kevin Frazer for The Bridges of Madison County at Aurora Theatre
• Kenneth Posner for The Prom at the ALLIANCE THEATRE
• BRyan Rosengrant for Ghost the Musical at Georgia Ensemble Theatre
• Ken Yunker for Troubadour at the ALLIANCE THEATRE
OUTSTANDING SCENIC DESIGN - MUSICAL
• Kat Conley for Courtenay's Cabaret: Home for the Holidays at the ALLIANCE THEATRE
• Isabel Curley-Clay & Moriah Curley-Clay for Nobody Loves You at Horizon Theatre
• Scott Pask for The Prom at the ALLIANCE THEATRE
• Julie Allardice Ray for The Bridges of Madison County at Aurora Theatre
• Todd Rosenthal for Troubadour at the ALLIANCE THEATRE
OUTSTANDING SOUND DESIGN - MUSICAL
• Clay Benning for Troubadour at the ALLIANCE THEATRE
• Rob Brooksher for Nobody Loves You at Horizon Theatre
• Preston Goodson for Ghost the Musical at Georgia Ensemble Theatre
• Peter Hylenski for The Prom at the ALLIANCE THEATRE
• John McKenzie for Million Dollar Quartet at Georgia Ensemble Theatre & Atlanta Lyric Theatre
• Daniel Pope for The Bridges of Madison County at Aurora Theatre
OUTSTANDING WORLD PREMIERE
• The Prom at the ALLIANCE THEATRE
• Singles in Agriculture at Aurora Theatre
• Strait of Gibraltar at Synchronicity Theatre
• Too Heavy for Your Pocket at the ALLIANCE THEATRE
• Troubadour at the ALLIANCE THEATRE
OUTSTANDING PRODUCTION - PLAY
• The Crucible at Actor's Express
• Eclipsed at Synchronicity Theatre
• King Henry VI Parts 1, 2, & 3 at Atlanta Shakespeare Company
• Singles in Agriculture at Aurora Theatre
• Ugly Lies the Bone at the ALLIANCE THEATRE
OUTSTANDING DIRECTION - PLAY
• Justin Anderson for Singles in Agriculture at Aurora Theatre
• Freddie Ashley for The Crucible at Actor's Express
• Jessica Holt for Ugly Lies the Bone at the ALLIANCE THEATRE
• Tinashe Kajese-Bolden for Eclipsed at Synchronicity Theatre
• Jeff Watkins for King Henry VI Parts1, 2, & 3 at Atlanta Shakespeare Company
OUTSTANDING LEAD ACTOR/FEMALE - PLAY
• Cynthia D. Barker* for The Mountaintop at Aurora Theatre
• Lauren Lane for Singles in Agriculture at Aurora Theatre
• Julie Jesneck* for Ugly Lies the Bone at the ALLIANCE THEATRE
• Christina Leidel for The Miracle Worker at Gypsy Theatre Company
• Brooke Owens for Anne Boleyn at Synchronicity Theatre
• Courtney Patterson* for The Crucible at Actor's Express
OUTSTANDING LEAD ACTOR/MALE - PLAY
• Jeremy Aggers for Singles in Agriculture at Aurora Theatre
• Neal Ghant* for The Mountaintop at Aurora Theatre
• JoNathan Horne* for The Crucible at Actor's Express
• Brian Kurlander* for How To Use A Knife at Horizon Theatre
• Geoffrey D. Williams* for Thurgood at Theatrical Outfit
OUTSTANDING FEATURED ACTOR/FEMALE - PLAY
• Shelli Delgado for The Crucible at Actor's Express
• Ellen McQueen* for The Tragedy of King Richard III at Atlanta Shakespeare Company
• Wendy Melkonian* for Ugly Lies the Bone at the ALLIANCE THEATRE
• Falashay Pearson for The Crucible at Actor's Express
• Vallea E. Woodbury for Singles in Agriculture at Aurora Theatre
OUTSTANDING FEATURED ACTOR/MALE - PLAY
• Adeoye* for Moby Dick at the ALLIANCE THEATRE
• BRyan Davis for The Crucible at Actor's Express
• Jeff McKerley* for The Legend of Georgia McBride at Actor's Express
• Lee Osorio* for Ugly Lies the Bone at the ALLIANCE THEATRE
• Tamil Periasamy for The Crucible at Actor's Express
• Drew Reeves* for King Henry VI Parts 1, 2 & 3 at Atlanta Shakespeare Company
OUTSTANDING ACTING ENSEMBLE - PLAY
• The cast of The Canterbury Tales at Atlanta Shakespeare Company (Laura Cole*, Nicholas Faircloth, Rivka Levin*, Drew Reeves*, Adam King, Enoch King*, Amanda Lindsey, Kirstin Calvert)
• The cast of The Comedy of Errors at Atlanta Shakespeare Company (Chris Hecke, Steve Hudson, Gina Rickicki, Andrew Houchins*, J.L. Reed, Enoch King*, Matt Felten, Jennifer Lamort, India Tyree, Matt Nichie*, Amanda Lindsey, Dani Herd)
• The cast of Eclipsed at Synchronicity Theatre (Asha Duniani*, Cherity Purvis Jordan, Shayla Love*, Parris Sarter, Isake Akanke*)
• The cast of Father Comes Home from the Wars (Parts 1, 2 & 3) at Actor's Express (Seun Soyemi, DamIan Lockhart, Meagan Dilworth, Jason-Jamal Ligon, Rob Cleveland*, EVan Cleaver*, Brittany Inge, Marcus Hopkins-Turner, Richard McDonald, BRyan Davis)
• The cast of Too Heavy for Your Pocket at the ALLIANCE THEATRE (Rob Demery, Eboni Flowers*, Markita Prescott*, Stephen Ruffin)
OUTSTANDING COSTUME DESIGN - PLAY
• Deyah Brenner for The Legend of Georgia McBride at Actor's Express
• Anné Carole Butler for King Henry VI Parts 1, 2, & 3 at Atlanta Shakespeare Company
• Nyrobi Moss for Eclipsed at Synchronicity Theatre
• Abby Parker for Anne Boleyn at Synchronicity Theatre
• Erik Teague for The Crucible at Actor's Express
OUTSTANDING LIGHTING DESIGN - PLAY
• William C. Kirkham for Moby Dick at the ALLIANCE THEATRE
• Liz Lee for Ugly Lies the Bone at the ALLIANCE THEATRE
• Joseph P. Monaghan III for The Crucible at Actor's Express
• Mary Parker for Constellations at Horizon Theatre
• Kathy A. Perkins for Eclipsed at Synchronicity Theatre
OUTSTANDING SCENIC DESIGN - PLAY
• Isabel Curley-Clay & Moriah Curley-Clay for Appropriate at Actor's Express
• Isabel Curley-Clay & Moriah Curley-Clay for Eclipsed at Synchronicity Theatre
• Isabel Curley-Clay & Moriah Curley-Clay for Freed Spirits at Horizon Theatre
• Isabel Curley-Clay & Moriah Curley-Clay for How to Use a Knife at Horizon Theatre
• Leslie Taylor for The Legend of Georgia McBride at Actor's Express
OUTSTANDING SOUND DESIGN - PLAY
• Preston Goodson for The Legend of Georgia McBride at Actor's Express
• Chika Kaba Ma'atunde for Simply Simone at Theatrical Outfit
• Kate Marvin for Ugly Lies the Bone at the ALLIANCE THEATRE
• Kay Richardson for Eclipsed at Synchronicity Theatre
• Ed Thrower for The Crucible at Actor's Express
OUTSTANDING PRODUCTION - TYA
• Cinderella and Fella at the ALLIANCE THEATRE
• From Head to Toe at the ALLIANCE THEATRE
• Old MacDonald's Farm at Center for Puppetry Arts
• The Three Billy Goats Gruff at Aurora Theatre
OUTSTANDING NEW WORK - TYA
• Cinderella and Fella at the ALLIANCE THEATRE
• The Dancing Granny at the ALLIANCE THEATRE
• The Dancing Handkerchief at Theatrical Outfit
• From Head to Toe at the ALLIANCE THEATRE
OUTSTANDING DIRECTION - TYA
• Cinderella and Fella at the ALLIANCE THEATRE: Rosemary Newcott, Director; S. Renee Clark, Music Director
• From Head to Toe at the ALLIANCE THEATRE: Rosemary Newcott, Director
• Old MacDonald's Farm at Center for Puppetry Arts: Amy Sweeney, Director
• The Three Billy Goats Gruff at Aurora Theatre: Justin Anderson, Director; Ann-Carol Pence, Music Director
OUTSTANDING PERFORMANCE/ENSEMBLE - TYA
• The cast of Cinderella and Fella at the ALLIANCE THEATRE: Terry Burrell, S. Renee Clark, Courtenay Collins, Molly Coyne, Scott E. DePoy, Jeremiah Parker Hobbs, India S. Tyree, Brian Walker
• The cast of Old MacDonald's Farm at Center for Puppetry Arts: Seth Langer, Amy Sweeney
• Chris Hecke for The One and Only Ivan at Synchronicity Theatre
• The cast of The Three Billy Goats Gruff at Aurora Theatre: Jenise Cook, Elliott Felds, Juan Carlos Unzueta, Amber Hamilton, Candice McLellan, Bryan Montemayor
OUTSTANDING DESIGN - TYA
• The design team of Cinderella and Fella at the ALLIANCE THEATRE: Kat Conley, Scenic Design; Sydney Roberts, Costume Design; Jake DeGroot, Lighting Design; Clay Benning, Sound Design
• The design team of Cinderella Della Circus at Center for Puppetry Arts: Jason Hines, Puppet Design; Rochelle Shinn, Scenic Design; Liz Lee, Lighting Design; Mimi Epstein and Gregory Montague, Sound Design
• The design team of Old MacDonald's Farm at Center for Puppetry Arts: Jason Hines, Puppet Design; Ryan Sbaratta, Scenic Design; Carole D'Agostino, Costume Design; Gregory Montague, Lighting Design; Dolph Amick, Sound Design
• The design team of Robin Hood at Serenbe Playhouse: Scott Sargent, Scenic Design; DeeDee Chmielewski, Costume Design; Stephanie Polhemus, Properties Design
• The design team of The Three Billy Goats Gruff at Aurora Theatre: Isabel Curley-Clay & Moriah Curley-Clay, Scenic and Costume Design; Andre C. Allen, Lighting Design; Thom Jenkins, Sound Design